Classic Christian Dior – 1947
Convergence of fashion and sculpture 
Most famous fashion designers interact with art and reflect trends through their designs. The modernist curved art forms and abstract lines of the 40's, 50's and 60's could be clearly recognized in the avant-garde and Space Age designs of Pierre Cardin, as witnessed in his trapeze coats, bubble dresses, hat-sculptures and asymmetrical collars. Designers of this era adapted minimalist art forms with sleek, definitive lines to express striking chic styles which were aptly supported by the refined aesthetic of the models and photographers at that time. Elegant fluid silhouettes were prevalent, supported by higher heels, long gloves, hats with sweeping curved brims and form clinging waists. Cardin collaborated with the design of Christian Dior's "New Look," a style intended to enhance the feminine in women's clothing, particularly after women had adopted traditional masculine roles during World War II. When Christian Dior unveiled his début haute couture collection in Paris on 12 February 1947, it heralded the demise of the austere, masculine styles, and ushered in a triumphant return to femininity.
Cardin, who had studied architecture, also used bold geometric shapes and motifs in his designs that sometimes overshadowed the female form. However, despite the form not being as overtly expressed, it had the effect of enhancing the feminine mystique. He was the first to display a designer's logo on his garments in the 60's and he expanded his repertoire into new design markets such as home decor which was regarded as heresy by some other Paris fashion designers. He acquired a contemporary bubble home in Côte d'Azur, to reflect his fashion designs.
Christian Dior ran an art gallery where he sold the works of Picasso and other famous artists, before he began fashion in 1937 with his mentor Robert Piguet. He valued this association for learning " the values of simplicity through which true elegance must come." He later mixed with artists like Dali, Max Ernst, Alexander Calder, Picasso, Otto Dix, Albert Giacometti, Raoul Duffy , Joan Miro, Jean Cocteau and designer Rene Gruau who all were an influence on his styles. Similarly, designers like Balenciaga, Jacques Fath, Givenchy and Lanvin all went in a similar direction with their chic style.
The modernist, contemporary forms continued to inspire fashion into the 60's and 70's where it became more minimalist, while the photography became more free, spontaneous and less formal. The images here reflect that association between art and fashion during that unique era of timeless elegance and some current designers like Philip Treacy and Serge Lutens, who also integrate modernist elements into their fashion with other original contemporary statements. An exploration of texture, line and form presented in fabrics, threads and design brilliance.
The 1947 "New Look" Bar Suit – Christian Dior
Photo – Patrick Demarchelier
 Jacques Fath outfit – Vogue 1951 Vintage elegance
Photographer Willy Maywald,
Photo Helmut Newton
Lanvin 60's Space Age outfit
 Jacques Fath design 1952, model Bettina
Photo- Richard Rutledge
Albouy designed hat – inspired by the Spanish Civil Guard
Photo – Georges Saad – 1952
1956 sleek silhouette
dovima is devine II on Flickr
Pierre Balmain – 1957
Manguin wool suit
Photo Philippe Pottier 1957
Scarlet starfish spikes—Yegor Zaitsev – Autumn/Winter
2010-2011
Ava Gardner – 1954
Fiona Campbell Walter in an outfit by Jacques Fath
Paris Vogue  1952
 Ralph Lauren, 2008
Photo Nathan Copan
Balenciaga – Harper's Bazaar
1968
 Model Bettina Graziani wearing Jacques Fath dress
50's Paris Joan Miro Show – photo Georges Dambier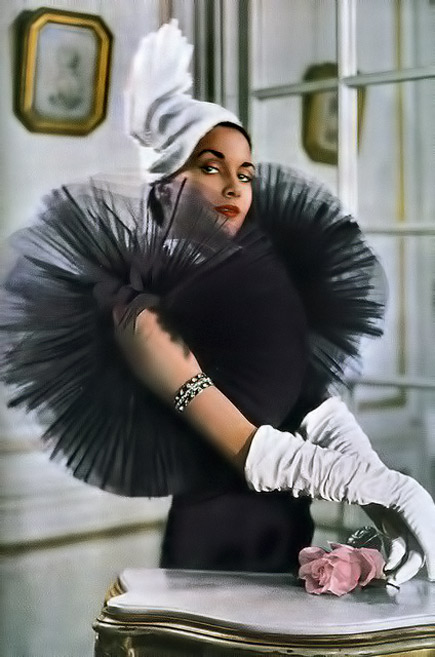 Jacques Fath outfit
Cappello Hoeden Speciaalzaak
Cappello.nl
Model China Machado, Harper's Bazaar February 1959
 Photo Richard Avedon
Christian Dior – Couture Spring 2007
Lizica Codreanu modelling futuristic fashion design by Constantin Brancusi
1924
 Pierre Balmain, 1961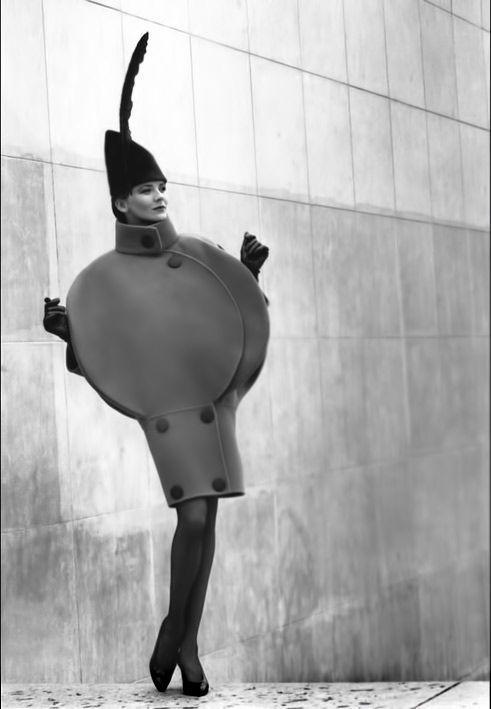 Pierre Cardin – 1968
L'Officiel magazine, 1956
Serge Lutens
Gabriela Ligenza 3D printed hat
Photo – Josh Shinner
 Maggie Eckhardt – Harpers Bazaar-1964
Photo – Jeanloup Sieff
Christian Dior,  2008,
Photo by Patrick Demarchelier
Harper's Bazaar – 1964
Photo-Jeanloup Sieff
 NY milliner and street photographer Bill Cunningham
"The hat thing was really, as I say, it was like sculpture," he said. "It's the most wonderful, freeing, relaxing experience. I had a lot of fun, even if I didn't make money. But I did pay my bills."
Hat From Russian Fashion Week – 2013
Getty Images
Horst P Horst – 1949
Model Jacky Mazel wearing a tweed-suit–by Lanvin Castillo,1956
Photo – Philippe Pottier
Jean Patchett photographed by Irving Penn
New York-1949
Katherine Pastrie in wool dress by Pierre Cardin
photo by Philippe Pottier–1962
 Lilly Dache hat
In 1939 Westingtonhouse created one of the first time capsules for the New York World Fair which had a futuristic theme.. Included was a woman's hat designed by Lilly Dache. The capsule is meant to be unearthed in the year 6939.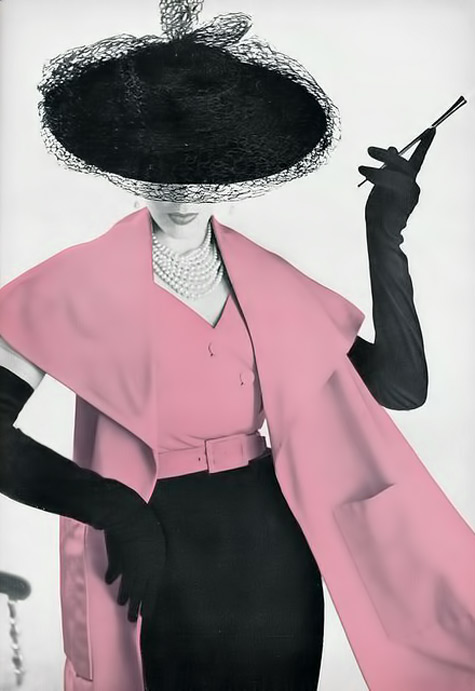 50's chic
miadelarue.blogspot.com
Capucci outfit
Photo by Georges Saad –1961
Retro shoot – Natalia Vodianova by Steven Meisel for Vogue US  2009.
Paper Couture by Alexandra Zaharova & Ilya Plotnikov
Paquin outfit – L'Officiel magazine  1956.
Philip Treacy hat
1954 Christian Dior from the book Dior Couture by Patrick Demarchelier
Pierre Cardin – 1959
 Philip Treacy – Haute Couture Fall/Winter 2001/2002 collections shows  in Paris France.
Pierre Cardin 60's
Serge Lutens
 Model Georgina Grenville in a Thierry Mugler mask hat
Model in tweed suit with matching tweed hat by Pierre Balmain photo by Georges Saad
1962
Hat by Irish Milliner Philip Treacy
Issey Miyake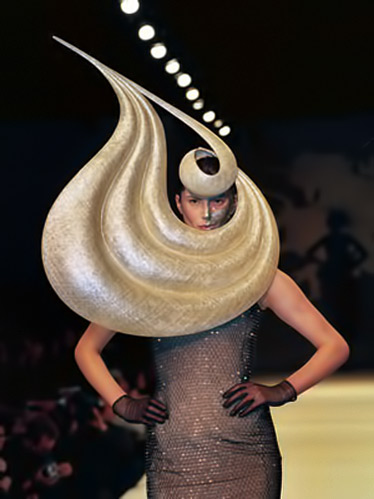 Philip treacy
Dorian Leigh- dressed in a Jacques Fath outfit
Photographed by Georges Dambier for Nouveau Femina magazine, 1954
Serge Lutens , 1942
Christian Dior Spring 2007 haute couture by Galliano
Serpens collection lookbook is the product of the collaboration between the Chinese fashion designer Qui Hao and the Shanghai based, French photographer Matthieu Belin.
Philip Treacy, UK
 Beijing Fashion Week – design by Pierre Cardin
Sculptural hat – Phillip Treacy
 Shiseido – photo and styling Serge Lutens
Visco, NL
2011
Stylist – Efi Davies & Costume – Kate Forbes
Photo – Danilo Giuliani, 2010.
Exhibition—Alexander McQueen—Savage Beauty
Outfit design – Catherine O'Leary
The Iteration II – Lisa Shahno
 British Vogue, Zulu warriors – 1951
Photo Norman Parkinson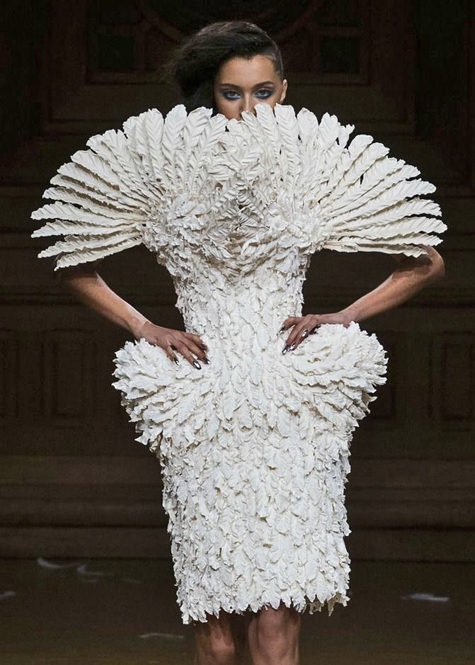 Serkan Cura Haute Couture
2014
photo – Shoji Fujii
More fashion with a chic jazz groove –
 'So Yesterday' by the Mark Fitzgibbon Quartet – Amazon link
Sunny Harnett, 1951
photo – Norman Parkinson, UK
Harper's Bazaar; Photography by Richard Avedon
1949
Dana and Stephane Maitec photography
 Hyuna Shin photography
Dorian Leigh in a Lilli Ann outfit
1955
Lady Gaga wearing a gown designed by Alexander McQueen
Milan Borovička photo from the Women series
1979
Mongolian Princess in full regalia
designer Elin Johansson
Yasmin in a Chanel Evening Dress, photo by Horst B Horst
British VOGUE, London, 1986
Sculptural knitwear from Hege Midtun Larsen
Christian Dior Haute Couture 2000 Spring Summer
Serpens. autumn winter 2001 fashion collection by Chinese fashion designer Qiu Hao
Medieval Tatar – Nomadic Fashion Show
Mongolia
Alexander McQueen: Paris Fashion Week Ready-to-Wear A/W 09 by Pascal Le Segretain on Getty Images
Yojiro Kake
Giorgio Armani dress –model Adama Diallo
Gilbert Adrian costume with phoenix headpiece
USA 1936
Model Eva Strangelove by photographer Alessandro Saponi
Adele Simpson gold dress
Harpers Bazaar -1947
Photo Tejal Patna,  Art direction Mohanad Shuraideh for Burjuman
Octopus inspired theme with Renata Litvinova in a photo shoot for the magazine SOBAKA.RU
Black art couture
Photo – Henrique Gendre
Vogue China September 2014
Amato haute couture – spiral turquoise mermaid
Jacques Fath
 Photo by Willy Maywald.
1951 – National Museum Krakow
'Syntheitc Oceans'  Wetsuit couture by Alba Prat –  Spanish Fashion Designer from Barcelona
photo © fotoDiMatti
yatzer.com
John Galliano for Christian Dior Fall/Winter Haute Couture
2010
'We must never confuse elegance with snobbery' – Yves Saint Laurent
Geometric outfits by Viscoe
'The Tarot Reader' Jean Patchett and Bridget Tichenor, photo by Irving Penn
New York 1949
Model in black and white tweed dress with half overskirt by Staebe Seger  photo by Hilla Korn
Germany  1960
Theo Graham in Dior' s evening gown called Junon l and Dorian Leigh in a gown called Venus
photo by Richard Avedon at Le Pré Catalan
Paris, 1949
Warrior costume design – Kate Forbes
Photography – Troyt Coburn – kateforbes.com
Sonia Biacchi and Elise Cowin collaboration
Sonia Biacchi
Jasmine Sanders in H&M attends The Metropolitan Museum of Art's Costume Institute benefit, 2018
photo AP
Jolande photo by Gian Paolo Barbieri
–