Saignon fountain in Provence, Fra
Fountains of fluid beauty   
Gravity and water are a marriage made in heaven, a source of eternal captivation in waterfalls and fountains, providing both a visual and sound ambiance of delight. The calm inducing qualities and natural serenity created by a water feature made fountains an essential decor addition at many great palaces, gardens and villas. The ancient Greeks were the first to use aqueducts and gravity-powered fountains to distribute water. Prior to this, large carved stone basins were employed to collect and act as a distribution point for their precious water along with the digging of deep wells. As the Egyptians had to draw their water up from the Nile river, they didn't build any gravity fed fountains. Until the late 19th century when mechanical pumps were introduced, most fountains needed a source of water higher than the fountain, such as a reservoir or aqueduct, to make the water flow or jet into the air.
Tritons and a dragon (emblem of Pope Gregory XIII. Boncompagni) Spruce fountain, Rome
Pliny the Younger wrote about a banquet room in a Roman villa where a fountain began to jet water when visitors sat on a marble seat. Of course the display was more spectacular after the banquet had finished. Ancient Rome was a city of fountains and around 100 AD, it had nine aqueducts which fed 39 monumental fountains and 591 public basins. Roman engineers built aqueducts and fountains throughout the Roman Empire and there are still surviving examples of this. By the middle of the Renaissance, fountains had evolved to become a form of theater, with cascades and jets of water coming from marble statues on a grand scale. Unfortunately, after the aqueducts fell into ruin, some of the fountains ceased to function. It is always sad to see a dry fountain being a shadow of its former self. Still, many did survive by virtue of the accompanying statue decorations and the durable carved stone and marble that they were constructed from.
The graceful, shape shifting fluidity of water is wonderfully symbiotic with stone fountain statues and highlights the texture and lines of the form. It's an added bonus that it has its own dynamic sculptural qualities. I've add an image below of the of the Fontaine des Innocents, the oldest fountain in Paris, created in 1547.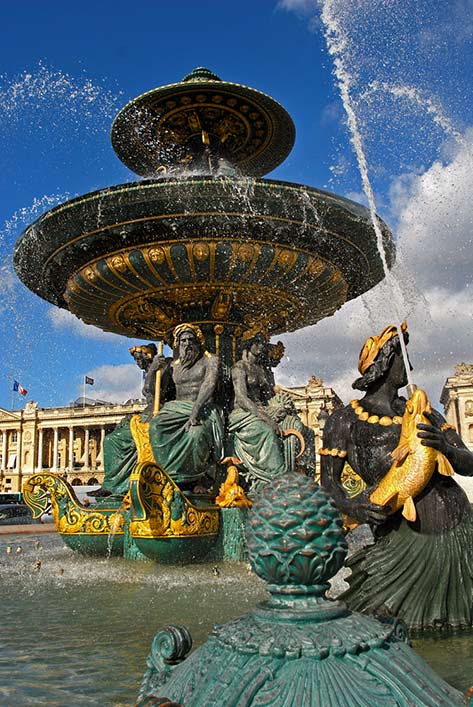 'Fontaine des Mers',– Place de la Concorde, Paris
Hestercombe Gardens Arch Fountain, Somerset , England; photo Doyle Herman
'Fontaine des Innocents' – 1547
Architect Pierre Lescot and sculptor Jean Goujon
'Fountain',by Jim Rappaport
Paris France
'The Fountain of Neptune' (Italian Fontana di Nettuno)
Eponymous square, Piazza del Nettuno, Bologna
'Juturna, Roman Water Goddess' of Fountains, Wells and Springs
Design Toscana
Tybee Island fish sculpture fountain
Winged lion and cherubs fountain, France
Voyage Visuel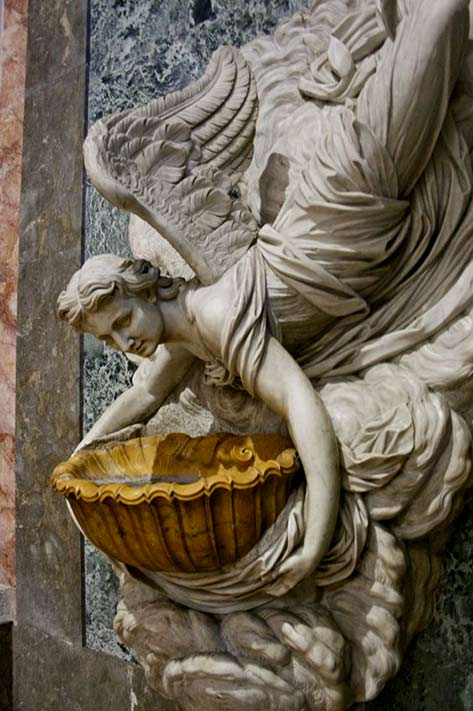 Angel fountain as S. Giuseppe dei Teatini Church , Palermo, Sicily.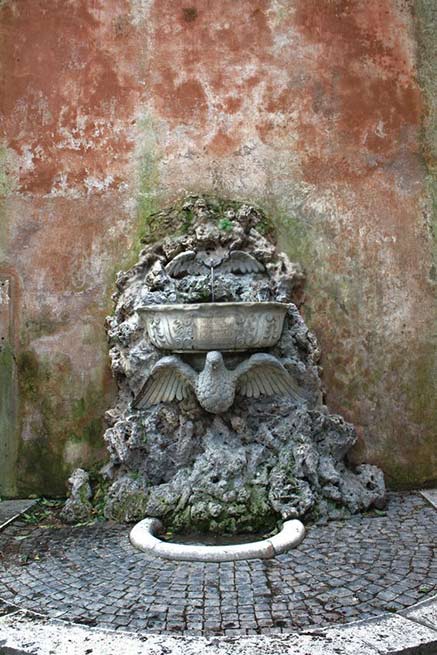 San Paolo, Roma – LZ – Italia.
Photo William McClung
Figurative sculpture fountain. Regents Park, London.
Emile Bourdelle -'Penelope' (left)
1912
Mexican talavera ceramic jug and bowl fountain
Arles turquoise green fountainhead, France
The Tiki Pool, Duinrell
Wassenaar, The Netherlands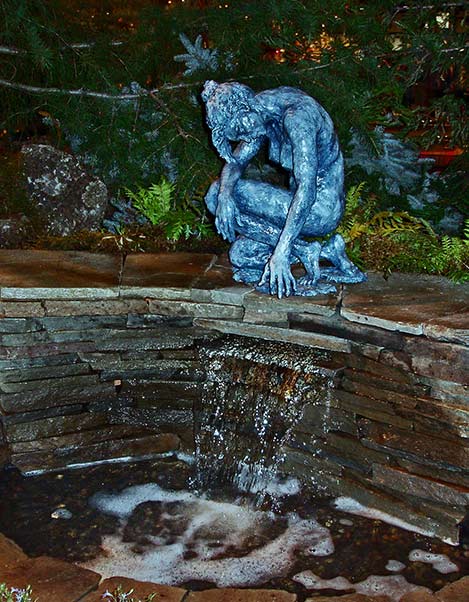 Kneeling female figure sculpture fountain, Santa Cruz
Polyxena at the fountain, watched out by Achilles (right). Attic white-ground lekythos,
ca. 480 BC Southern Italy
Louvre Museum
'Fontana del Tritone' – 17th-century fountain in Rome, by the Baroque sculptor Gian Lorenzo Bernini.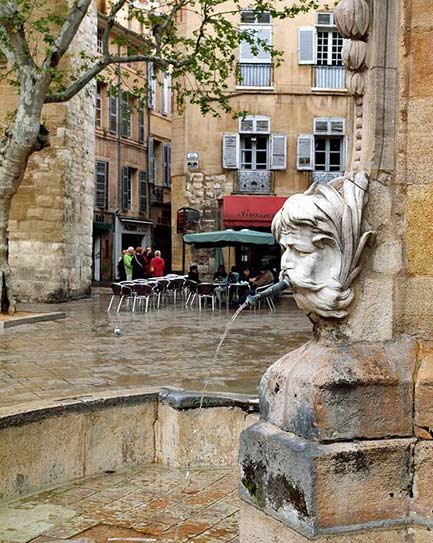 Aix en Provence
Photo by cb de damiette, Flickr
Indoor koi pond and waterfall
The Fontana dei Quattro Fiumi  ("Fountain of the Four Rivers") – Gian Lorenzo Bernini
Rome, Photo Pat Kofahl, 500px
Bethesda Fountain in Central Park, NY
Blue amphora vase – Stadtpark, Vienna
Bartholdi Park, Washington DC
Cobalt blue glaze birdbath
Courtyard fountain with cherub sculpture, Provence
A fountain by Utah artist Gary Prince
Harrison garden, Attica, Indiana
Gold Danaida fountain of Peterhof
Photo Yair Haklai
Terracotta English Tudor garden angel
'Fontana del Pantheon' fountain in front of the Pantheon in Rome, Italy
Inge Johnsson / Alamy
Fountain Blue Whale , 1982
Garden of St. Eloi island, Paris 12th district
Fontaine léanaise
Photo by Zagreusfm on Flickr
Fontaine Saint Michele
Photo by Michele Campus
Fountain Saint Michel
Tamar Marie on Flickr
Fountain Rhode Island—David Fuller
Art Deco fountain – Francois Sicard – 1932
photo Jamie Williams
The Archibald Fountain is located in Hyde Park North, Sydney
Friendship of Nations fountain, Moscow
Galatea Fountain (gilded-bronze), Audrey Flack
South Pasadena, Florida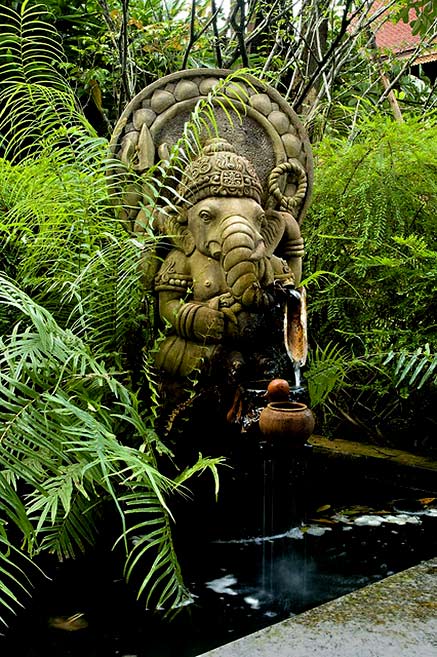 Ganesha statue fountain – Bali
Art Nouveau maiden fountain
Havlystparken Hvitsten, Norway-©-Kari Meijers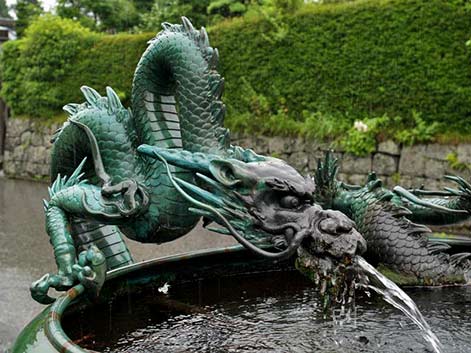 Dragon fountain, Japan
Elephant fountain sculpture (waiting for some water)
Home Magazine by STUDIO Gannett – – Issu
A female rufous hummingbird hovers above water droplets from a backyard fountain.
Photo by Alandra Palisser
Tranquil Japanese garden, Portland, Oregon
Z

Moroccan geometric tiled pool
National Orchid Garden fountain, Singapore
'Revolving Torsion'  by constructivist sculptor Naum Gabo, London
Photo by Pemberley Oak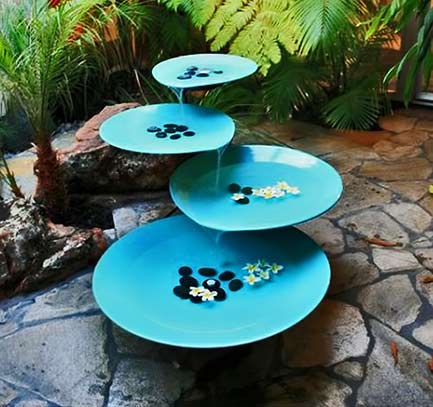 Contemporary water fountain
" Moses"  by Michelangelo, 1515
church of San Pedro in Víncoli, in Rome
Concorde Square Fountain, Paris
Garden fountain
Photo by Kari Meijers
La Fontaine Bartholdi ~ sculpted by Frederic Auguste Bartholdi in 1889 and erected in the Place des Terreaux in Lyon centre square in 1892.
Jade green heron fountain sculpture
Neptune sculpture fountain – Library of Congress, USA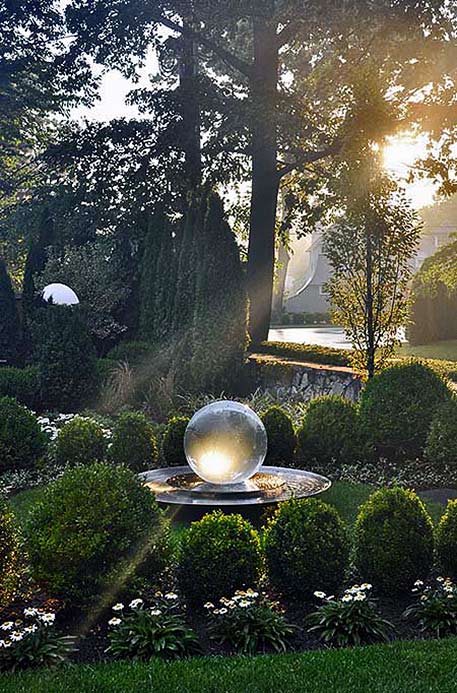 In The Garden – Stacy Bass
McNay Art Museum
Floozie in the Jacuzzi – Dhruva Mistry
Victoria Square, Birmingham
Fontaine de Medicis by Auguste Ottin
The Jardin du Luxembourg, Paris.
 'Moon Garden'  – Tom Stuart Smith
London's Connaught hotel — Image MMGI Marianne Majerus
Lotus lily pond
Indulgy
Uluru Waterfalls, Central Australia
Versailles fountain
Versailles — Bosquet de l'Arc de Triomphe
The Atlas Fountain, Villa Aldobrandini, Frascati, Italy
Yves Saint Laurent and Pierre Berge's Moroccan oasis garden
Bronze fish sculpture wall fountain by Lucy Smith
–