A diverse collection of ceramic and metal lamps encompassing most styles from Art Nouveau onwards including some details for feng shui lighting.
Large silver iridescent patina ceramic lamp by Dalo, 2014
Height 21.6 inches
Daniel & Loic (Dalo) have been designing original ceramic pieces together since 2007 . Inspired by the second part of the 20th century French ceramists, they created their own style, a poetical and comic universe in which figures appears under stylized and gracious lines in a very contemporary spirit.
GALERIE Sandy Toupenet, Paris ( 1stDibs)
 Feng Shui Lighting
The ambient light in your home, both natural and artificial, has a direct influence on the circulation of chi. Poorly lit areas accumulate stagnant yin chi and become depleting, just as badly ventilated rooms do. Conversely overly bright spaces build excess yang chi and are discordant and lead to tension. The all important entrance needs to be well lit, preferably with lighter shades of colours on the walls that easily reflect light. The hallways, which function as energy conduits also need good lighting. Using just one central bright light in a room is poor fen shui. Lighting that smoothly changes in intensity throughout the room is more ideal, which can be achieved with accent lights, table lamps, down lights and floor lamps. Undulating light has a better feng shui dynamic, just as hilly landscapes do and supports the flow of chi.
Torchier floor lamps and sconces create attractive upward light gradients, that also reflect diffused light back into the room. Ideal for living rooms, dens and lounges. Also useful to soften shadows from overhead beams, which tend to concentrate chi and create stress and tension if you sit underneath them.
Soft, even light is more appropriate for the bedroom. Generally clear globes are too harsh and need to be used with a lamp shade or opaque lighting fixture, or favour diffused lighting globes. Fluorescent lights are on the harder side too and need diffusion. An exception to this would be high activity spaces like a rumpus room or a kitchen if you don't eat meals there.
Dark corners are to be avoided, especially in low activity areas. The central area of your home responds well to good lighting. This is because light is related to the Fire element which nourishes the central Earth element. Avoid placing fountains in this location as it drains the all important Earth. They are more aptly suited to the wealth corner. Ideally ceramic lamps are an ideal choice, more so than wood or metal ones for the central home space. Stone and ceramic sculptures, jade sculptures and  ceramic pottery fit well here too. The grounding Earth element brings the most harmony and has the power to balance all the other elements * and is the easiest element to locate.
As the Earth element is a source of all the other elements, all colours are harmonious in the central space but earth tones are best. Splashes of red, orange and yellow colours are useful in this area, like a burnt orange lamp base or a red sculpture. Relaxing blues and cool pastel tones are more effective away from the homes central location, as is cool lighting. Avoid any light fixtures with sharp spikes or edges, especially if they point downwards –  these create a sha chi, the translation of this being poison arrows.
Sometimes external light entering a room can be too harsh and curtains and blinds are needed to pacify the incoming yang chi. Lighting and its manipulation is one of the simplest ways to uplift the ambience of a room and create a balanced chi.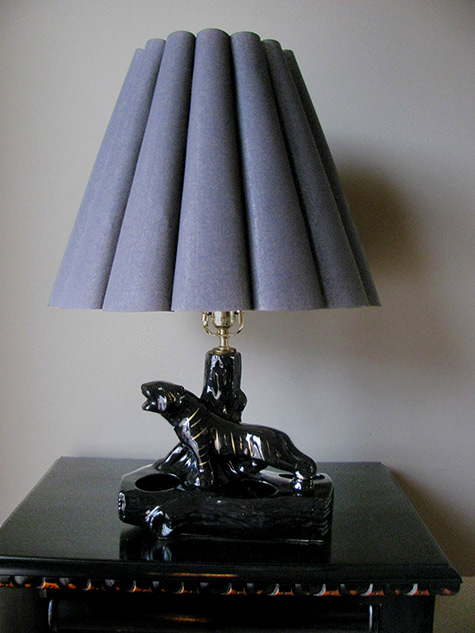 Black ceramic panther lamp, lavender shade – Haeger?
Taoist Scholar sculpture lamp base
 Phoenix Lamp Base – Waylande Gregory
Renaissance Man, 1stdibs
Mid Century atomic lamp
Blue glass and marble lamp
50's atomic ceiling light – Angelo Lelii
Italian alabaster female figures lamp
French Limoges Art Deco Porcelain Pigeon Figurine Night Lamp
Art Deco Pelican Lamp
Earthenware baluster handpainted lamp.
Montigny sur Loing, France
Sculptural Glass Venini designed Table Lamp-1970s
Retro atomic lamp
Australian Mid Century Barsony 'Ponytail Girls' lamps
Black Afro – Flickr
 Abstract ceramic Mid Century lamp  -Frank Matranga, USA
 Pair of cream cactus style lamps – John-Dickinson
 60's lamp featuring man and horse
 Ovoid drip glaze lamp – signed Hammer
 Modernist table lamp – Elisabeth Joulia
Ceramic modernist table lamp – Dalo
Galerie Riviera, France
 Félix Optat Milet barbotine (slip) majolica table lamp
France circa 1900
internetantiquegazette.com
 Gerd Bogelund for Royal Copenhagen
Porcelain Art Deco flapper perfume lamp – Goebel
 Jean Besnard contemporary table lamp
 Gazelle and dancing girl mosaic lamp – Jean Mayodon
Rene Lalique Amber Venus Lamp Art glass
Skinner Auctions
 Art Deco Figural Lamp, Stone, glass, and metal
Large table lamp –  Les Deux Potiers
 Le Vaucour Vallauris Lava glazed Lamp base
Art Deco glazed porcelain perfume lamp by Liane
1920s
 Lubna Chowdhary Tiled Table Lamp
west-elm
 Maison Charles Nickeled Bronze Abstract Lamp-70's designed by French Craig Van Den Brulle
 Max Ingrand table lamp for Fontana Arte,-1960
 Atomic mid-century table lamp by Kolorize
 Matching pair of red Royal Haeger lamps
 Art Nouveau  figural lamps – Royal Dux
 Fornasetti lamp, Milan
 Andre Aleth Masson via Thomas Fritsch-–-Artrium
Height-17inches
 Art Deco nude dancer table lamp – McKee Glass Company
1920's
 Ram Head Table Lamp
style44
 Yellow Macaw table lamp – Royal Haeger
 'Bubble Lamp' – Laurel Yourkowski Studio
www.laurelyourkowski.com/
 Mosaic 'Ginko Caramel' lamp  –   Laurel Yourkowski
24 inches tall
 Draped figure Art Nouveau lamp
Ceramic penguin table lamp by Walter Bosse for Karlsruhe Majolika
Zezschwitz Art and Design Auctions
1958
 Self-Reflecting Surreal Table Lamp by Double Take
 Théodore Deck – turquoise blue oil lamp
 Pair of Tiffany candle lamps
 Josef Lorenzl, Table Lamp 'Harem Dancer'
Friedrich Goldscheider, Vienna. Earthenware, 1929
 Austrian Art Nouveau figural table lamp
circa 1900
 'Bird Lamp' by Georges Jouve, France
1953
 Art Deco moving figures lamp
Art Deco lamp –  manufactured by La Maison Desny, France. 1930
 Gilt Decorated Peacock Table Lamps mid century style – Sascha Brastoff ?
 White Cycladic Lamp—Frances Palmer Pottery
Yunu rusty brown stone finish ceramic table lamp by Uttermost
 Mondrian Table Lamp
Select Mid Century
---
* The ancient Chinese 5 element theory, along with the BaQua, forms the basis for applying Feng Shui. This 5 element theory is also utilised for the application of acupuncture healing and encapsulates the most advanced understanding of how chi energy interacts within the body and in an environment. The master point for balancing the body is named Tsu San Li, which is on the leg. This happens to be the Earth point on the Earth meridian and is used to harmonise all the elements.
–