Bunjil Eagle Kinetic Sculpture
The video below features a large kinetic sculpture currently on display at the Melbourne Museum. It is inspired by the notion of continuity and the omni-present nature of creation, its form symbolising Bunjil the Creator, as a wedge tail eagle in flight. It has a wing span of 2.2 metres  in width, mirroring the size and majestic nature of the wedge tail eagle, and is in constant motion. The moving form shows the wings of a bird in flight yet also reflects a universal motion seen throughout nature – the movement of a wave, the lines of a mountain range, a manta ray moving through water, a snake moving across the land.
This immersive, multi-sensory experience invites visitors to connect to a spiritual and sensory awakening, bringing together sound, visual art, technology and storytelling, as it represents the essence of creation for Victorian Aboriginal people and displays their spiritual connection to country.
Flight of Bunjil kinetic sculpture, music 'Touching Silk' by Frank Steiner Jr.
Flight of Bunjil at the Creation Cinema in the Melbourne Museum was developed under the guidance of the First Peoples Yulendj Group and is a creative collaboration between Glenn Romanis (Wedge-tailed Eagle feathers), Synthesis Design + Build (Bunjil's Nest), ENESS (concept, design, vision and sound for Bunjil's wings) and Melbourne Museum (overall concept and design).
'Bunjil Eagle Spirit' – Phibs
Aerosol, Acrylic & Ink on Canvas – 2012
Flight of Bunjil
The ancient Kulin indigenous tribes of central Victoria regarded the eagle called Bunjil as their ancestral guardian spirit. Bunjil was also seen as a creator spirit who created plants, animals and men from clay. He also shaped the environment and began the cycles of creation while his brother Bat, created woman from water. Bunjil's son, Binbeal created rainbows and his wife is the second rainbow you sometimes see as a reflection. The Wurundjeri peoples of the Kulin nation saw Bunjil as an ancestral father and protector who presided over their art, ceremony and survival skills. All the Kulin people have a defining social moiety of either Bunjil or Waa, the trickster crow.
During an ancient time of conflict and chaos, through neglect of laws and tradition, tribes started warring, which caused the sea to start rising. The elders contacted Bunjil and asked him to intervene which led to Bunjil having a confrontation with the sea resulting in the waters subsiding. They were warned to stop hunting animals as a sport and fishing during the spawning season, as they were in violation of old practices.  A permanent meeting place was chosen to resolve their conflicts, which was used over thousands of years and is now where the Parliament House of Victoria stands. The Wurundjeri believe Bunjil keeps a watchful eye over their people and offers guidance to those who listen.
Bunjil the Creator Spirit – 7 meter wing span
Healesville Sanctuary, Victoria
`Torquay mosaic sundial, when you stand on Bunjil, your shadow indicates the time
Designed and built by local artists, Claire Gittings & Glen Romanis (about 120,00 glass tiles)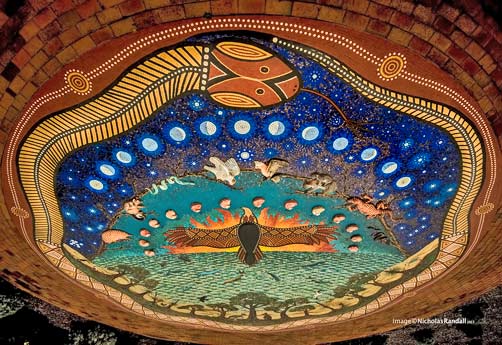 Sundial with elaborate artwork representing a number of traditional dreaming stories of the Wathaurong aboriginal people, including Mindii, the ever watchful Snake and Bunjil, the Eagle, Creator and Overseer
Torquay, Victoria
Torquay Sundial next to Bass Strait
Monumental Bunjil sculpture by Bruce Armstrong – height 25 metres
Docklands, Melbourne
Glenn Guy, Blue Sky Photography
Casey Cultural Precinct ( currently under construction )
Narre Warren, Melbourne
Street mural – Bunjil – Adnate and Sirum
Bunjil clouds
thereisafield – Instagram
Bunjil wood carved sculpture – Lewoo @Instagram
Bodalla, NSW
Large Bunjil mural by Heesco
Albert Street Footscray, Melbourne
'Heaven Comes Down' – Safina Stewart
Bunjil
Bunjil – Iluka Art & Design 
Bunjil the eagle and Bindi the snake mural (yin/yang)
Landscape Architects—Green and Dale Associates
'Bunjil – In The Beginning'  – digital art by Robbie Hood
' Bindi Rising' – digital art by Robbie Hood
Stone carved eagle sculpture by Jian Hua
Sculpture by the sea – 2007
'The eagle with the nest'
Wrought iron eagle feeding young sculpture
Ferro Battuto Di Prinzio Italy
Matt Adnate street mural Hosier Lane, Melbourne
Wurundjeri Indigenous Australians
Bunjil's Nest – Healesville Sanctuary
David Digapony-Instagram
Solo show of Matt Adnate at Metro Gallery
This Geoglyph was created by Andrew Rogers as a tribute to the Creator Spirit Bunjil and is one of the world wide 'Rhythm of Life' series of-sculptures. It has a 100 metre wingspan.
You Yangs mountains, Victoria
The Pocket Rocket—flickr
The original Mad Max was filmed around the volcanic plains of the You Yangs, which are sacred to the Wurundjeri. I was curious to see that a Bunjil like symbol featured in the new installment.
Wall mural by Phlegm  (click expand)
Perth, Australia 2014.
Photograph by Luke Shirlaw. Image courtesy of FORM
'Spirit of Bunjil'  by Kuba Ambrose
Mosaic glass plate – Lynn Bevino Felts
Harpy eagle as totem by ravenari
Sacred 'Eagle Rock' – You Yangs
Ceramic plate with eagle motif painted by Freitas de Lima for SPAL Porcelanas, Portugal
Art Deco eagle – Walker Hancock?
St. Louis, Missouri
Roman golden eagle pectoral
Dan Diffendale – flickr
Bunjil – Safina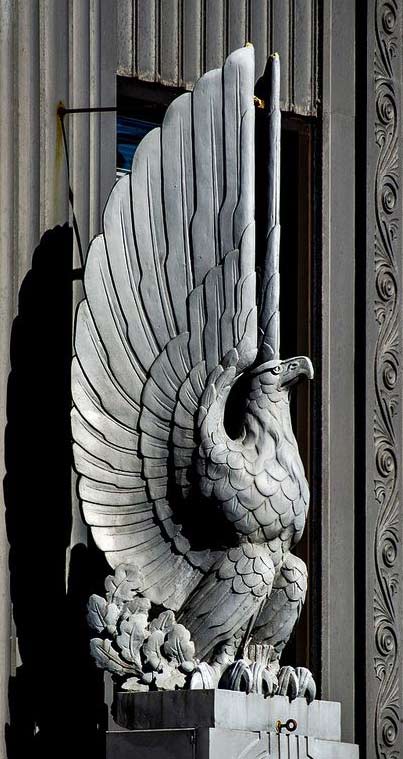 Majestic Art Deco eagle statue at the entrance of the First Merit Tower in Akron, Ohio
 Bunjil steel sculpture, Knox, Melbourne
Wurundjeri elder Bill Nicholson, aboriginal artist James Simon and sculptor Benjamin Gilbert worked together to develop the life-size eagle, with help from aboriginal students from remote central and northern Australian communities. This sculpture was stolen in December, 2015
Nathan Patterson –  Iluka Art & Design
Bunjil mural – Be Deadly
 1 Perry Street Collingwood (Chopper Lane)
–