Golden Bird-Man Pectoral
A.D. 900–1600, Cauca
'Golden Kingdoms —  Luxury and Legacy in the Ancient Americas' –

The Met, NY
This exhibition is running till Sunday, 28th May
The artists of the Ancient Americas crafted sacred objects from precious metals and stones purely for ritual and regalia rather then tools, weapons, or currency. Their creations were instrumental in expressing political power, religious beliefs and social status. Gold and silver was used in abundance and given elevated regard but other precious materials like jade and turquoise were also held in high esteem for their colour and luminescence. Associated with fire, time, royal power, and political succession, turquoise was an exotic material favoured by Mexica lapidary artists. This precious imported mineral was used to make the regalia of select Nahua deities and Mexica rulers. Thousands of turquoise objects have been found at the Templo Mayor.
Most of the objects displayed in this exhibition carried a sacred power and had symbolically charged iconography while being passed down over numerous generations from 2500 BC to European colonisation in the 16th Century.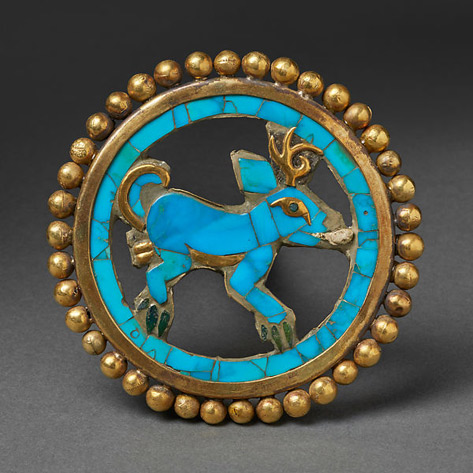 Moche Ear Ornament with a Deer in turquoise and gold
AD 640-680
Standing Mayan Ruler ceramic figurine
AD-600-800
This ceramic figurine shows  the elaborate and burdensome regalia of Maya rulers. The belt ornament in the shape of a head with three celts is similar to the set of plaques on view here. Maya blue pigment-a combination of indigo and palygorskite, a type of clay-covers the figurine, evoking the green of the quetzal feathers in the headdress and of the jade pectorals, earrings, and belt ornaments. Holding a shield in his left hand, this ruler may be celebrating a military victory or reenacting a triumph.
Green Jade Warrior holding a cacao tree Plaque
A.D. 700–1100
A.D. 600–800—Mayan vessel with Palace Scene
Ceramic stirrup vessel in the shape of a Seated Figure
A.D. 525–550—Moche
Jade Olmec Maize God Mask
900–400-B.C
Ceramic Tripod Censer Containing Copal and Jadeite Beads
A.D. 1300–1450–Maya
Remarkably well preserved by the oxygen-deprived environment at the bottom of the Sacred Cenote, this ceramic bowl was found filled with twenty pellets of copal—a tree resin used as a ritual incense—and five jadeite beads of various shapes. In this distinctive testament of Maya devotion, the materials symbolically unite the clay of the earth, the sap of the tree, and the green of maize.
Tonatiuh Aztec Sun God Effigy Vessel
AD-1350-1521–Mexica
Stela with 'Queen IMutal Ahaw'
AD-761–Maya
Maya dynasts often revered their wives and mothers as vital players in their claims to the throne by featuring them as important subjects for commissioned artworks. This stela, from an unknown site in the Usumacinta River region, is a masterful depiction of such a royal woman. The inscription refers to her as Ix Mutal Ahaw, or "royal lady of Mutal." Mutal refers to the powerful dynasty at the city of Tikal, Guatemala, or a related lineage at the site of Dos Pilas. She holds a ceremonial bar from which a supernatural serpent emerges. A version of the Maya God of Lightning, K'awiil, appears from the serpent's mouth. This image of a queen in her regalia of resplendent quetzal feathers and jade ornaments underscores the central role of women in conjuring deities.
Gold Spider Necklace Beads
AD-300-390—Moche
Seated Olmec Female Figure with Mirror Disk
700-600-BC
Mayan Plumed Serpent and Chac Mool sculpture
A.D. 800–1250
Golden Lambayeque Scepter
A.D 900–1300
Stirrup Vessel with inlays representing a Mythological Animal
200-400AD — Moche
Gold Metal bell with Owl at Top
A.D. 900–1521 – Veraguas-Chiriquí
Bells constitute one of the largest classes of metal objects deposited in the Sacred Cenote. Likely attached to clothing, they attest to the auditory aspects of ritual practices at Chichen Itza and other sacred centers. These cast gold bells and pendants were produced in the Veraguas-Chiriquí region of ancient Costa Rica and Panama.
Head portrait stirrup Vessel
AD 400-650—Moche
Mayan jade plaque showing  Seated King and Palace Attendant,
A.D. 600–800
Moche Gold Nose Ornament
AD 525-550
Mayan shell plaque
A.D. 600–900
This Classic Maya–style shell pendant, located around a thousand miles from where it was made, depicts a seated ruler wearing jade jewelry with elaborate headdress on one side and diagonal  incised Maya glyphs on the other. Evidence of reuse suggests that it was an important heirloom.
Gold pectoral ornament 
600-BC-AD-400—Tolita Tomaco
Moche Nose Ornament
ca. A.D. 400
Eight section Mayan Mosaic Disk with Jade
A.D. 900–1200
 The sparkling blue-green turquoise mineral sets off four pyrite serpents, symbols of royal power. A pyrite mirror, now lost, once graced the center, obscuring the two perforations used to attach the disk to a garment. This is one of two disks found in an offering in one of the substructures of the Castillo, the central pyramid platform at Chichen Itza, which was built over a cenote. This represented a portal medium similar to the 8 sided Chinese Ba Qua and the Egyptian Magic Square.
Gold Relief figure Pectoral
100 BC to AD 800 – Calima Yotoco
The funeral assemblage of Palenque's Lady Tz'akbu Ajaw, nicknamed the Red Queen because it was found covered in cinnabar, is one of the richest known burials of a female Mayan ruler
AD-672
Vessel in the Shape of a Crested Animal
A.D. 525–550
Olmec Mask, ca. 800-B.C.
This mask was excavated at the Templo Mayor, the sacred center of the Aztec Empire, now under modern Mexico City
Located at  Museo del Templo Mayor, Secretaria de Cultura—INAH, Mexico City
Gold Serpent Labret with Articulated Tongue
Cleverly crafted gold serpent ready to strike, this labret (lip plug) was ingeniously cast as two separate pieces, so that the movable bifurcated tongue could be retracted or allowed to swing from side to side as the wearer moved.
Intricate Mosaic Mask of turquoise, wood, mother-of-pearl, shell
A.D. 1200–1521, probably Mixtec
Golden Lime Dipper with Anthropomorphic Finial
100 BC-AD 800 — Calima Yotoco
Lime Container in the Shape of a Jaguar
100 B.C.A.D. 800 — Calima Yotoco
Mayan Green Jade Plaque
A.D. 700‒900
Jade plaques and pendants were heated before they were tossed into the Sacred Cenote, causing them to shatter when they entered the cold water. This jade plaque features representations of rulers wearing zoomorphic headdresses, ear flares, and beaded necklaces or pectorals.
Inca Libation Vessel with Five Representations of Spondylus Shells
A.D. 1450–1532
Cocle Gold Helmet with abstract detail
AD 700-900
Mayan Hu'unal Headdress Ornament
AD-600-800
Gold Octopus Frontlet
A.D. 300–600 – Moche
Maya Hu'unal Headdress Jade Ornament
A.D. 700–800
Golden Kingdoms Luxury Arts in the Ancient Americas
Met
Gold Plaque,A.D. 700–900 — Cocle
Woven Four Cornered Hat
A.D. 500–900—Tiwayaku or Wari
 Lambayeque Funerary Mask
10th-12th century
Huastec Terracotta Female Figure
AD-1200-1521
Wari Figurine in the Shape of a Dignitary
A.D. 600–1000
Seated Mayan Figure with Bird Mask
A.D. 550–900
As part of their royal duties, ancient Maya kings and queens would impersonate avian deities during masked performances. Found at the center of an altar in a tomb, this figurine portrays a ruler seated on a blue-green throne wearing a bird mask; the hooked beak recalls that of a raptor, and finely wrought details represent jade ornaments and luxury textiles.
Lambayeque Double-Walled Beaker with Mythological Scenes
Peru A.D. 900–1375
Crown of the Virgin of the Immaculate Conception, known as the Crown of the Andes,Ca. 1660 (diadem) and ca. 1770 (arches)
Colombian/Popayan
Mayan Collar and Ik' Pectoral
AD-660–750
Chimu Collar
AD-1000–1470
Moche Ceremonial Vessel
AD 500-700
Ceremonial jade axe – (Kunz)
1000–400-B.C
Chac Mool sculpture
AD 800-1250, Maya
Sculptures of this type, featuring a reclining male figure holding a bowl on his torso, were given the invented name Chac Mool by nineteenth-century explorers during an archaeological expedition to Chichen Itza. The figure is adorned with a headdress, earflares, bracelets, and anklets, all likely depicted as if they were made of jade. The bowl served as a receptacle for sacrificial liquids and burnt offerings and may have been symbolic of the circular cenotes.
–