Volcanic glaze bottle – Jay Kvapil
I never tire of admiring a design that exudes originality and spirit. Sometimes form alone works a treat, with the right balance and originality. Any added decoration would detract from its pure brilliance.  Decorative lines, texture and colour can all contribute to the added illusion of depth and combine to manifest rhythm in the design. Overlapping lines and colours support the perception of depth. Sharp edges in the decoration can flatten the depth, as can a lack of tonal diversity. Decorative additions can clash with the shape of a piece, if the lines aren't harmonic with the form.
The curvilinear shape always presents shifting perspectives and intriguing possibilities on the three dimensional canvas of clay pottery. Asymmetrical patterns and design adds to the allure of a decoration as it offers multiple angles where the piece reflects a shifting appearance. Additional texture can be created with decorative lines, directly carved into a piece or appear with the glaze and natural surface of the clay. The more textured a surface, the larger the object appears.
The mood of a piece can be manipulated with the styles of the lines in both the form and decoration. Vertical lines are yin, expansive, gravity defying, feminine, restless and reflect growth and flexibility. Conversely yang horizontal lines are grounded, masculine, restful, steady, rigid, passive, calm and serene. An assertive mood can be created with bold, straight, solid, sharp, thick, and even lines. A soft, or delicate mood would employ curved, thin, or continuous flowing lines. An edgy feel logically comes from diagonal, disjointed, angular shape and lines. The creative combination of these 'moods' can create an excellent dynamic. This was particularly evident in the vivid Art Deco designs.
The most cleverly conceived design can be dismissed in a glance if these creative elements don't mesh and sometimes if the form isn't right to begin with, decoration will struggle to save it. The artist uses these design elements to put form to his creative spirit, and ironically, with abandonment of intellectual analysis, the viewer can get closer to appreciating the spirit of the work.
The focus of this post is on forms that are original, or have decoration that effectively enhances the form.
Female figure dish – Edouard Cazaux
Modernist ceramic vessel by Alessandro Mendini,- Superego Edition
Italy
Val Cushing
USA 1931
  Anne Currier
 A graceful Korean celadon glaze porcelain ewer, designed to resemble a bamboo shoot.
Museum of FIne Arts in Boston, 12th century
Tall textured copper reds and green vase – Brother Thomas
Globular Art Deco vase – Camille Faure
Carlos Versluys ceramic handpainted pitcher
Ceramic burner with decentralized neck – Catherine of Siena, Italy
Japanese influenced raku vessel – Meredith McGriff, Indiana
Caught Up In Clay – etsy
 Cecilia Boivie – sheep figurines
Davis Vachon
 Ceramic bottle mid-century – Clyde Burt
 Yellow crater glaze vessel Michael Hamlin Smith
Abstract vessel, twin necks – Davide Salvadore
'Tyto 1' – Daina & Francis- Elemental Artifacts
Stylized barn owl sculpture in graphite colored mica flecked stone. Mounted on a bronzed patinaed steel base
Art Deco bowl – Emile Jacques Ruhlmann
France
Enno Jäkel contemporary vessel
'Roma' – Giuliano Malimpensa palladium sculptural vessel
ponteonline.com
Jim & Shirl – 'Parmentier'
Kato Yasukage, Joan B. Mirviss
Sofaexpo
Kazuo Yagi — Futakuchi Tsubo
1950
'Fishwife's Birthday Teapot'  sculpture by Natasha Dikareva.
Incised stoneware Vessel – Guido Gamboni
Larry Halvorsen
Handbuilt vessel – Leza Mcvey
USA 4o's
'Listening to Waves' vase  – Sakiyama Takayuki
Heisei period-(1989–present), 2004
Lucie Vase
Marianne de Trey
Meissen Porcelain Factory ceramic lidded vessel
Michelle Mendlowitz contemporary ceramic bottle
'Kassandra' – Peter Mandl
Höllviken, Sweden
 Kerry Hastings
Koloman Moser vase for Loetz
'On a Dark Wing of a Wave'   Jacques Vesery
Wood Fired Ceramic Vessel – Paul Soldner
Robert Hessler—Crystalline glazed bottle
'Puzzle Pot 1' – Ron Mello
This particular piece was wheel thrown, burnished and initially sagger fired. Then the  piece was cracked and broken into several pieces. Each was then fired or treated with a different technique and reassembled.
Shimaoka Tatsuzo
 Two Turquoise Glazed Stoneware Vases by Stig Lindberg for Gustavsberg, Sweden
1955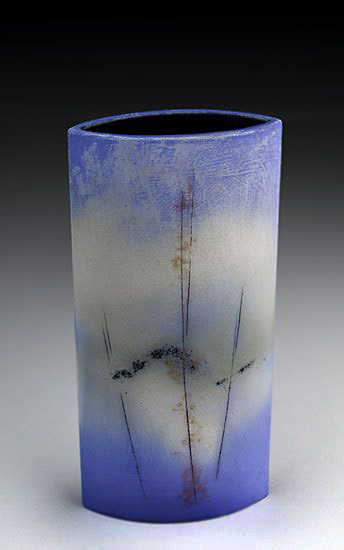 Tessa Wolfe Murray
israel-ceramics.org
Art Nouveau vases in the Toledo Museum of Art, Ohio
Maria C – flickr
'Second Amendment Urn' – Yoko Sekino Bové
 Porcelain with sgraffito, brushed glaze, fired to cone 5 in oxidation, with luster, 2011
10 in. (25 cm) in height
Japanese Endo Period crackle glaze bottle
Peter Layton glass vessel
Mattson's Fine Art
–