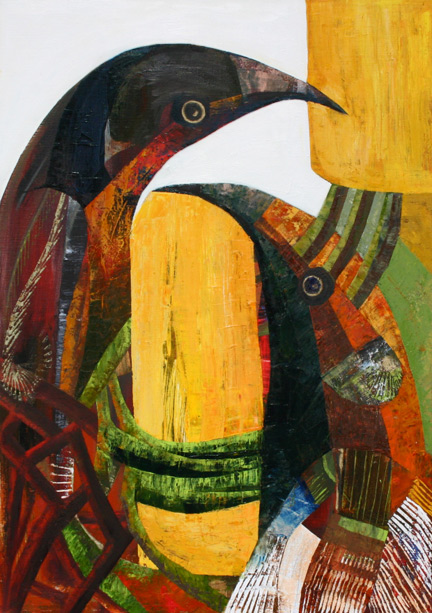 'Banksia Bird' – Kate Elsey
Oil on linen – 137cm x 96cm
A collection of Aussie art that has piqued my interest over the last 12 months, vividly bursting with the inexhaustible life force from the ancient continent. Mainly contemporary works, both non indigenous and indigenous art and the works of the Chinese artist Zhou Xiaoping, who migrated to Australia and studied bark painting in the Australian outback.
Paint Scrape Painter Kate Elsey :
The paintings of Kate Elsey are created using only a paint removal scraper. Due to this unusual technique Kate has developed over twenty years, eschewing brushes for varying sized metal scrapers, her pictures become powerful textures within a space portraying a fierce depth of concern for the condition of natures planet and humanness.
"My work is a distilled interpretation of the kaleidoscope, threads woven together into the pattern of life. Expressing nature and its harmonious complexity into a wild magical simplicity. I'm wanting to represent wildlife in an emblematic, monumental and symbolic way, allowing the viewer to hopefully appreciate our coexistence. My aim in life is to paint pictures celebrating diversity, perfection and the emotion of the wild life, promoting the need to take care of our wilderness."
'Banksia Stirling Ranges' – Kate Elsey
Sum Of Conscious Subconscious Painting series
Kate Elsey
'Fridas Garden' – Kate Elsey
2014
'Ibis In Flight' — Kate Elsey
'Study for Metung Wetland Ti Trees' – Kate Elsey
Oil on canvas – 84cm x 74cm
'Two Rufus Owls' – Kate Elsey
 Kate Elsey website
'Life Splendour' – Kate Elsey
Oil on linen, 107 x 152 cm
Banksia Grevillea Bell Vase' –. Jane De Boos.
Thrown porcellaneous stoneware, black underglaze, terra sigillata, sgraffito, blear glaze, overglaze decals
 26H x 16 x 16 cm
'Blackout 4/5' – Hilary Crawford   Blown murrini glass, machine ground, hand buffed sculptures
Stepney, South Australia
Janet De Boos – sgraffito bottles black on white
'Nadiir VI' –  Avital Sheffer.
Hand formed, glazed and printed, multiple fired earthenware clay vessel
55H cm
Keshar II – Avital Sheffer
2013
71-x-37-x-20cm
'Askos IV'  – Avital Sheffer
2013
54 x 22 x 13 cm
'Dreamtime-Sisters'  – Colleen Wallace
Uta Uta Tjangala, Pintupi, c.1926-90 'Women's Dreaming' (1972) synthetic polymer paint on composition board. Australia.
'Magpie Geese' – Jimmy Djelminy
Pepai Carroll with coil built vase for the ICAA,
image – Ernabella arts.
Jarakalani jantu (Turtle Boat) – Mark Puautjimi and Cyril James Kerinauia
Tiwi Pottery, Australia, est. 1972,
Convergence of two ancient art traditions.
Zhou Xiaoping
 Born in Hefei in the  the Yellow Mountains of China, Zhou Xiaoping moved to Melbourne, Australia in 1988. Classically trained in the visual art traditions of Chinese brush painting, he made a trip to Central Australia to study with John Bulunbulun, a senior member of the Gurrambakurramba clan, who was  traditionally trained in the visual art traditions of east central Arnhem Land. He found the Aboriginal symbolism, stories, traditions and culture to be a powerful influence. His works are a fascinating synthesis of two ancient art traditions."In Chinese traditional painting artists often paint imaginary and mythical scenes, mysterious mountains and waterfalls, cloud filled landscapes, beautiful flowers and fierce tigers and horses. I'm more interested in people's everyday lives. In my work I paint Aboriginal people as they live, how they look, what they're doing." His combination of the rich ochres with black inks on rice paper is vivid and impactive.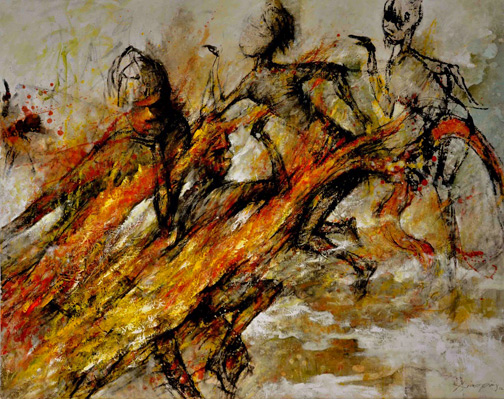 'Fire'  – Zhou Xiaoping
2012
Zhou Xiaoping
'Tradition (1)'   – Zhou Xiaoping
2013
'Waterlilly' – Zhou Xiaoping
2012
 Zhou Xiaoping selecting bark for painting with the late John Bulunbulun
Dragon  – Zhou Xiaoping
2012
Zhou Xiaoping
'Dance' – Zhou Xiaoping
2002
'Fish Dream'  –  Zhou Xiaoping
2013
Blue and White Bottle Vase – Zhou Xiaoping
with design from painting by John Bulunbulun
2010
Height: 37 cm
Zhou Xiaoping
'Euriowie Cliff'  – Merran Esson.
Ceramic with copper and rust glaze – 2012
61Hx29Wx22Dcm
'Budgerigar Dreaming' – Kaapa Mbitjana Tjampitjinpa
1972
The following dozen pieces were featured in the Engaging Form exhibition of Exemplary Australian Contemporary Studio Ceramics – organized in 2012 by the Skepsi Gallery and Montsalvat
'Dome' – Tatiana Gvozdetskaya,
H20 x W40 x D40cm
"Some people may find my work severe and uncompromising and I suppose it might well give that impression. It is certainly minimalist. What I am really trying to do is to develop an elemental 'language' of more or less pure geometric forms through which I can express my ideas and feelings about life, art, and existence."
'Nurture' – John Ferguson
H27-x-W14-x-D7cm & H42-x-W14-x-D10cm
'Vessel The Space Beyond'  – Garry Bish
H16.6 x W16cm
"When devices for the creation of pictorial space are painted on the wall of a three-dimensional object, an ambiguous dimension arises. This juxtaposition of the illusory image and the material presence may influence the visual 'reading' of the shape and volume of the ceramic form. Vessel: the space beyond explores this paradox with an image that appears to enter and extend beyond the boundaries of the object."
'Morning Mist' –  Gail Nichols
H35 x W16 x D15cm
"I am intrigued by the interaction of form and surface, which I exploit through making and firing to create rhythm, colour and movement. The vapour glazing process continues to challenge me, as I seek a balance of knowledge, intuition and uncertainty."
'Summer Light' – Greg Daly,
H23cm, H19cm
"Light and lustre have a synergy that creates colour and movement. This is what I see each day, walking from home to my studio and back, light through mist, rain, clouds, sunrise, sunset, dust, heat and the moment as the sun goes down, that after glow that changes for just a moment the land and sky."
'Vibration Series' – Amy Kennedy,
H5 x W15 x D15cm
"In these works, fine paper-thin leaves of glaze material are assembled to form layered objects. Working with delicacy and movement, I use the flowing layers like the opening pages of a book or fluttering piles of fabric to create a windblown or whirlpool effect. Energy and movement within the work is assisted by the gentle softening that occurs during the firing process, giving sculptures the capacity to hover, tilt or extend, as if once animated. It is capturing this energy and creating work that is seemingly made, and found simultaneously, that is a particular aspiration."
"Dark Flowers Series No 1" –  Amy Cohen,
H110 x W25 x D28cm
My forms are inspired by the natural world, sea shells in particular. I find their proportions and fluidity captivating, and feel that my personal interpretations represent a self portrait of my state of mind and emotions at various times in my life. Dark Flowers Series explores the relationship between desire and reality. The forms are suggestive of unfolding desire and allure, an invitation into an unattainable world of creating perfection.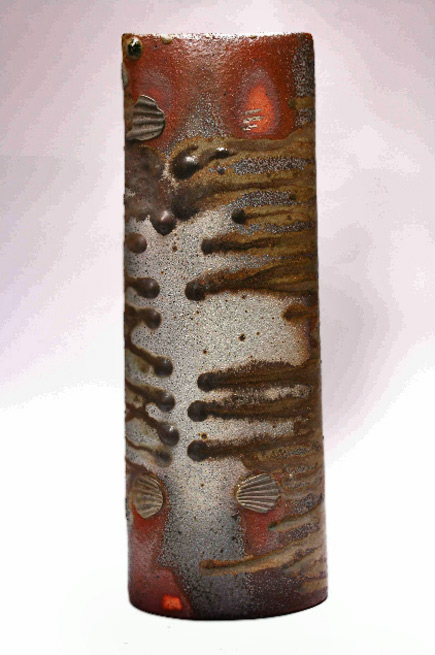 'Magpie Songs' –  Su Hanna
H50.5 x W20 x D12cm
"The magpies sing to me as I light the fire outside my kiln, curious at my activities they look in from the door. They accompany me to the wood pile and as I move wood closer to the kiln, they serenade me. A new kiln, a different journey, endless possibilities…"
'Golden Reef ' –  Peter Pilven,
H41 x W39 cm
"My recent work has focused on a range of vessels inspired by archaic objects that have long lost their functional or intended utility. The often ambiguous nature of ancient implements excites my curiosity and love of history. Whilst the origins of the conceptual source may have been humbly domestic or spiritually symbolic, the resultant pieces I produce are intended to incite reflection on the past and contemplation on what may have been."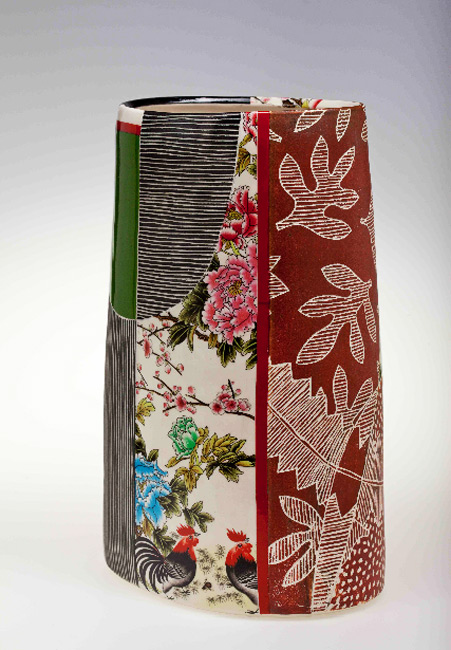 'Qing Chicken Vase' – Janet DeBoos
"A growing interest in the history of ceramic decoration and the way in which it both absorbs and expresses cultures, has become the focus of my most recent work. I am using iconic imagery from the high point of Chinese porcelain decoration (Qing over glaze), colour & line from the deserts of Australia (Ernabella terra sigillata, Australian flora) and that most ancient of techniques from the ceramics lexicon (sgraffito or 'scratching') to attempt to create a hybrid pottery that is both contemporary and timeless, culturally specific and yet borderless."
Untitled Vessel, Kevin White,
H26.8 x W17.3cm
"My current work continues my interest in interpreting the ceramic traditions of Japan and the Japonisme seen in British ceramics of the 19th century."
'Spinifex' –  Kim-Anh Nguyen,
H40 x W23cm
"Underlying my work is a profound respect for the historical and cultural significance of all indigenous people. This work has reference to the spiky spinifex grass, which is widely found in the Great Victoria Desert, in Western Australia."
'Research' – Tom Bass
1956-59
Circular Quay(east), Sydney
BC6 – Bob Connery
Pressmolded Squared Form With Handbuilt Additions. Reduced gold lustre on a green glaze reduced to pink in some areas. small
32H x 18 x 18cm
'Dry Creek Bed Detritus' –  Merran Esson.
Ceramic with copper glaze – 2012
70Hx31Wx28Dcm.
Kathleen Wallace
Keringle
Greg Daly – Vessel, Green glaze inside, gold & silver leaf decoration.
'Drifting' –  Jane Parker, Noosa
"I find that I will dream of a finished picture and then sit down to execute it without preliminary drawings," said Jane. "This picture was triggered by something I read, about the jellyfish drifting in the ocean at the mercy of storms and all obstacles. It seemed to me that the human condition is very like this."
70's Gunda Caramelware Australian pottery vase-ewer-jug
Ceremony  1971 – Cliff Tjapaltjarri ( Clifford Possum )
Tom Sanders Pottery Plate – Aboriginal Painting by Wesley Penberthy
 Iyawi Wikilyiri, Ngura Ngarutjara
Tjungu Palya Art Centre
'Bush Tucker Dreaming–My Father's Country' – Nungurrayi Gabri
2007-2008
'Ngayuku walka' – Alison Milyika Carroll
Pitjantjatjara artist Alison Milyika Carroll, one of the winners at the Annual Indigenous Ceramic Art Award  for her work Ngayuku walka, a pot made using traditional coil-building techniques
Dot painting  – Marilyn Armstrong
Hilary Crawford – 'Scorched'
'These forms are essentially small fragments of sky which are magnified. The depths and densities of the colour is utilized to reflect the optical shifting that exists in the atmospheric particles to create what we see as the sky.'
–