PKO, chair designed by Poul Kjaerholm, Denmark. 1952
Lately, every time I glance at a furniture catalogue, I'm seeing more new furniture pieces that reflect elements of mid-century design- asymmetrical shapes, angled legs, biomorphic curves and abstract forms reaching into the future. For some collectors of the Mid-Century arts, the innovative styles never went away. I still find the bold, audacious designs which were highly original for their time, to be a continual source of fascination. The post war exuberance in the 40's and 50's and sense of freedom were flamboyantly expressed in the adventurous styles inspired by the Bauhaus design concepts, Futurism and the Atomic and Space Ages which followed WWII. The mass production of the avant-garde contemporary designs into everyday decor really influenced the spirit of the era.
The modern architecture of the Mid-Century era required similar decor to compliment its distinctive look. Home designs featured the use of bold colors displayed with flowing, open-floor plans and new futuristic materials such as aluminum, plastics, and fiberglass combined with exposed structural elements, sliding glass doors and wall-to ceiling windows. Widely embraced by interior designers and consumers, it presented numerous challenges. Most of the mid-century pieces in isolation looked brilliant but collectively there tended to be a touch of conflict from all the striking modernist shapes and angles competing for attention. However with tasteful implementation, they became truly awe inspiring.
This innovative foray into contemporary futuristic design suffered from being obsolete too quickly. Fortunately this much loved era avoided being consigned to a distant obscurity by the ongoing interest from collectors and regular exhibitions. For those who desire to replicate the intriguing genre in its entirety, this groovy aesthetic still creates a wonderful impact and presence.
Italian mid-century vase – S.Stefano
Tall Vintage German Tall Colorful Lava Vase—Scheurich
70's
Jean Rivier
Ceramique 1900
Red mid century ceramic planter – Victor Cerrato
Italy 1960's
Andre Freymond
Retro Lava glaze vessels – Übelacker Keramik Germany
60's
The City Plan of Vienna in the Year 3000, carnival party in the Künstlerhaus, ca. 1933, Design and execution master class of Prof. Siegfried Theiss
© Archiv Künstlerhaus
Scheurich Prism Vase from West Germany
60s – 70's
Roger CAPRON 'Vase à Oreilles Taureau' – Ears vase Taurus
Found on thomasfritsch.fr
PK0, chair designed by Poul Kjaerholm, Denmark. 1952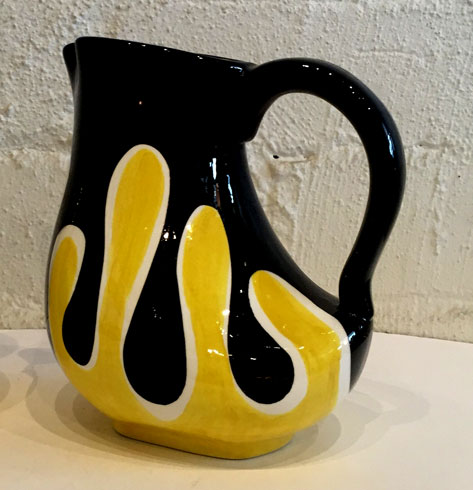 West German 'Ceylon' pottery jug
1950's – retroactive.net.au
Large David Cressey Lamp
1960's   39 inches height
Downtown LA, 1stdibs
Room with mid century decor and teac modernist coffee table. I like the orange highlights against the duck blue walls.
Marc Bellaire Figures, USA
MAINLY ART VINTAGE MODERN FURNITURE Cincinnati
25 inches height –  1955
Mid Century vessels – Aldo Londi for Bitossi
Mid-Century Modern Double Face earthenware vase features a woman on either side painted in a folk art manner.
1955
1stDibs HARVEYS ON BEVERLY, LA
Mid Century screen, 1950's
1stDibs Battersea, San Francisco
Modernist painting – Bruce Yager, New Mexico
Pair of Ceramic Lamps, attributed to Heifetz
1stDibs Ventura, Palm Springs
50's
Mid Century modern ceramic vase – Mado Jolain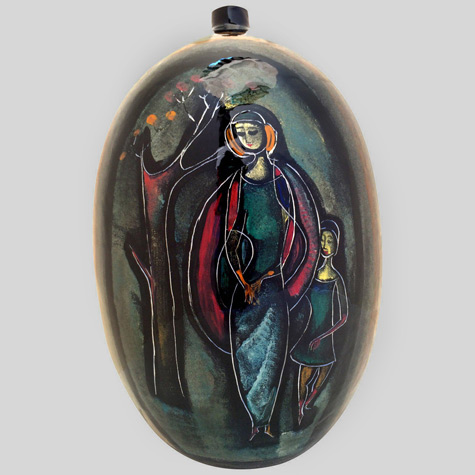 Large Ceramic Glazed Vase by Polia Pillin
50's
LA MOD INC, CA   14.5 inches
Mid Century decor
Ernest D'Hossche Op Art Blue White Vase
1958, Belgium
1stDibs Judy Frankel Antiques, Troy, MI
 Creme glazed earthenware snow trap vase & three pink glazed earthenware bottle shape vases
French artist Jacques Ruelland and his wife and creative partner Dani Ruelland created amorphous art objects in the sixties.
Thomas Fritsch Artrium
Italian matching modernist retro vase and plate
André Aleth Masson – contemporary ceramic sculpture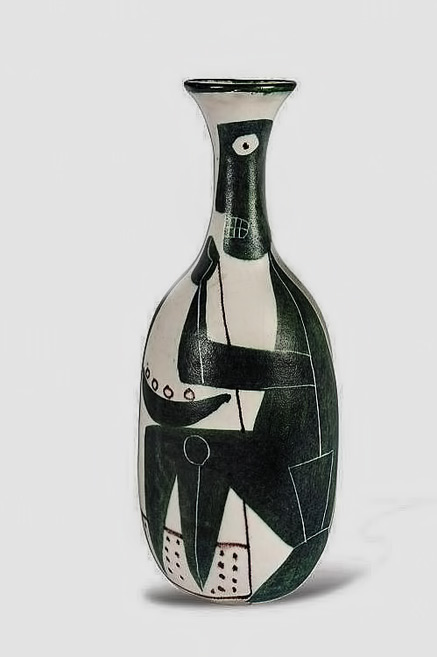 Black and White modernist vase – Guido Gambone
Guido Gambone became intrigued with ceramics as a creative medium at an early age and was was quite influential with the Italian modernist ceramics movement.
West German mid-century vase – Dumler and Breiden
Elly and Wilhelm Kuch Glazed Ceramic Vase, 1960s.
German Mid-Century vase with handle – D & B
Fat Lava Wadersloh – Flickr
Fat Lava vase – Fohr
Mid Century sculpture bust – Francois Ray
Roger Capron bowl
Gio Ponti / Paolo de Poli—enameled copper vase
60's
 Table Lamp base by Axel Salto
Height 16inches -1940
1stDibs  SAM KAUFMAN GALLERY, LA
Floor vase, designed by Carl-Harry Stålhane for Rörstrand, Sweden. 1950's.
Retro media unit
www.grahamandgreen.co.uk
Andre Freymond
ceramic-signatures.com
 'Bellevue' side chair – Andre Bloc
1951
Phillips Auctions, NY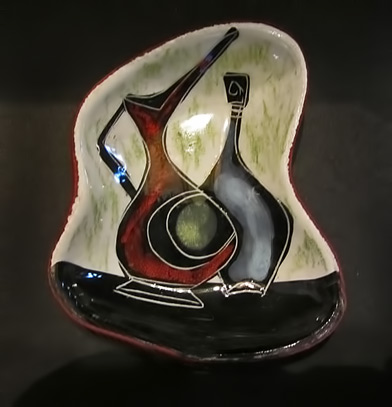 Mid Century dish
Carstens Tönnieshof lava glaze vase
Fat Lava Wadersloh – Flickr
Chair-Modernica- rug- Dubai Vanilla, Mat-sofa- Custom design by David Galindo table- Noguchi coffee table, Design Within Reach
Photo by Tara Bussema © 2013 Houzz
West Germany Pitcher with Egyptian Pharaohs – Bay Keramik
1stDibs – CAIN MODERN-West Hollywood
Vintage sculptural vessel- Suzuki Osamu
Mid Century decor
Photo – Amy Lynne Vogel
Design Kurt Tschörner – Glaze Otto Gerharz – Ruscha 313
Fat Lava Wadersloh, Flickr
Marcello Fantoni ceramic bottle vase
Kim's Lovely Antiques and More, Ebay
'Darling your taste is dreadful, I want a divorce".
Case Study House #21 by Pierre Koenig, Photo – Julius Shulman
'Ulla'   vase Jopeko Keramik- West German retro
Martin Eisler, 1955
The Israeli design firm Ando Studio mixed French Modern, Op-Art and Industrial pieces for this eclectic-yet-elegant St. Germain sitting room.
The glaze is nicknamed 'Snakeskin'. Albert Kiessling used wax resist to give the vase this appearance
–