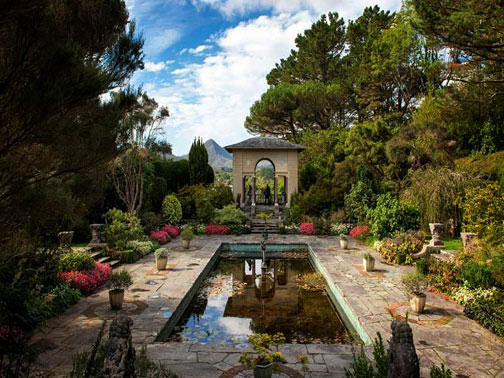 Garnish Island garden, Ireland
A captivating array of gardens of the conceptual, classical, abstract, contemporary, wild, natrural and sculptured designs. When the pink carnellia's start to bloom on my balcony and the magnolia and jasmine begin to bud, I know that spring is imminient and will soon make another grand entrance. The life affirming visuals and fragrances of renewal, revival  and growth will be warmly embraced this year.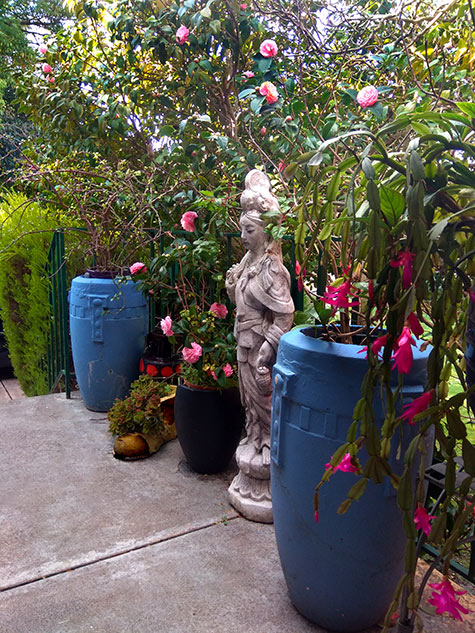 Pink carnellias on my balcony.
In Japan the camellia flower is known as 'Tsubaki' (early Spring) and symbolizes the divine, probably because of its exquisite lotus appearance. It is often used in religious and sacred ceremonies and is known as the 'rose of winter'.
Federico Forquet Tuscan hills garden
Joaquín Mir oil painting
Barcelona
De-Gourney / St Laurent peacock wallpaper
Benson Park Sculpture Garden – dancing women
Henri Charles Manguin — 'Siesta in the wicker chair'
1905
Water bearer pond statue
'Diana', by Louis Auguste Leveque, Tuileries garden, Paris
'Les Chant des Fees' sculpture — Agnes Debizet
France
 Celosia cristata
Niko Riam –  Jens Ingvarsson
Garden butterfly
Life size garden sculpture bear — Rebbeca Hillman
'Intuition' garden sculpture — Rebecca Hillman
Peacock statue
Philip Jackson's Garden
The gardens of La Carmejane, France
 Clive Nichols
Irish Garden sculpture, Oakfield Park
'Les Chant des Fees' sculpture by Agnes Debizet
France
I discovered this impressive trident tree trunk in my garden recently after pruning the tree in the front of it.
This huge tree guards over a solitary lemon, (see below).
Lemon appearing on a lemon tree after being barren for 7  years
Earth Goddess tree carving sculpture
Mexican patio garden
Lion guardian statues in an apirary maze – Richard Shapiro Garden
LA
'Octopusless Garden' sculpture by Tim Kervin
Cambodian temple Buddha
aravis121-on-flickr
Photography-Trevor Stuurman and Obakeng Molepe. Costume Desig Trevor Stuurman and Manthe Ribane
Italian Vogue — Tai Chi in the garden
Tuscany's-Val d'Orcia garden
Art Nouveau painting 'Elegante near a Source'  by Georges de Feure
1903
Guardians at the Gateway by Lauren Nelson.
Stone Quardian – Sacred Monkey Forest – Ubud – Bali
Orange flower by Irina Iriser
'In the garden of a multicolored mix of quite movements'– Elena Markova
Japanese Garden — Huntington Library
The monumental steel sculpture 'The Red Forest', by Shapiro,
–consisting of seven 15 to 18 foot tall steel columns
Jourdan Dunn by Nick Knight
Kelledia's Garden spring blossom
Kooper metal sculptures– two convex laser cut disks 1200mm dia. welded together
The Flower Garden
Koya San Buddha statue–Japan
Chiara Scelsi by Walter Chin
Classical  nude female statue
Girl in scarlett red gown in garden — Daruszka
Wire mesh archway sculpture by Edoardo Tresoldi.
Classical garden planters — My inner landscape
Kriti Sanon For Vogue. ©2020 Luìs Monteiro Photography
Jenny Orchard 'Kangadodo' ceramic sculpture
English Garden-Fantasy 4 by David Lewis Baker
 Formal Garden in Loire Valley  —   Jean Aernoudts
Afton Villa garden statue
Trees in the Garden of Saint-Paul Hospital — Van Gogh
1889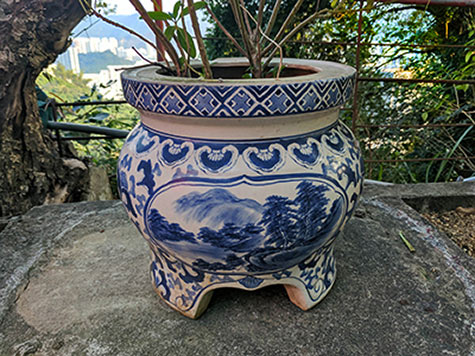 Chinese blue and white footed landscape planter
Barbara Lewe Grant by Laurence de Rien
Vogue Ukraine, 2020
Brianna Killion Heck by Erik Madigan Heck for Harper's Bazaar UK
'Daphne' by Dessa Kirk, in Northerly Islands
Melodie Monrose by Anja Pancaldi in a Sicilian cactus garden (composite image)
Ursula von Rydingsvard monumental sculpture
Photo Stijn Dijkstra
Abandoned Mount Moriah Cemetery© Tom Kirsch
https-Opacity
Succulent garden in an old lamp stand
Succulent Serpent
Topiary garden—-'Green Spheres' by Deborah Silver
'Laurisilva of Madeira' laurel forest path
Kwan Yin garden statue
Barnsley House Garden
French garden for Vogue India
Mario Testino. … Lupita Nyong'o
Forest enchantment
Waddesdon Manor Gardens- photo by Mijkra
England
Winding path thru fragrant pines and balls of aromatic Santolina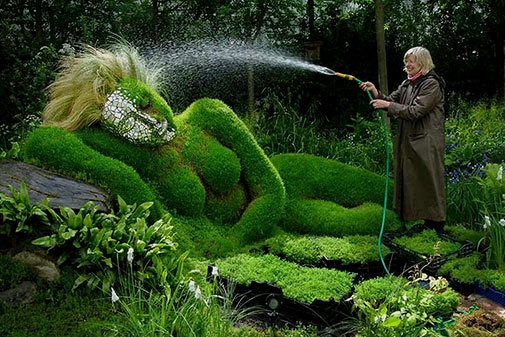 Gardener watering floral sculpture at the Chelsea flower show
Garden hare  —  Alexandra Koch
Topoiry warriors, France
Monet strolling through his garden roses in France
Garden of Abundance –  France La Chatonnière
Roy Grossman – 'Garden Of Melody'
'Angel of the Unknown' – – Elena Markova