Dinosaur Park
Ideal interactive playscapes arouse a sense of intrigue and encourage participants into the pursuit of climbing, exploring, touching of textures and are stimulative to a child's imagination. Sculptures of amorphic shape are a natural fit for childrens play structures due to their typical abundance of rounded shapes and edges. The use of glittering mosaic tiles help to create a visage of fantasy and are pragmatic due to their durability, flexibility and adaptability to large monumental projects.
The first three artists in this article, Alexandra Koláčkovás, Niki Saint Phalle and Ruslan Sergeev have all dedicated much time and energy to creating large scale playground sculptures that favor amorphic structures with a profusion of sparkling colours and the integration of unusual shapes that can be interpreted in a multitude of ways to inspire wonder, awe and a desire for discovery.
Alexandra Kolackovas
Alexandra Koláčkovás has an atelier in Janov nad Nisou, Czechoslovakia and has been producing large scale ceramic and concrete sculptures for installation in public locations for over two decades. Alexandra combines simple rounded morphology with expressive colour palettes while highlighting playful elements that are inviting to the eye and attractive to children for encouraging interaction.
While Alexandra's input is concerned with the artistic conceptualization and execution, her husband George Koláčková, handles the technological demands of different projects and has been instrumental in merging traditional sculpting techniques with the use of modern technologies and materials. Her sculptures have been designed to endure the temperature fluctuations of the cold winter months with longevity in mind.
Yellow dog sculpture by Alexandra Koláčková – Letna Park, Prague (CZ)
Mosaic playground monster – Alexandra Koláčková
This was constructed in the studio and transported by crane to the park.
Playground sculpture in Stromovka Park, Prague (CZ) –  Alexandra Koláčková
Alexandra Koláčková abstract dog sculpture
 'The Cat' in Zamecek Petrovice park  – Alexandra Koláčková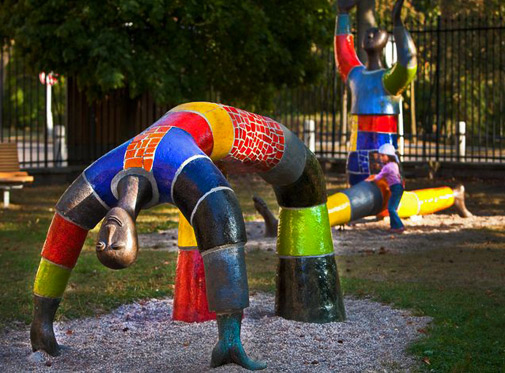 Dancer sculptures at Hradec Kralove – Alexandra Koláčková
Large mosaic fish sculpture on wheels – Alexandra Koláčková
Streets of the Czech Budejovice and Hluboká, 2014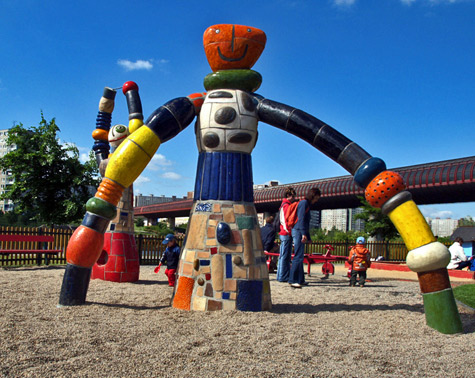 'Dad and Mom' –  Alexandra Koláčková playground sculptures
Prague housing estate
Monumental fish sculpture
Alexandra Koláčková with her Easter toy sculpture
Zoomorphic sculpture –  Alexandra Koláčková
Niki de Saint Phalle
(1930 – 2002)
The artistically gifted Niki de Saint Phalle had no formal training in her field, and her vivid, exuberant sculptures are compelling examples of an artist being driven through emotional release and  intuitive instincts. In her teens she entered the world of fashion modelling, appearing in Vogue, Life and Harpers Bazaar. It wasn't long before she gravitated towards the art world. " I embraced art as a salvation and necessity " During the fifties she worked as a performance artist, bombarding plaster reliefs with paint bombs that were exploded with a shotgun and this was the beginning of her developing a reputation as an artist provocateur.
On a trip to Spain in the late fifties Saint Phalle was touched by the work of Antoni Gaudi, and his use of natural materials. His integration of shapes from the natural world in his 'Park Guëll' public park and buildings became a pivotal influence on her future public sculptures. In 1964 she moved into her 'Nanas' phase where her artwork was influenced by archetypal female figures. This became a central figure in her art along with a childlike narrative of animals, castles, monsters, goddesses, small girls and the sun and moon. Her bulbous, voluptuous Nana sculptures reflected ancient depictions of the Earth Goddess and she claimed she felt she was entering the sacred land of myth with these creations.
In 1979 she undertook the biggest artistic endeavor of her career when she began the 'Tarot Garden" in Capalbio, Italy – a monumental fantasy garden that expressed a dialogue between sculpture and nature with vibrant mosaics and colossal sculptures that took 15 years to complete.
After moving to California, she went on to produce more vivid, bold sculptures that were appealing to children and even captivating to adults for rediscovering their carefree past. Some were installed at the Queen Califia's Magical Circle Garden in Escondido, California along with others in Europe and Israel.
Queen Califia's magical circle mosaic sculptures – Niki de Saint Phalle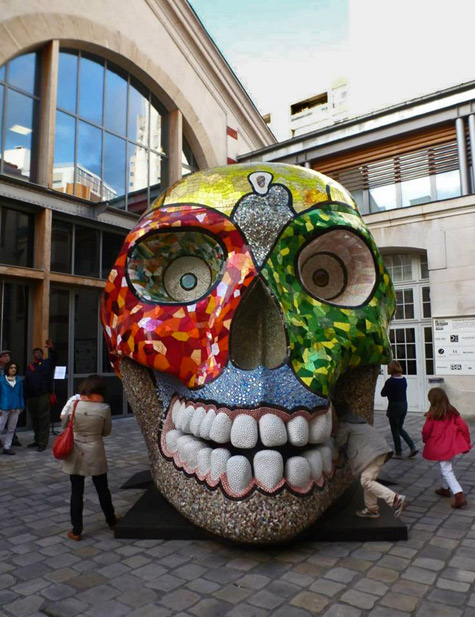 'La Cabeza' (skull) –  Niki de Saint Phalle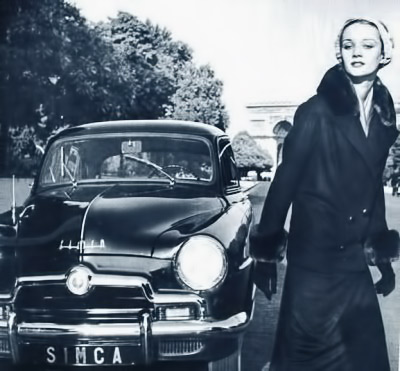 Niki de Saint Phalle in a Vogue fashion shoot in Paris with Robert-Doisneau
1952
Lion sculpture –  Niki de Saint Phalle
auroraglow – Flickr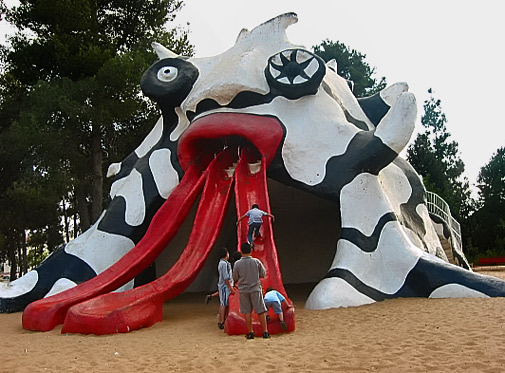 'The Golem',- Niki de Saint Phalle
Kiryat Hayovel, Israel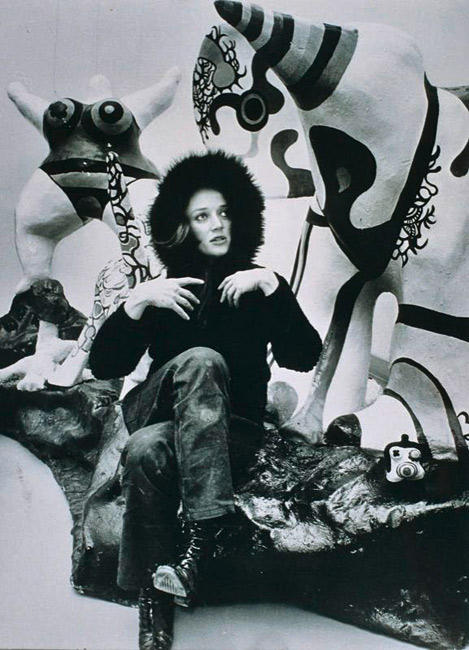 Niki de Saint Phalle
Most beautiful woman to ever make art with a shotgun- fashion model, painter, sculptor, wife of meta-matic sculptor Jean Tinguely
Photo – Rogge
The L'arbre-serpents, a fountain sculpture of resin and polyurethane paint, 1992
Terrace of the Museum Fine Arts, Angers.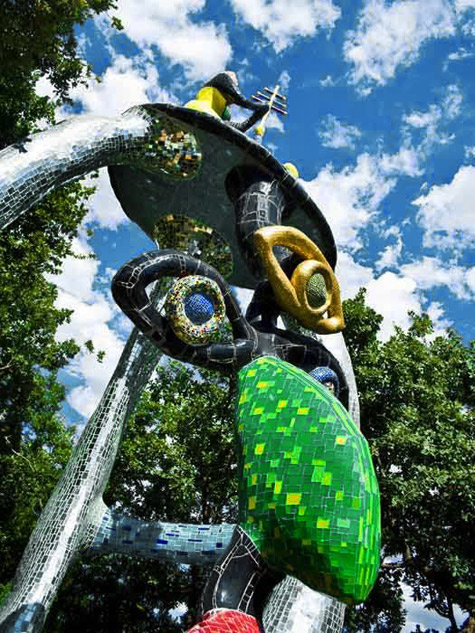 'Tarot Garden' (Giardino dei Tarocchi) – Niki de Saint Phalle
Tuscany, Italy
Niki de Saint Phalle  – Dog and wolf howling at the moon with a red lobster (Tarot card 18)
Tarot Garden (Capalbio, Italy)
Queen Califia's magical circle mosaic sculptures – Niki de Saint Phalle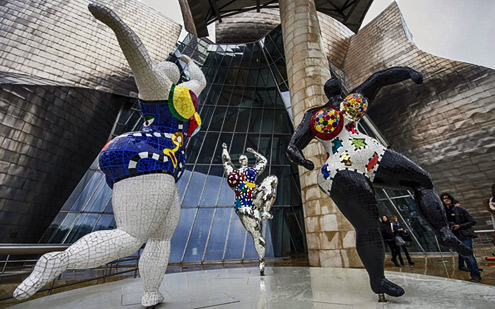 Nana sculptures by Niki de Saint Phalle at the entrance to the Guggenheim, Bilbao.
Photograph: Miguel Tona/EPA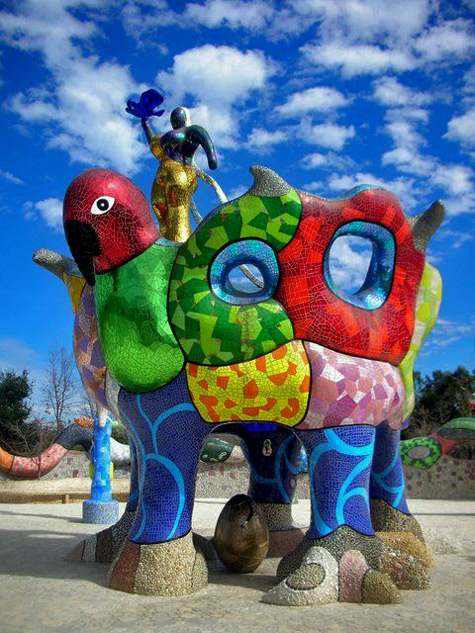 Queen Califia's Magical Circle – Niki de Saint Phalle
Niki de Saint Phalle in her studio at Soisy, surrounded by Le Mangeur  d'Enfants, La Mariée sous l'Arbre, and Le Cheval et la Mariée.
Photo: © Monique Jacot
In the 60's, Niki de Saint Phalle was involved with the Nouveau Realisme contemporary art movement, founded in 1960 by the painter Yves Klein and art critic Pierre Restany. Members of this movement believed in taking elements from real life and incorporating them into their art.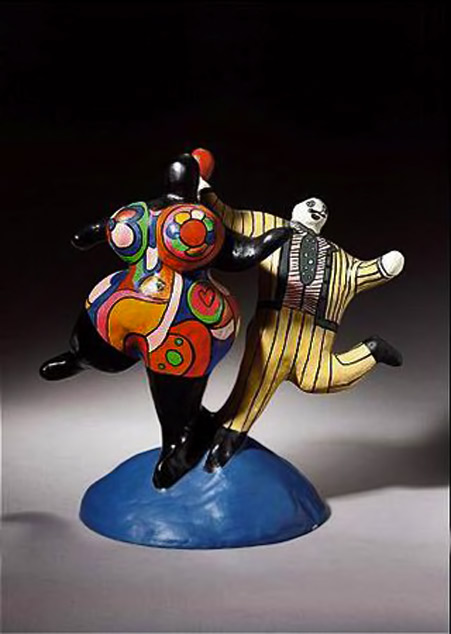 'Two dancing figures' – Niki de Saint Phalle
1978-79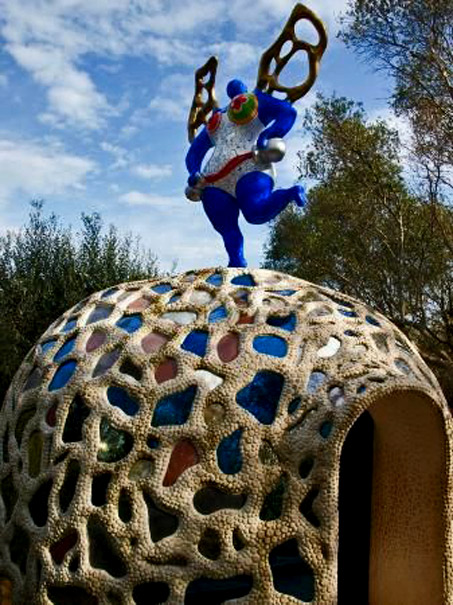 Tarot Garden – Niki de Saint Phalle, Italy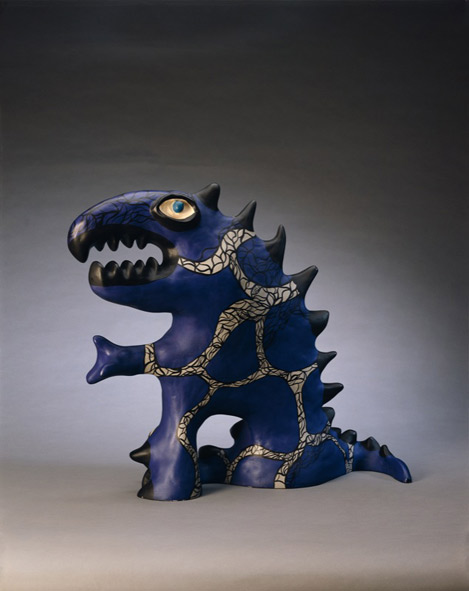 'Dragon' – 1975
Niki de Saint Phalle – In the garden of the imagination – Essl Museum
2010
Ruslan Sergeev
www.ruslan–sergeev.com
Mosaic sculptor Ruslan Sergeev studied at the Academy of Art & Design in Minsk, Belarus. He creates monumental, zoomorphic outdoor sculptures representing an array of creatures and phantasmagoria monsters that immediately arouse enthusiastic wonder and intrigue in an adventurous child. His use of glittering jewel-like mosaic tiles add to the sense of fantasy along with the ambitious dimensions of the sculptures. Filled with unpredictable winding passages, stairs, elevation, mystique and whimsy, all combining to create a children's wonderland.
Ruslan has created over 100 large-scale landscape mosaic sculptures and built several unique sculpture parks: Sensory Park, Science Park, the Sound Park and Nature Park.
'Bio 9'  – Ruslan Sergeev
Ashdod, Israel
'Jerusalem Lion' – Ruslan Sergeev
Israel
'Magic Flower'  – Ruslan Sergeev
Sound playground – Ruslan Sergeev, Coral Beach
 An environmental sensory sculpture park with 4 mosaic playground sculptures with sensory playground elements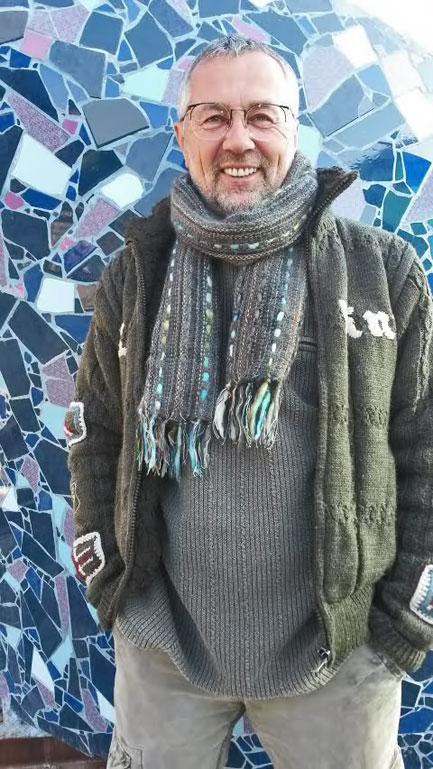 Ruslan Sergeev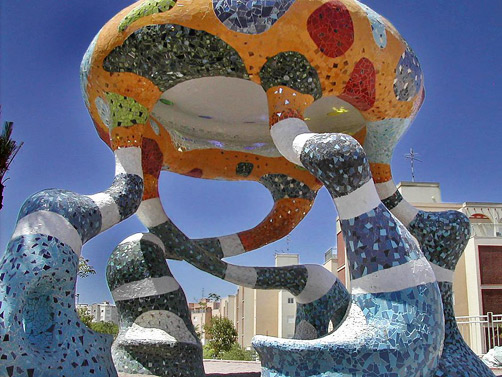 'Jellyfish' — Ruslan Sergeev
Sensory Park, Coral Beach, Israel
'Magic Hat'  –  Ruslan Sergeev
'Grasshopper' – Ruslan Sergeev
'Starfish' – Ruslan Sergeev
More playground sculptures
Airstream Spaceship in Southside Park San Francisco by artist Joe Scarpa
 'Blue Whale'   Designed by Monstrum
Plikta park, Gothenburg, Sweden.
 Laura Jean McLaughlin and Bob Ziller created this sculpture in Pittsburg  – 'Fabulousa Lochnessa Kaleidoscopa Mosaica'. It features a birdhouse on the creature's tail and functional kaleidoscopes throughout the sculpture.
pennavenueeyewear.com/blog/art
'Golden Gromit' – Julie Vernon, UK
Bilarong playground dragon 3  – Narrabeen Lake, NSW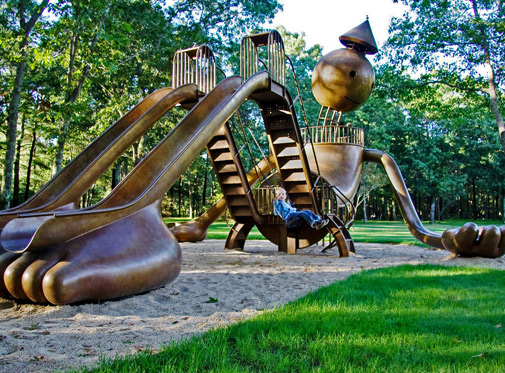 'Playground' by artist Tom Otterness
Aspinwall Riverfront Park, USA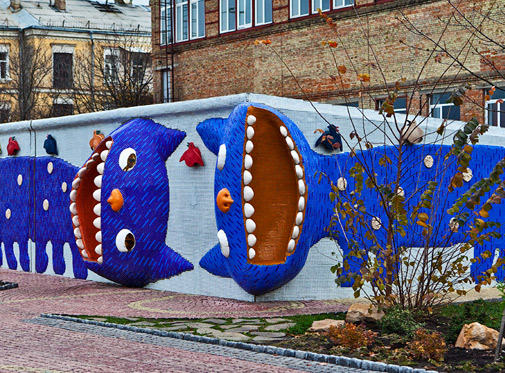 Blue cats wall relief, children's landscape park
Kiev, Ukraine
1930's Art Deco park sculpture by Edgar Miller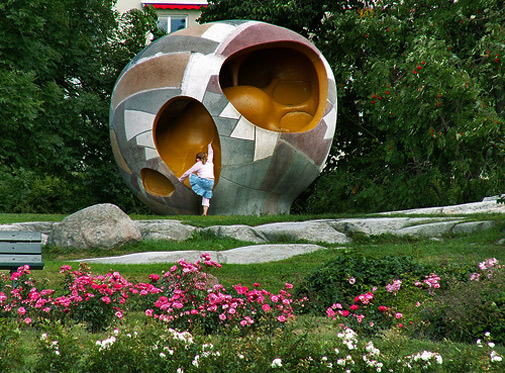 'Agget' – Egon Moeller Nielsen
Tessin park in Stockholm, 1951
'Forward Surge'  by Inge King, NGV
Mosaic octopus
The Walk, Spain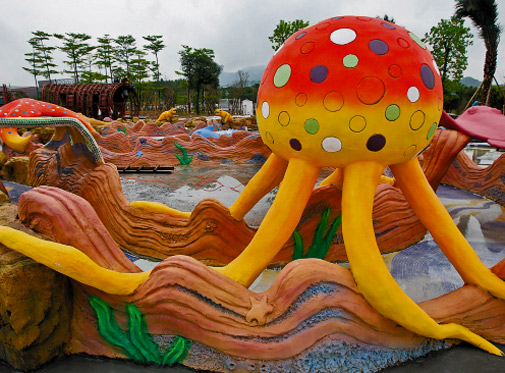 Children's marine life park sculpture
Guangzhou. China
Dinosaur sculptures
Half Moon Bay, Spanish Town, CA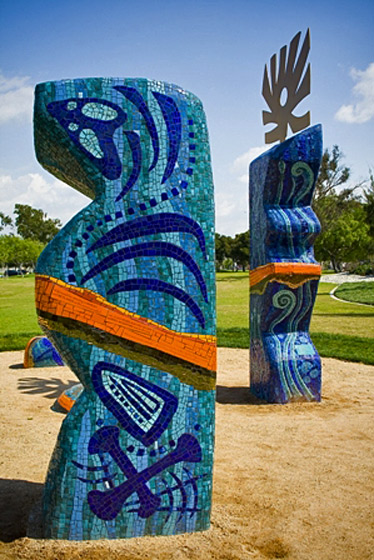 'Water Henge H20 = Life', – Kim Emerson
Cerritos Park, CA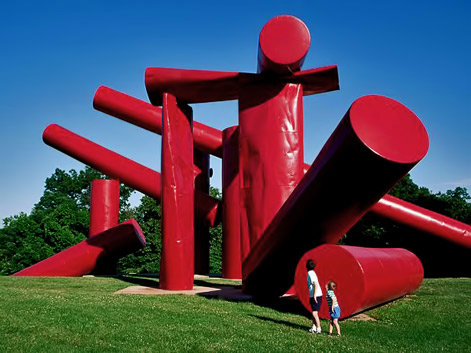 Alexander Liberman's "The Way"
Laumeier Sculpture Park
Sunset Hills, Missouri, near St. Louis
Mosaic Bananalamb
Celine Latrine, Flickr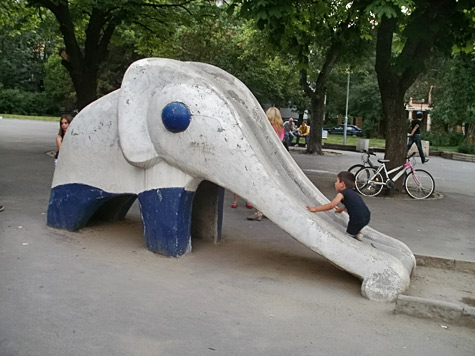 Elephant slide, Sofia, Bulgaria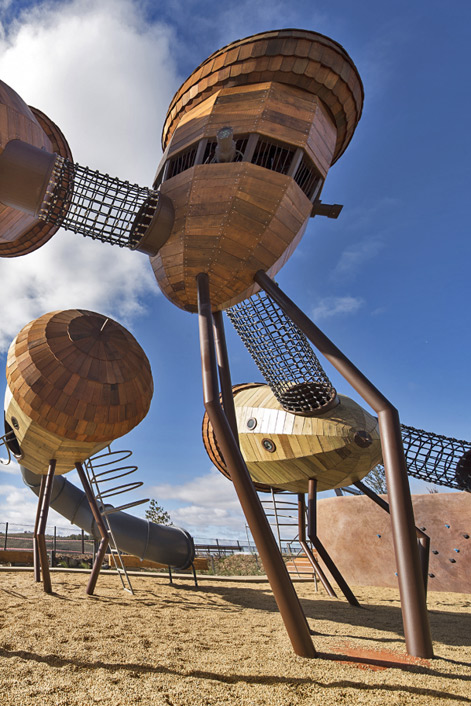 Pod Playground by T.C.L. (Taylor, Cullity, Lethlean), Melbourne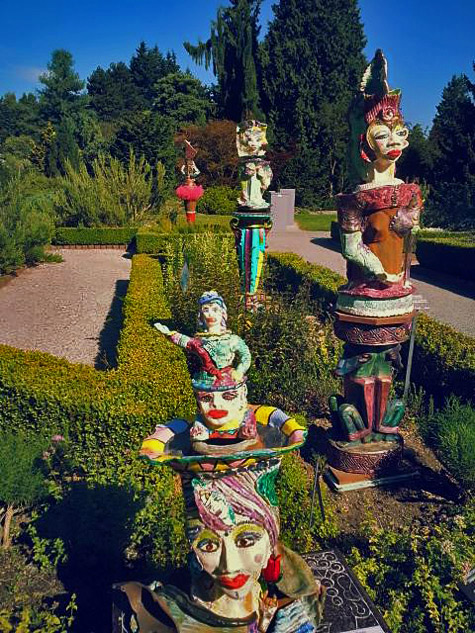 Totem sculptures by Suzy Birstein— Van Dusen Botanical Garden
Arcelor Mittal sculpture at the Olympic Roller Coaster in London
Worm Play sculpture – Forestcrafts, UK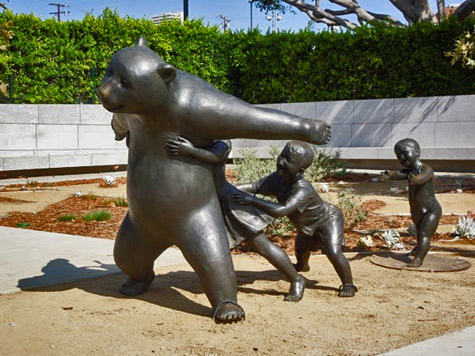 'The Game'  bear and children sculpture – Wang DeLong
West Hollywood Park
'Chubby Woman' – Xu Hongfei'
Berlin
–