Bitossi ceramic bull sculpture
Phenomenon of Mid Century design
The development of Mid Century design was the result of a convergence of numerous artistic influences that began at the turn of the 2oth century. The shifting visual narrative included Brancusi's brilliant streamlined sculptures, Alexander Archipenko's constructivist forms and abstract sculptures from Henri Laurens, Jacques Lipchitz, and Osip Zadkine. All of these influential artists, who were working from Paris at this time, fed the evolving perception of how artistic forms could be presented and how realism could be re-interpreted. Picasso's work with Braque on omni perspective cubist abstractions also contributed greatly to this perceptual re-adaption. Add to this the original surrealist works from Max Ernst, Paul Klee and Jean Arp and the refined designs of Bauhaus and Le Corbusier and you had a creative landscape that presented a plethora of possibilities. This heady mix of adventurist artistic styles paved the way and forced the hand of designers to be more daring. The ornate opulence of neo-classicism, rococo and other remnants of the renaissance was replaced with a re-modelled, simplified artistic reality that conveniently blended with the development of the industrial processes that allowed the evolution of mass production that was essential for the post war consumerism.
Marcello Fantoni
Isamu Noguchi, Ray Eames, Gio Ponti, Guido Gambone and Carlo Mollino were some of the prominent designers that emerged from this era. Their designs featured clean lines that utilized the new production materials and were well conceived and highly innovative. The postwar gloom was lightened up with products featuring bold shapes and vivid colours to match the optimistic spirit of recovery and reconstruction. The modern look had a natural symbiosis with the contemporary architecture and decors that emerged in the 50's and 60's. Originally, the accepted design concept was for artistic products to be accessible to more people and to cater for smaller dwellings and to be lightweight and mobile, which translated well for the mobility of the emerging modern workforce. These timeless styles still look relevant today and is why the trend has endured. Many current contemporary designs can be associated with the innovations and aesthetics of this era. The inspiring bold designs of the Mid Century are a continual source of fascination and it's easy to appreciate their desirability with collectors.
Brutalist 'Argente' wardrobe, 1968 – Paul Evans
Welded, painted, sculpted and polished aluminium, slate, painted wood, welded and patinated steel.
Italian vintage ceramic set – red sail yacht motif
Mid Century Portofino Abstract Fisherman Vase Signed Santi, Italy
Mid century large vase with handle
Sakuhin A, Ceramic Vintage Sculpture vessel by Takiguchi Kazen
Porcelain Factory AS Ćmielów
Bertil Vallien Glass Bowl with Sand Blasted Decoration
Swedish, 1938
Patchwork copper sculpture – Paul Evans
c,60's
Vintage 60's vase
Harveys on Beverly -12.5 inches height
Mid Century design
Sputnik space age U Keramik vase
1950's
 Vintage Italian Titano San Marino Vase Pitcher
10 inch height – 60-70's
Bitossi for Raymor Bull's Eye Vase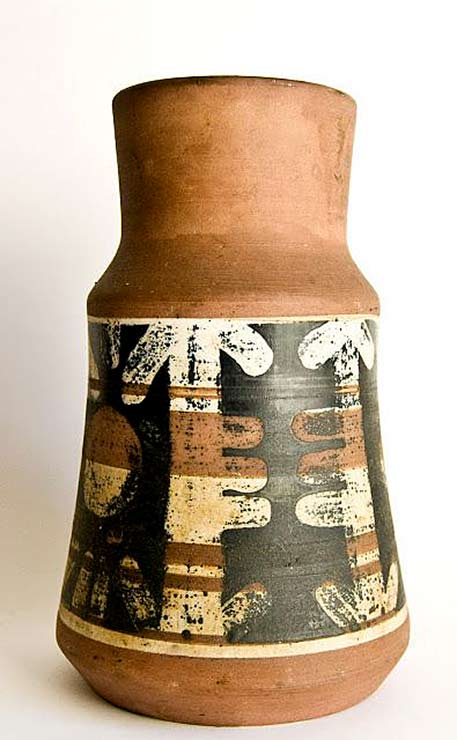 Elspeth Cohen hand Painted Ceramic Vase for Lapid
c1960
Anna Maria Consadori Arte Antiquariato Design Vicchi vase
Ceramic crow produced by the Ćmielów Porcelain Tableware Factory, 1961, collections of the National Museum in Warsaw
Bertil Vallien (Swedish), Kosta Boda, Janus sand blast glass sculpture
Bitossi vase, 'Rocchetto' line by Ettore Sottsass
1956-59
Birthe Weggerby
Lars Bergsten? – Mid Century Wall Plaque
Mid Century Italian San Marino plate
Bowl, designed by Stig Lindberg for Gustavsberg
Bozo puppet marionet Fish
Carstens Tönnieshof waisted vase
Roger Capron
Retro-futurist Bug Chair By Isak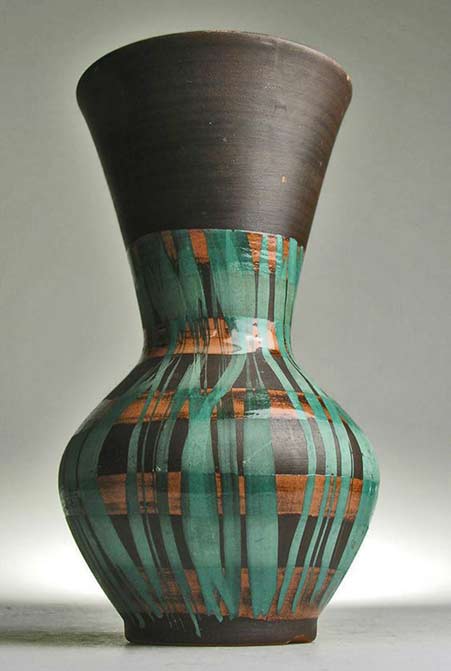 Carstens West German Pottery vase
Chalvignac Wall Panel
1960's Canada
Coffee service 'Prometheus'– (mold design Danuta Duszniak, 1959)
Crimson Plateau chair  by Engelbrechts, designed by Erik Magnussen
2016
Two Danish Vases by Zeuthen Keramik
Ceramic black cat produced by the Ćmielów Porcelain Tableware Factory
1958
 Porcelain bird figurine – Fabryka Porcelany AS Ćmielów
Easy chair PK-20 designed by Poul Kjaerholm
Edvin Öhrström Ariel Nude Figure Glass Vase
circa 1958
Edwin and Mary Scheier
Large footed vessel incised and relief decorated with figures in blue, copper, and brown glazed and textured surfaces
13.5 inches height ca. 1972, Skinner
Ettore Sottsass ceramic vessels
Carstens luxus range handled vase  reptile design by Dieter Peter
 ca 1970
Exercice de Style – Han Meilin
Brutalist mid century bronze sculpture
Italian Mid Century pitcher – Fratelli Fanciullacci
Fratelli Fanciullacci
Gilbert Valentin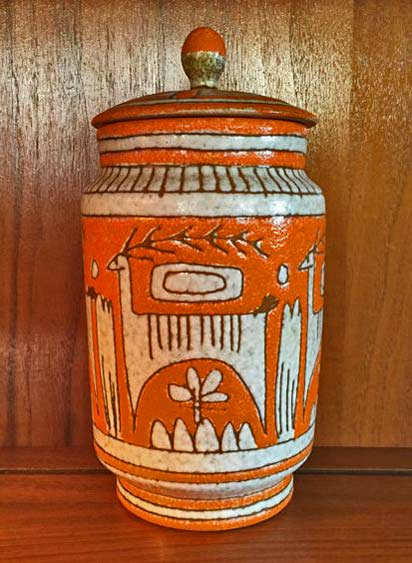 Lidded jar – Fratelli Fanciullacci
 Ahr Keramik Venedig Venice 50s art pottery vase WGP mid-century ceramic
Designclassics
Alexandre Kostanda, Vallauris
Guido Gambone–bottle
Tall, slender ceramic bottle – Guido Gambone
Guido Gambone
Gunnar Nylund, Rörstrand
Small ceramic planters collection
Italian mid-century ceramic bottle
Georges Jouve red glaze bottle
Georges Jouve. France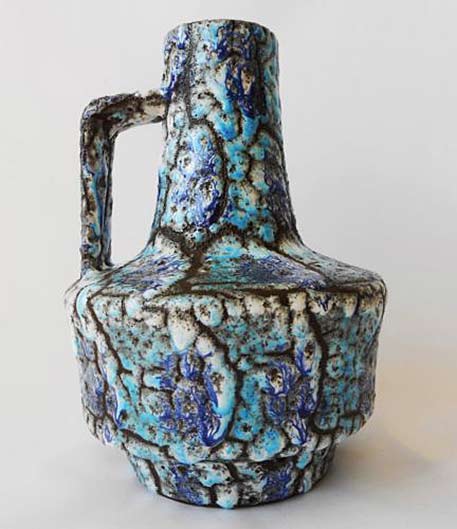 ES Keramik 70's West German lava glaze vessel
Krösselbach ovoid vase
'Lady with Flowers' – André Minaux
1970
Analagous
Large Ceramic Lamp 'Sirène'  by French Ceramist Dalo
Vintage Italian vase
Michel Anasse bronze abstract insect sculpture
Marcello Fantoni wall plaque
'The Warriors' ( Os Guerreiros ), known as Os Candangos by Bruno Giorgi
1959 – Square of the Three Powers, Brasilia
Pablo Picasso vase – Madoura
1953
Scheurich-18 Lora Fat Lava Vase West German Pottery
Vintage 60-70's
Scandinavian contemporary  'Peel' chair and ottoman from Varier Furniture
Penguins – Porcelany AS Ćmielów
Philippe Laberterie
Pierre Vandel, 1970
Marcello Fantoni
Pol Chambost
Rusch vintage mottled texture plate
Poul Volther orange segmented seat and back take their inspiration from the phases of a solar eclipse.
Produced by Erik Jorgenen in Denmark
Sascha Brastoff Abstract Series tri  legged bowl,
1950's
Swedish Mid Century Pottery Plaque by Mari Simmulson for Upsala-Ekeby
Mid-century modern ceramic vase – design Ferdinand Langenbacher
Stig Lindberg -Swedish Stoneware horse
Schiavon – Italian vintage sculpture
Stig Lindberg
Thierry Martenon
Mid century Accolay vase
Vintage AK (Alfred Klein) Ceramic Vase
Germany
Vintage Bitossi Italian Carved pottery Vase
Vintage Ikebana planters
Mid Century Danish Modern Abstract Bronze Bird Sculpture
Vintage Studio Fischer biomorphic vase
Carstens Tönnieshof Fat Lava Vase
Heinz Siery—1965
–