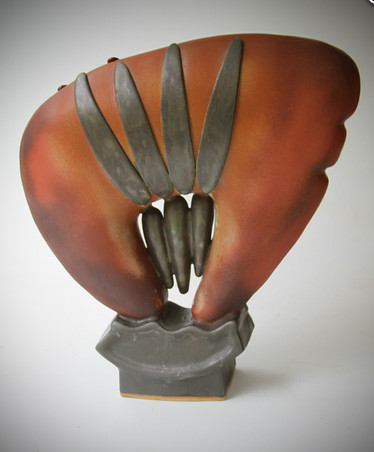 " When I do work that is going well, I try to stay in the moment, not worry about the future, and be content. I love all colors and enjoy observing forms in our existence here – a seed bursting from the earth, a fish alive with its glitter of color, a microscopic pattern. My wish is that my work transfers these precious miraculous moments of life. "  …Helene Fielder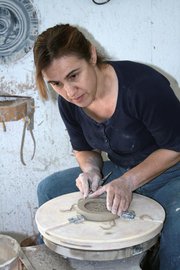 ±
Helene creates in both clay and metal and has maintained a full time studio in Prentiss County, Mississipi with her husband Ray, who is a painter, for the past seventeen years. She has  taught both pottery and silversmithing internationally, including jewelry and pottery instruction for three years in Glessen, Germany.  She had extensive work experience in marketing, illustration, and advertising prior to her studio work. Helene has lived in Ohio, Florida, Georgia, Arizona and Virginia as well as France ( her birthplace ), Slovenia, and Germany before establishing her studio in Mississippi.
Helene claims    "  sketching ideas of future clay sculptures is still my favorite and hardest part of the process, because it is the most creative and challenging. In the drawing stage I plan my textures, glaze colors, form, balance and movement." … "  My first aspiration to be an artist started early in fifth grade. I admired the majestic horses a quiet girl in class constantly drew in her sketch book. She gave me my first drawing lessons and the desire to carry my own sketch book."
The ceramic sculptures shown below  contain hand-built and wheel thrown components, fired to cone 6.  Block print carving was used as imprint texture, with rich surfaces created with stain, latex and wax resist, sometimes airbrushed with layers of glaze and stain.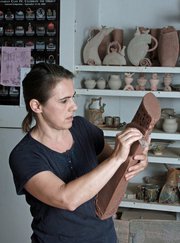 Her pieces are finished with numerous layers of glaze along with the addition of gemstones and beadwork to add to the textural qualities. Helene states that she likes contrasts and to strive for an organic quality in her work.
Ocean Wave
Triptich
Coral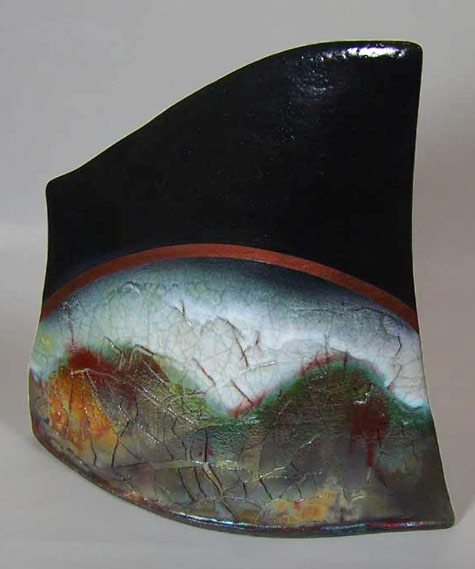 Gateway
Blue Balance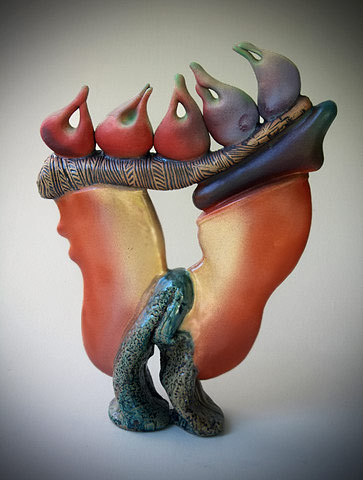 Large Fruitbowl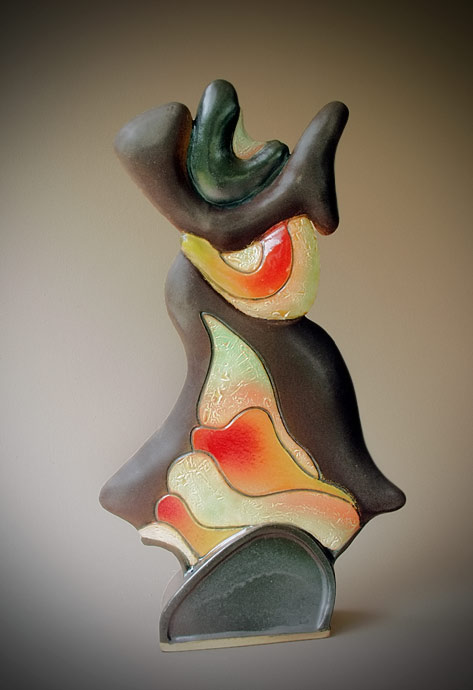 Lady in Flight
Golden Sail
Ocean Wings III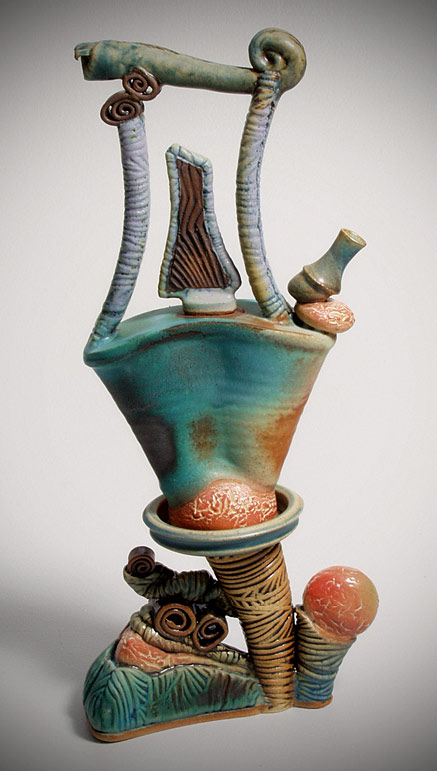 Teapot with base
Construction phase
Helene Fielder : "Pottery has always been an item of beauty and purpose for centuries,"   "It is a joy combining quality craftsmanship and the spontaneity of the clay medium in forming vessels that are sculptural, and will adorn someone's home. "
"Clay is such a versatile medium,  it can be textured, thrown, built, sculpted, glazed, the ideas are limitless. Each piece created gives vent to dozens more still waiting to be made. It's  always a pleasure to create the next thought and see what happens when the kiln is opened."
–