Vintage 60's Italian modernist wall plaque
Ceramic panels and plaques adorned the walls of many homes in the 50's and 60's and were a regular feature in decorating. During this era, contemporary design was strongly influenced by Italy, France, Scandinavia and the United States. The Italian input into home furnishings appeared early in the postwar period and their adoption of modernist/abstract styles helped define the " contemporary look " of this time. They added more flair to the modernist features which were already prevalent in Scandinavian design. Unconventional shapes and forms were combined with bold, striking colours so as to compliment the radical, innovative architecture that was also popular then. The ceramic panels and plaques were an ideal vehicle for expressing the characteristic geometric, modernist designs and shapes. Their generally larger size was needed to accommodate the flourishing creativity of this progressive era.
 Dutch sculptress Carla Daalderop-Bruggeman
 I Am the True Vine, 1959, Prince Willem Alexander School, Tiel.
Woman bird hat ceramic plaque – Stig Lindberg
Gustavberg – Sweden
Mid Century Modern Italian Ceramic Wall Plaque
Stig Lindberg – Gustavberg
50's-Ballet-Dancers-Wall-Art
( retrorocketgirl )
Cubist still life ceramic bowl plaque
( end of history store )
Mid-century wall art clock
Hornsea Pottery Peace dove wall plaque
 beetle2001cybergreen
Lars Bergsten Mid Century ceramic plaque
Eleanor Smurova
Hugo Brouwer potter relief   – 1965
1960's Italian Glazed Ceramic Wall Plaque with Lava Glaze surround and stylized girl with coloured enamel decoration.
( AnSeTa )
Large flat Africanist ceramic plate/plaque VALLAURIS 1950
signed Gabriel Fourmaintraux
Stig Lindberg
Gustavberg
Italian vintage modernist ceramic wall plate – Ruffinelli Assisi
Spanish dancer wall plaque
This wall mural was created by Dutch artist Cor Dam for the Anne Frank School in Gouda, Netherlands.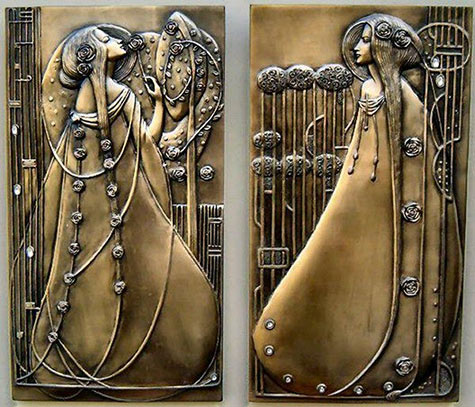 Art Nouveau  wall plaque pair – Charles Rennie Mackintosh
Ceramic relief sculpture – Stan Bitters
Duncan Ceramic Products – Fresno,California
More recent examples of ceramic wall art :
African wall plaque -Chief and Queen
Girl in a Blue Headwrap
Ceramic Mosaic – -Ilona Brustad
Sleeping Woman with Bird Screen – Stephen Gardiner
Fig 3A
Stephen Gardiner
"Framed Landscape/Face Wall Tile" – David Stalbey
Low relief carved earthenware, decorated with a wax based patina.
Two Lovers Wall Tile
Ceramic artist David Stabley has been working with clay for over 30 years. His current work is inspired by dream imagery and his desire to create fantasy situations. He is fascinated by the mysteries of the universe and inspired by works of Marc Chagall, Grant Wood, and Pablo Picasso.
I am interested in telling stories about dreams and fantasy, and inviting the viewer to participate in my work.
" Propelling Forward " – Janine Sopp
Ceramic artist Janine Sopp creates one-of-a-kind pieces and collections in her studio in Brooklyn, NY. She spent the first seven years of her career designing clothing and textiles. With this rich and varied experience, she traveled across Europe and Morocco, where she uncovered her deeper artistic desire of molding clay. The artist favors clay because it is a responsive medium that indulges her passion for texture and color.
Richard Bent, artist blacksmith, and Jan O'Highway, mosaic and ceramic artist.
" Nine Tiles "  – Liza Halvorsen
Lori Katz
www.lorikatz.com
Thai restaurant wall plaque depicting traditional Thai village lifestyle
Photo – Ray Evans
 Winged Horse Plaque – Pegasus -Anne Shulenberger
" Here's my winged horse plaque after its second raku firing. It was quite drab after the first firing so I painted it some more with various underglazes and glazes before putting it back into the kiln.  As you can see, unfortunately it broke in two during the process – but otherwise it turned out much better this time. "
This stylized Art Deco tile plaque features a horse and foal. Executed in the Egyptian Revival style by Walter Bosse  – Worked at the Karlsruhe pottery and produced fanciful animal forms. 1930's
Wall tile – Kate Reynolds
…
–