'Two girls among flowers' – Odilon Redon
 1909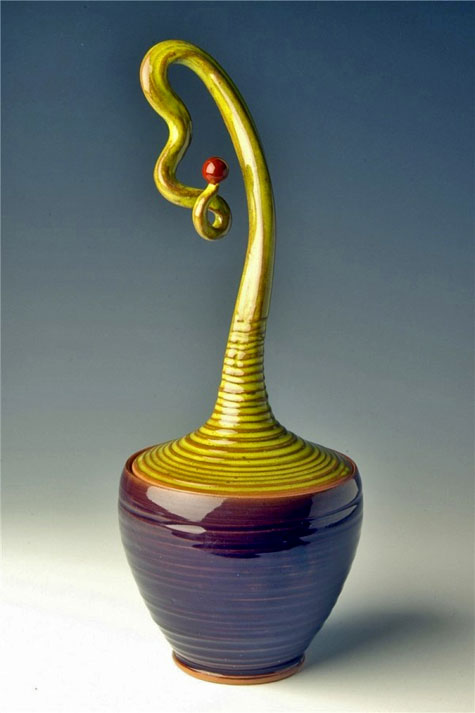 Barbara Dunshee jar with curly handled lid
Elusive spring :
Spring has been a little bit erratic and evasive of late, hijacked by both Winter and Summer. Just thought I would add some art to fill in the lapses.
Birds 'n' Spring
The poem below is by the comedian Spike Milligan, who was prone to recite it at odd moments and for no particular reason.
Spring is Sprung
Spring is sprung, the grass is ris.
I wonders where the birdies is.
They say the birds is on the wing.
Ain't that absurd?
I always thought the wing was on the bird.
The late Spike Milligan moved from the England to an Eastern coastal town in Australia called Woy Woy, which I thought was appropriate because he was known to look at the sky and exclaim Why Why?  The Aboriginal meaning for Woy Woy is 'deep water'. "But which Woy means deep and which Woy means water ?", was a question Spike liked to ask.
Spring (Again)
Michael Ryan
The birds were louder this morning,
raucous, oblivious, tweeting their teensy bird-brains out.
It scared me, until I remembered it's Spring.
How do they know it? A stupid question.
Thank you, birdies. I had forgotten how promise feels.
Jasmine
spring is poppin'
bunnies are hoppin,
birdies are chirpy
felines are flirty
frogs are burpy
squirrels are gnawin
the ice is thawin'
magnolia hues intoxicating
jasmine scents un-abating
smiling muscles they're hurtin'
coz that sunshine keeps burstin'
"Come you lost Atoms to your Centre draw,
And be the Eternal Mirror that you saw:
Rays that have wander'd into Darkness wide
Return and back into your Sun subside"
— The Conference of the Birds, Sufi Poems of Farid ud-Din Attar
Amazon Dreams Pitcher – Carmen de Viboral, Colombia
Antropologie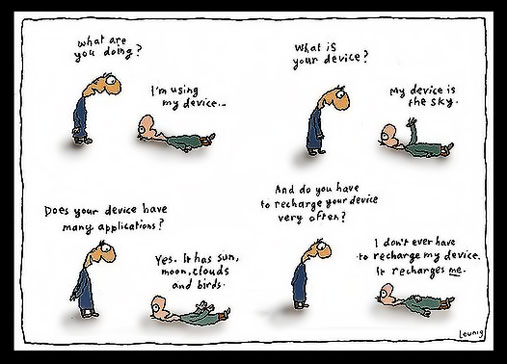 Michael Leunig
'Vase With Snails' by Greg Payce
1990
Cathy Kiffney  – ceramic wall pocket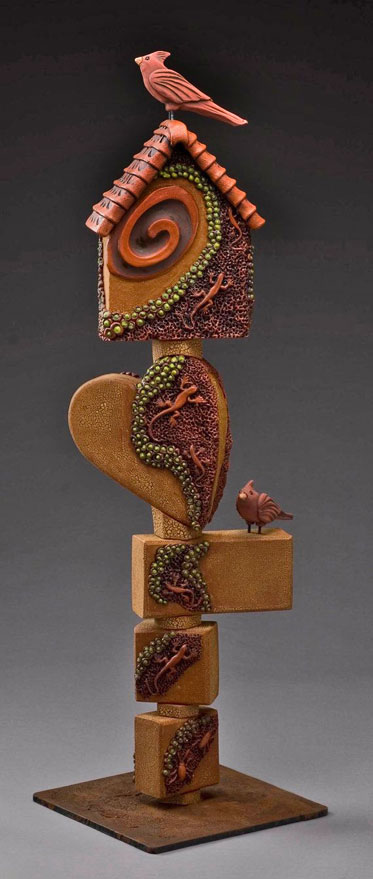 Ceramic Totem – 'The Cardinal' – Mudgoddess, etsy
Lidded vessel with floral decoration – Ardmore
Ana Tzarev – 'Flower Power'
75-year-old Ana Tzarev is installing a collection of sculptures of brightly coloured 15ft flowers in  seven different countries around the world. Croatian-born Tzarev claims the flowers, which when taken as a whole will become the world's largest sculpture, and will be placed in areas where millions of people will be able to see them as they go about their daily lives.
Andrea Gill vase
'Andromeda' — Odilon Redon, c. 1912
Art Deco Vase by Sabino- height 14 inches
PAUL STAMATI GALLERY – 1stDibs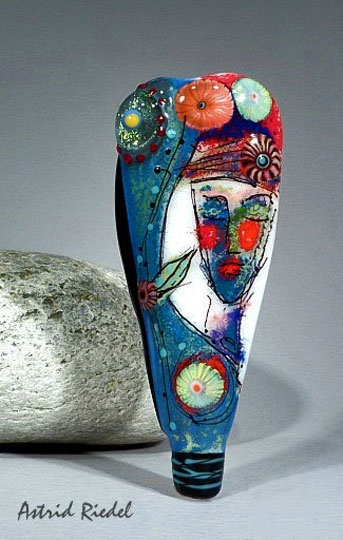 Astrid Riedel
'Starlight Starbright' painting –  Edward Maracek
1950
Carnival Paper (paper sculptures) by Carlos Meira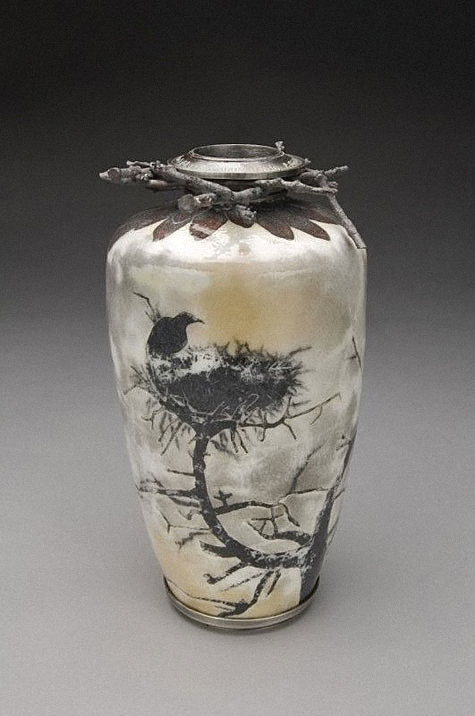 'Yellowstone Horizon 1' , copper, enamel, silver by Harlan W Butt
Loetz vase, Austria
Carol Gouthro
Charles Catteau floral vase
French Art Deco Signed Figural Dancing Ladies Lamp with Original Flame Shade
circa 1920-1939
Mars Palm Beach, FL
'Wings Of Joy' – Ginger Gilmore
Edouard Cazaux, La Varenne Saint Hilaire
50's
Cypress Cutout Pedestal Vase – Bonnie Belt
Boch Frères Kéramis ceramic vase by Charles Catteau
'Spotted Venus' – Denise Romecki
www.deniseromecki.com/
Mermaid mosaic frieze — Walter Crane
Based on designs from the palace at La Zisa in Palermo, Italy.
Leighton House, Kensington
Crystal glass vase – Eugene-Rousseau and Leveillé Ernest
Janet De Boos vase
Nature vase – earthenware with glazes and enamels – Jenny Orchard
55 x 24 x 24cm
Beaver Galleries
'Baby and Mum' – Jenny orchard
Dragon Wall Clock probably made by Escalier de Cristal, Paris, bronze and enamel
Art Institute of Chicago, c. 1880
Irina Kotova
Art Nouveau vase – Emile Galle
Chrysler Museum, Norfolk (photo by JE Berger)
 'Spring In The Mountains' – Kasia Polkowska
Nguyen Tuan Khanh-  'Eva Eternal Spring'
Laurie Shaman
Lorenzo Quinn
'Magic Hand'  mosaic vase – Swan- Mosaics
Jack Earl
Marissa Motto
Mata Ortiz hand coiled sgraffito ola
Willowherb – Moorcroft Pottery vase
Niki de Saint Phalle sculpture – Pacific Design Center, Los Angeles
france-amerique.com
Katya paper mache doll
Peter Voulkos
White Heron bowl – Bonnie Belt
'Heat' – Erte
Nesting Great Egrets by Guy Schmickle on Flickr
Gourd Carving Art by Marilyn Sunderland
English Bristolware ceramic shoes, 1768
Bata Shoe Museum – Toronto, Ontario, Canada.
Daderot – Wiki Commons
Lona Hymas-Smith
Horizon Fine Art Gallery
Mosaic bottle – Nancy Keating
Dragonfly – zdravkoni—etsy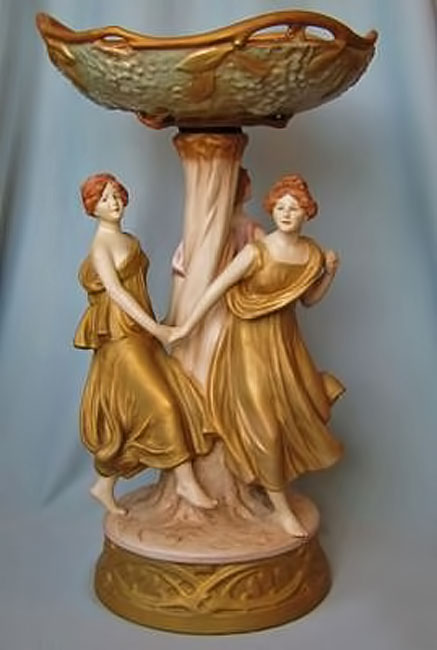 Figural compote – Royal Dux
'Sweet Dream Vaso' – Roberto Giannotti
2005
William de Morgan vase, Fulham, England
circa 1888-1898
Vipoo Srivilasa – 'For the Future'
Tall lustre vase – Wedgwood
V&A
'Cherry Blossom Dragon'  – Linda Biggers Mixed media mosaic, eggshell, seed beads and polymer clay.
10″ daimeter
Fons Bemelman
'Spring' – William P. Welsh
1931
French Art Nouveau glass vase  – Emile Galle
Gumtree in pink bloom
'Garden' – C Duncan
'Bring Me Joy' – The Layabouts – Portia Monique
–