Azulejo Mural – Almas Chapel of Santa Catarina by Silvestre Silvestri
The Igreja de Carmo church in Porto is one of the examples of the Portuguese baroque era with neo-classical features. The large ceramic panel is a depiction of the foundation of the order of Carmelites on Mount Carmel in Israel.
Arabesque geometric azulejo balcony
Caravel (sailing ship) azulejos panel
© José Luiz Ribeiro Bernardes
Fabulous Portuguese Azulejos
The azulejo (ceramic tiles) of Portugal are ubiquitous and usually presented on a monumental scale, with a grandeur and elegance, rarely seen with public tile art. They also represent a visual public history record, serving as a chronicle of many aspects of Portugal's past, displaying military battles, daily life, mythical Gods, creatures and other cultural and historical references. The term azulejo comes from the Arabic word az-zulayj, meaning "polished stone."
The early azulejos, which appeared in the 13th Century, had a distinct Arab influence with interlocking curvilinear, geometric or floral motifs and was used to imitate the Roman mosaic arts. In accordance to Islamic law, they portrayed no human figures, only geometric patterns. Azulejos were utilised to decorate the entire facades of buildings and used extensively on the interiors, adorning whole walls. Over time the Portuguese painters introduced more human or animal figures into their designs. The pervasive azulejos can be witnessed at palaces, railway stations, schools, fountains, churches, homes, restaurants and bars.
Moorish Fountain, Sintra National Palace
With the influx of Italian potters into Seville in the 16th century, sophisticated Majolica techniques were introduced that allowed the artists to represent a much larger number of figurative themes in their compositions. There was also an influence that filtered through from the printed textiles that were imported from India, which manifested as Hindu decorative symbols, flowers, leaves, animals and birds. The latter half of the 17th century saw the introduction of blue and white tiles from the Dutch Deft company by Spanish artist Gabriel del Barco y Minusca. These blue and white figurative tiles, designed by academically trained Portuguese artists, became the dominant fashion, superseding the former taste for repetative patterns and abstract decoration.
From the mid 1700's on, the taste of Portuguese society changed from the monumental narrative panels to smaller and more delicately executed panels in Rococo style. Another innovation that appeared was the use of transfer printing on the blue and white tiles, but hand painted tiles still remained popular. The cultural elite dismissed the Azulejo tile art as decoration for the masses but since the 1950's a revival had occurred with contemporary artists such as Maria Keil, Costa Pinheiro, Nuno Siqueira and Cecília de Sousa all contributing to a program to uplift the metro underground of Lisbon with Azulejo art.
The unique azulejos art is a regular feature as you travel around Portugal and it still constitutes a major aspect of Portuguese architecture, being applied on walls, floors and ceilings, making it easily accessible and a vivid history source.
Cross legged oriental porcelain figurines
Palace of Pena, Sintra
Santa Catarina Chapel
 Porto, Portugal
Indian parlour, Palace of Pena, Sintra
Leda and Swan azulejo motif
Ceramic tiles (Azulejo) with a market scene at the wall of the Mercado dos Lavradores, Funchal, Madeira, Portugal
Portuguese Trompe Loeil azulejo mural
Azulejos shopfront mural , matching blue and white ceramic vessels
Lisbon
National Palace of Pena arabesque orientalist room with Saxony porcelain
© Sandro Vannini/CORBIS
Arab Room
Palacio de Pena Sintra,Portugal
Igreja do Carmo azulejos wall
Porto, Portugal
Azulejo church facade
Cortegaca, Aveiro, Portugal
jesuscm – Flickr
Azulejos wall mural, National Palace of Queluz
atalentfordesign.com
Viuva Lamego, Lisboa ©Luis Novo
Pena Palace, Sintra
Barcelona Cathedral
My two sons on their way to Portugal, where they took some photos at Sintra, added in this post.
Pena Palace charger, Sintra, Portugal
The 'guardians of the penumbra' at the 'Guardian Gate' which leads to the 'Initiation Well'
Quinta de Regaleira, Sintra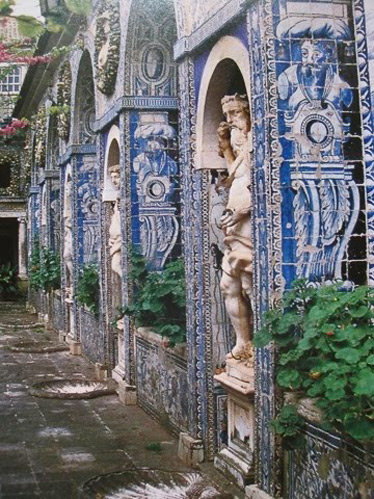 The Palace of the Marquesses of Fronteira, Lisbon
Fabrica  Sant'ana, Lisbon (azulejos tile factory still in production since 1741)
The Palace of the Marquesses of Fronteira, Lisbon
Built in 1641
Sintra sculpture
djtravelexperience.com
Fabrica  Sant'ana, Lisbon
Oriente Underground Station Azulejos
Photo by Mario Rui Fernande
Bussaco Royal Palace, Penacova, Portugal
Mid Century wall mural by Querubim Lapa, Lisbon
Modernist charger  – Querubim Lapa, 1959
Manuela Madureira azulejos, 1965 (  monumental wall mural on the cusp of demolition)
Monsanto Panoramic Restaurant
cidadanialx.blogspot.com.au/
Azulejos Lisbon
Photo by Jos Dielis
Pena Palace bronze sculpture lamp, Sintra
Handpainted azulejos, Sintra
Caption – 'O inico revolta con os frances' – ( start of revolt with France)
Olhao seaside, Portugal
Janelas Verdes, Lisboa
JaimeSilva -Flickr
Geisha azulejos at  Avenida 5 de Outubro, Lisbon
JaimeSilva -Flickr
Viana do Castelo Cathedral, Portugal
Photo by Ricardo Silva
Azulejos at Avenida 5 de Outubro, Lisbon
Oriente Railway Station azulejos
Lisbon
Stair azulejos, Queluz National Palace, Portugal
Ornate entrance at Quinta de Regaleira, Sintra
Rococo decor at Quinta de Regaleira, Sintra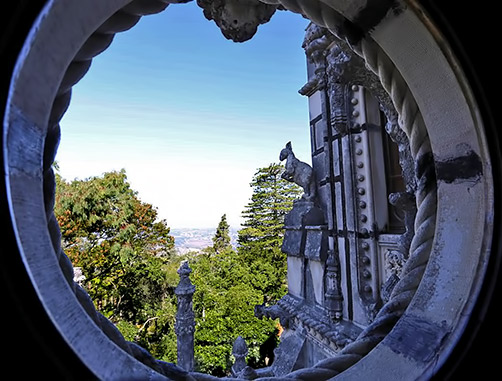 Kangaroo in a porthole
Quinta de Regaleira, Sintra
Oriente Station azulejos
Lisbon
Sao Bento Station azulejos murals
Pair of lidded ceramic double gourd vessels
Peno Palace, Sintra
Traditional Portuguese pottery with white quartz inlay from Nisa
Pena Palace, Sintra
Azulejos at Pavilhão Carlos Lopes, Lisbon
The Palace of the Marquesses of Fronteira, Lisbon
Teatro Eden Hotel Art Deco, Lisbon
Azulejos mural, Porto
Climbing cork oak tree in Alentejo
Photo: © Gabriela Tavares
Pena Palace, Sintra
The Church of St. Sebastian in Darque – Viana do Castelo
Mural at Porto Railway Station
Swan Room azulejos ceiling, Pena Palace
Swan azulejos with arabesque border
Pena Palace, Sintra
Dining Room azulejos walls – Sintra Palace
crumpdillyicious.blogspot
Neptune azulejos panel – Aquário Vasco da Gama
Dafundo, Lisbon
'Adam & Eve cast from Eden'  by Querubim Lapa
Palácio da  Justiça (1970)
God, Adam and Eve
Coimbras Chapel, Braga Portugal
Sintra Palace fountain
Blue and white azulejos bathroom at the John Michael Kohler Arts Center
Sheboygan, Wisconsin, USA
–