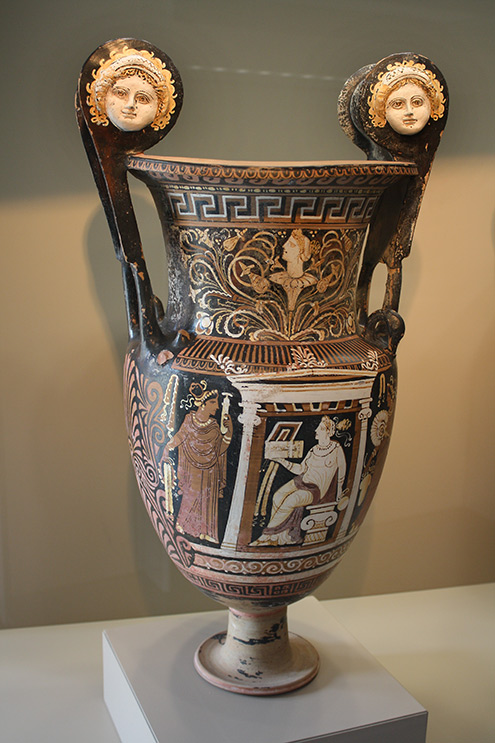 Volute Krater used for mixing wine with water
4th century BCE
 Georgian wine pots of antiquity
When it comes to wine, I now very little about tasting notes or wide palete, but two things I know is that the ancient Greeks had an amazing array of different vessels for the storage and consumption of wine, and Georgian viticulture goes back 8000 years. Just like the ancient Greeks, Phoenicians and Romans used the clay pithos and amphorae for their wines, the Georgians to this day still use the clay "qvevrie" for wine production. Wine cultivation is deeply entrenched in the Georgian culture, and the traditional qvevrie is used for making, ageing and storage of their wine and part of that process involves burying it beneath the ground for optimal temperature, fermentation and ageing. Almost every single farmer and also a majority of city dwellers in Georgia are wine makers.
The basic technological process consists of pressing grapes in a Satsnakheli (wine press), pouring the grape must and the "chacha" (grape skins, stalks and pips) into a "Qvevri" (the mixture fills around 80-85%), filling, sealing the "Qvevri" and leaving the mixture to age for 5-6 months. The skinless variety is buried in the ground up to 2 years. The egg shaped qvevrie promotes a natural convection of the internal fluids.
Unesco is considering adding the qvevri method to their world heritage list to preserve the craft as their are only a few good qvevrie makers still active. The favoured "Kakhetian" method creates a unique golden coloured wine. One of their favourite wines is the Tsistka, which has apple blossom and wild herbs mixed in during production.
 Huge qvevri coil built wine pot  – Georgia, Europe
Judging by the cart next to the pot, it is maybe 18 feet in height. .
The traditional method of wine-making continues to live in the centuries old monasteries.
Cleaning qvevri pots
Qvevri pots at the Georgian Telavi Monastery
 A discarded pot from a park wino?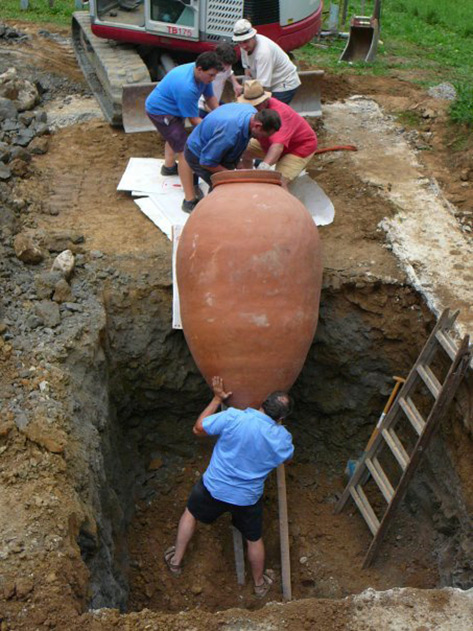 Lowering a qvevri pot into a pit.
Georgia
 Qvevri wine connoisseur
 Qvevri pot transportation
 Go forth and multiply
A Georgian ancestor  with a giant qvevri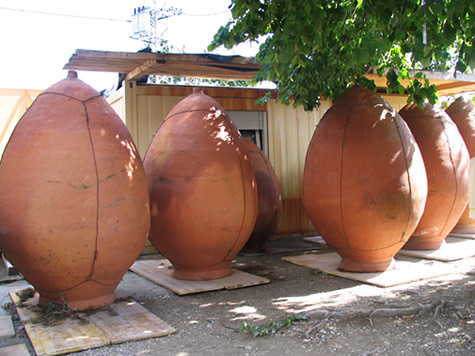 Qvevri pots in production
Kakheti, Georgia-  Gremi, the royal citadel and the Church of the Archangels, famous for its qvevri wine.
Ancient Greek Wine Pots
The wines of the ancients were a symbol of fertility, immortality, and divinity and had a reverential regard. Wine consumption wasn't purely indulged in for ceremony or drunken revelry. Testing of ancient pots has revealed, from residues, the presence of medicinal herbs like myrrh, pine resin, and other substances like honey which contained anti-bacterial or even antiseptic properties.It was a standard practice to coat the inside of a wine amphora with propolis, a resinous sealant made by bees, which also had a medicinal reputation. The mixing of wine with water in a ratio of 1:4 was more then likely for the purpose of making the water safe to consume. There is much evidence of the popularity of volute kraters which were used for this purpose. Both the Egyptians and Chinese developed herbal remedies using wines which acted as solvents to break down and extract the active ingredients and this pharmacopeia was passed down through time to the Hebrews, Greeks and Romans. Initially in the ancient Mediterranean, wine was primarily drunk by the wealthier classes, but by the Roman period, it was cheap enough for it to become a pastime of the masses.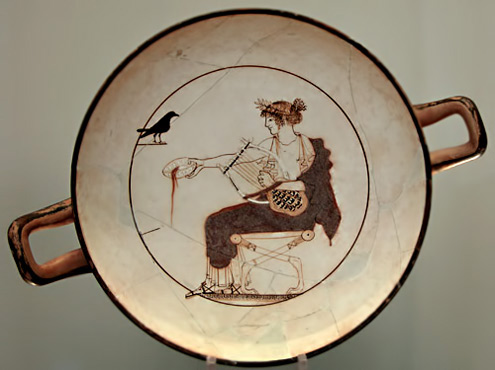 Apollo cup white ground kylix – Greek
480-70-BCE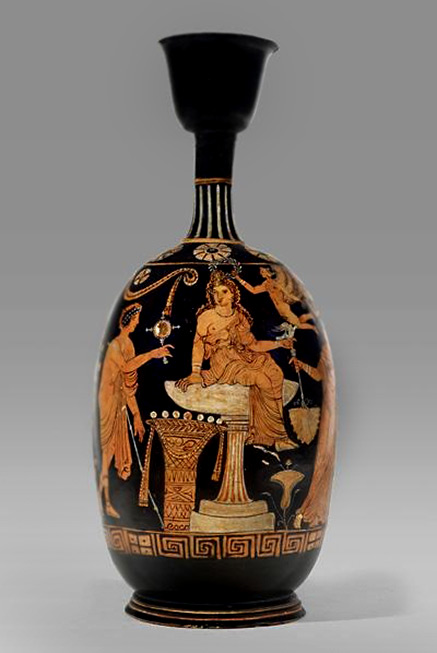 Italian Red Figure Squat Lekythos with Aphrodite and Eros
4th CenturyBC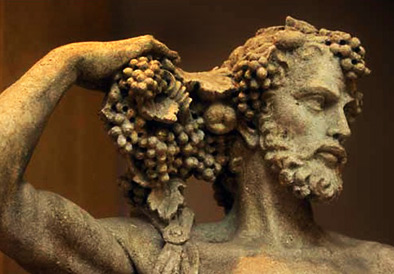 Dionysus –  Bacchus Roman God of Wine
 Dancing Satyrs and Maenads on a Black Figured Amphora
Made in Athens between 540 – 510 BC. Attributed to Painter N, and signed by Nikosthenes the potter.
British Museum
 Ceremonial rhyton held by Dionysos
Epichysis, or wine vessel,  from the Apulia region of Italy depicting a reclining nude Satyr.
This earthenware platter, influenced by the work of ceramist Bernard Palissy, illustrates the rustic and formal aspects of a French garden with Pomona, goddess of gardens and orchards.
MET
'Bacchante with grapes' – a tribute to Bourdelle by Jean Mayodon
Terracotta  tankard  Cypriote
1400-1350 BCE
 Etruscan terracotta oinochoe (jug) in the form of a woman's head, late 4th century BCE
mharrsch-flickr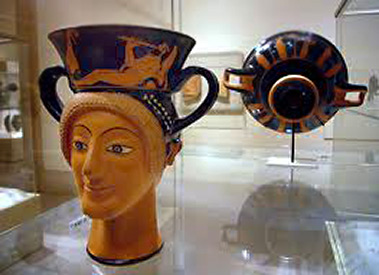 Greek red figure terracotta kantharos (drinking cup with high handlesca )
Attic, 490-480-B.C
Large Greek amphora, , showing the goddess Athena
National Archaeological Museum of Athens
 Volute Krater – Canosa, Italy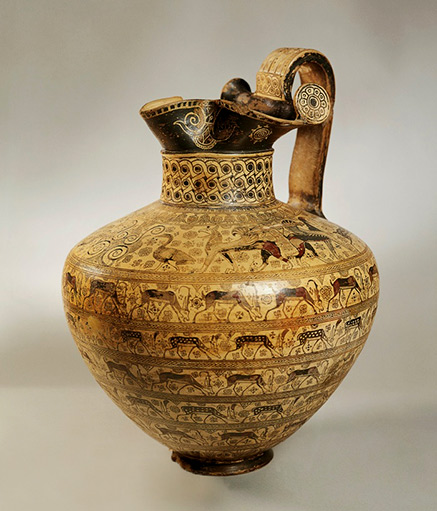 Geometric style pottery.-Oenochoe decorated with figures of goats, fallow deer and ibex.-From Rhodes, Greece
7th century B.C.
 Lucanian Volute Krater by the Creusa Painter
380-370BC
 Rhodian  oinochoe with wild goats, bulls and geese
Museum Of Fine Arts Boston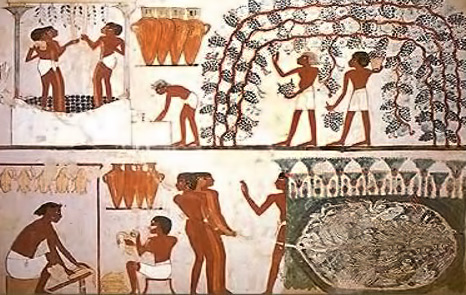 Large Egyptian wall painting of wine production
 Ancient Greek Pottery Statuette of a Siren – known for luring drunken sailors.
Other wine vessels of interest
 A toast to the Magnum slip cast ceramic wine fermentation vessel.
Byron Bay, Australia
Inspired by Natural Selection Theory, "Project Egg", and in deference to the astonishing work of Josko Gravner and the great Georgian tradition of making wines in clay "Qvevri",
Internal flow patterns of the Magnum wine vessel
 Constructed with 12mm thick walls. The iconic "egg" shape promotes passive convection within, allowing developing wine to "live and breathe". The geometric shape is derived from sacred geometry.
 Huge amphora – Cape Point Vineyards, ZA
Ewer with calligraphy, Iran
10th century
Chinese statue of a wine drinker
 Contemporary carafe/jug – Cody Hoyt
Patrick Parrish, 1st Dibs
Goblet -Ellison Bay Pottery – etsy
Ewer with dancing females within arcades
6th-7th Century AD, Sasanian, Iran
The Metropolitan Museum ,NY
 1950's French tripod ceramic wine cooler
Patrick Parrish, 1st Dibs
Farsta Terra Spirea Cup by Wilhelm Kåge – 1957
Sam Kaufman-1stDibs
Twin handled Wide Oval Flask – Mark Shapiro
 Mid Century Scandinavian decanter
 Mayan Goblet -600-900AD
 Marcello Fantoni mid century ceramic decanter
Large hand painted round decanter – Javier Sevrin, Mexico
Calebasse palm wine vessel – Tikar, Camaroon
Iranian wine ewer 
ACMA
Majolica Wine Flask  – Bottega di Guido Durantino
(1535)
Wine Cistern – Francesco Durantino, Italian,
1543-1553
Oenochoe (wine jug)  – Emilia Romagna
Ceretolo, Italy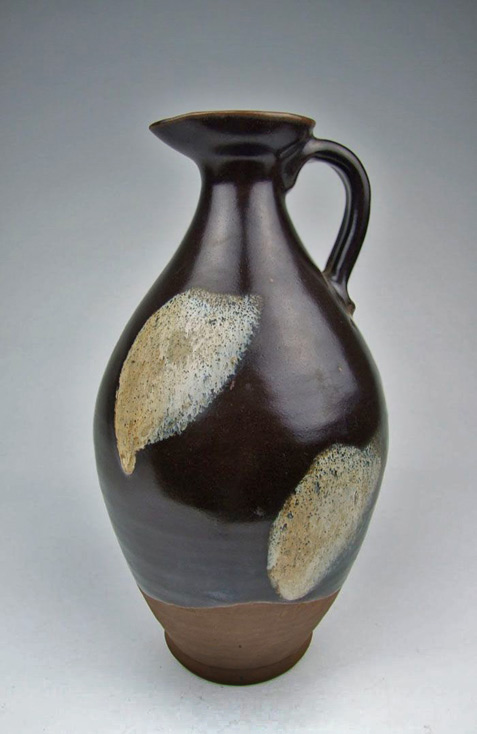 Lushan ware suffused glaze porcelain wine jug – Tang Dynasty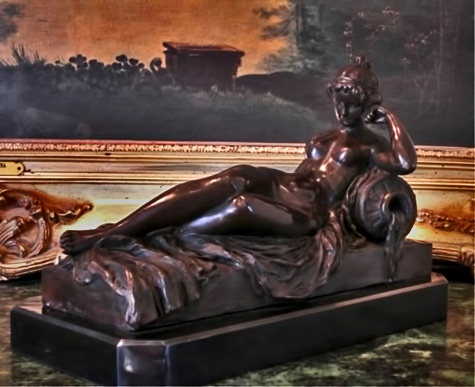 'Meditrina' Roman Goddess of Wine Bronze Sculpture
Alcora faience wine jar
Spain
White Ground Lekythos, Achillies painter,
c. 440 – 430 BCE, Sicily, Italy
 60's Russian ram decanter
Tall Raymor Fantoni Caproni carafe/pitcher
Vintage Bellhop ceramic decanter, Germany
Gold  ceramic goblet with three grotesque gargoyles – Royal Dalton
Carafe – Reg Preston
John Percival goblet
The Tao of the Grape
Wine, by virtue of its sour taste is ruled by the 'Wood' element. The clay vessels are ruled by the Earth element. These two elements are highly compatible. Whereas the wooden barrels are more discordant, as wood on wood clashes. The liver is also ruled by the wood element, which is why it isn't really harmonious with wine consumption (along with the chemicals in play ) The ancients used sweet, bitter and pungent herbs to temper the sour taste. All factors considered, the traditional organic Georgian wine should be less prone to provoking a hangover. I'm curious to try some organic Georgian brew to put that theory to the test.
–