Vase  with a beautiful pale chun glaze and a splash of copper red, with combed and drawing work beneath.
For more than 37 years David Fry, has experimented with  recipies gleaned from the ancient glazing techniques  of the East. Combining extensive research and intuition he has successfully reproduced their form and styles. He has developed  a 'Lang-Yao' or  Flambé, a copper red glaze, a rich blue 'Jun', a green Celadon, and a Black 'Tea Dust' Tenmoku along with  Shino and Wood Ash glazes.
Using a 40 cu.ft gas fired kiln,  which he built himself,  his prime firing technique is "Reduction" firing. ie. he reduces the amount of oxygen entering the kiln and  introduces wood to to create a smokey atmosphere at the end of the firing process. All his glazes contain some wood ash, which are utilised to introduce Phosphorous and Calcium. ( absent form standard glaze materials.) This wood ash is obtained from burning recycled wood and hedge cuttings ( Wild Rose & Hawthorne ). Each pot is overlayed with up to 5 glazes to enhance their colour depth and variety of colour mixes.  The firing takes about 24 hours, where a temperauture of 1340C is reached , followed by a cooling stage of 48 hours. During the cooling stage , changes still occur in the colour tones of the glaze as the crystals oxidise. Some of his glazes have a crackle pattern within  the glaze structure, much loved by collectors of Oriental ceramics.
David claims that "my glazes or materials do not contain any toxic materials, and the  glazes have  a high percentage of Silica and Alumina being fired at high stoneware temperatures. The principle fluxing element in my glazes is Calcium combined with smaller amounts of Potassium, Sodium and Magnesium. Therefore my work is safe for the user, the maker, and the environment .The colours of my glazes come from very small amounts of copper and iron in the glaze mix – reduced copper turns red and iron blue/green."
David Fry is currently based in a sudio at the new Arts Centre in Newcastle, Britain.  He is continuing his quest to discover more exciting colours and textures,  drawing his inspiration from the endless variety of unique outcomes he attains from his combination of glaze mixtures and firing methods.
8″ dia. jar , copper red glaze overlaid with ash and iron.
 Current work – David Fry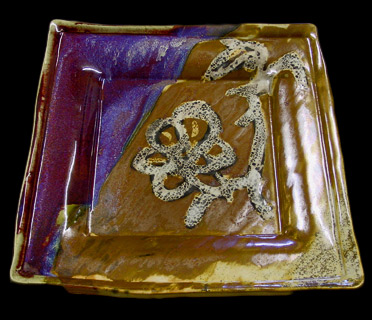 14″ sq. pressed platter, with a gold Shino and copper red glaze.
Stoneware tiles – David Fry
 Shaped vase 9″ high, in a rich mix of wood ash and iron over a copper red glaze – David Fry
Woodfired ceramic vessel with twin handles – David Fry
 Square dish rolled and pressed clay with a rather nice chun and iron
David Fry footed bowl
The Inglewood Jar. on display at Hutton in the Forest
Jar with handles, with a copper red glaze overlaid with wood ash to get a nice run.
Pencil Pot – David Fry
Small bottle vase – David Fry
David Fry jar
Double handled vase with overlaid drip glaze – David Fry
Polychrome plate – David Fry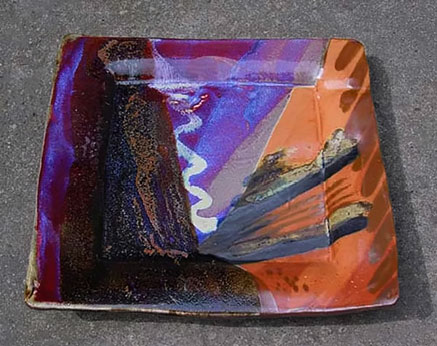 Square dish – David Fry
David Fry having a sitting with Chris Madge
David Fry display at Potfest 2013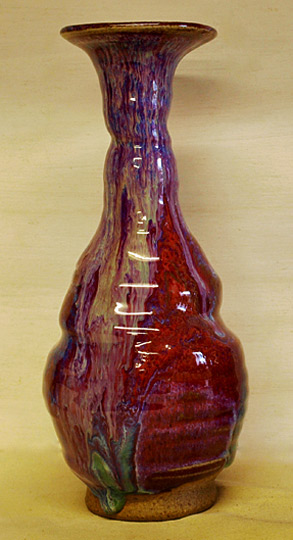 Red Ceramic bottle – David Fry
 David Fry current work
David Fry footed cup, blue rim
 David Fry footed vase, UK
-------------------------------------------------------------------------More Posts