Contemporary, ancient, classic, vintage, inspiring, original, outstanding ceramic art 
Jacques Kaufmann
28 November – 21 December 2018
Erskine, Hall & Coe are featuring Jacques Kaufmann's first exhibition in London, comprising over seventy works in stoneware, porcelain, slate and mixed clays, made between 1990 and 2018.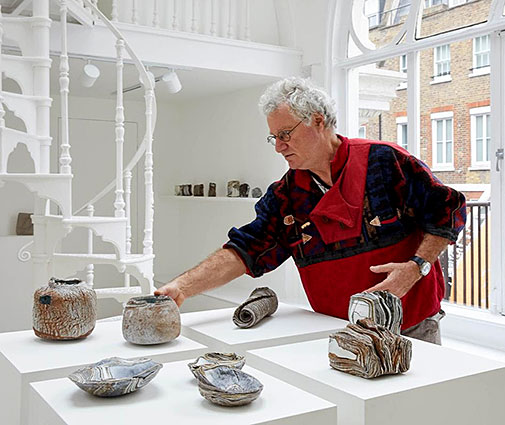 Jacques Kaufmann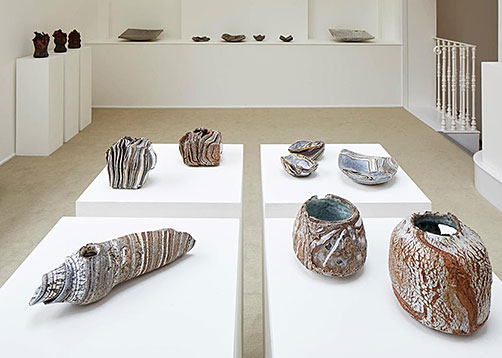 Jacques Kaufmann
Erskine, Hall & Coe Ltd
15 Royal Arcade
28 Old Bond Street
London W1S 4SP
+44 (0) 20 7491 1706
[email protected]
www.erskinehallcoe.com
…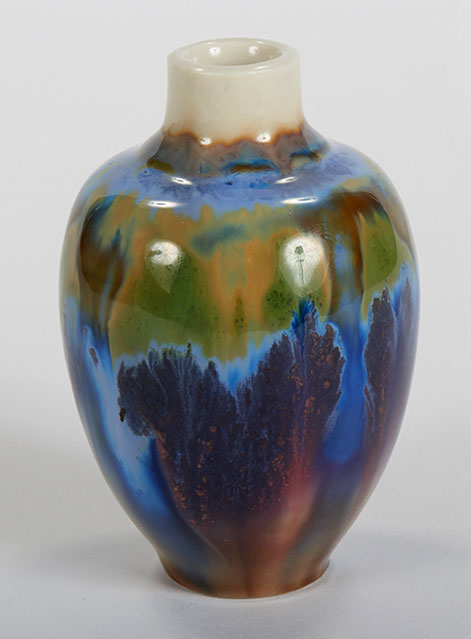 Taxile Doat, Sevres   1920's
'
Glass, Textiles, Lacquer & Ceramic'
Current exhibition at London's Erskine, Hall & Coe until 21 November 2018
Featuring glass sculptures by Ritsue Mishima, indigo dyed textiles by Shihoko Fukumoto, and a beautiful lacquer sculpture by Toshimasa Kikuchi. accompanied with a selection of tea bowls by Hiro Ajiki, Ryoji Koie, Shozo Michikawa, Yasuhisa Kohyama, Tatsuzo Shimaoka and Shiro Tsujimura.
Opening Hours, Tuesday – Saturday, 10am – 6pm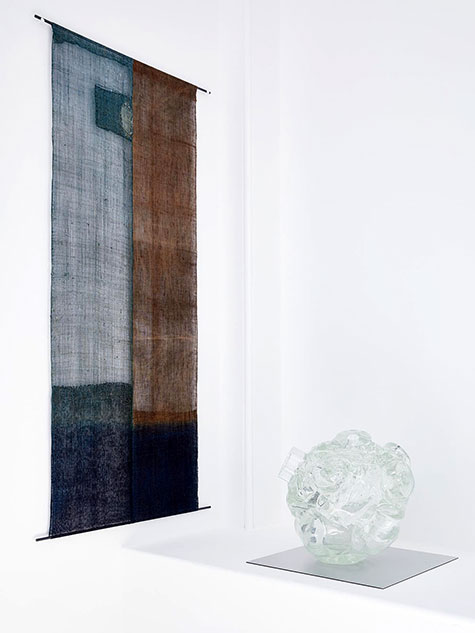 Indigo dyed wall hanging textile by Shihoko Fukumoto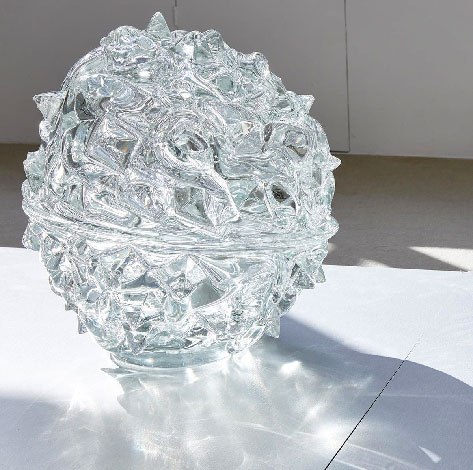 Glass sculpture by Ritsue Mishima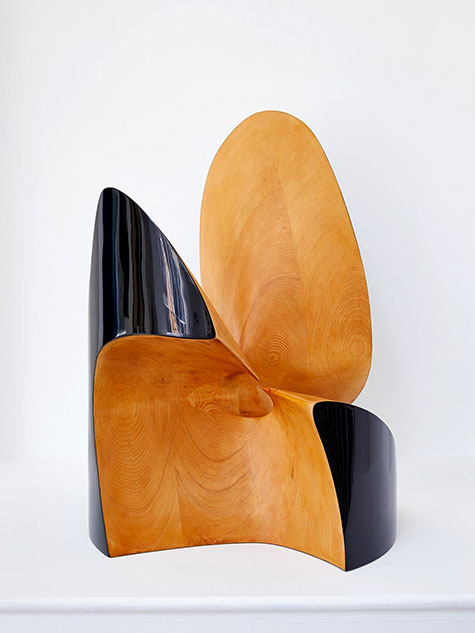 Lacquered wood sculpture by Toshimasa Kikuchi.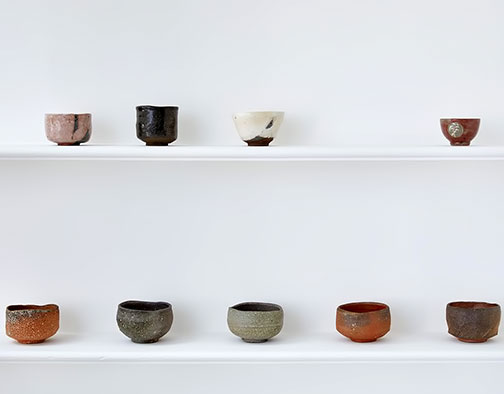 Selection of tea bowls by Hiro Ajiki, Ryoji Koie, Shozo Michikawa, Yasuhisa Kohyama, Tatsuzo Shimaoka and Shiro Tsujimura.
International Ceramic Art Exposition
Erskine, Hall & Coe are delighted to be participating in the International Ceramic Art Exposition at the Gardiner Museum in Toronto, Canada. This inaugural event is part of the museum's annual fundraiser, New + Now and celebrates emerging artists as well as Canadian and international ceramics. The works we are contributing to this display include an early tea set and porcelain and manganese vase by Lucie Rie, a dark earthenware sculpture by Gordon Baldwin and some porcelain vessels by Sara Flynn.
The exposition will be held at the Gardiner Museum at 111 Queen's Park, Toronto, M5S 2C7 Canada, and will be open on Friday, the 16th of November from 10am – 6pm, and Saturday, the 17th from 10am – 3pm.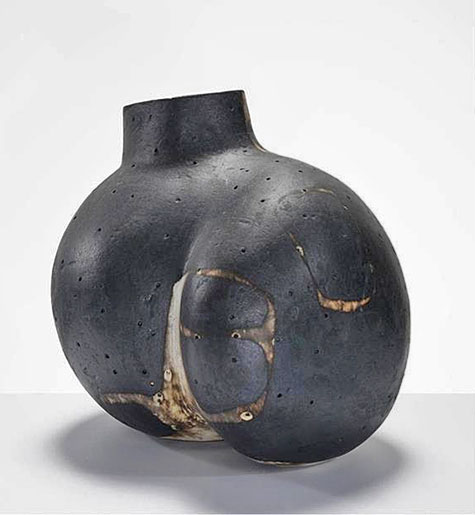 Gordon Baldwin ceramic sculpture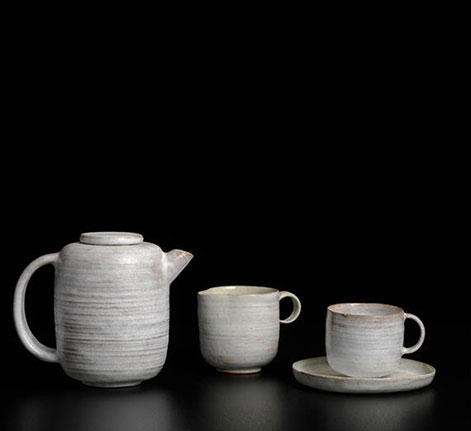 Lucie Rie teapot, pourer with cup and saucer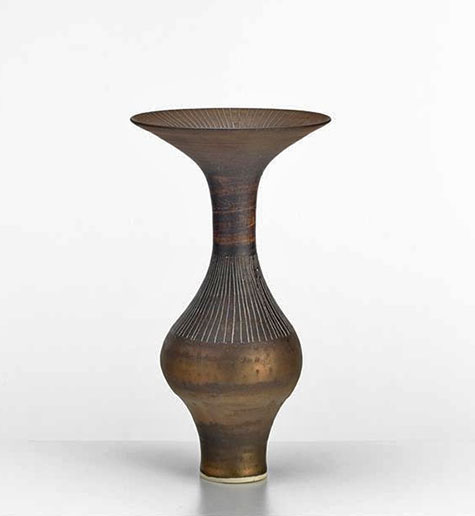 Lucy Rie flared vase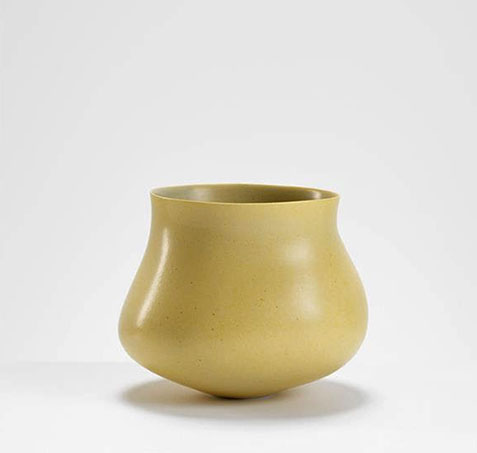 Sara Flynn
Friday Nov 16th, 2018 Gala 6-9 PM – Catered Reception, Live Music, Collaborative Auction
The local Seagrove artists have joined together to create an evening to celebrate Seagrove Potters artistry and craftsmanship in this annual show.
Indoors at Historic Luck's Cannery 798 NC Highway 705. Seagrove, NC 27341 (1/2 mile South of Traffic light in Seagrove, NC
Large ovoid vessel – Mark Hewitt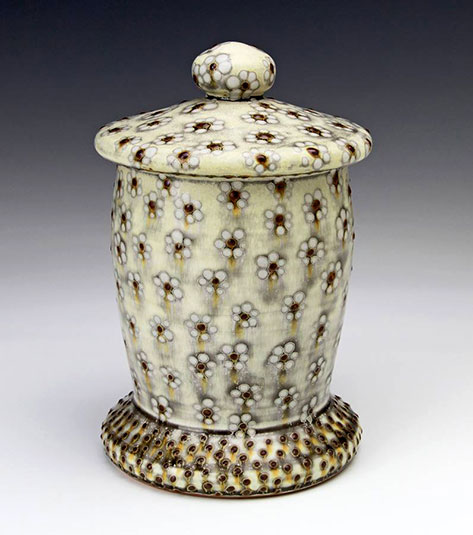 Lidded Jar by Samantha Henneke–Bulldog Pottery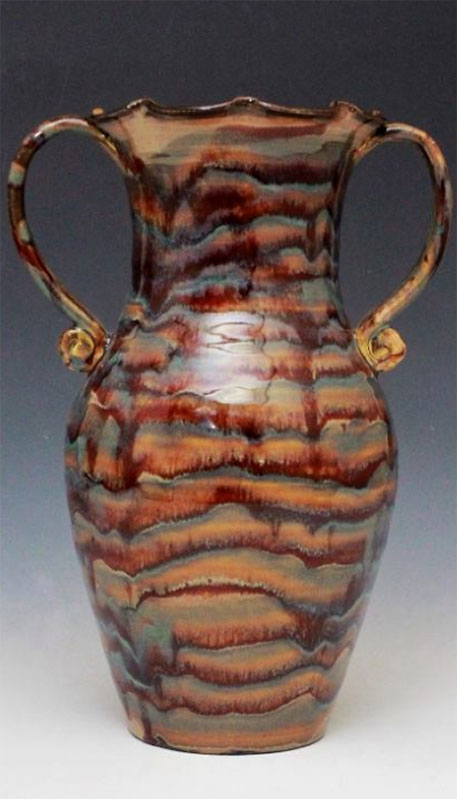 Windsong Pottery, NC
Sara Flynn exhibition
3 – 25th October, 2018
Tuesday – Friday: 10am – 6pm
Saturday: 10am – 6pm (during exhibitions only)
Irish-born sculptor and ceramicist Sara Flynn is having her exhibition of new work in porcelain and bronze at the London gallery of Erskine, Hall and Coe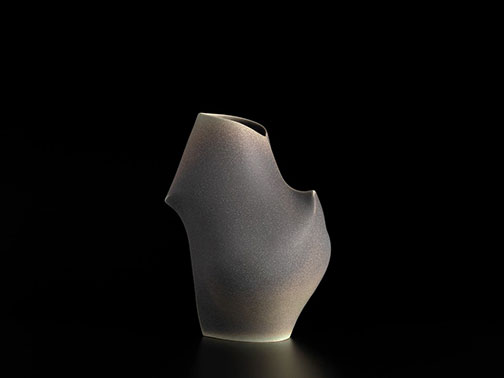 Flection Vessel  —  Sara Flynn
2018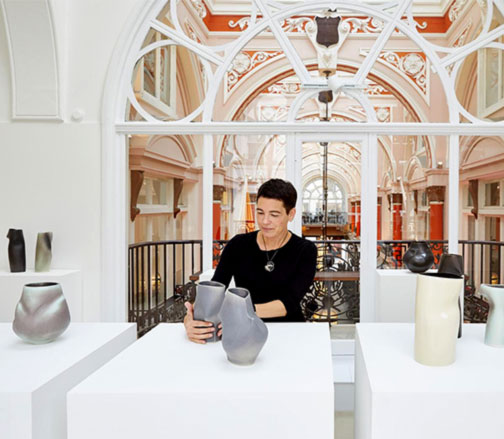 Irish ceramicist Sara Flynn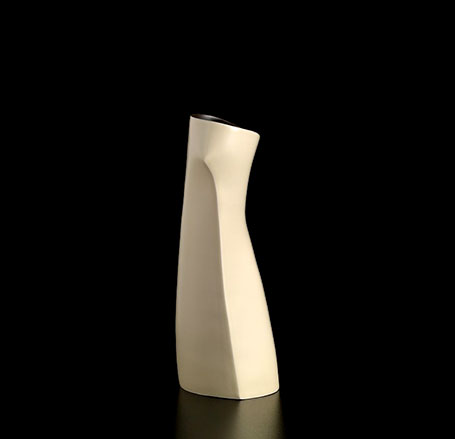 Sara Flynn sculptural 'Flection Vessel', 2018 porcelain contemporary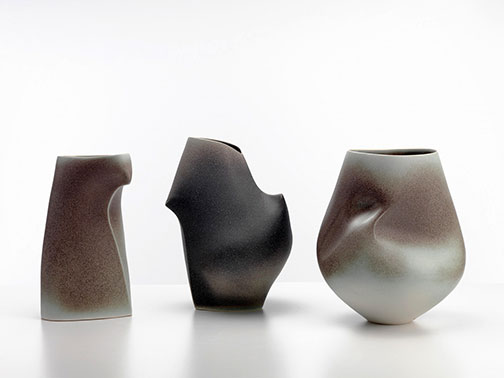 Contemporary ceramic vessels – Sara Flynn
Erskine, Hall & Coe Ltd
15 Royal Arcade
28 Old Bond Street
London W1S 4SP
+44 (0) 20 7491 1706
[email protected]
www.erskinehallcoe.com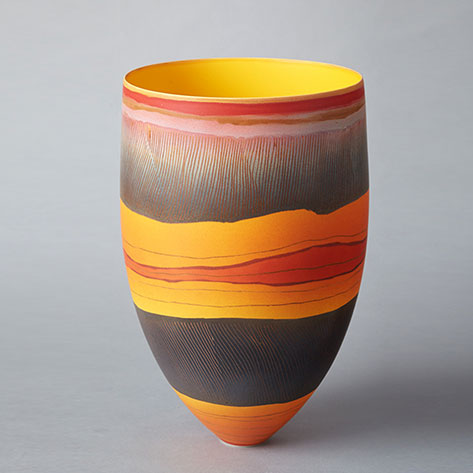 'Marinbunga Thunderstorm', Tanami Mapping III—Pippin Drysdale
Sabbia Gallery, Sydney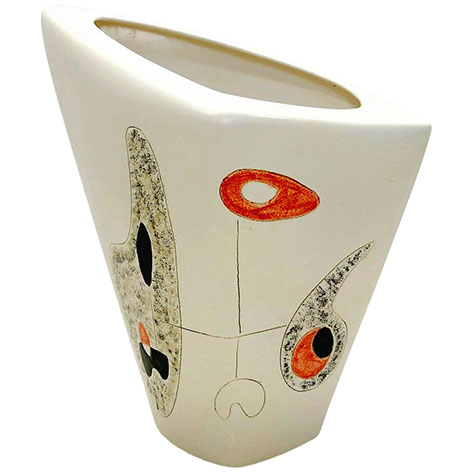 Denise and Peter Orlando large Decorative Cream White vase, 60's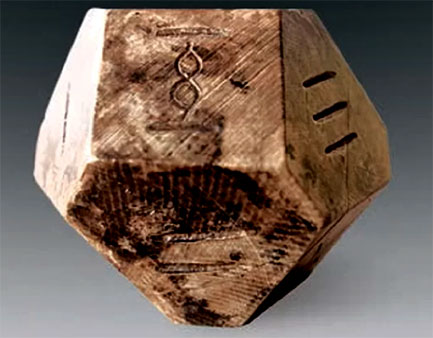 Caved bone 14 sided dice for ancient game called Bo, 2300 BC
Egyptian astrology had 14 planets, 7 for the day and 7 for the night. Maybe its related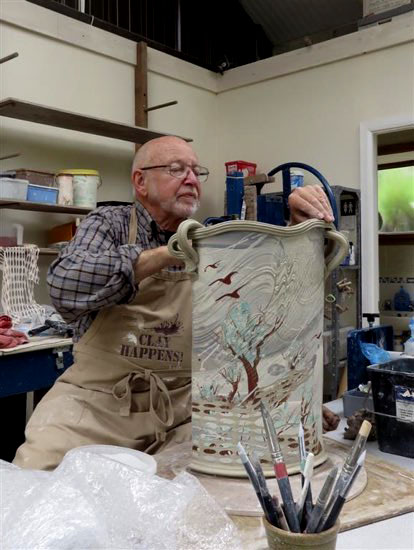 Jim Robison with his slab built landscape vase
2015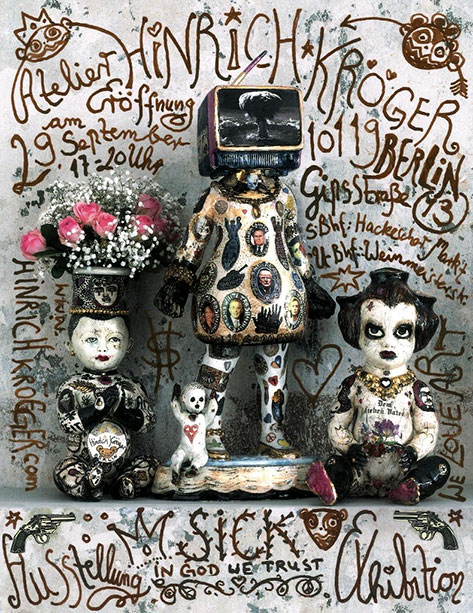 Hinrich Kroger is having a new Exhibition  — S.I.C.K. —  during the Berlin Art Week
Saturday, September 29, 2018 from 5pm to 8pm
Atelier Hinrich Kröger
10119 Berlin, Gipsstrasse 13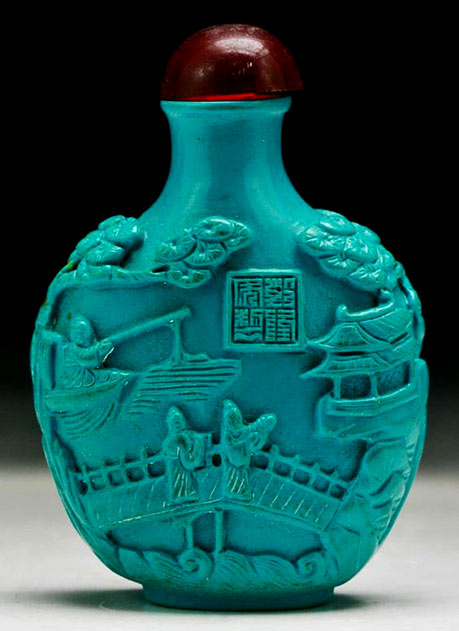 Turquoises blue lacquer carved ceramic Snuff Bottle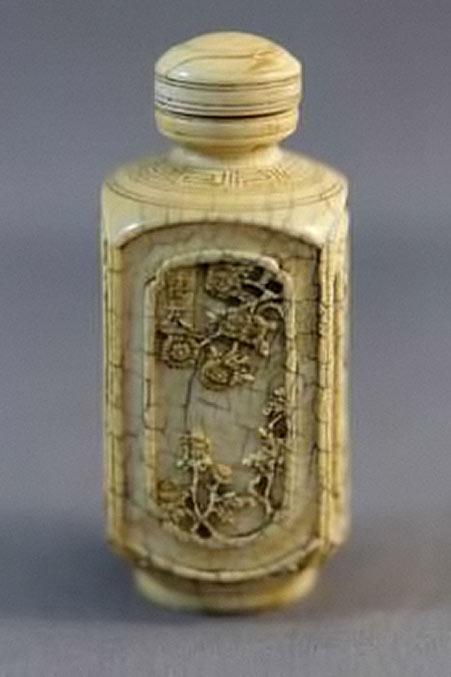 Qing Dynasty, 18th Century Ivory crackle glaze Snuff Bottle
see more at 'Exquisite snuff bottle art' (veniceclayartists)
Val-David, Québec, Canada
Running till 12th August, 2018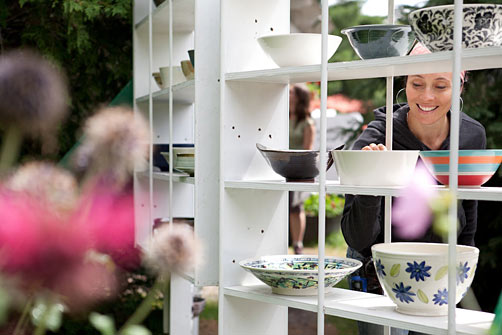 1001 Pots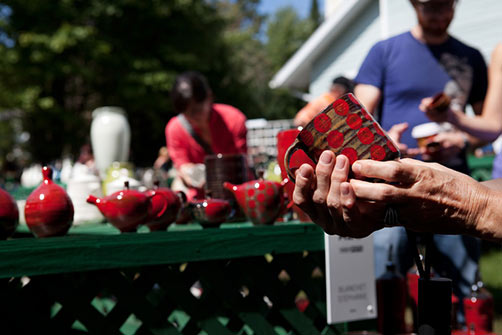 Shamai Sam Gibsh
'Shadow and Smoke' exhibition — 3rd August to 29th September —
See works from exhibition here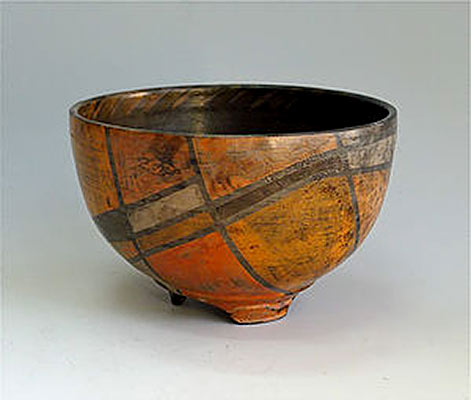 Shamai Sam Gibsh landscape bowl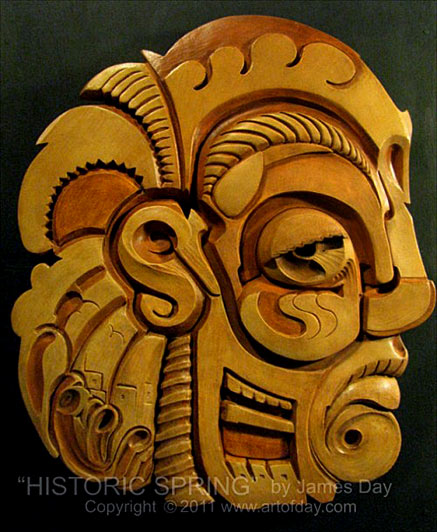 'Historic Spring' – James Day, June, 2011
 Clay relief carving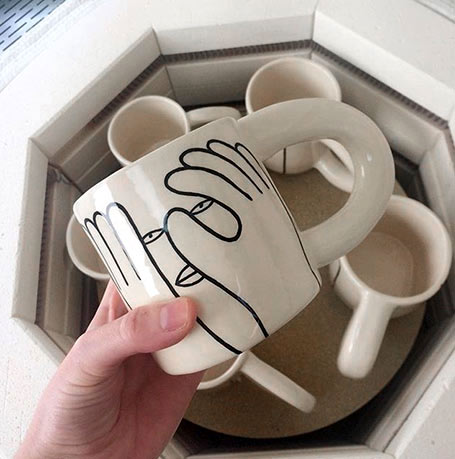 Louise Madzia face mug
Exhibition — 21st June 2017 — 15th July
Ulundi House, Portswood Square, Portswood Ridge, V & A Waterfront, Cape Town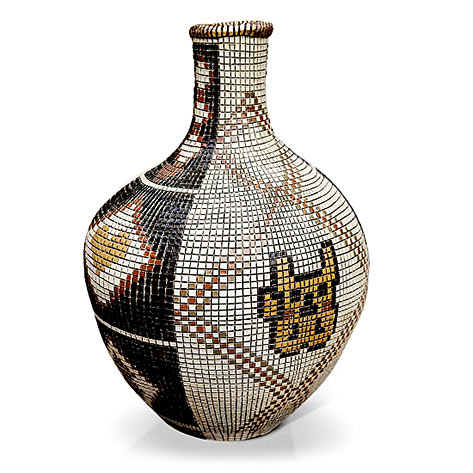 Lucinda Mudge- 'Pikachu' Pixel Vase – 2017
Lucie Rie Exhibition  —  27 June – 20 July 2018
Erskine, Hall & Coe — Ceramics + Modern Art
The show will consist of works that span over six decades, from rare pieces made in Vienna in the early 1930's to beautiful bowls made in Rie's Albion Mews studio in London in the late 1980's.
Erskine, Hall & Coe Ltd
15 Royal Arcade
28 Old Bond Street
London W1S 4SP
+44 (0) 20 7491 1706
[email protected]
www.erskinehallcoe.com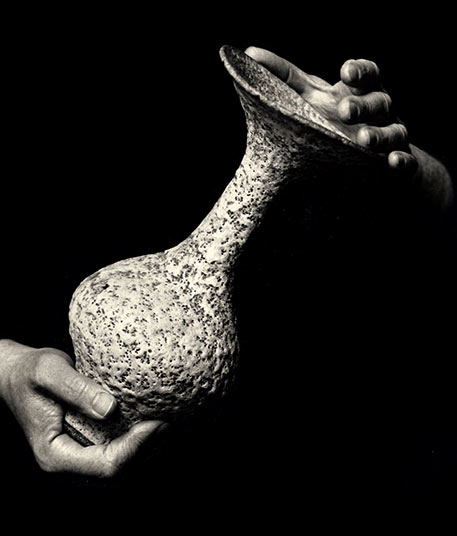 Flared lip vase – Lucie Rie
 circa 1980s – Photographer Jane Bown.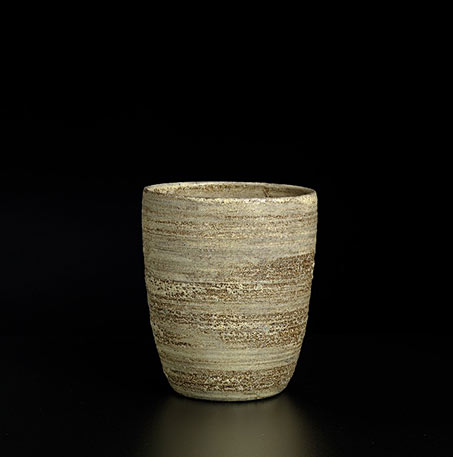 Lucie Rie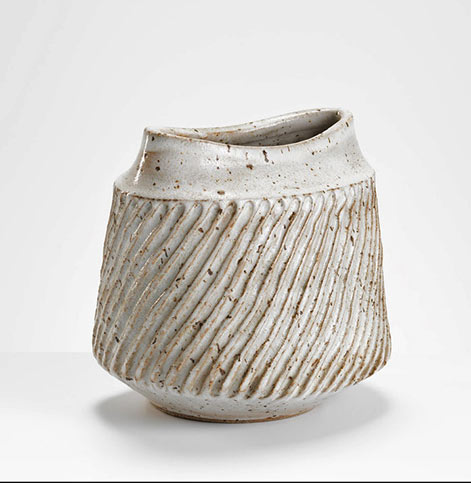 Lucie Rie – Carved Vase
1960's
110 ceramic artists from France and internationally at the Parisian ceramic festival
Thursday 28th June – Sunday 1st July, 2018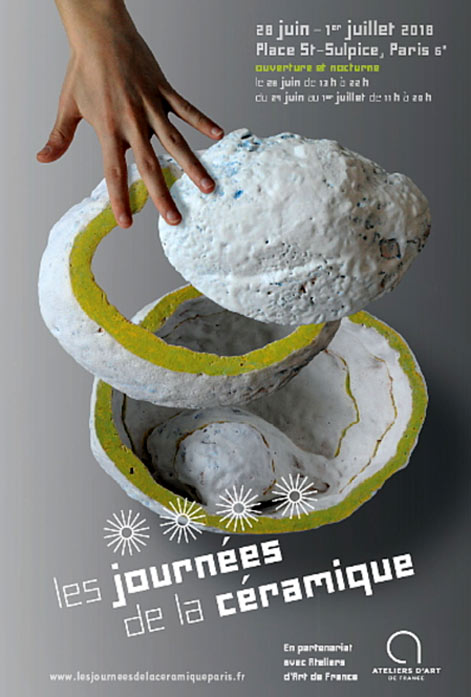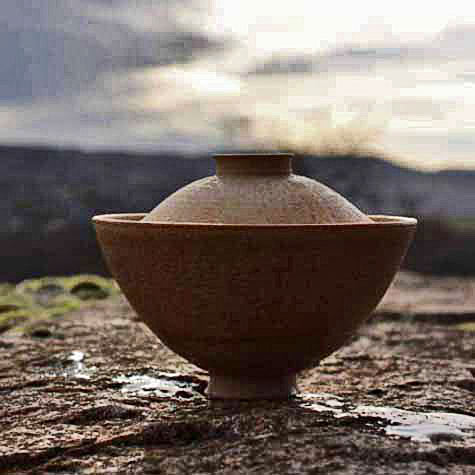 Manon Clouzeau–ceramic bowl and lid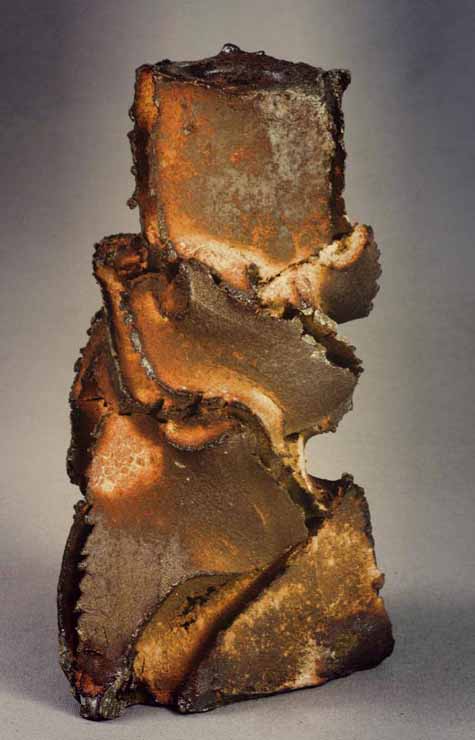 Raphaël Meyer —  ceramic anagama fired sculpture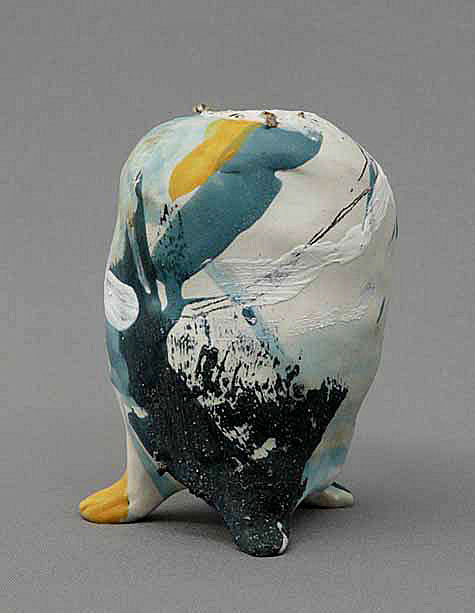 Gwenaël Hémery — footed ceramic sculpture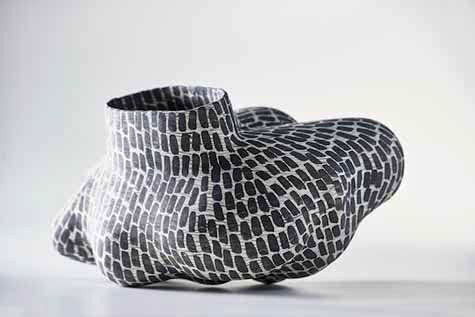 Monika Debus  – 'Form'  2015
See more here – Les Journées de la Céramique 
Weekend ceramic exhibition – June 23 – 24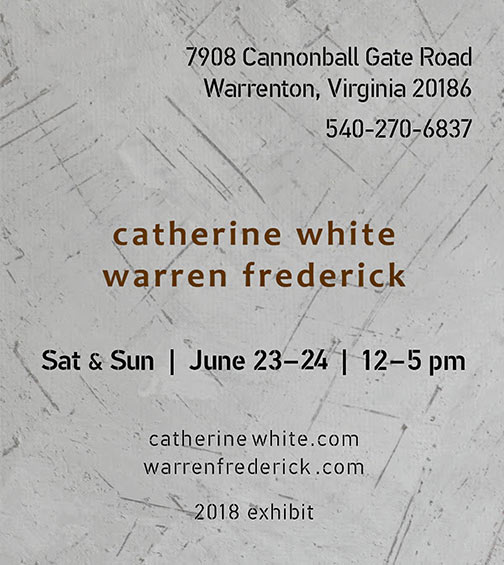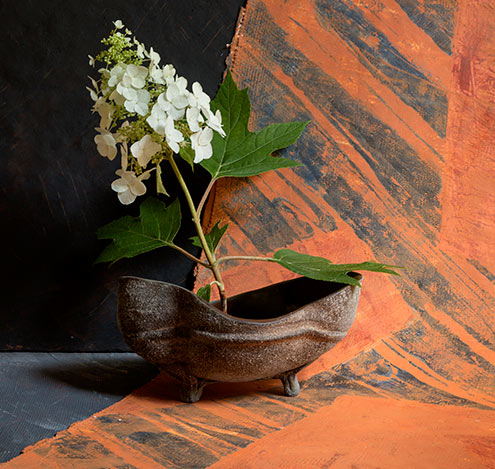 Catherine White footed vessel with hydrangea
Summer 2018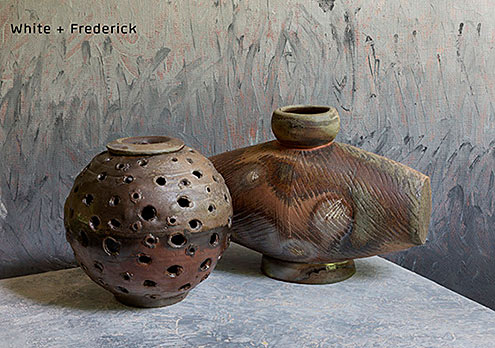 Catherine White & Warren Frederick
…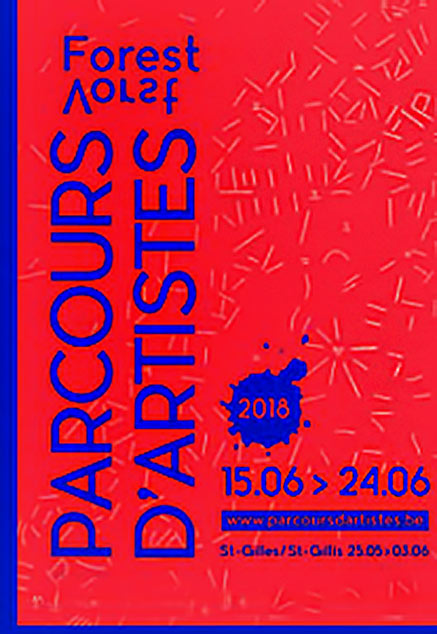 As part of the FOREST 2018 Artists' Course,
the
Galerie
de LÔ
presents a sober, colorful, surprising, poignant, amusing ceramic expose … Two weekends of discoveries, small and big pleasures assured with 12 ceramists and 1 cabinetmaker exposed!
JUNE 15TH> 9PM
JUNE 16/17 & 23/24 from 14H> 18H
The Gallery At Workshops
0495.28.71.74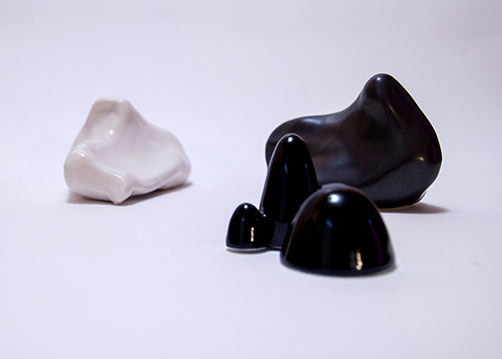 Qihui Huang ceramic sculpture – Galerie de L'O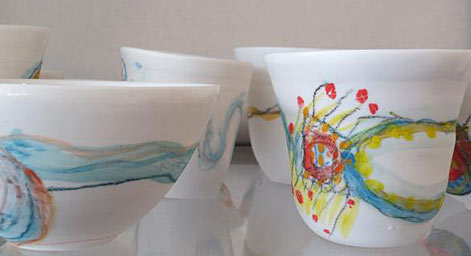 Fabienne Withofs — Galerie de L'O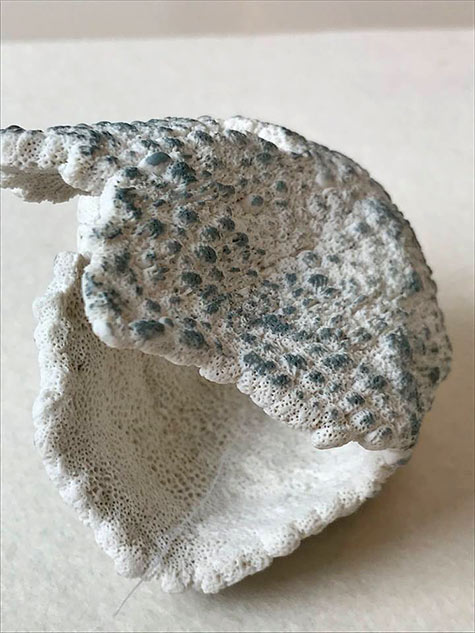 Nathalie Doyen — Galerie de L'O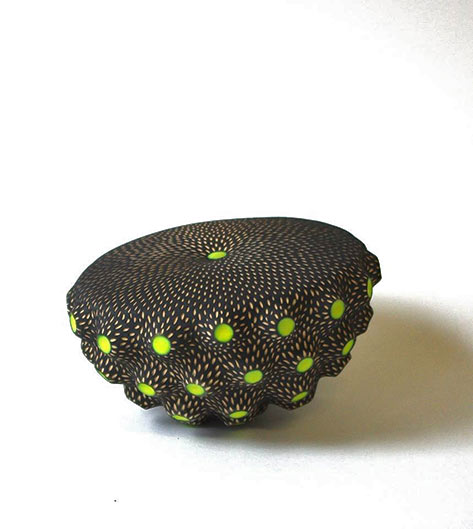 Eliane-Monin — Galerie de L'O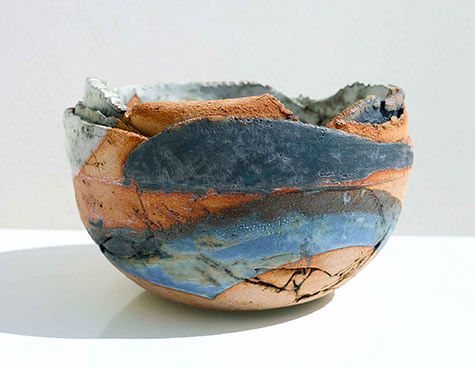 Eleni Kolaitou- large deep clay with crystal bowl
AK Art Gallery
Toshiko Takaezu, ceramic double spout Vase
Vintage French Accolay duel vase
Celebration of Clay 2018
'Contemporary Ceramics – Informed by Tradition'
This exhibit is coordinated with the Taos Spring Arts Festival. "Spring Arts" in Taos and is a celebration that showcases visual, performing, and literary arts of the community. Four galleries on Kit Carson Rd will be co-hosting this years' show.
Copper Moon Gallery, Diana Miller
DAFA (David Anthony Fine Art), David Mapes
Total Arts Gallery Inc., Emily Wilde
Wilder/Nightingale Fine Art, Rob Wilder
Sheryl Zecharia — 'Blue Pot'
Celebration of Clay 2018 
3 raku cone vessels  —  Elena and Igor Tavolzhanskiy – Baikal ceramics.
Irkutsk, Russia
Elena and Igor Tavolzhanskiy – Baikal ceramics.
…
Jean Cocteau— 'Orphée à la lyre' charger
16in–diameter
Extended until 7 October 2018
Hilti Art Foundation is showing thirty-six selected paintings and sculptures from its internationally renowned private collection.The exhibition starts on the lower ground level with a section devoted to an exploration of the human form, and more specifically the female form. The depictions of women by Lehmbruck, Hodler, Picasso, Léger and Laurens show life in full bloom and at its most beautiful. Also a sculpture in contrast by Alberto Giacometti. The other floors include  paintings by Ernst Ludwig Kirchner and Max Beckmann, works by Kandinsky, Klee, Dubuffet, Imi Knoebel, Gotthard Graubner and Sean Scully.
Alberto Giacometti's sculpture 'Quatre femmes sur socle' (1950),
Photo Eddy Risch © Hilti Art Foundation
Kunstmuseum Liechtenstein
Henri Laurens' 'Flora'
Photo Eddy Risch © Hilti Art Foundation
Kunstmuseum Liechtenstein
 UNTIL 17 JUNE 2018
'Shelf' — Jennifer Lee — winner Loewe Craft Prize 2018
 Pale, Shadowed Speckled Traces, Fading Ellipse, Bronze Specks
2017
Takuro Kuwata – Tea Bowl 2017 — Special mention
'Barkskin'  —   Irinia Razumovskaya, Russia
Stoneware, porcelain, glazes
Ceramic and Ferrari red car paint – Ann Van Hoey
Belgium
Friday 25 May 2018 to Saturday 16 June 2018
Snugglepot & Cuddlepie, Vivid, Sydney
Sydney Harbor – Vivid
African Uphiso by Jabu Nala  – burnished vessel
Paprys Motif Flower Vase – Rosemary McClain
Gabrielle Richardson- large sgraffito vessel
Loughborough Market Place. LE11 2TN
A dedicated ceramics market with over sixty potters and ceramic artists selling their work, exciting demonstrations and potters supply stand in the lovely market town of Loughborough, UK. 10am – 4.30pm
 'Tawny Owl' by Lynn Hazel
Dish and vase — Dragonfly pottery by Gill McMillan – exhibitor at 'Ceramics in Charnwood', 2018
Gill throws and turns on a potter's wheel. While the clay is half dry she draws and cuts out the design. After bisque firing, wax is applied to resist the glaze, copper carbonate is painted where desired, and the glaze is applied. The pieces are fired to 1260°C.  Liquid metallic lustres are painted on, and then fired again to 700°C.
Steve Smith- 'Knights'
– exhibitor at 'Ceramics in Charnwood', 2018
'Birds' by Debbie Barber
– exhibitor at 'Ceramics in Charnwood', 2018
…
Red-figure squat lekythos with molded clay reliefs of Triptolemos, Demeter and Persephone
ca. 375–350 B.C.GreekAttic
'Surfer Vase'  —  Gerry Wedd
  Faux wood vase  —  Granjeanx Jourdan , Vallauris
Cérart Monaco
60's plate by Clyde Burt , three skeletal figures on a speckled glaze
2018 European Stone Stacking Championship in Dunbar, Scotland
Carole Young —  'Bold Vase'
'Vase With Handles Brown'  —  Claudine Burns Smith
Kaye Poulton — 'Showcase 17′ –  Shepparton Art Museum
Running till May 2nd 2018  —  photo by Sarah Werkmeister
…
Spinach and russet jade mountain group, carved in relief with scholar painting
China 19th century
Oregon Potters Association 36th Annual Show & Sale
April 27-29, 2018
Showcase Directory
Click to EXPAND
Brenda Scott teapot and cups
Booth 32 – Ceramic Showcase 2018
'Princess Yaegaki' — Jan Rentenaar ceramic figurine
Booth 86 – Ceramic Showcase 2018
Eric Astoul
Theodor Bogler red vase/jug design for Staatliche Majolika Manufaktur, 1954
Blue vase  Anne Feuchter for Schawelka, Weimar , 1950
Anne Feuchter for Schawelka, Weimar
Replica  of  Venus of Willendorf  – Werkstätten, Germany
 Venus of Willendorf is one of the most famous archaeological finds in Austria and was built around 25,000 BC
MuseumGoods
Gallery Weekend Berlin 2018
from 27 to 29 April shows — Atelier Hinrich Kröger / Volkskunst Berlin
Tel: +49 (0) 1621038018
S-Bahn Hackescher Markt, subway Weinmeisterstraße, tram M1 M2
Atelier Hinrich Kroeger, Berlin
Poodle 'Jean Paul Ecstacy'  — Atelier Hinrich Kroeger
Open Studio – Aimee Brewer/James Diem/Yvonne Pepin-Wakefield/Melanie Thompson – 20-21-22 April 2018
Gorge Artists
Aimee Brewer
Gorge Artists
Pitcher – Aimee Brewer
Gorge Artists
James Diem
Gorge Artists
Yvonne Pepin-Wakefield
Gorge Artists
Melanie Thompson
Gorge Artists
Seagrove, NC Spring Pottery Tour April 21-22, 2018
Visit over 55 participating shops and galleries located within a 20 mile radius of the town's center. Throughout this historic pottery community you can meet the artist, see demonstrations, tour workshops, kiln sheds, listen to music and purchase freshly made pieces of Seagrove pottery!
Benjamin Burns ceramic platter NC, USA
Takuro Shibata, Studio Touya
North Carolina
Seagrove, NC
Levi decorating, Michael Mahan Pottery
…
Emily Gardiner contemporary black and white sculpture
Nature Lab
Alain Ficho–Flat Crystalline Vase, France
Yui Tsujimura – globular bottle vase
Ceramic art of the Earth — Taoist perspective
Pottery is basically born of the earth and its essential production reinforces its inherent Earth element due to the firing process. Fire enhances earth according to the ancient Taoist five element theory and Earth balances all the other elements. The Earth season arrives four times a year at every season change in an attempt to re-balance and maintain order and has a duration of  one month each time. Our solar system was created from a massive centrifugal thrust and the Earth is still in motion from this beginning. The potters wheel replicates the same centrifugal force to push the clay into form making the humble pot stand as a statement of the balance in our primal creative power and elements
.
 Iga flower vase, Momoyama Period (1573-1615)
Collection of Tokyo National Museum
Angus His, France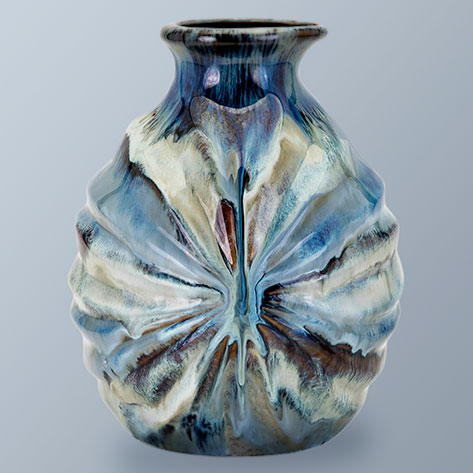 Imax Benigna wide floor vase
Teplitz Amphora – gold handled vessel, bulbous form with a blue and white forest scene
British Ceramics exhibition —
Featuring 20th century and contemporary British studio pottery by Gordon Baldwin, Joanna Constantinidis, Hans Coper, Ruth Duckworth, Ian Godfrey, Gwyn Hanssen Pigott, Ewen Henderson, Jennifer Lee, Lucie Rie, James Tower and John Ward.
Monday – 
Friday
10am – 6pm
Saturday 
10am – 6pm
 (during exhibitions)
Gordon Baldwin – Massive blue bowl – earthenware, painted colored slips and glazes
1991 –  53.5 cm dia
Ian Godfrey – 'Flask with Beast', 1970's stoneware
14 x 17.5 cm
John Ward—— Bowl and vase – stoneware
36.5-x-25cm
Jennifer Lee  – Pale shale, bronze specks, haloed granite bands, rust flashing, tilted shelf
2017 –  handbuilt colored stoneware, 27.4 x 15.7 x 14.5 cm
Lucie Rie footed cup – porcelain & white glaze with manganese rim
1902­-1995  — 8.3 x 6.4 cm
Lucie Rie Early Tea Set
"If one should ask me whether I believe to be a modern potter or a potter of tradition I would answer,. I don't know and I don't care. Art alive is always modern, no matter how old or young. Art theories have no meaning for me, beauty has. This is all my philosophy. I do not attempt to be original or different". – Lucie Rie
Ruth Duckworth ceramic sculpture
…
Egiptian statue – Harpocrates, the young Horus, son of Horus the Elder and Isis, sitting on a lotus
Jane Murray Smith — horsehair ceramic bottle vessel
Japanese cloisonne plate with phoenix motif
Makoto Yabe Havard Arts
Dragon stone China
Lorna Bailey contemporary Neo Deco
Lorna Bailey Puffin bird
Ola – Mata Ortiz & Casas Grandes Pottery
Raku, cerámica, escultura, Juan Canfield
Mexico, 2014
Scheurich 'Sailboats' 248-50 Fat Lava Floor Vase on custom built stand
Germany
Tania Rollond cubist perspective ceramic sculpture
Purple and gold hand painted snail  – Anya Stasenko, Slava Leontiev
Ukraine
Scheurich — brutalist vase
Adam Posnak–square bowl
Akira Satake small ceramic vase Ikebana
Antique German Character Beer Stein portly Monk
Bede Clarke—Small Yunomi footed cup
Darien Pullen — bull standing on globe sculpture
Australia
Diane Berner – Raku duck
'Eclpise basket' – Jane Murray-Smith
Mino ware Oribe style serving dish early 17th century Momoyama or Edo period
Stoneware with Oribe glaze and iron decoration
Three Giants: Kamoda Shoji, Matsui Kosei, Wada Morihiro
Joan B Mirviss Gallery, NY is presenting an exhibition of the contemporary Japanese ceramic works of well known artists Matsui Kosei (1927-2003), Kamoda Shoji (1933-1983) and Wada Morihiro (1944-2008), all major innovators in the scheme of 20th-century Japanese ceramics. This is the first exhibition outside Japan for all three of the clay artists on view, and is running till the 20th April, 2018.
39 East 78th Street
Suite 401, New York, NY 10075
Telephone (212) 799-4021
Kamoda Shoji was pivotal in transforming the aesthetic appreciation of modern ceramics in Japan, awakening the entire conservative traditional ceramic world to a new vision of the concept of 'function'. Matsui was involved in developing the technique of neriage (an intricate combination of colouring clay) and Kamoda and Morihiro were the early pioneers of moving away from traditions such as the use of classical motifs.
'Three Giants' exhibition- Kamoda Shoji, Matsui Kosei, Wada Morihiro
Matsui Kosei – Neriage brush rubbed large vessel
12 by 17 inches  Japan
Samarkand ovoid neriage vase – Matsui Kosai
Kamoda Shoji, Japan
'Turbulent Ocean' globular neriage vessel – Matsui Kosei
Wada Morihiro – 'Fluttering banners patterned waterjar'
Wada Morihiro –  Incised 'Sanmonki cedar patterned pyramidal vessel'
Wada Morihiro Saido-sanmonki – 'Colored slip Cedar patterned' vessel
Height 14-inches
…
–