The innovative design trajectory of the lively, free flowing, colouful and expressive fashion that evolved during the 50s/60s was demanding to be elevated with a more dynamic presentation and the photographers responded to the challenge with aplomb. During this era it was a visual experience to behold, witnessing chic models wearing shimmering, bold, stylishl garments lensed by brilliant photogrphers while juxttaposed against ancient monuments in exotic, distant locations or exciting street scenes.
Editor-in-chief at Vogue US, Diana Vreeland, commisioned photographers like David Avedon, Horst P Horst, Henry Clarke and Irving Penn to travel to foreign countries like South-America, Spain, and Africa adding a fresh dynamism to fashion editorials This was an instrinsic extension to her previous work as a stylist with Louis Dahl-Wolfe, who was an integral trailblazer and gifted visionary in the development of a new era in fashion photogrpahy. This  included favouring natural outdoor light, candid spontaneity in the model poses, the inclusion of designs focused on form and line along with refined composition and balance and more muted colour palletes. She developed a rich vein of exceptional photographic images which helped to liberate the visual arts from the confines of the studio and introduce a sophisticated glamour, presented with a more relaxed sense of style and freedom. which is still a couture de force till this day.
The following photos highlight the photograhers that contributed to this reshaping of the fashion narrative and visual culture that was launched during this highly unique era.
1955 Vogue—photo Richard Rutledge
 Condé Nast Archive
Model Lisa Fonssagrives lounging on bed, wearing Claire McCardell's pink and white striped dress.
Photo by Richard Rutledge
Photo-Benedetta Barzini —Valentino — Vogue Italia, 1970
Bettina in an unpublished fashion photo by Henry Clarke, 1954
Jeanette Christiansen — Ban Lon top with matching wide legged pants by Louis Feraud
Dior's 'New Look' coat in black wool crépe, Paris, 1947
Photography by Louise Dahl Wolfe
 'Black with one white glove' — Model Barbara Mullen, dress by Christian Dior
NY Harper's Bazaar 1950 — photo Lillian Bassman
Horst P. Horst — Fashion for Vogue with Dali Mural in Helena Rubinstein's apartment, NYC
Photo by Guy Bourdin, 1967
Viktoriya Sasonkina, Jourdan Dunn & Rose Cordero in 'A Dream of a Dress' editorial by Paolo Roversi for Vogue Italia
Bettina in blue dotted organdie dress with pale blue satin sash by Lanvin Castillo
Paris Vogue February 1954 from Flickr
Model Isa Stoppi photographed by Henry Clarke for Vogue UK, 1966
Photo by Chiron Duong
Iman wearing Valentino – Horst P Horst
Horst P. Horst produced distinctive, elegant work and was a pioneer of the genre now known as Classic fashion photography
Photo by Chiron Duong– 'Fly'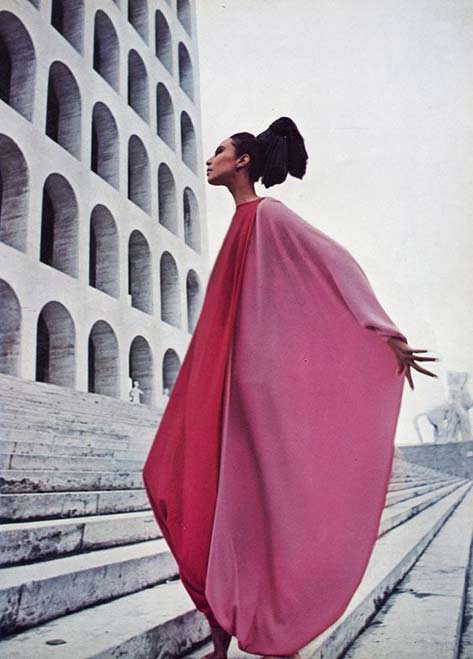 Design by  Federico Forquet for Dolce Far Forquet
Model Donvale Luna
Geneviève in grey flannel suit with matching stole by Pierre Balmain
photo by Georges Saad, Paris, 1953
Chiron Duong — 'Red birds'
photo – John Rawlings
Vogue, 1941
Christian Weissdynamic – 'Stillness'
1950's colourful Pierre Cardin coats
Donvale Luna
Photographer Enrique Vega, Model Denisa Kucik
Yves Saint Laurent Haute Couture, Spring 1988
Dior fall/winter 2023 campaign, revival of  50's elegance
 Model Francoise Rubartelli,  photograph by John Cowan
Machu Piccu, Vogue 1968
Vogue Italia – Adut Akech
Zebra print by Nina Ricci, 1962
Desiged by Elsa Schiaparelli, one of the original pioneers of wearable art.
Photo by Henry Clarke
British Vogue—'From Byzantium'
Model Duckie Thot — photo Nick Knight
Veruschka modelling a white mini dress with aluminum accessories in the Caribbean,
1968 Vogue
Federico Forquet collection 1966, chapeau de Canessa, escarpins de Barrilà.
Photo Marc Hispard, model Donyale Luna
Federico Forquet 1966. Photo Marc Hispard. Mannequin Donyale Luna
Geoffrey Beene set. Villa Romana del Casale, Piazza Armerina, Sicily, Italy, 1967 © Henry Clarke
Givenchy — L'Officiel magazine
1975
Grace Hartzel Preens In Las Pozas
Lensed By Mikael Jansson For Vogue US, 2016
Harper's Bazaar UK 2010
Meghan Collison is clothed in layers of exotic bohemian wear
Photographer Henry Clarke, 1977
Henry Clarke photo
San Nicola Larena, Italy —  Vogue 1967
Jean Patchett in Dior, Vogue, 1950
Joseph Leombruno and Jack Bodi photo
1954
Photography Albert Watson
 Verushka by Richard Avedon
American Vogue 1966
Baronne Van Zuylen on a Camel
Egypt
'Beneath the veil' — Photographed by Henry Clarke,
Vogue,1969 — Cynthia Korman, Golestan Palace
Valentino 1968/69 — Photo Henry Clarke, Model Marina Schiano
Harper's Bazaar, 1957
Photo Louise Dalh Wolfe
China Machado
Emilio Pucci caftan exemplifying the free flow inherent in the Rabbit Year of 1963
Evening dresses from the Vivacé Spring Summer Collection; 1967
Vibrant dress from the Vivacé  Spring Summer Collection
1967
F.C. Gundlach photo at Martin Gropius Bau, Berlin
Jean Patchett wearing a buttoned sheath dress with polka-dotted hat,
Vogue 1954
Harley Weir — Jimmy Choo and Mulger
 Yves Saint Laurent jumpsuit
L'Officiel, 1969
Photo by Louis Faurer, Models wearing ensembles by Castillo for Lanvin, , Paris, 1960
Natalie in Gres Coat, Kairouan, 1950
Louise Dahl Wolfe photography
Liz Gibbons and Bijou Barrington  (r), photo by Louise Dahl Wolfe for Harper's Bazaar 1942
The Andes, Peru
Photo by Luis Monteiro — model #Olga Serova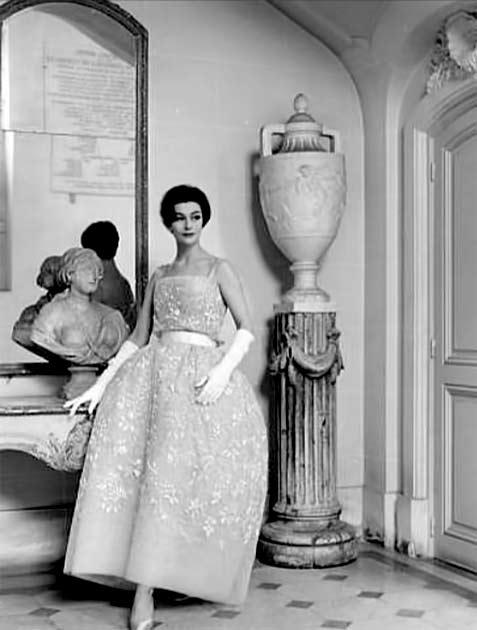 Anne Gunning in evening gown by Marc Bohan for Dior, 1961
Suit by Jacques Fath from the Spring collection of 1952, photo by Willy Maywald
Marisa Berenson photographed in Capri wearing a black-white print silk cape-coat by Forquet
1968
Marisa wearing a sea headdress created by Alexandre
photo by Henry Clarke
Sardinia
Marisa is wearing kangaroo fur coat by Cornelius Furs, photo by Arnaud de Rosnay, Australia,
Vogue USA
Summer floral print bouffant dress by Simonetta
Venice, 1957
Model in Valentino evening coat, photographed by Henry Clarke in Sicily, Italy, 1967
Model Marie Lise Gres — wearing a dress by Sarmi and photographed by Henry Clarke. Vogue,January 1966
Veruschka sitting on the Baroque sculpture of a man—wearing pink floral gypsy dress by Ken Scott
Model wearing a Bill Blass silk Organza dress at the Xanadu complex
Calpe Spain Vogue, 1969 photo Henry Clarke
Giovanni Natale
Vogue Photos Italy
 La Femme Chic Magazine
1956
Anna Carin Bjorck leans against a 1959 Cadillac convertible
photo by John Rawlings Vogue, 1958—-Flickr
Dovima by Henry Clarke Vogue Paris, 1956
Gordon Parks photo
Nena von Schlebrugge, photo by Norman Parkinson, Vogue
1958
Norman Parkinson photograph
'Summer' by Della Bass
Celeste Tesoriero Dress — Model BrittanyBurke
La Femme Chic – 1956
Oscar de la Renta — Dominican fashion designer Vogue US,1967
Persepous Audience Hall of Xerxes-and Lauren Hutton
Photo by Claude Virgin
A shoot on the roof of Vogue studios, photographer Claude Virgin is perched on a step ladder while the model is balancing on the edge of the roof.
.
Nena von Schlebrügge in a printed silk chiffon dress
US Vogue  1962 – Photographed by Horst P Horst
Raquel Zimmermann photographed by Craig McDean
Charm Magazine—Dovima—1953
Geneviève Grad — French Elle Magazine, 1966
Samantha Jones in a hooded silk jersey chemise by Emilio Pucci
photo by Henry Clarke — Udaipur India, Vogue 1966
Staff photographer for Harperâ Bazaar, Louise Dahl Wolfe, introduced a witty naturalism to the staid conventions of fashion photography
1936 through 1958
'Sweet Memorie' — Maryna Khomenko photo
Maudie James by Norman Parkinson Vogue UK, 1969
Shiraz Perspolis Iran
Donvale Luna wearing Valentino Haute Couture Spring/Summer 1966
Photography by Marc Hispard
Veruschka photo by Franco Rubartelli
Vogue, 1968
Veruschka in the Arizona Desert  by Franco Rubartelli
Model in gold swimsuit interwoven with Lastex is by Mabs of Hollywood, model in pink suit is by Gantner,
Photo Louise Dahl Wolfe, 1948
Veruschka by Franco Rubartelli
Vogue, 1968
Veruschka von Lehndorff wearing tunic and pants by Valentino while standing in Piazza Di San Giorgio, Italy
Veruschka wears a hooded caftan by Emilio Pucci at Lake Tanganyika in Tanzania.
Photo by Henry Clarke
Vogue Italia, 2015 — Edie Campbell by Tim Walker
Vogue Italy, 2017
Luigi and Lango
Vogue Italy, 1951
Model Isa Stoppi — Vogue UK, 1966
Photo Henry Clarke
Model in a Nettie Rosenstein suit with brooch by Tiffany worn at the waist.
Photo Louise Dahl Wolfe, 1941
Vogue US, 2016
Lupita Nyongo by Mario Testino
Dior Haute Couture collection— fall winter 2010
photo Patrick Demarchelie
Vintage photo Henri Manuel
Fashion study 1910 in German Vogue
Tiago Lima — 'Clouds'
Traina Norell Coral red silk chiffon dress– 1953–Model Evelyn Tripp
photography Horst P Horst
Mid Century decor -Model in black jersey dress by Mad Carpentier, photo by Pottier
1953
Black and white silhouette fashion photo, Seeberger Bros
***