" Beautiful, courageous, boundary-breaking art" is an accolade thats been directed at Martha's work and I think it is appropriate. The work of Martha Daniels has been included in more than 200 art exhibitions since 1967. Her work is included in private, museum and corporate collections. She has executed public art projects and private commissions. Her work is considered by critics, collectors, and others to be significant in American ceramics today. She has also worked in bronze, concrete, and painted large murals in various media.
Sandra Phillips observations of  " Red Nike II" ….. Daniels has a forty-year career under her belt, and since the 1980s, she's been almost exclusively interested in ceramic sculpture. Like her spiritual mentor, Betty Woodman, Daniels combines various aesthetic traditions, notably Mediterranean and Asian. In terms of subject matter, she has long referred to Ancient Greek mythology in her pieces. As indicated by the title, "Red Nike III" is the third version of the goddess Nike that Daniels has done.( see below ) The powerful, monumental sculpture is composed of an abstract female nude perched on one leg atop a hemispherical base. The sculpture is headless and has wings, like the famous "Winged Victory" in the Louvre, to which this piece subtly responds. Daniels has finished the figure in a deep red, on which she has placed linear abstract designs in a bright orange-y red.
"Red Nike III" is life-sized, which makes it a remarkable technical accomplishment, especially when you consider that it's a single piece rather than an assembly of demountable components, as would be more common. This speaks to Daniels's expert ceramic engineering, as does the fact that the complicated and precipitous piece is astoundingly well balanced.
The "Nike" sculpture ( 6  1/2 feet tall ) is flanked by a pair of Daniels's signature towers, which resemble obelisks. The whole group evokes a contemplative, spiritual mood, like a passage in the interior of an ancient temple.
Martha describes the journey that led to her bold ceramic statements…,,,,,
" I lived in the Mediterranean area during the 1960s. There, I made large sculptures that had to be abandoned because they were too large and heavy to move. I was determined to find a way to make large-scale and portable ceramic sculpture.
After many years of experimentation, I succeeded in doing this, by developing  innovative structural techniques through hand building. An original viewpoint and aesthetic also resulted from this search.
This work is described as "unique" by critics, collectors, and gallerists. It includes large architectural constructions, figurative sculptures, and other pieces that simultaneously seem to exist in both ancient and contemporary worlds.
I use a proprietary clay formula. Hand-building techniques are based on altered, assembled, clay slabs. I seek equally innovative approaches to the surface that include using maiolica glaze, varnish, paint, gilding, luster, and even nail polish.
The purpose of this work is to advance the boundaries of ceramic sculpture. I pursue a personal vision in a universal language of symbol, metaphor, and theme, and present it through the unique material properties of clay. "
Martha has worked unassisted in the studio for years, creating all art work herself, including forming, firing, and surface treatments. Her studio is currently based in Southern California.  She will be featured in the Denver Art Museum show , " Earth and Fire" which opends in May and also she will be be participating in the Ceramics Annual of America in October of 2011, at the Ft. Mason Center in San Francisco.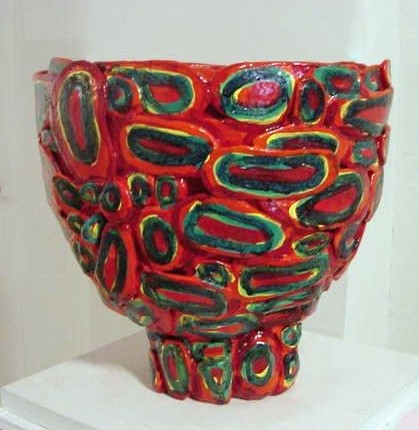 Martha Daniels website:    http://martha-daniels-ceramics.com
–