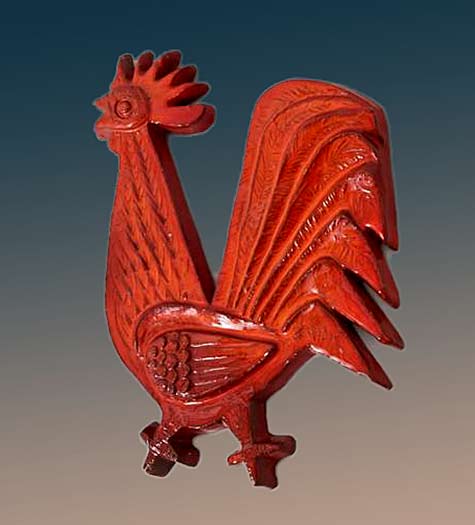 Wall-Mounted Large Red Glazed Ceramic Rooster Designed by Amphora, Belgium
Rooster resurrection
The Year of the Rooster in 2017  has the potential to be an eventual one, with no middle of the road when it comes to moving forward. Being forthright, proactive and lucid will deliver results. Strutting your stuff in your finest threads won't go astray either. It's not really a year for procrastination or holding back. Concerning money, love, and business, there won't be any need to indulge risks to get ahead, just being organised, methodical and persistent with clarity of intention will bring rewards. Shaking the tail feathers and being flamboyant will drive results in the year of the Red Fire Rooster.
It will be a good year for taking back control and bringing planned projects into fruition as well as launching new projects. Bold, striking creations will be popular in this Rooster Year. All of the Chinese animals can reap great rewards by tapping into the Rooster traits of loyalty, optimism, commitment, hard work and family.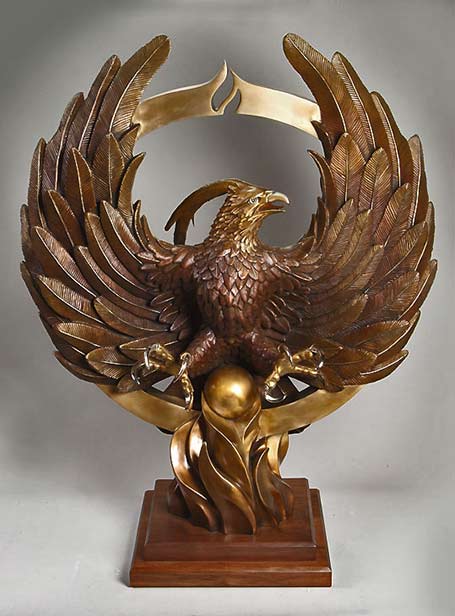 'Phoenix Rising' – John Hair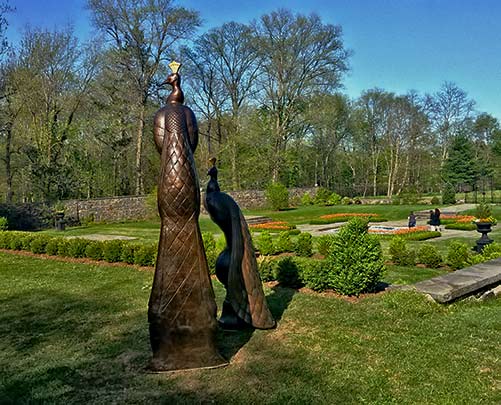 Gaston Lachaise peacock sculptures, Bartow Pell Mansion Museum
1920, Pelham Bay Park, Bronx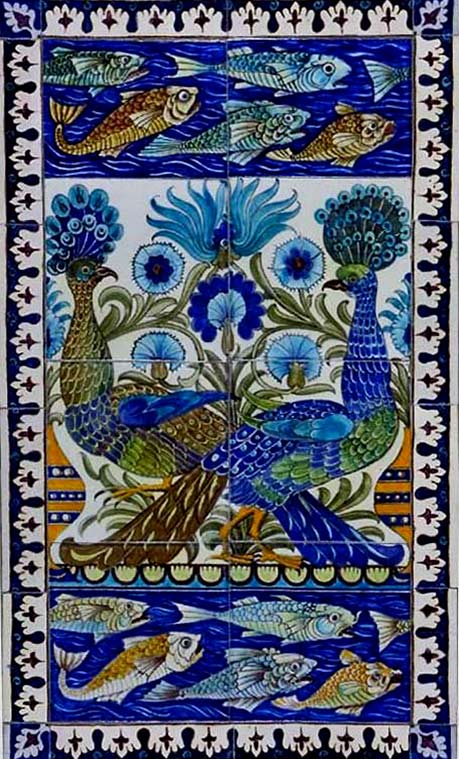 Ceramic Peacock tiles, William De Morgan
The exotic and alluring peacock has been an inspiration for many artists, particularly because of its iridescent colors and large plume. Louis Comfort Tiffany, Aubrey Beardsley, Rene Lalique, Gaston Lachaise and Walter Crane all created stunning art at the turn of the 20th century that featured the peacock and its curves were easily adapted to the Art Nouveau aesthetic. Arcanely, the peacock also was an emblem of Resurrection—from the belief, perpetuated in medieval bestiaries, that its flesh did not decay. In Christianity it represented immortality, openness and acceptance. In Mesopotamia the peacock featured in a symbolic representation of a tree flanked by two peacocks, which indicated the dualistic mind and Absolute unity. The peacock thrives on the essence of poisonous plants, and prefers jungles to gardens with fragrant flowers and plants. It stands for beauty being born from a hostile environment, similar to the sacred lotus growing from muddy waters.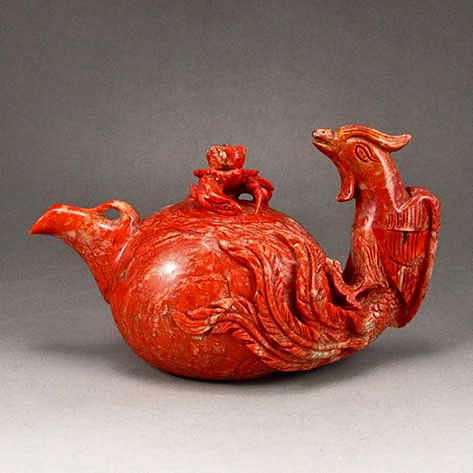 Hand carved Natural Shoushan Red Stone Phoenix Teapot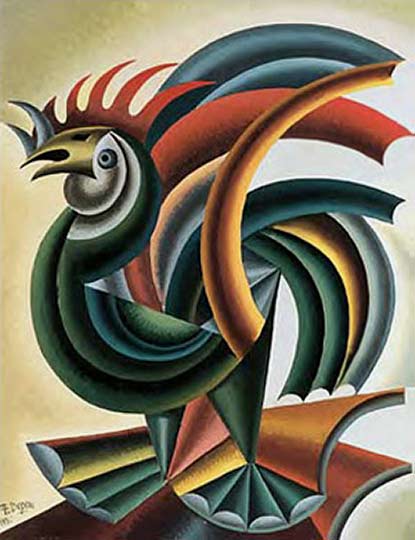 Depero Fortunato futurist rooster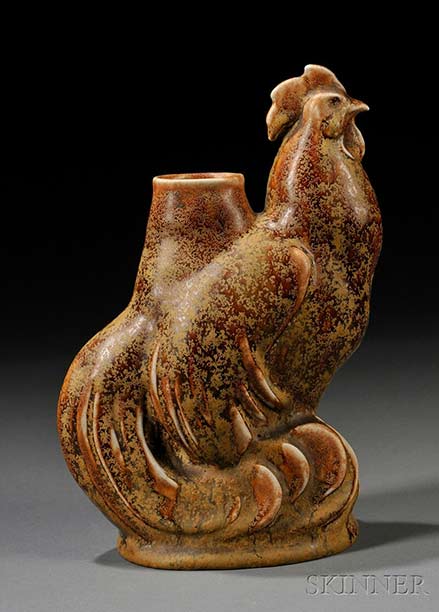 Figural Rooster Vase – Zsolnay
Hungry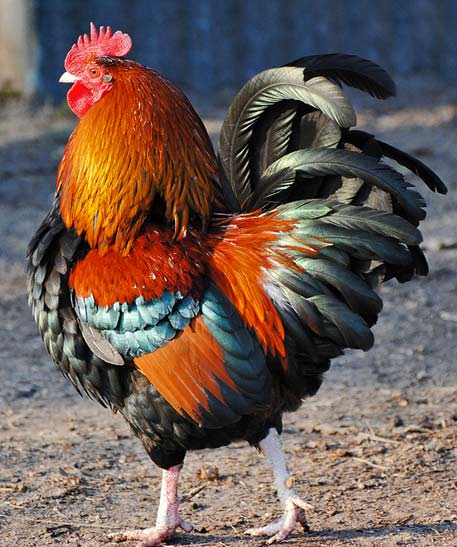 Rooster Strut – AilsaR-flickr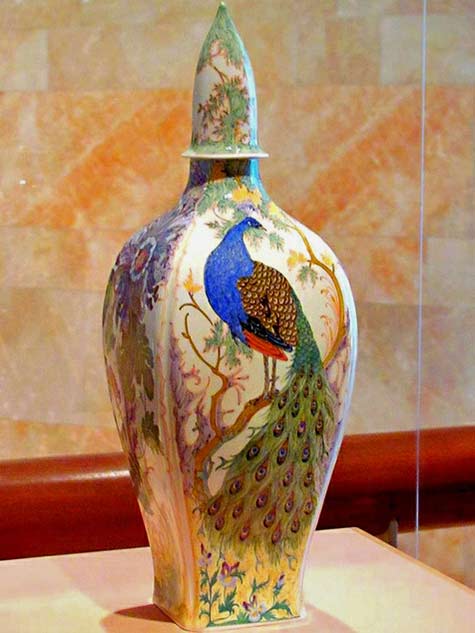 Art Nouveau peacock porcelain jar – Samuel Schellink, Holland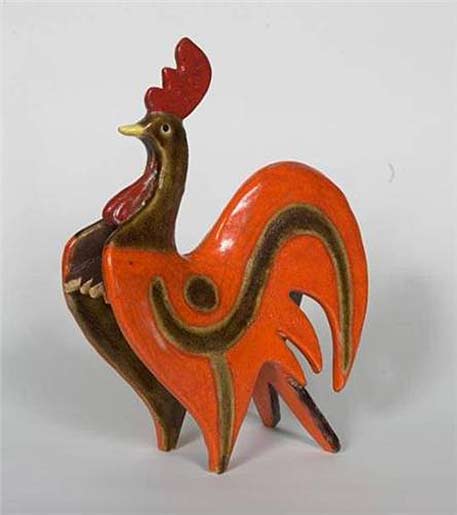 Gambone Guido, Italy
1959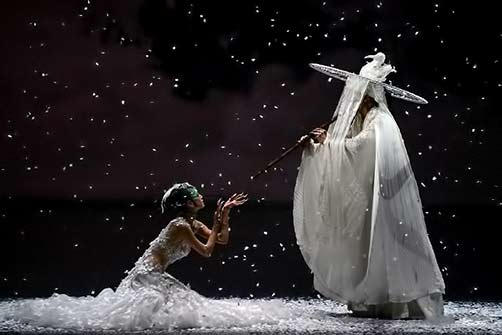 Chinese dancing master Yang Liping (L) performs in her dance drama 'The Peacock' during the first Yang Liping International Dance Festival in Kunming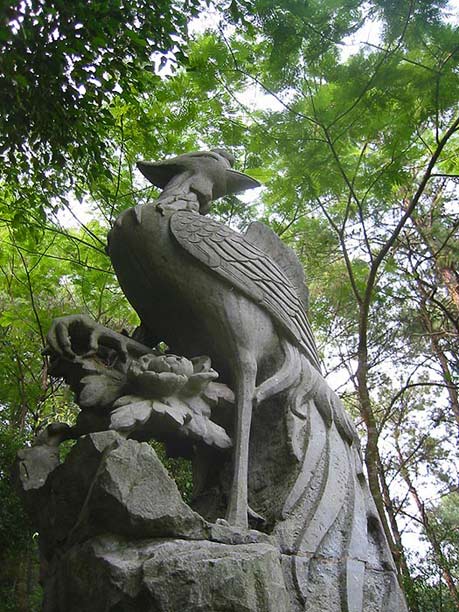 Feng-Huang/phoenix  public statue Nanning, China
Going back 8000 years to the Hongshan neolithic period, an ancient bird called the fenghuang appeared on jade and pottery motifs. Also known as the "August Rooster" it sometimes takes the place of the Rooster in the Chinese Zodiac. It also was known as the Chinese Phoenix and appeared on coins and bronze figurines and was a symbol of renewal and rejuvenation. Some believe they may have been a good-luck totem among eastern tribes of ancient China .
Scholars have observed analogues to the phoenix in a variety of cultures. These include the Hindu garuda, the Russian firebird, the Persian Simorgh, Georgian Paskunji, the Arabian Anka, the Tibetan Me byi karmo, the Chinese fenghuang and zhu que, and the Japanese hō-ō. According to some texts, the phoenix could live for over 1,400 years. The ancient Egyptians worshiped the Bennu bird (phoenix) as a deity linked with the sun, creation, and rebirth.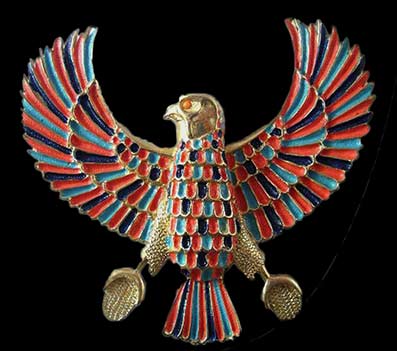 Egyptian Bennu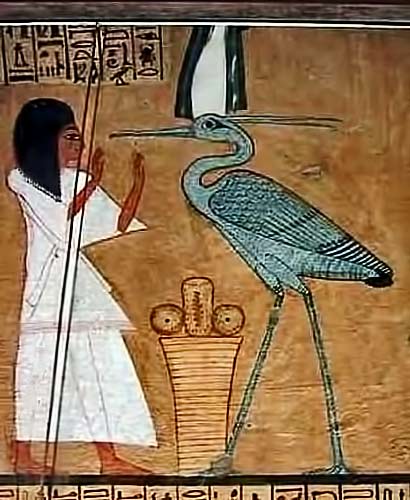 Egyptian Bennu (phoenix) bird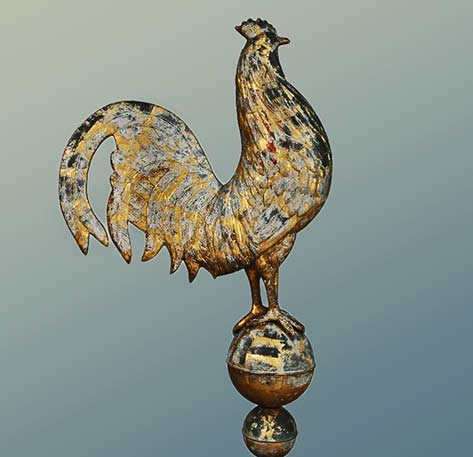 Rooster weathervane, Hamburg
Interior of the Cathedral of Santo Domingo de la Calzada. Spain
Jordiferrer Wikipedia
There are numerous legends associated with the The Camino de Santiago, also known as the pilgrim's "Way of Saint James", involving the portents of rooster resurrection and crowing to prove a man's innocence. One of the tales is of a young German pilgrim in the 14th Century, who was framed with the theft of a silver cup for shunning the advances of a Spanish girl. He met the gallows for his misfortune and only survived this ordeal with divine assistance and the timely arrival of his parents who saw he was still alive. On pleading with the magistrate while he was dining, who claimed he was no more alive than the roast bird on his table, as too much time had passed.  At this juncture. the rooster got up, fluffed its plume, which had miraculously returned, and began to dance and crow which led to the pilgrims rescue and freedom.
To this day they have kept live roosters at the Cathedral of Santo Domingo de la Calzada in honour of this legend.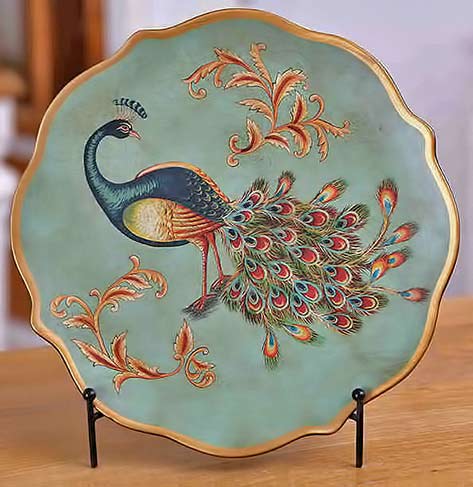 Peacock plate, China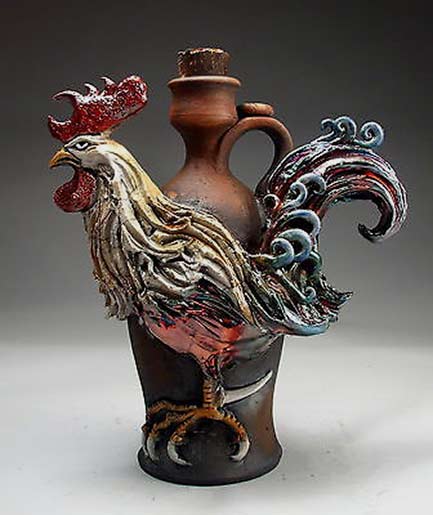 Folk Art pottery rooster jug – Mitchell Grafton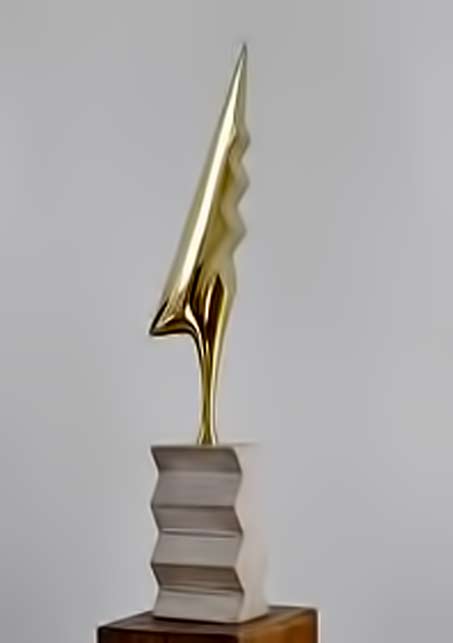 Constantin Brancusi, Cock,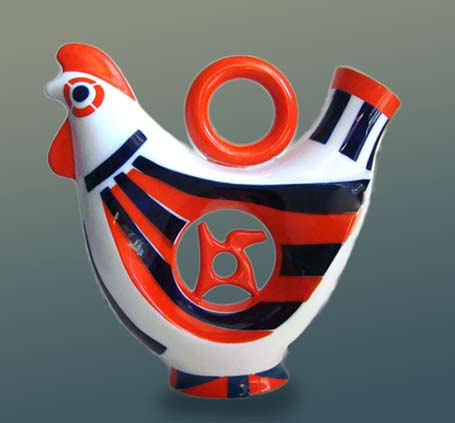 Sargadelos ceramic rooster jug/ewer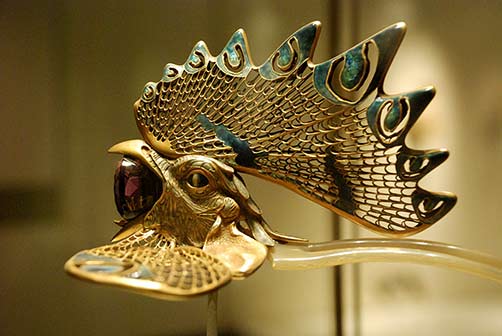 Rene Lalique cockerel tiara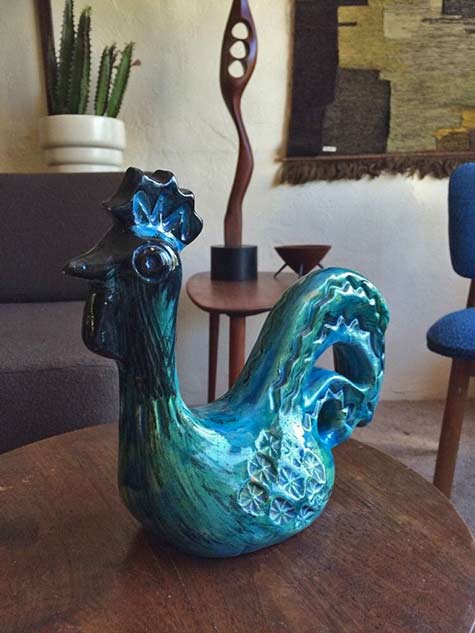 Aldo Londo Rimini Blue Bitossi Rooster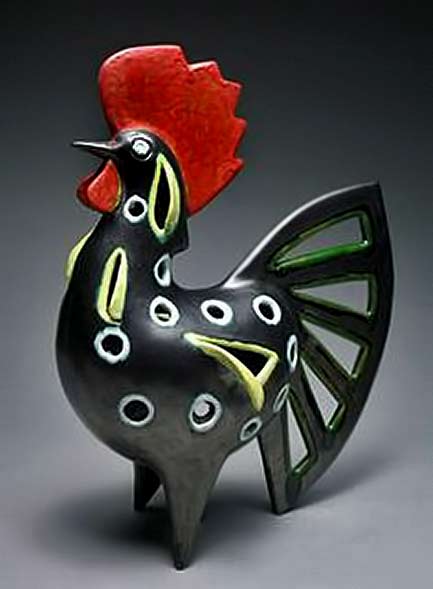 Marcello Fantoni, Italy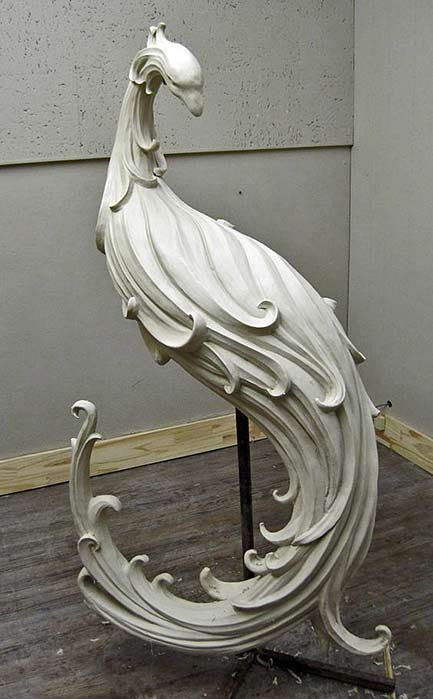 George Sellers white bisque peacock – Areté Collection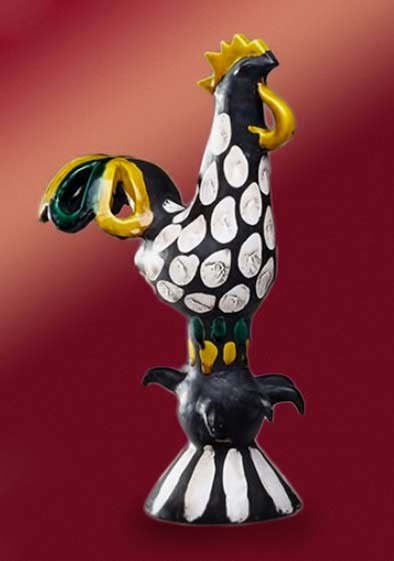 Stylized plume tail cockerel – Roger Capron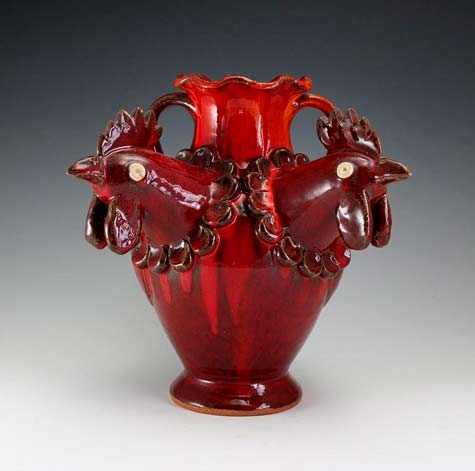 Twin rooster head vase – A.V.Smith Pottery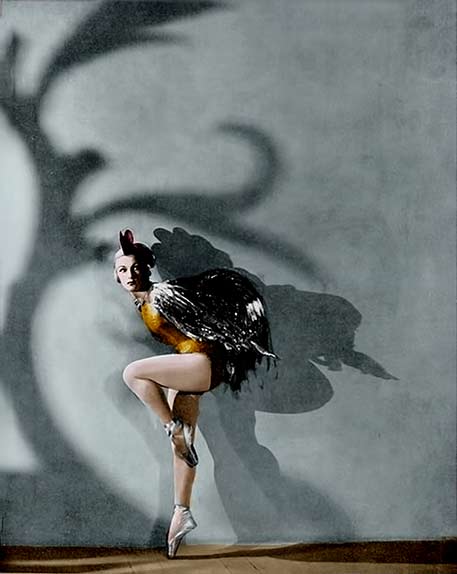 Tatiana Ryaboushinskaya as Golden Cockerel  – projected shadows as set design
Ballet Russes -1938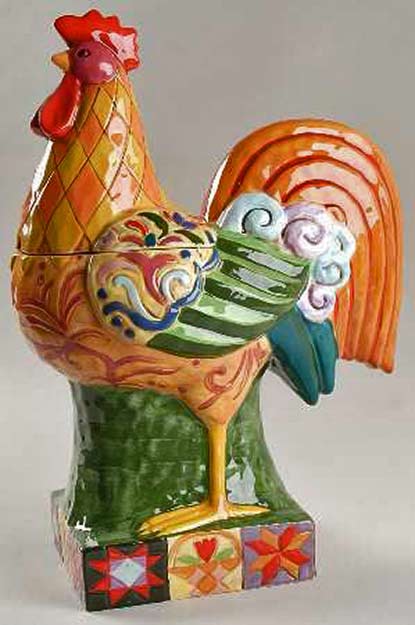 Rooster Cookie Jar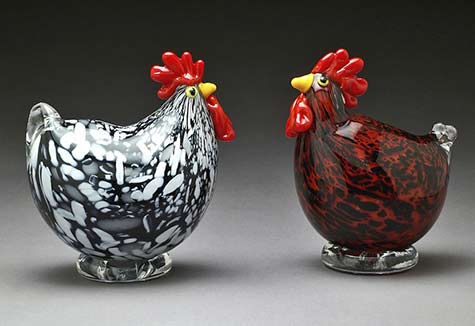 A pair of glass rooster figurines – Billy & Katie Bernstein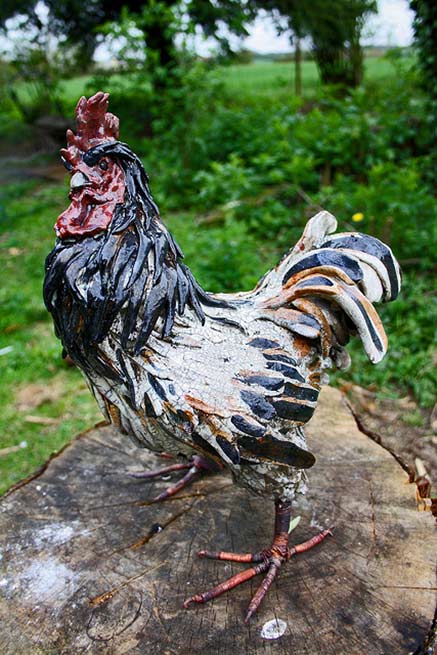 Cockerel ceramic sculpture — Joe Lawrence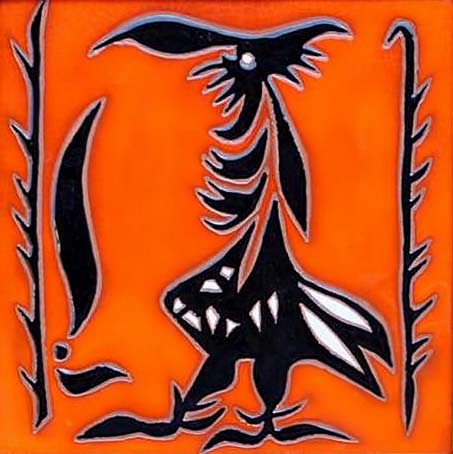 Jean Lucrat ceramic stylized Rooster tile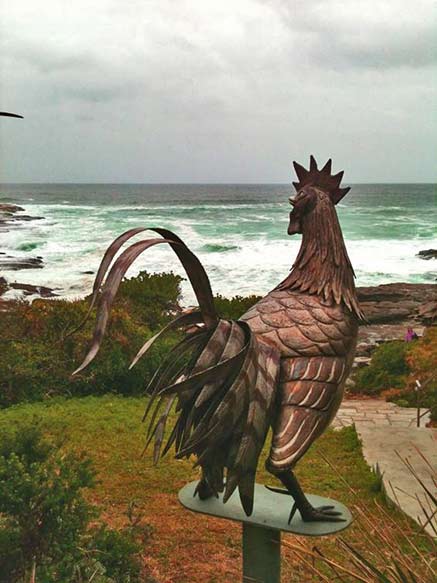 Copper Rooster
Sculpture by the Sea, Bondi, Australia 2012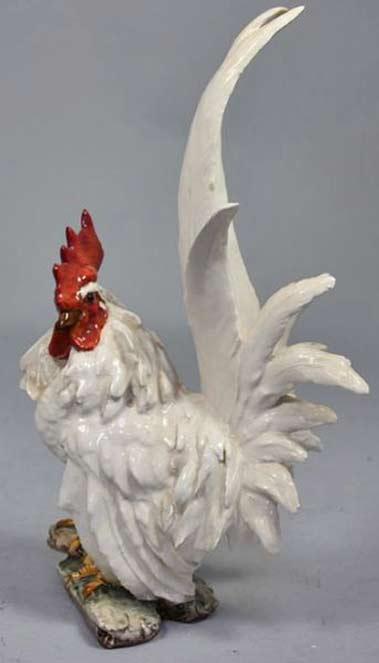 Ceramic Rooster Fontainebleau
Osenat Auctions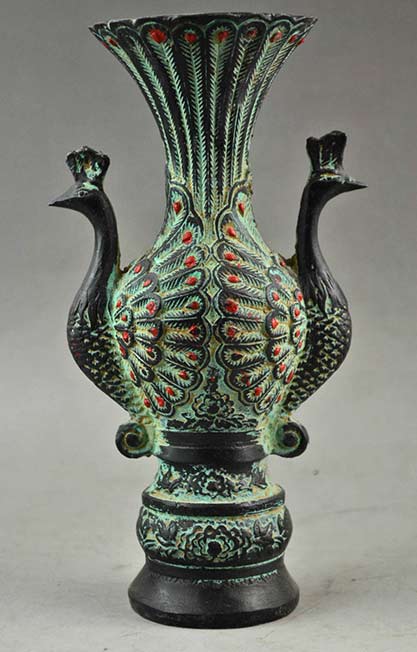 Chinese twin peacock bronze  vase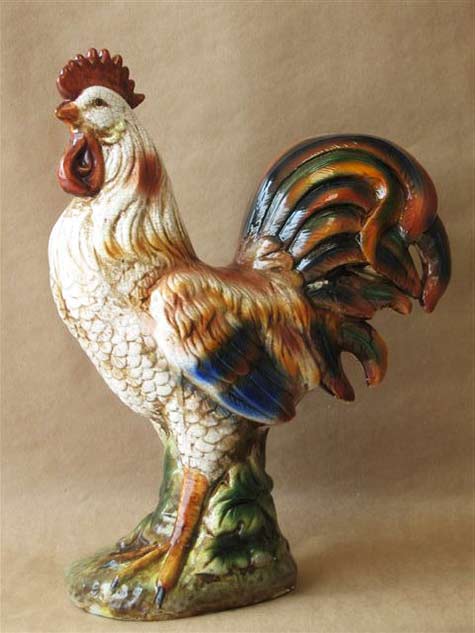 Majestic decorative ceramic rooster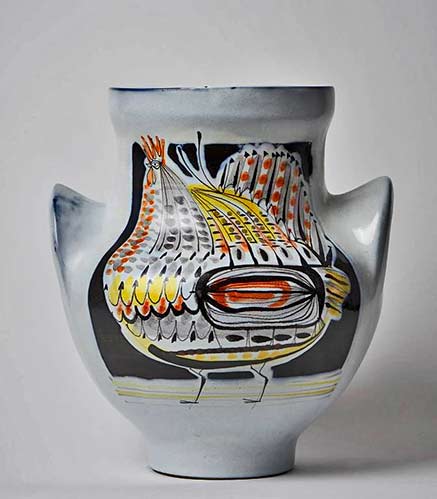 Vase with large rooster motif  – Roger Capron
'Cockerel' –  British artist Breon O'Casey (1928-2011). Bronze/ black patina, 62 cm high.
via Mutual Art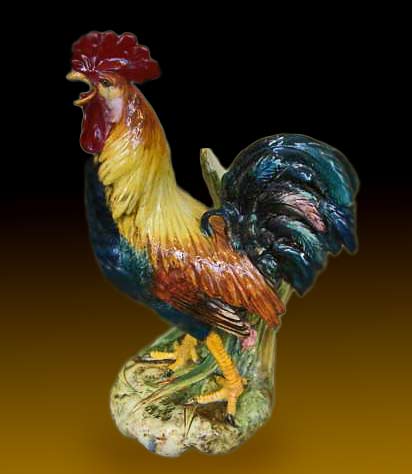 'Crowing Rooster' – Delphin Massier
Vallauris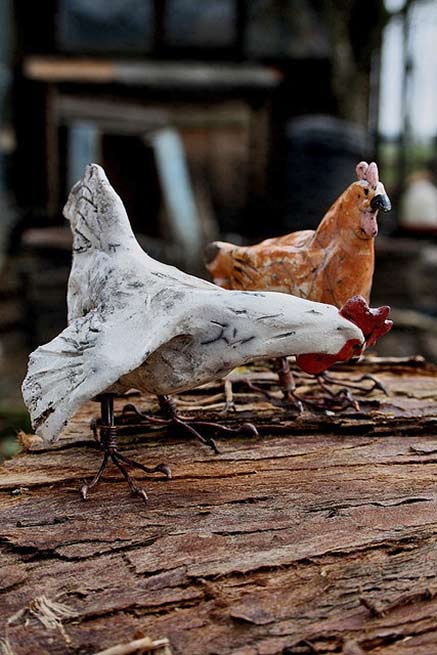 Dancing Cock by Joe Lawrence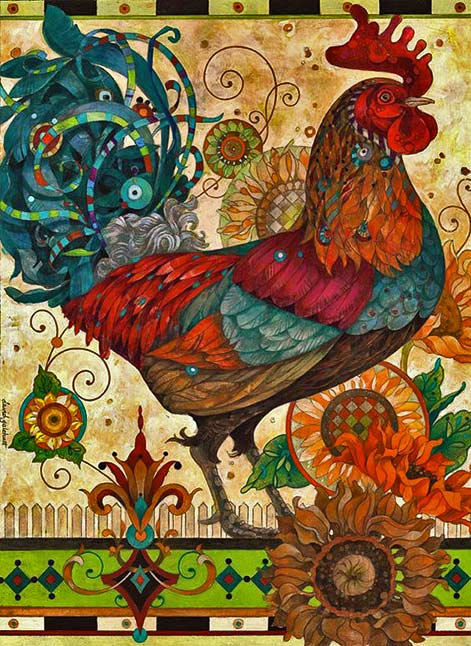 'His Morning Strut' watercolor illustration by David Galchutt, California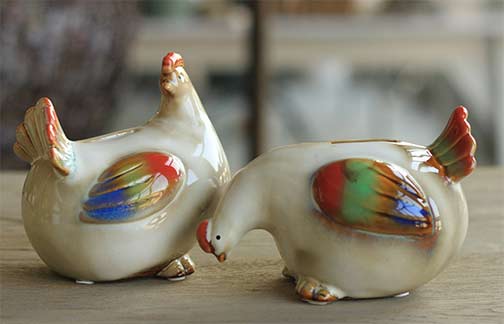 Ceramic hens piggy banks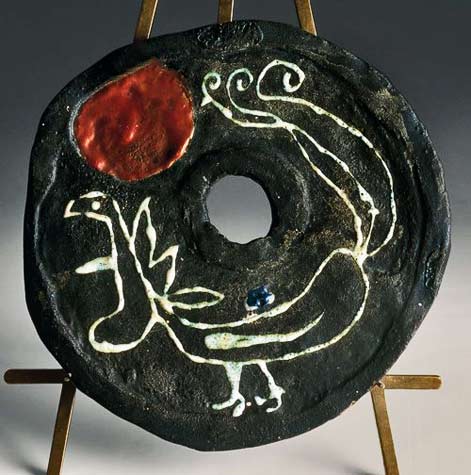 'Coq Disque' – Joan Miro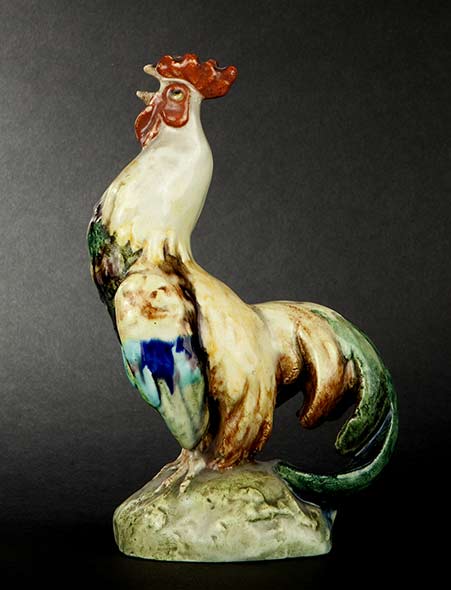 Crowing ceramic rooster — Edmond Lachenal
France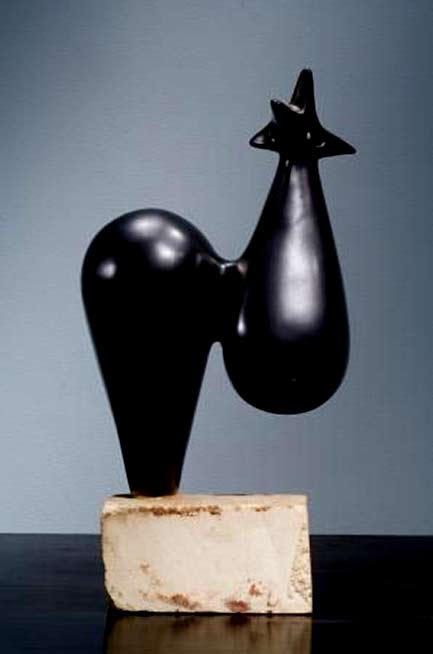 Black abstract rooster – Georges Jouve Sculpture
1952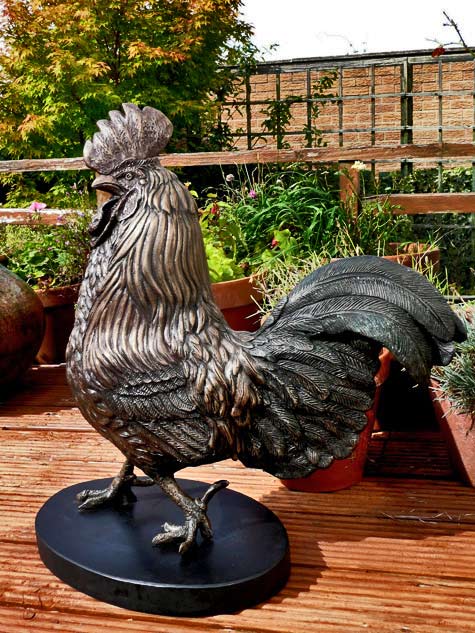 Strutting Rooster resin/bronze sculpture – Brian Hollingworth.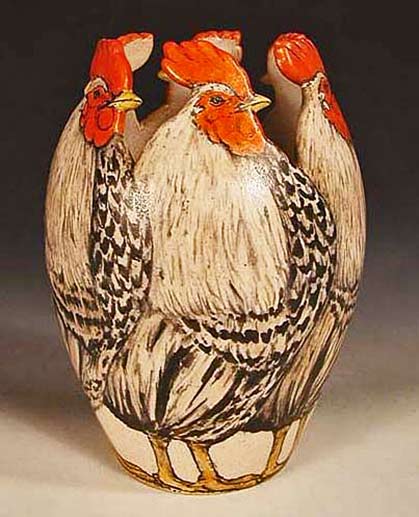 Four Roosters vase – Nan Hamilton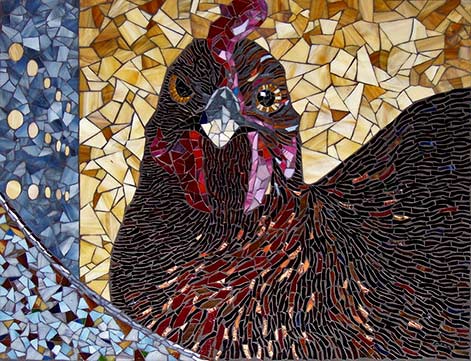 Harriet Barb Keith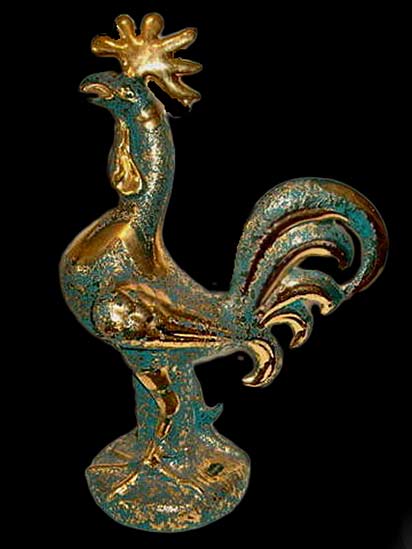 Teal green and gold rooster – Sascha Brastoff
17 inches tall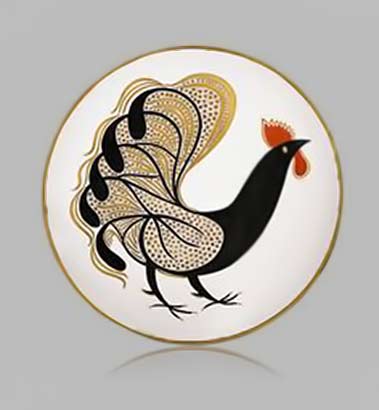 Waylande Gregory Studios. USA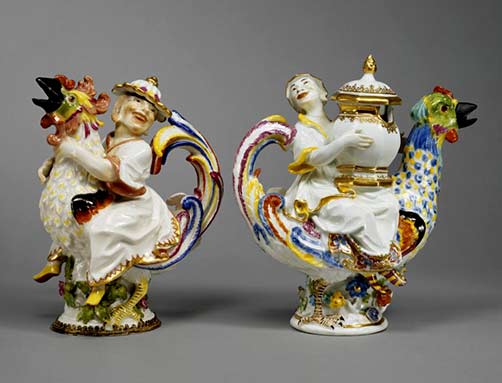 Meissen Cruet and Mustard Pot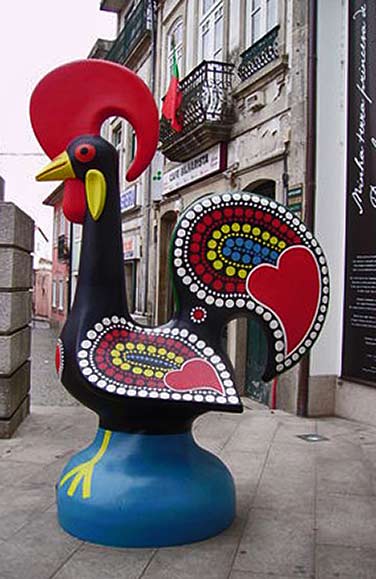 Porto street rooster statue—Portugal
The Rooster of Barcelos (Portuguese, "Galo de Barcelos") is one of the most common emblems of Portugal also celebrating the story of the rooster resurrection.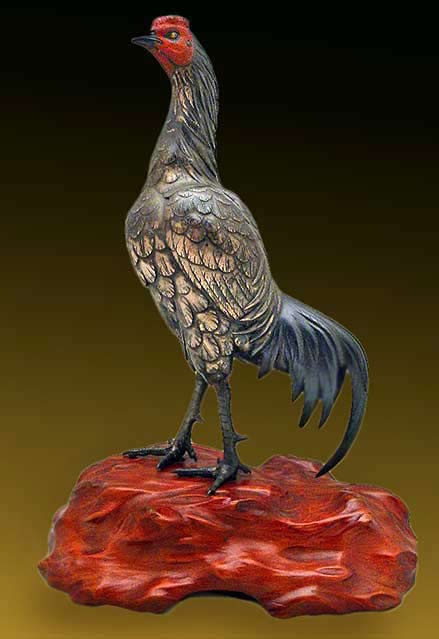 Meiji multi metal Okimono—Rooster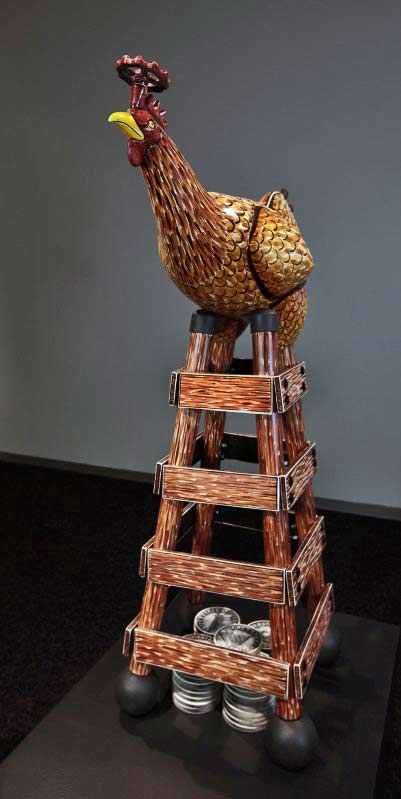 Jason Walker – 'Cage Free Capitalism'
2014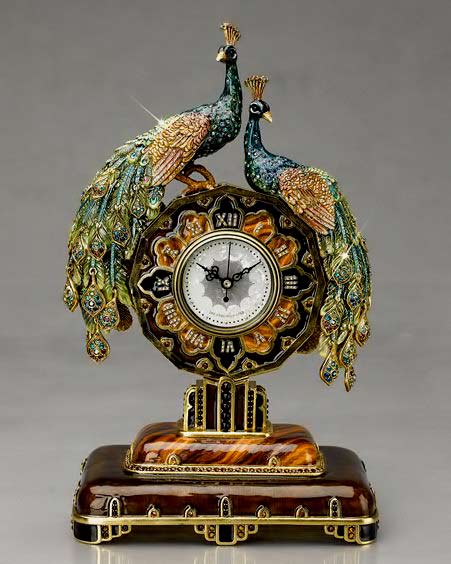 Peacock mantle clock – Jay Strongwater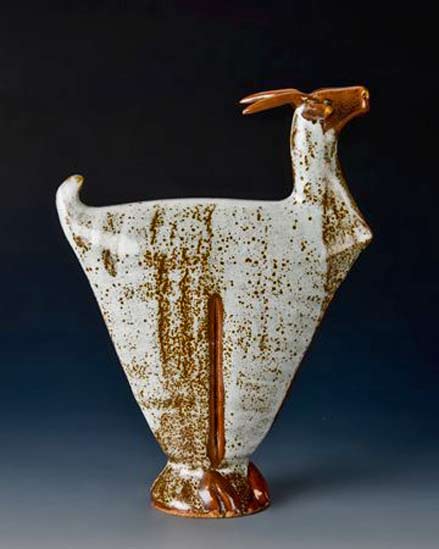 Contemporary ceramic rooster sculpture – Ken Sedberry, NC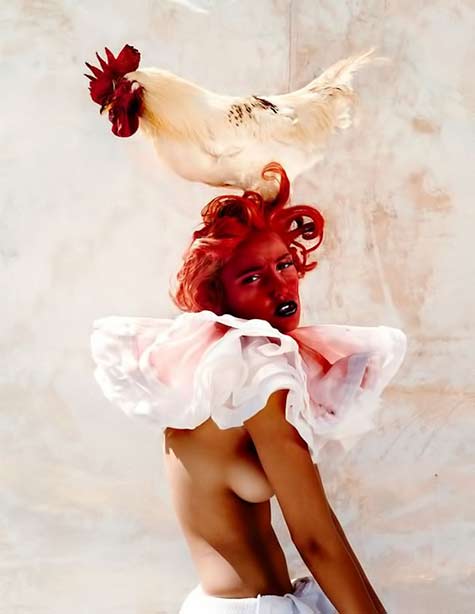 Photography by Kristian Schuller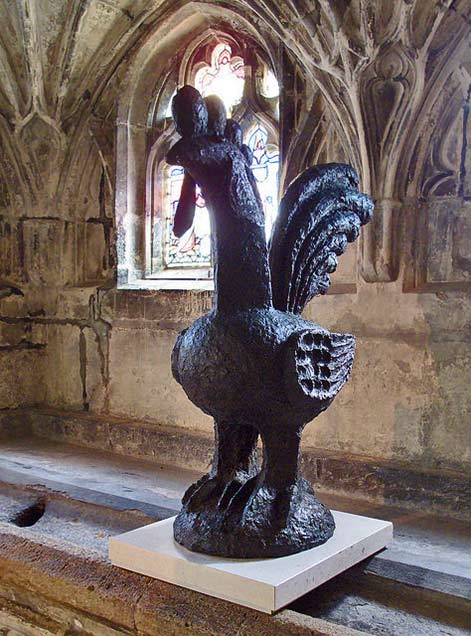 Large Cockerel, Spain
Photo –  B. O'Casey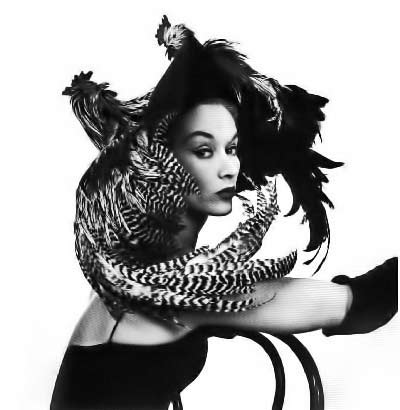 Irving Penn photograph of Lisa Fonssagrives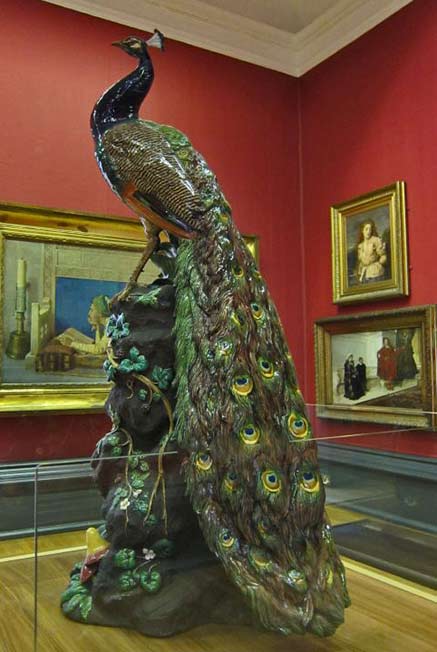 Large ceramic peacock – Minton
Walker gallery, Liverpool, UK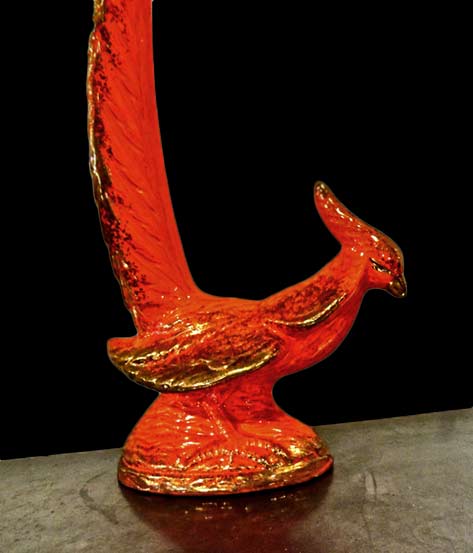 Red and gold phoenix – Mkmack, etsy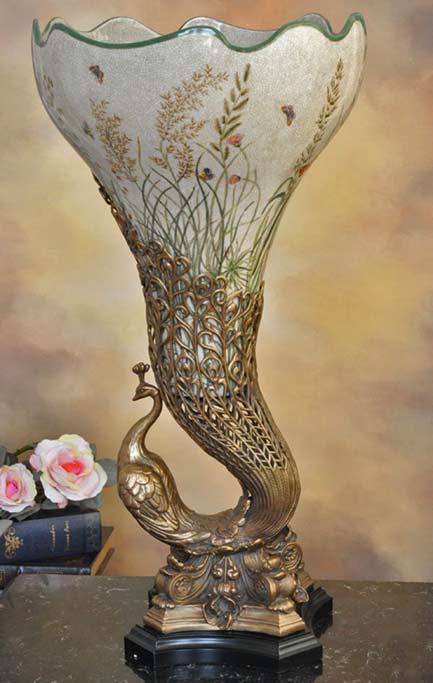 Art Nouveau peacock vase
ArtDecor24. Poland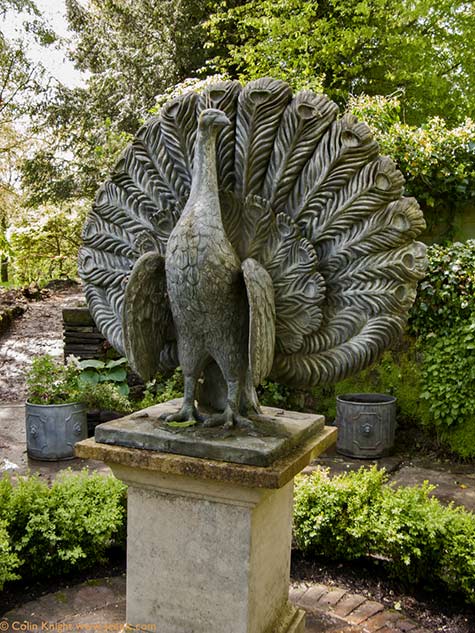 Peacock statue  – Phillip Jacksons garden, Sussex
Roger Capron sculpture bust
+
Phoenix at St Paul's Cathedral – underneath it says 'Resurgam', latin for reborn
speel.me.uk
Abstract Phoenix bronze sculpture – Trevor Askin
Bronze phoenix sculpture – Dan Pogue, Texas
height 22 inches
Phoenix rising, 'Atlanta from the Ashes'
Woodruff Park
This sculpture was designed by James Siegler, of Houston, Texas, but it was both sculpted and fabricated in Italy, by Gamba Quirino, and Feruccia Vezzoni, respectively
Phoenix Sculpture Garden by Graham Radcliffe
Mount Glorious, QLD
'Pioneer Woman With Rooster',  – Carl Milles – 1946
ASHLEY JOHN GALLERY-Pam Beach Fl
Rooster bottle – Polia Pillin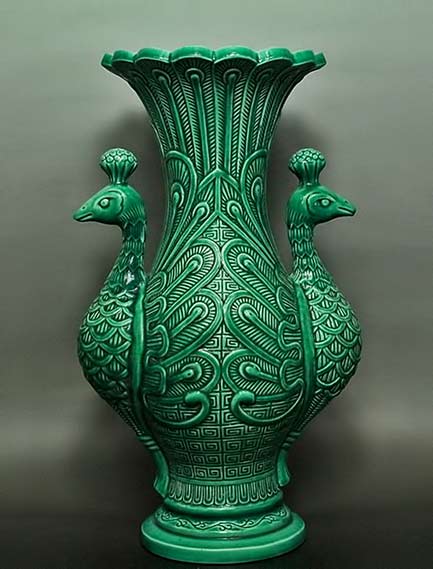 Qing Dynasty Green Glaze Peacock bottle
Raku Chicken – -Hippopottermiss@deviantART
Oxblood glaze rooster – Royal Haeger
Mid Century Rooster by Perignem, Brussels, 1970
.
Cristine Boyd – black / white sgraffito roosters platter
Ceramic Cockerel sculpture- Sarah Farrelly
Red Ceramic Peacock – Vintage, USA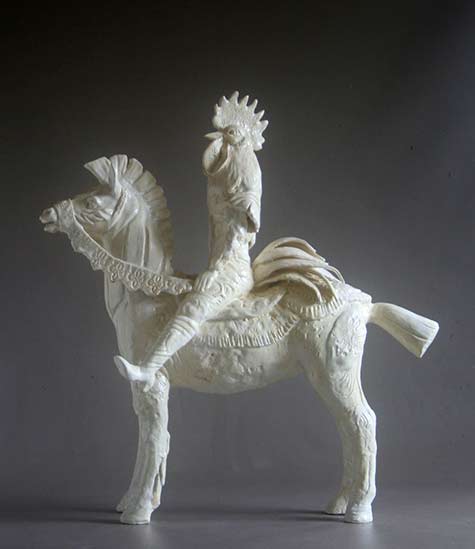 Sally Hook – 'Year Of Rooster'
–