Ancient cultures from all corners of the globe have produced pottery and ceramic  beads for all forms of adornment and decoration.  The richness and fine detail currently achieved in these miniature artworks reflect a high degree of expertise and talent that are creating this fascinating art form.
MARY HARDING
Mary Harding (aka Mary Harding McCallion) is a bead and jewelry artist who has been making ceramic beads since 1998. She works mostly with earthenware/ lowfire clay because she likes the way the clay expresses itself even after multiple firings. There is always that element of the unexpected.
Mary Harding's work has been influenced by her interest in both contemporary masters such as John Cage, Freda Kahlo and Marguerite Duras and folk artists that she has researched both in Northern New York and Mexico. Her recent work in gathering the plants of the pastures of Northern New York into ceramic pendants is a form of folk history that is imaginatively interpreted by her colorful renderings of these resilient beauties.
Mary Harding sells her ceramic beads and pendants on her website and on Justbeads.com.
SHARLEEN NEWLAND   / Shaterra Clay Studio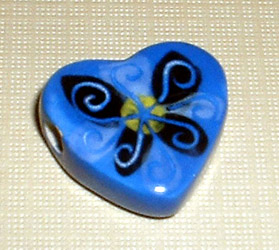 Sharleen Newland makes earthenware beads, which are fired to cone 04 bisque, then glazed and fired again to cone 06. Each firing takes about 7 hours, so making and glazing clay beads is not a quick process. Sharleen thinks the hardest part is waiting for the kiln to cool down, which takes about another 6 hours. Patience is required before the clay is cool enough to hold the pretty new beads. Opening the kiln after a glaze firing is like a treasure hunt! Many glazes change colors in the kiln, so it is always exciting to see what's there. Some items get a third firing, which is called an overglaze. Overglazes can give pearl effects, or sometimes Sharleen uses pure white and yellow gold to add elegance to the pieces.
Sharleen's background is in fashion design, and her love for color and fabric embellishment shows in her work. Sharleen also designs machine embroidery and sewing projects for two national magazines.
Sharleen's studio is located in Groveport, OH. She sells both retail and wholesale, although most of her business is wholesale. Sharleen can be found exhibiting at the Bead and Button Show in Milwaukee, WI each June. Stop by and say Hi! Sharleen loves to talk about ceramic beads!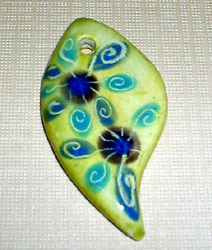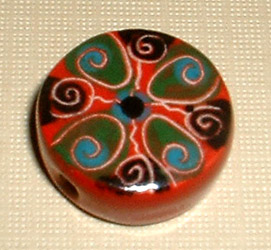 LISA SHIFFLET / Shifflett Studios
Living most of her life in Central Florida, Lisa Shifflett gets most of her inspiration from nature and the ocean. She also combines abstract designs with those ideas to create her unique pieces. Lisa has always had a love for art and a strong need to create. After dabbling in many medias, her favorites are clay and glass. She has been working in clay since 2002 and ventured into glass in 2004. In 2004, she was introduced to jewelry making and quickly became frustrated by the limited variety of really unique focal beads available for her creations. As a result, Shifflett Pottery & Glass Works was born offering a wide variety of handmade pendants, beads, finished jewelry designs and other creations featuring porcelain, stoneware, and fused glass.
VIRGINIA MISKA
Virginia's ceramic beads are made from earthenware clay and often depict animals which are intricately carved in low relief. She then incises the clay with linear detail and applies an underglaze stain to the surface which is then wiped away and fills the deep lines and low areas. This process resembles that of etching, which she studied at The Art Institute of Boston. Virginia's interest in watercolor painting comes into play when she applies washes of underglaze color that pool on the surface and blend with other colors. A final step which intensifies these colors is the application of a high gloss glaze.
For many years Virginia sold her line of ceramic jewelry line to stores throughout the country, where she was best know for her cat designs. In her small scale ceramic work she is currently focusing her attention on beads and enjoys the freedom to experiment with shape, texture and color in one-of-a-kind designs.
Virginia resides in the Santa Monica, California where her close proximity to the ocean, mountains, and desert influence her work.
UCan2Studio
UCan2 Studio specializes in mixed media and raku ceramic beads and jewelry.
OLISA PETERS
Lisa's pieces are made out of several different clay bodies such as stoneware and porcelain and fired using a variety of methods, with a primary focus in Raku. Manipulating glaze, incorporating precious metal clay and other surprise elements on to the surface yields wonderfully unexpected results. Lisa strives to find beauty in the imperfect circle, the ragged-unfinished edge and the slightly crooked line. Formed by hand, all pieces she creates are totally unique. The journey Lisa's pieces take is an exciting one. Each piece is subjected to multiple firings and during the Raku process, a rather theatrical event, beautiful metallic and crackled surfaces are obtained creating elegant pieces with a somewhat primitive feel. A multi media artist with a BFA from The School of Visual Arts in NYC, Lisa began her artistic career as a commercial still life and editorial photographer. After years of feeling the tug of a more diverse medium, Lisa experimented until she found clay. At present Lisa uses sculpture, encaustic and mixed media to express her artistic vision as well as creating a line of buttons, beads and pendants for other artists to use in their creations.
CLAY RIVER DESIGNS
Clay River Designs  specialize in handmade porcelain pendants, beads, and other fun shapes in clay. Our designs are drawn from nature, celtic, arts & crafts, native american, whimsical, & more.
JOAN MILLER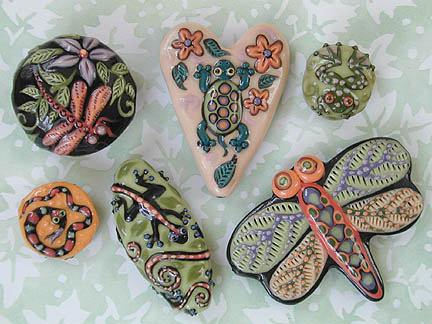 Joan has a BFA from the Maryland Institute of Art and has been working as a full-time professional craftsperson since 1989. She maintains an in-home studio on 13 wooded acres in Eastern PA where she lives with her husband, two dogs, a cat and a frog. Her work is done primarily in porcelain, using body stains in porcelain slips. Her detail work and use of color and pattern are exquisite! Nature is her best source of inspiration as frogs, fish and other small creatures are frequent subject matter. In recent years she has concentrated on art beads. Joan says, "To me beads take on a life of their own, just like the little critters portrayed on them. A good bead can stand on it's own as an individual work of art, but is just as comfortable being incorporated into another piece of art."
LILY BOUCHER
For more information on any of the above artists go to : http://www.beads-of-clay.org