Pottery art pieces from ancient to contemporary, antiquity to futuristic, unusual to utilitarian, quirky to conservative. There's always something to say with the 3D forms fashioned from that pliable clay. The versatile bounty of the earth keeps experiencing new ways to be interpreted and appreciated while its deep past provides fascinating revelations. The earth's grounded passivity gets awakened and emboldened  by the kinetic application of the potter and projects a new balance through interaction with the restless fire dynamic and defined spaces.
While a daily update is aspired to, it is usually otherwise with new entries appearing weekly at the least.
Caroline Chevalier, France
Vintage Swedish cat planter – 60's
Christine Thacker
Twin raku pears 2009—by Paula Cooley
photo by Grant Kernan
Adero Willard
Allamakee Wood-Fired Pottery
Art Nouveau vase by Paul Dachsel for Ernst Wahliss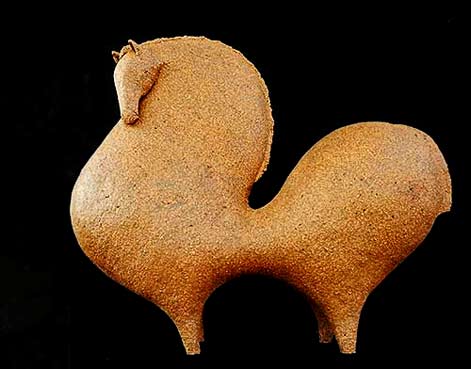 Athena Jahantigh
Large Chinese emperor figure sculpture
Austin Products 1981
Chris Barnes
Hans Vangso speckled ceramic jar
Anne Linnemann Gallery
Large vintage sgraffito vase  – Armando de Mexico
Height 11 inches
Akio Nukaga, Japan
Joan Serra contemporary ceramic sculpture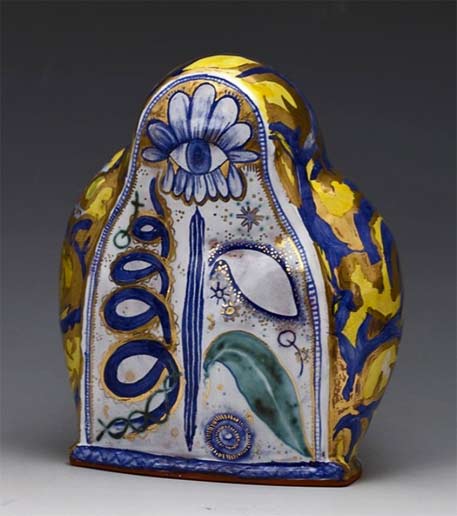 Mexican vintage sgraffito art pottery
Abstract 'Bursting Ripe Fruit Pod 'sculpture – Liliya Pobornikova
'Sculpture Triangle' – MOHY YVES
galerie capazza
Polo player on horse sculpture – Tang Dynasty
Lorna Bailey
Vi.Bi Torino (Italy) mid century modern vase
'Junto Y Felices' – marble sculpture by Peruvian artist Iván Rojas Tovar
Patricia Griffin- 'FlowerPower' vase
Cambria, California
Philippe Dubuc
 
Italian Mid Century 50's vase

Roseville Art Deco Futura vase
\
Charlie Riggs raku vase
Art Deco Jazz Age vase – Velsen, Nl
René Buthaud crackle glaze vase
Seal figurine – Royal Copenhagen
 Hand built with slabs, incised with abstract drawings, brush glazed with copper and colored glazes – Tanya Tyree
Height 35 inches
Set of black and white raku vessels
bubaniarteeraku.it
Black line diamond shaped ceramic footed pillow box – Vaughan Nelson
Sold by Artful Home
'Blue Sail' – Ricky Maldonado
Christine Fabre, France
Japonism vase – Jarl Otto  (1856-1915)   –  Meissen, early 20th Century
Eileen Singleton
Ray Silverman
Stephen Hatcher woodturned jar
Suzuki Tomio
To further enhance shino's tactile appeal, Suzuki Tomio approaches every unglazed pot as a landscape architect would an undeveloped plot of earth. It first requires slow, thoughtful sculpting before anything is lain upon it. As a result, his clay creations are renowned for their terraced surfaces, ridges, and winding vistas. This resplendent yōhen-kin (golden) vase is a proud example of Suzuki's unique approach to shino. Deeply cut furrows and facets naturally guide the eyes across a rugged, glistening terrain swept across with crackled feldspar and flowing brushed details.
2000cranes.com
Snow Drop Vase – Bill Campbell
'Kachina Vase' – Contemporary KOPA Southwestern Design
Satsuma fan motif bottle
 Weller Faience vase
Humler and Nolan
Sarah Ann raku lidded jar
5th International Biennial of Contemporary Ceramics of Sevres
 12 to 29 May 2016
Contemporary sculpture – Christine Ladevèze
Nancy Selvin exhibition at Spun Smoke Gallery
May 5 to June 26, 2016
Nancy Selvin
Nancy Selvin
Bowl by Bukran, Hungry
Large iron yellow glazed porcelain vase – Brother Thomas
Polymer clay vase – Beefball Papa
Adelle Nampeyo Hopi pottery
Handpainted wall plate – A. Oviedo
Marcello Fantoni contemporary Mid Century bottle/vase
Moorcroft – Orchid vase
Ceramic box – Ben Barker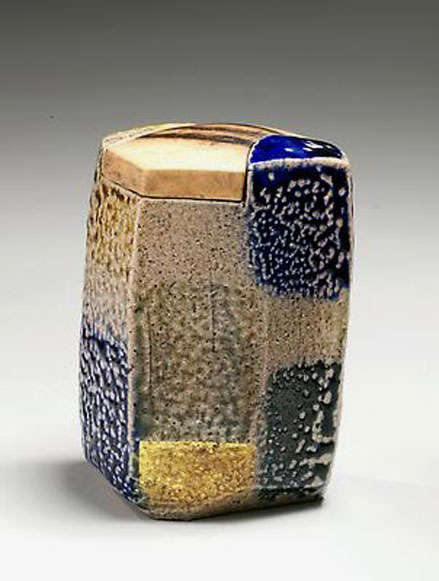 Ajiki Hiro lidded vessel
Dameon Lynn
E'T'C – Buenos Aires, Argentina
'Duo'  – Toshiko Takaezu
Damasco vase designed by Albino Celato for De Castelli
Raised relief abstract sculpture – Jennifer Brazelton
Bay Area, California
Jarras—Aleluia pitcher
Mid Century, Portugal
Georges Pelletier ceramic lamp sculpture
Sold on Artocarpus – Galerie Riviera
Jack Doherty – soda fired porcelain bowl
Wilhelm Kage, Gustavsberg, Sweden
Incised porcelain ovoid vessel – Elaine Coleman
Striped Porcelain Pitcher with bird and tree motifs – Matthew Metz
  Figural Vase Van Briggle
Glass vase 'Passage of time' – David Hay, AUS
Uwharrie Crystalline Pottery vase
Tea jar fired in the wood and waste oil kiln at the Pleasant Hill Pottery in 2016. – Hank Murrow
Art Deco pidgeon vase – Mougin Brothers
Michael Cleff
Bowl with bone china & soluble salt surface treatment  – John Shirley, South Africa
Michael LaLone 'Little Fatty' crawl glaze pot
2008
Matthew Hyleck
Tony Laverick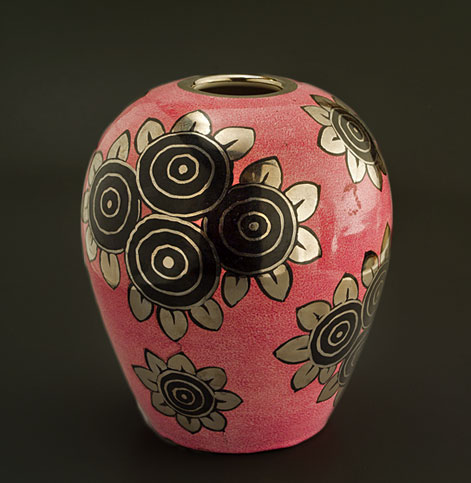 French Art Deco Jazz Age ovoid vase – Alfred Roullet Renoleau
1920's
 Italian Art Pottery Jug by Otello Rosa for San Polo
Otello Rosa was a  sculptor & painter, who from 1951-1959  took over as artistic director of the Venetian ceramic workshop of San Polo (who were making tourist pieces at the time) and re-directed it to his vision- many pieces being unique, and all hand-painted in tin-glazed earthenware with bright glazes with Italian imagery & characters.
See more Venetian pottery here  
Yoichi Ohira ceramic gourd
Anne Darr, Florida
Akiyama Yo – ceramic sculpture
Terrain Vallonne, France
'Pleated Bells'  – Helen Fuller, 2013
Hand built terracotta coil pots, oxides, white slip
Hans Vangso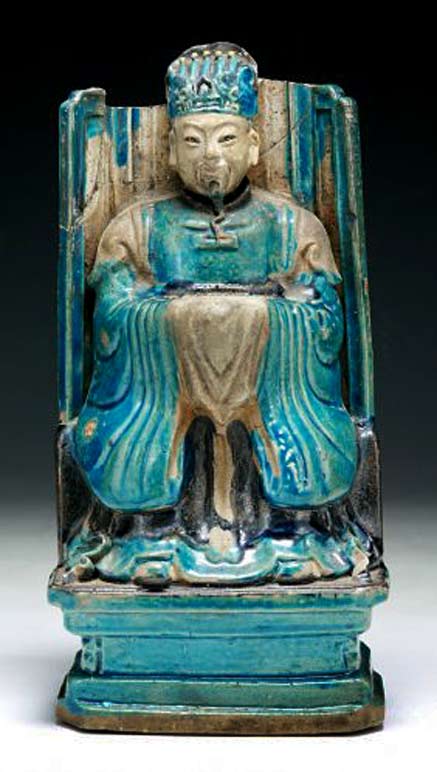 Chinese Fahua Porcelain Figure
Incised ovoid vessel with lid – Emmanuel Manu Peccatte
Swirling Ceramic Art by Fenella Elms
                                        

1

…. 2                      Next Page
–