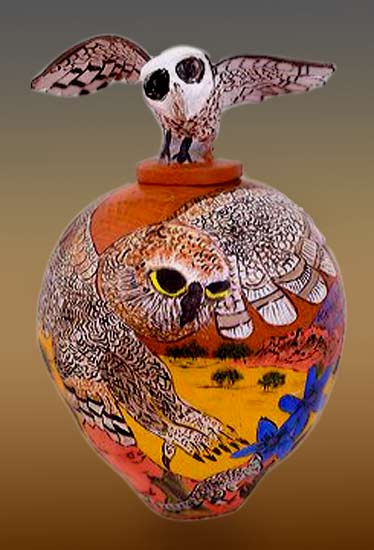 Handpainted Owl pot – Lindy Rontji
The culture of the Australian indigenous peoples is deeply entwined with their landscape, plants and animals. The rugged, ancient land has a vastness that conveys a sense of the pervasive power of the elements and time.
You could venture to say that the ancient landscapes of Australia have aged gracefully. Despite the ravages of time, there remains a vitality and defiance in the features of the land, highlighted by the ubiquitous bold ochre colours and slashes of vivid hues from the wildflowers and also reflected in the expansive smooth surfaces of the eroded rocks. The eternally elegant gumtrees are locked in synch with the timelessness of the land, reflecting a spirit of survival which is also expressed with smooth, strong trunks that are juxtaposed against the raw, rocky terrains. The distinctive landscapes are a vision of endurance and seem to stretch into infinity and have more hues and subtle tones in their palette then the green European landscapes. The enchanting vistas are simultaneously unfathomable and alienating while remaining inclusive and embracing. Birds have survived in these inhospitable environments along with many unique Australian animals through formidable adaptation and by virtue of the massive underground water table ( 1/3 of the continent) which feed the creeks, billabongs and springs.
Flinders Ranges, SA – Hans Heyson
This natural and wild environment has acted as a source of inspiration for many Australian and overseas artists. The pottery art of the indigenous artists based in Hermansburg, in the remote Anada region of the Northern Territory, Central Australia, vividly expresses their connection to their environment. I once witnessed a 7 ft tall red kangaroo on a remote beach in Western Australia in its natural environment and from a distance of a few metres it was an impressive animal that left an indelible impression. Along with the koala, it was a popular inclusion in the decoration of the Mid Century Australian pottery. Below I've included ceramics and sculptures and photos showing the diversity of the Australian landscapes and animals along with images of some of the lesser known Australian animals such as the Quokka and the Numbat.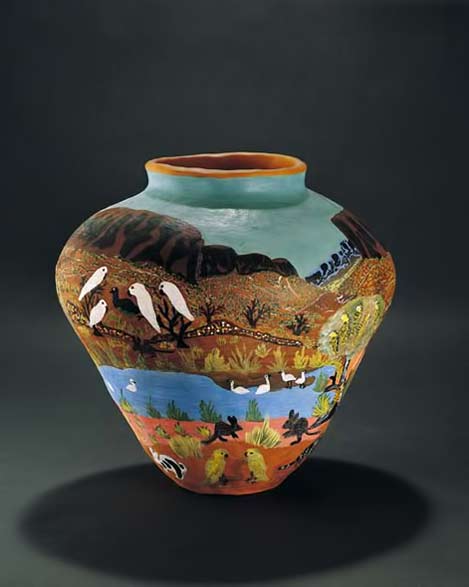 Handpainted outback vista pot – Irene Entata
'Bilbi' – Irene Entata
Titjarritjarra (Willy Wagtail Dreaming)' — Anita Ratara
22cm height
"This work depicts my traditional Country, Palm Valley, west of Hermannsburg". -Hayley Coulthard Panangka, 2016
Western Aranda artists of Ntaria
Photography by Tobias Titz Photography.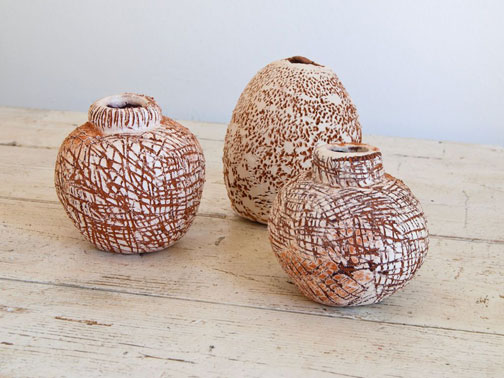 'New Marks' by The Hermannsburg Potters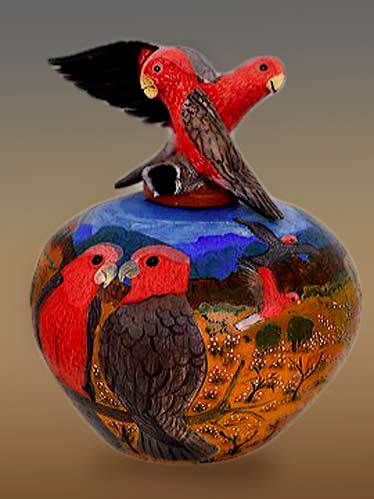 Lidded parrot vessel – Hermannsburg Potters
Terracotta Jar with owl lid and motif – Hermannsburg Potters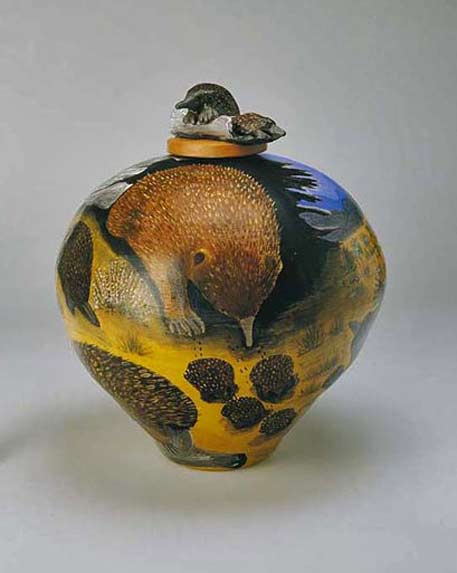 Lidded vessel with an Echidna – Judith Pungkarta Inkamala
Wedgetail eagle – Judith Pungkarta Inkamala
Frilled neck lizard jar – Rahel Ungwanaka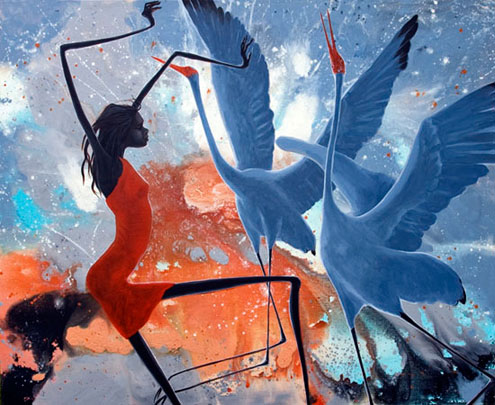 'Red Dress Girl' by Judy Prosser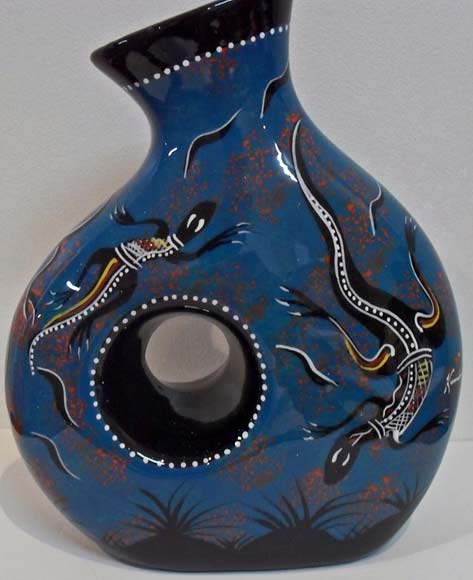 Goanna vase – Aboriginal artist Tammy Kealy Kiralaa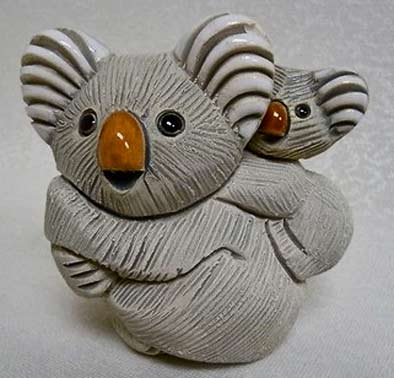 Hand carved Koala's ornament – Artesania Rinconada
Uruguay
'Banksia Grevillea Bell Vase' – Janet De Boos.
Thrown porcellaneous stoneware, black underglaze, terra sigillata, sgraffito, clear glaze,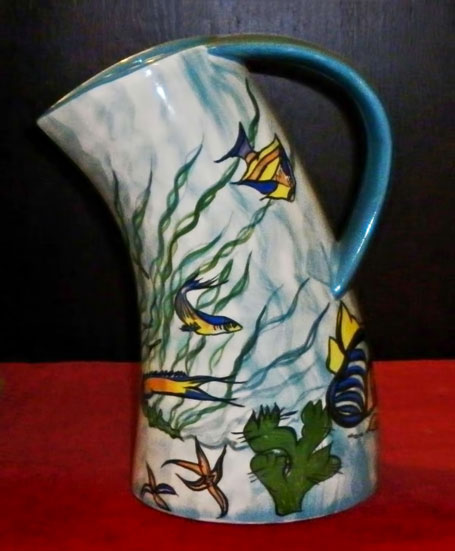 Barrier Reef jug
Aboriginal arts platypus vase
Tatiana Lou – ebay
Raku jar, bunny figure lid – Jane Sabey
South Australia
Black Galah wood sculpture – Valley Reserve, Melbourne
7.3 ft tall
 Artist?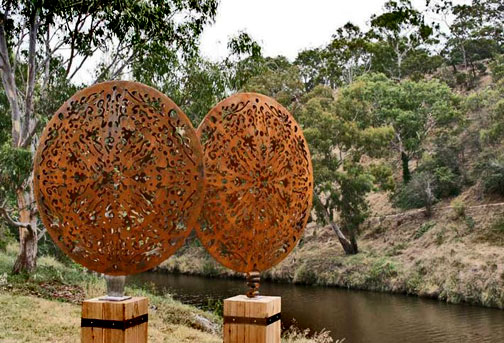 Two convex laser cut metal sculpture 'Pendant' disks
The Flower Garden
Reclining wombat sculpture – Chris Stubbs
Cockatoo metal sculptures – Kooper Tasmania
Height 1 metre
Kooper Tasmania is a creative partnership between Folko Kooper and Maureen Craig.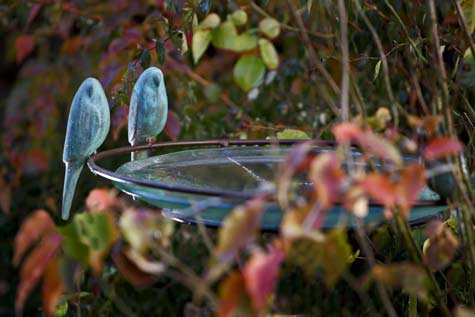 Blue Budgies glass birdbath – Kooper Tasmania
Emu sculpture – Kooper Tasmania
'Land of the Budgies' – Erica Evans
'Feeding Cocky' sculpture – Folko Kooper and Maureen Craig (Kooper Tasmania)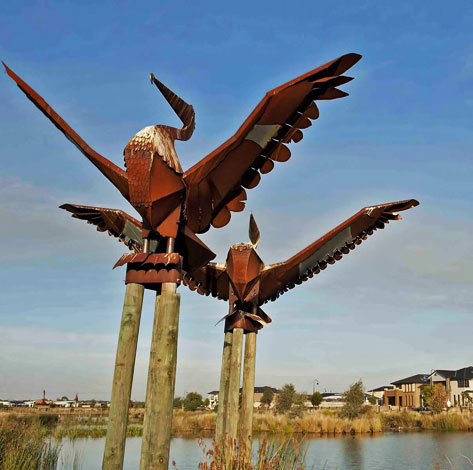 Pelican sculptures – Kooper Tasmania
Corten-steel, 8m wing spans,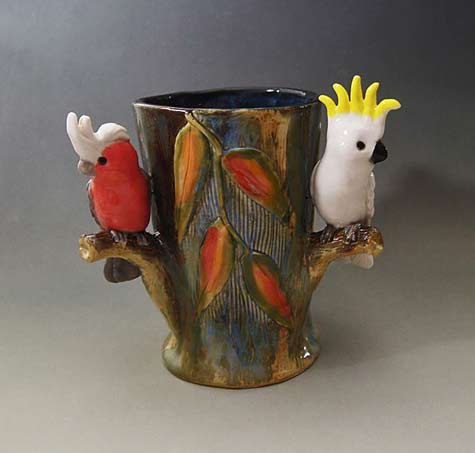 Galah and Cocky vase – Anita Reay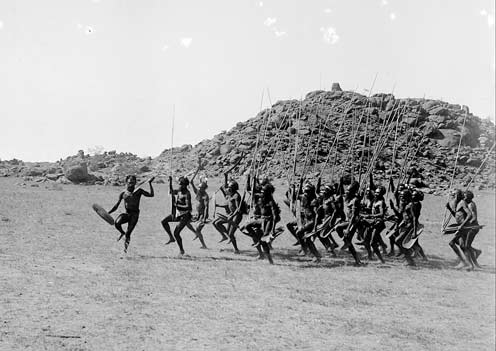 'Arrernte welcoming dance, entrance of the strangers', Alice Springs, Central Australia
Photographers – Walter Baldwin, Spencer and Francis J Gillen – 1901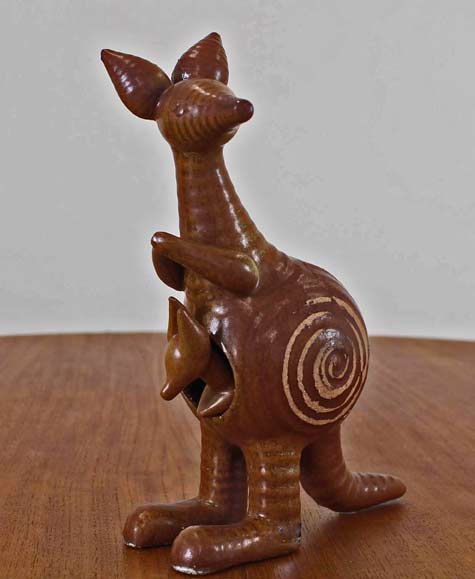 Kangaroo and joey  – Lisa Larson
Peter Ferguson
Stoneware handpainted parrot plate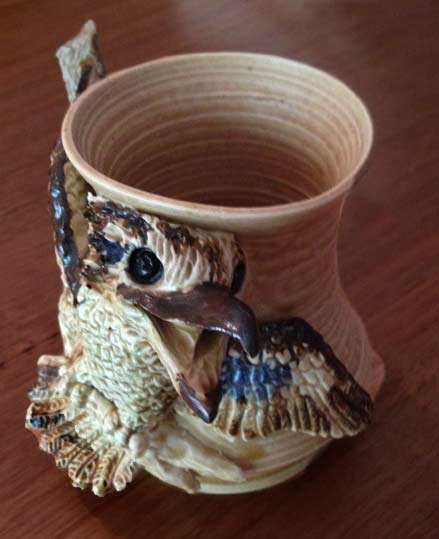 'Laughing Kookaburra' mug – Ian Bell
'Wombat' – Ian Bell
'Lyrebird'  ( mimic extraordinaire)  – William T. Cooper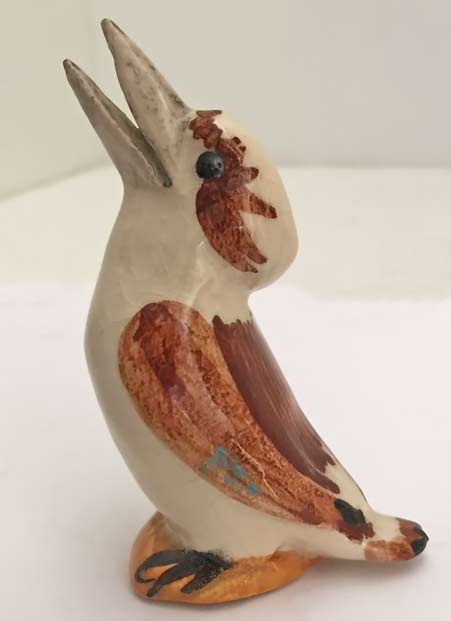 Kookaburra figurine – Hebb
'Tassie Devil' – Anita Ray
Salt and Pepper Owl Shakers – Kanga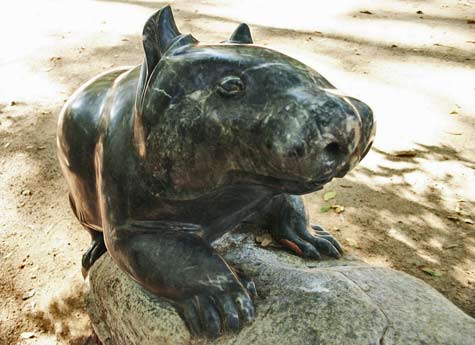 'Wombat' – Silvio Apponyi
Maroochy Botanic Gardens, QLD
Koala in a ghost gumtree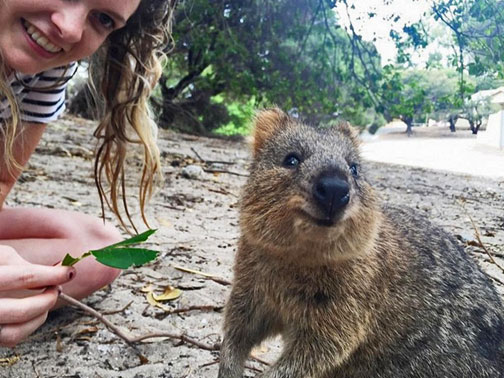 Quokka feeding at Rottnest Island, WA
Natural rocks – Kangaroo Island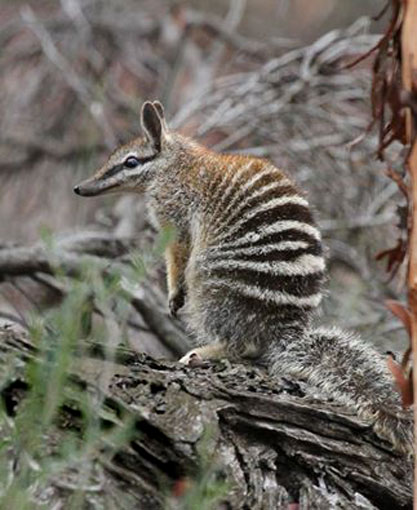 Striped 'Numbat', Australia
'Mischief' zookini sculpture – Jenny Orchard
Large Lucas Daisy Ware vase
'Conference of the Birds' charger – Barbara Swarbrick
Retro Australian Banksia Decorated dish – 'the antique store West Pymble'
1950's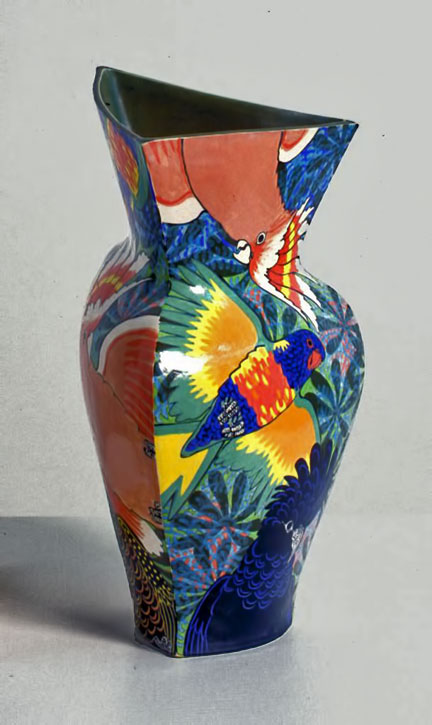 'Conference of the Birds' vase by Barbara Swarbrick
Owl sculpture, corten steel, on stone plinth – Kooper Tasmania
'Spheroid' sculpture Kooper Tasmania
1.8 metres tall
Adriana Christianson ceramic bowl
Yuparli – Eunice Napangardi
Clay statue merged with a tree – William Ricketts Sanctuary
Irishman Alan Dizon in Australia – underwater seal selfie
 Alan Dixon with smiling wallaby.
Quokka selfie @ Alan Dixon
A seagull sharing a chip with a cockatoo – Alan Dixon selfie
Irishman downunder Alan Dixon meets with a white kangaroo
Vintage Possum Pots plate – Bev Puckridge and Ian Winter
Sold @ Bemboka Pottery
South Lagoons vessel with teabowl
Jeff Mincham
'Arrkingarra (barn owl)' – Lindy Rontji Panangka
Terracotta and Underglazes
Photography © Tobias Titz Photography.
A rather regal looking koala paperweight – Royal Crown Derby
"The legend of Albatross Bay' – Thanakupi
The big legends of my country are often about the birds: Emu, Brolga, and many others. In this sphere you can see the foods as well, yams, yam seeds, small fruits, and others. – Thanakupi
'Wacombe the bushman and Ndhwalan the dingo' – Thanakupi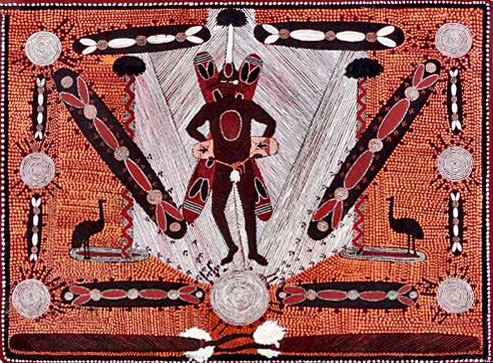 'Emu Corroboree Man' – Clifford Possum Tjapaltjarri
Early 1970's
see more Australian aboriginal art here
A Ponga Ponga woman carries a pet possum, Northern Territory, 1922
Possum Jug – Melrose Art Pottery
1932-42
A huge Rainbow Serpent painted on the roof of a cavern, extending down into the sandstone overhang, Mount Borradaile, Arnhem Land, Northern Territory, Australia
Large Goanna lizard sunbaking – Ben Pearse
Blue Mountains, NSW
'Bunabiri' Australian aboriginal art plate -Westminster Fine China
Echidna ceramic sculpture Aleida (Liddy) Wright
Endangered Spotted Tiger Quoll
George Nissen-•-Inventor of the Trampoline jumping with his Kangaroo
Noongar artist Laurel Nannup's sculpture 'First Contact'
Elizabeth Quay–Perth
Young Tasmanian devil joey intrigued by falling snow
–