A collection of various innovative ceramic tile artists, past and present.
Motawi Tileworks
The Motawi Tileworks was began in 1992, when Nawal Motawi set up a table at a farmers market and received a commission to create her first local fireplace installation. Today, their handcrafted tiles can be found in homes nationwide. The tiles are currently produced in a studio in Ann Arbor, Michigan and represent an eclectic mix of historical decorative art styles including block prints by Yoshiko Yamamoto, the graphic art of Frank Lloyd Wright, the De Stijl Movement, Art Nouveau, Mary Chase Stratton, Adelaide Robineau, Louis Sullivan, C.F. Voysey, William DeMorgan and Dard Hunter.
Motawi Tiles now consists of the sibling duo of Karim and Nawal Motawi and their staff of talented artisans. Nawal studied sculpture and ceramics at the University of Michigan and learned tile-making at Pewabic Pottery.  Karim, also educated at the U of M, runs the production studio and teaches tile-making classes.
Motawi's polychrome tile decorators are affectionately referred to as "the Bee Gees," short for "bulb glazers," because they use bulb syringes to pool glaze onto the tiles. In this centuries-old technique—called cuenca, or simply raised-line—color areas are separated by the tiny ridges of clay that are formed in the pressing process.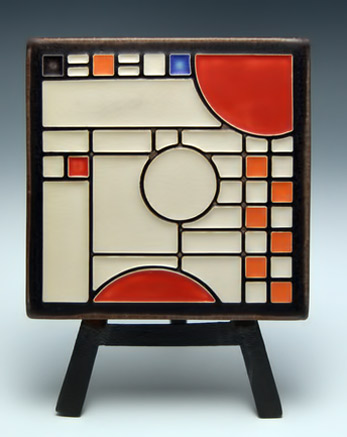 'Confetti' – Motawi Tileworks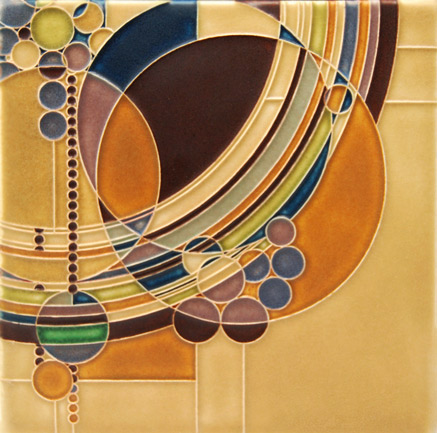 Frank Lloyd Wright style 'March Balloons' Tile -Motawi Tileworks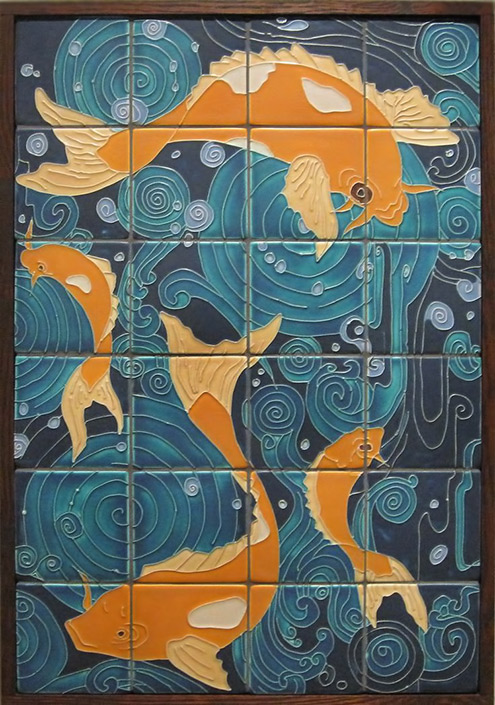 Koi tile mural – Motawi Tileworks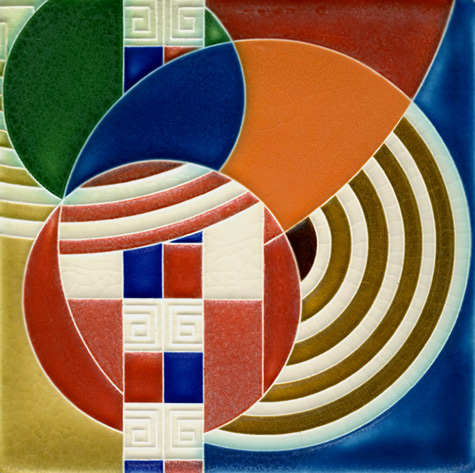 Motawi Tileworks –  Tile inspired from the Hoffman House Rug- Frank Lloyd Wright
 'Limp on a Limb' – Motawi Tileworks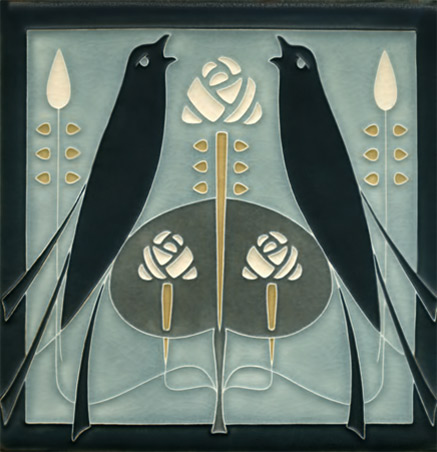 Grey blue 'Songbirds' – Motawi Tileworks
 'Autumn Edibles' – Motawi Tileworks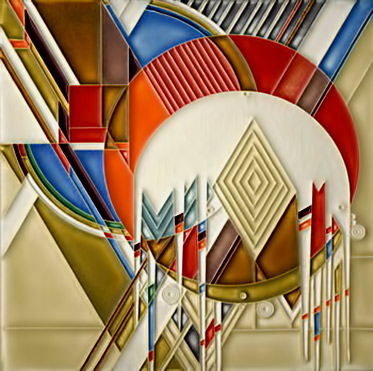 'Frozen Spheres' – Motawi Tileworks
 Motawi 'Bleeding Heart' Tile
Janice L. Walrafen
Janice  grew up in the Senoran desert of Arizona with her artist/potter mother and two sisters. She currently resides along the Winooski River in Plainfield Vermont among the wise white pine, sweet cedar, fiddleheads, cattails, wild and domestic creatures that share her home and garden; red squirrel, crow, turkey, deer, jay, merganser, fox, owl, mink, weasel, otter, chickadee, yellow finch, grouse, woodpecker, goose, duck, canine, and human friends. All an influence on her art.
Her decorative relief tiles are created by pressing clay into an original plaster mold. Each tile is then carefully dried, fired and hand painted with studio-made glazes, fired a second time to a stoneware temperature of 2200 degrees, creating colorful and unique tiles.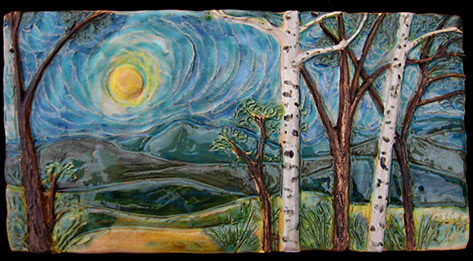 'Beautiful Birches'  Janice L. Walrafen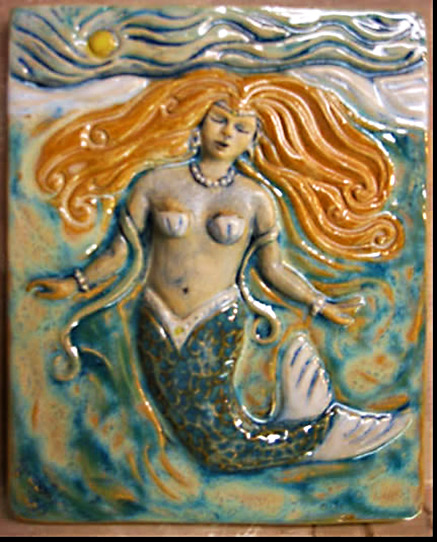 'Mermaid' – Janice L. Walrafen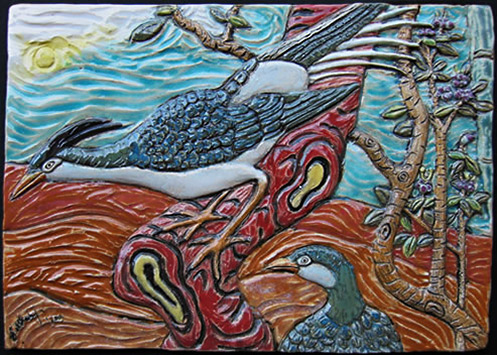 'Pheasants' – Janice L.Walrafen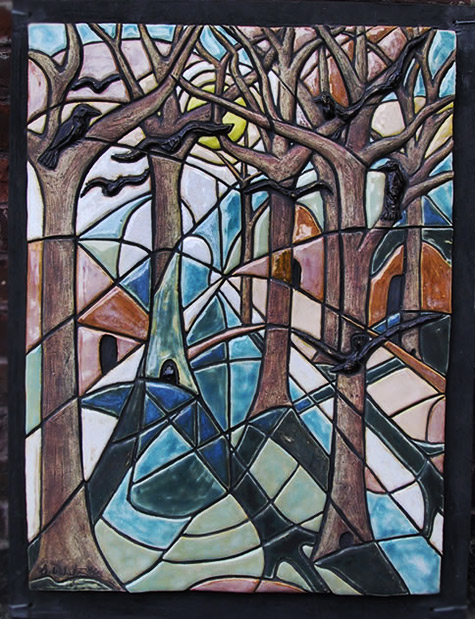 'Ravens Wood' – Janice L. Walrafen
Chris Gryder
"I create sculptural ceramic objects that engage with a deep sense of time and history; a geological time and the time of civilizations. There is a visceral joy, a complete indulgence in tactile geometric form that evokes a world where wonder still reigns. A place at the edge of the wild."
Site Link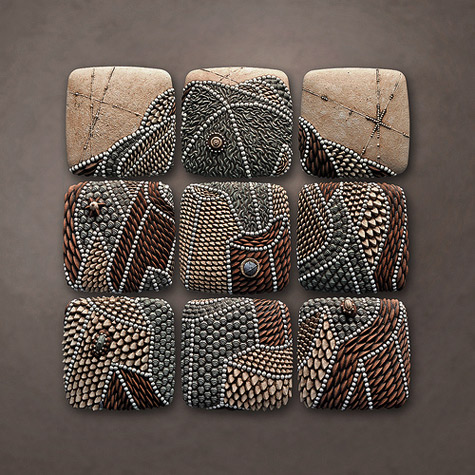 'Candy Mountain' by Chris Gryder
'Burst' –  Chris Gryder, Ceramic panels
27in-x-27in-x-2in
 'Sectio Auria' – Bas Relief Sculpture – Chris Gryder
Roanoke, Virginia, United-States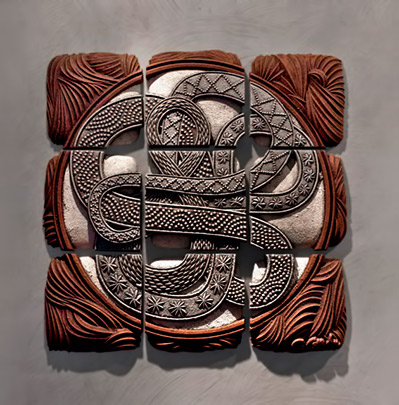 'Infinity Squared' – Chris Gryder
Medicine Bluff Studio
Medicine Bluff Studio began in 2001 and is co-owned by John and Debbie Beasley. John designs and sculpts all the products from his studio in Florence, Kentucky.
 Heron Tile – Medicine Bluff Studio
4×8 inches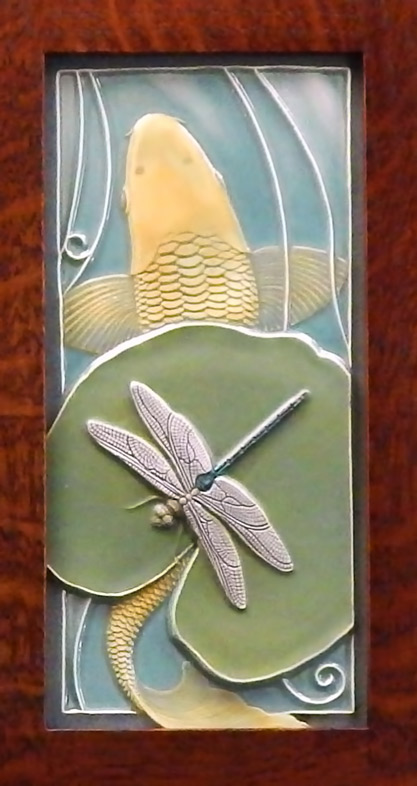 Medicine Bluff  – 'Koi'
 'Mother to be' – Medicine Bluff Studio
 Medicine Bluff Studio 'Peacock' wall panel tile
Ellen Rundle
"My studio is in my home where I live in Granada Hills. When I am working on a large jobs it seems my entire property becomes engulfed in clay pieces and equipment. Clay is a material that you have to "live" with since there are many steps in the process and each one requires that the material be in a particular stage of drying before the firing and glazing processes begin. There is always an element of surprise!"
Site Link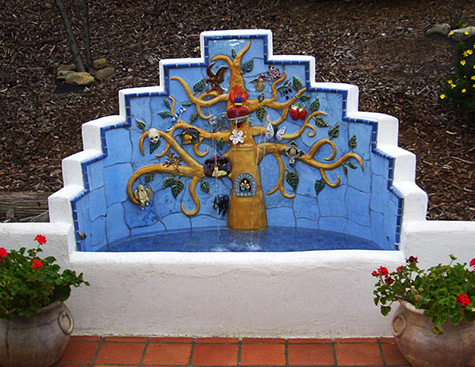 Ellen Rundle 'Tree Of Life' fountain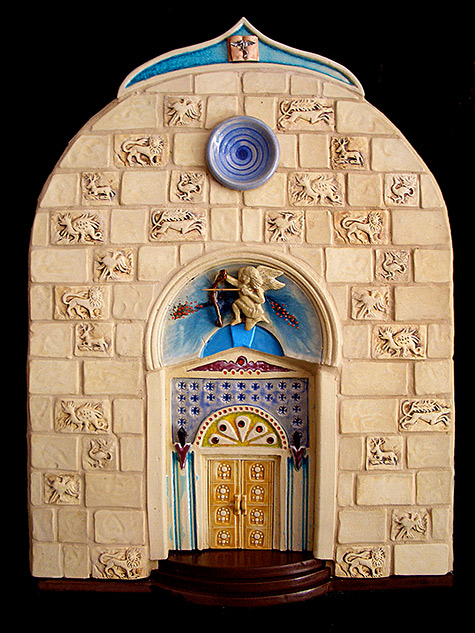 Ellen Rundle ceramic sculpture murallete inspired by St. Marks Basilica, Venice
27×36 inches
Creative Concepts – Los Angeles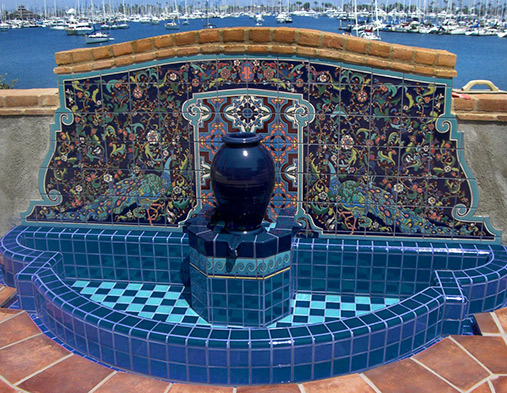 Reproduction of the fountain mural at the Adamson house in Malibu, California
Creative Concepts, LA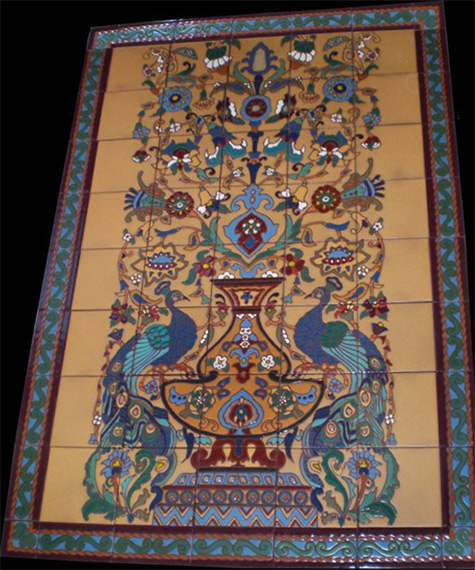 Twin Peacock Wall Mural
Creative Concepts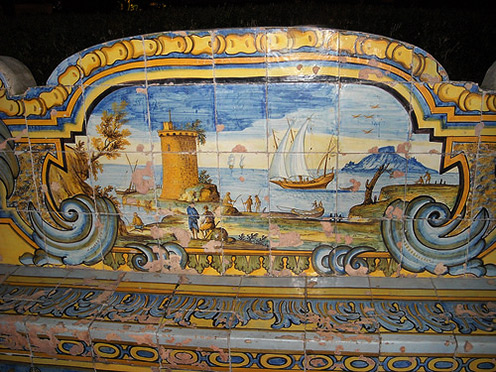 A gothic cloister of majolica tiles at Santa Chiara in Naples (14th century) by Domenico Antonio Vaccaro, Painters Giuseppe and Donato Massa
1739-1742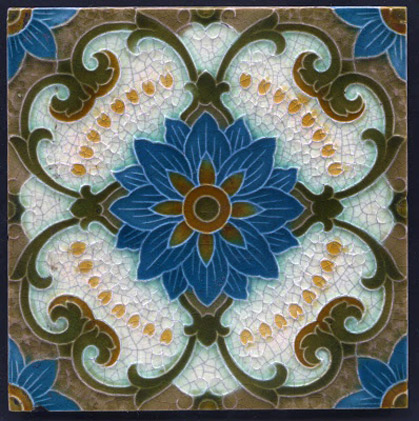 Art Nouveau majolica tile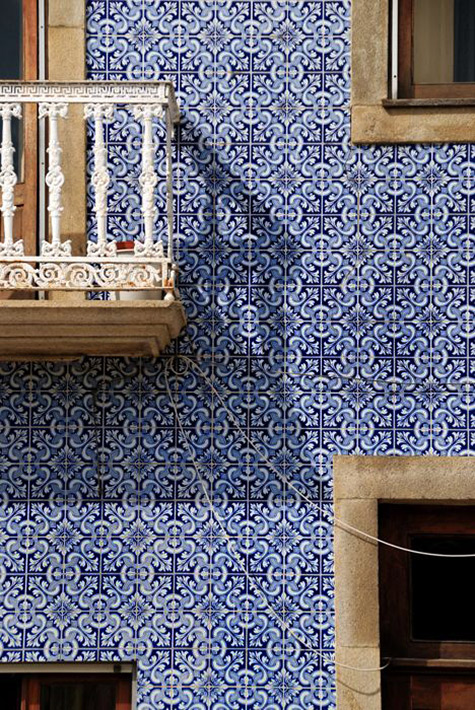 Lisboa Azulejos white and blue tilework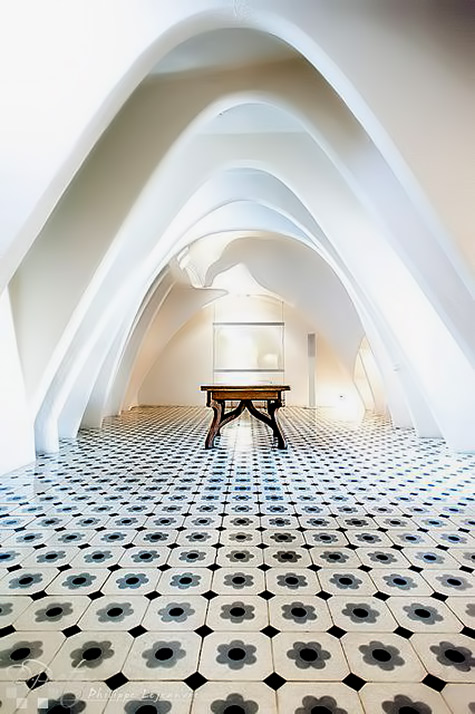 Casa Batllo, Barcelona – design Antoni Gaudi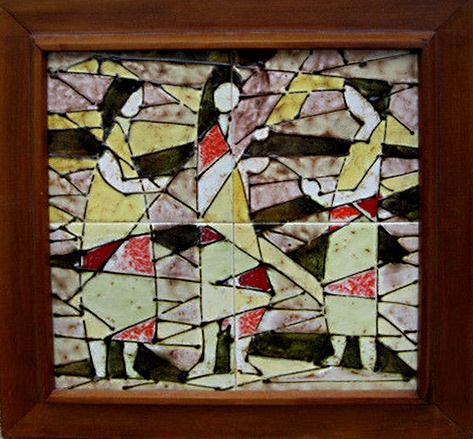 Harris Strong
Tiled balcony – Lake Como, Italy
John & Tina Reid, Flickr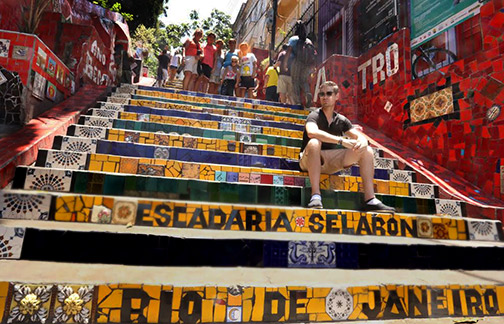 Tiled steps in Rio
 A photo sent by my eldest son Curtiss from his travels through S.America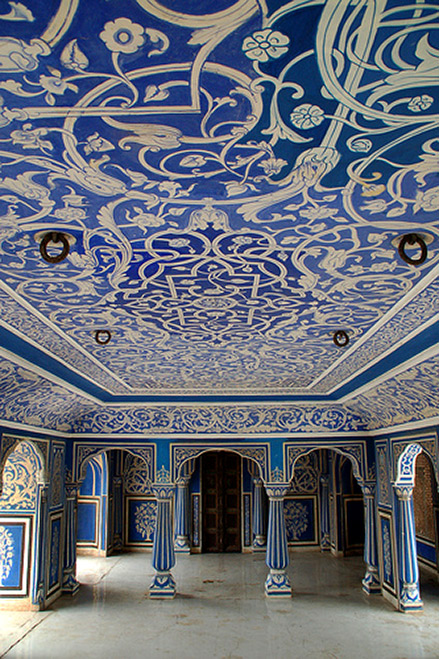 City Palace – Jaipur, India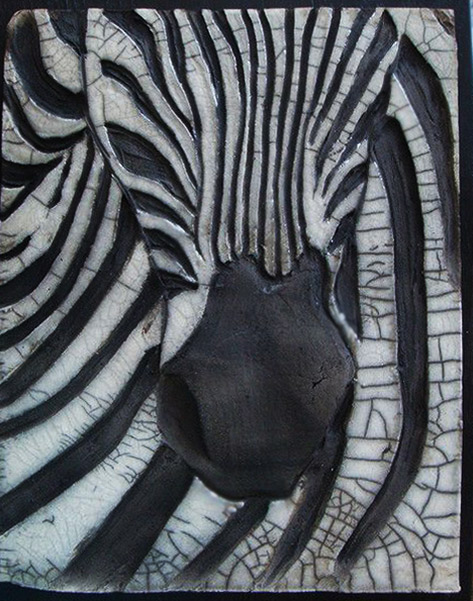 Raku Zebra Tiled Panel – Jill Gerlach, flickr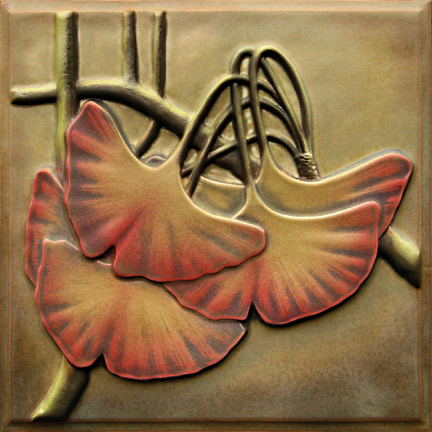 Nouveau style 'Ginkgo' tile – Lewellen Studio
 Lynne Meade
 Tiled Mural at the  Montelupo Fiorentino Italian ceramics trade festival
Celtic style carved relief tile – Earthesong
 Motawi Caribbean Blue Collage Fireplace by Michelle Nelson Design
 Patchwork kitchen floor tiles
 Azulejos wall mural – Church of St. John the Evangelist, Cadaval Palace, Evora
Spanish wall fountain with  hand painted tiles.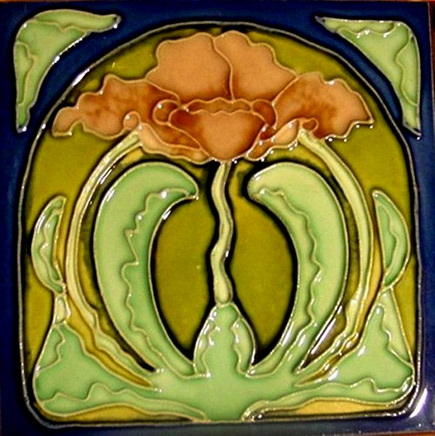 Art Nouveau Majolica Ceramic Tile
France – 1890-to-1910
  Talavera Tile Fountain, Mexico
Russ Bowling-Flickr
Azure Blue Pool, Hearst Castle
San Simeon, California
Indian ceramic wall tiles
photo Umair Ghani
Mid Century Triptych  Tile Panel by Panos Valsamakis
Gothic Pewabic Pottery Tiling by Mary Chase Stratton
St. Paul's Cathedral-Detroit
Majolica Tiles at the Monastery Santa Chiara, Naples
 Van Briggle tiles, Colorado Springs
Longwy Primavera trivet – ceramic tile with minor crazing
Treadway Toomey
–