'Amy'    Jenny Orchard third eye minus two
2008,  Grafton Regional Gallery Collection
To look at Jenny Orchards clay art is to traverse a world of unbridled imagination, populated with adorably mutated sculpture figures which are a zany fusion of animal, botanical and human configurations. They are all imbued with such individuality and spirit that they transcend their abstract hybrid forms to appear almost normal and tangible. Jenny has resided in many countries and her sculptures reflect her fascination and acceptance of diversified cultures. Jenny claims that her creatures are all multispecies that embody a multiplicity of forms without implication of hierarchy.
Her multi chromatic glazed sculptures are vividly infused with an exotic presence that reinforces her influences from living in Zimbabwe during her early years. She likes to call them Zookini's and her description of her sublime and bizarre creatures is fitting – "My Plant Animals, Plant People and Soul Flowers are an irreligious, non prophet disorganization of recently departed extinct species and genetic laboratory misfits who now reside in a place called Metempsychosia. From this place they now pursue their cause of Multispecies Empathy and Universal Compassion."
Further influences of African tribal art can be discerned in the form of her ceramic totems that Orchard creates with her intermixing of elements.
Turkish born Jenny Orchard spent her childhood and youth in Zimbabwe, then six years in the UK, before settling in Australia in 1976. Australian aboriginal mythologies and the landscape have made an impression on her creations with the presence of exotic plants and animals such as banksias, choko plants, coral reefs, Tasmanian devils, kangaroos, koalas, sea anemones and other native species. They are merged in an exuberant metamorphosis of all manner of combinations that results in a cohesive co-existence of a multitude of forms.
Jenny Orchard draws on the experiences of her past to mould her own delightful universe, while expressing her joy and awe at the diversity and beauty of all creation and its universal soul.
Hybrid sculpture 'Elephantoil' from the Zookini series – Jenny Orchard
2015
"The creatures I make are rearranged souls and transgenic organisms who exist now in the gaps between time, space and the material"
http://jennyorchard.com/zookiniis.htm
'A Rude Bear and Exile on Edith Street' – Jenny Orchard – (sold)
'Kurt' –  Zookini sculpture – Jenny Orchard
Beaver Galleries
 'Kangadodo' — Jenny Orchard
Beaver Galleries
'where the bee sucks, there suck I'  – Jenny Orchard – (sold)
Frances Keevil Gallery
'Be Still Beating Heart'  – Jenny Orchard
'Square Egg Mountain Imp' – Jenny orchard
http://jennyorchard.com/zookiniis.htm
 'Colonized Multicreature'  – Jenny Orchard
Frances Keevil Gallery
'Empathy Pot' – Jenny Orchard
'Every creature—plate' – Jenny Orchard
'Faithful Mother' –  Jenny Orchard
2015
Frances Keevil Gallery
'Black and Gold' -Jenny Orchard-2015
Frances Keevil Gallery
'Fire Spirit' —plate, earthenware with glazes and enamels –  Jenny Orchard
'Gentle Rain Pot' – Jenny Orchard
2015
'Ghost Child' – Jenny Orchard
'Human intervention 1' – Jenny Orchard
'Human intervention 4'  by  Jenny Orchard
Jenny Orchard Zookini creatures
Jenny Orchard
'Angry Cat' – Jenny Orchard
Jenny Orchard totems
Jenny Orchard – 'Lost Vase'
Maunsell Wickes Gallery
'Lost Weeping Camel' – Jenny Orchard
'Love Changes Everything' – Jenny Orchard
'Nasturtium' – Jenny Orchard
'Red Vase' – Jenny Orchard
2012
'Rhino Girl' – Jenny Orchard (sold)
Frances Keevil Gallery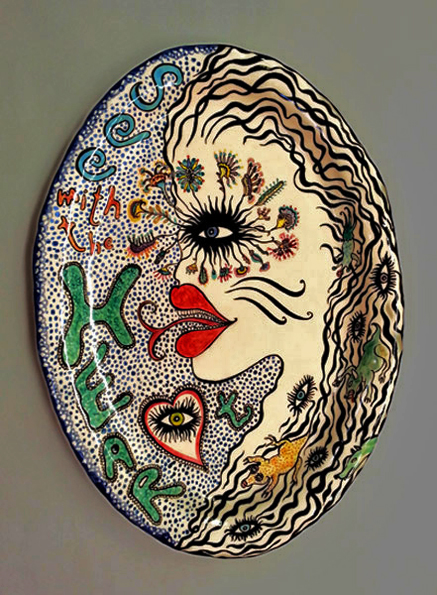 'See with the heart' –plate by Jenny Orchard
'Sky creatures vase' by Jenny Orchard
'Strange trees from a new forest' — Jenny Orchard
'Swimming With Tuna (anonymous)' – Jenny Orchid
'Taking Care of the Nest' – Jenny Orchid
Frances Keevil Gallery
'Talking Vase' – Jenny Orchard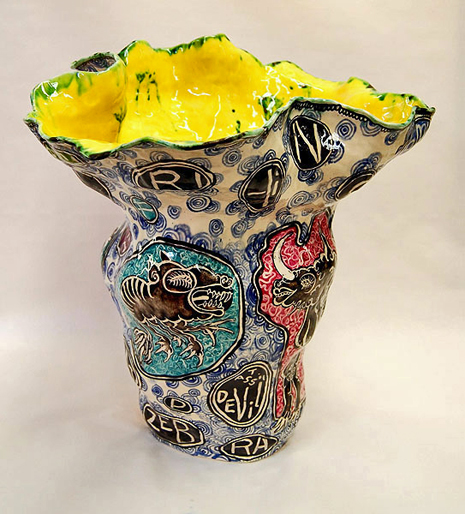 'Tassie Devil vase' – Jenny Orchard
'Tree' – Jenny Orchard
Frances Keevil Gallery
'Vase with Talking Heads' by Jenny Orchard
2012
'Waiting in the Forest' – Jenny Orchard (sold)
Frances Keevil Gallery
Jenny Orchard
'Wommy' – Jenny Orchard
2015
Frances Keevil Gallery
Vegetable Matters by Jenny Orchid
Herbe Fusarium Oxysporum
↓
Herbes Fusarian Oxysporon
*
began life as a fungus, Living
beneath a stylish compost heap
in Paddington, Sydney
despite her salubrious address
she suffered low self esteem
and fretted
over her potato waistline
until one day
her annelid neighbors
showed her
Reality in a Mirror
The beauty of the appendage attached
to her snub nose and sight of sticky red tandrills
swimming on her shoulders
changed her personality forever
–