Berlin has a reputation for contrasts, both culturally and politically, and the Cold War wall that divided the city exemplified this. The 1920's was an era in Berlin that saw a lot of writers and artists drawn to the city for its freer culture, bohemian activities and it being one of the centres of German Expressionism, which was displayed in painting, cinema, architecture, dance and sculpture.
Three contrasting ceramic artists with a background in Berlin are considered in this article; Elvira Bach and Hinrich Kroeger, who create unique, fanciful, edgy art and ceramics that encapsulates shades of Berlin's risque past and Andreas Rauch, who has pottery of elegant design and simplicity.
Elvira Bach was a member of the 70's 'Junge Wilde' art movement, prominent for their expressive paintings in bright, intense colors with quick, broad brushstrokes and their desire to establish an innovative figurative, emotional and subjective form of art. Her postmodernist art features bold, colourful images that leans towards being a diaristic self portraiture. Bach expresses subjective themes in vigorous, even aggressive pictorial images, expressed in a sensually bright palette and clearly defined angular forms. Her self representational pieces also feature re-occurring symbolism such as serpents, strawberries and even pottery. She interweaves a melange of her everyday persona from the artist to the domestic and the erotic into her imagery, blurring art, subject and object. Her confrontational works hark back to the era of Berlin's provocative cabaret scene where freedom of expression was prolific.
Elvira Bach glass sculpture
Elvira Bach in studio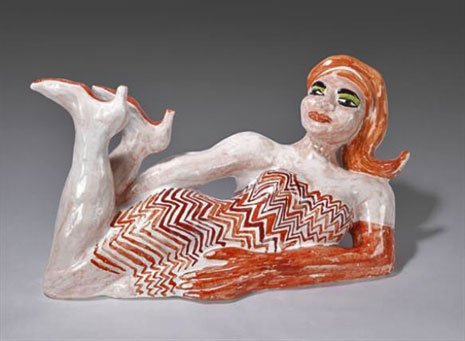 Reclining female sculpture – 'Berliner' – Elvira Bach
Elvira Bach charger
Elvira Bach wood bust sculpture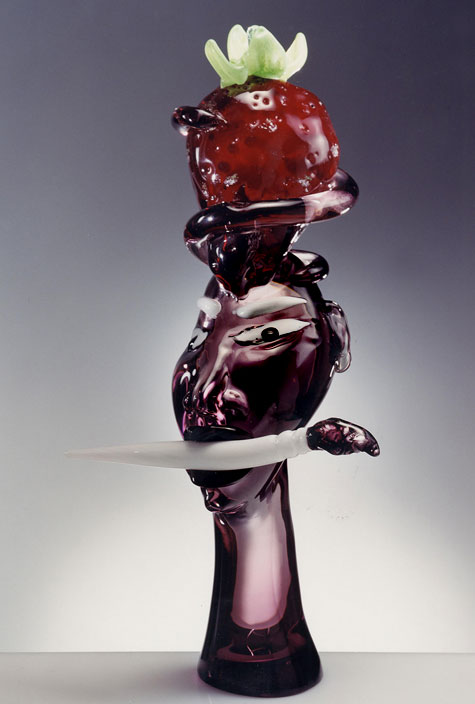 Elvira Bach – glass female head
Female and serpent sculpture from the 'Other Eve' series – Elvira Bach
Elvira charger
Elvira Bach
Elvira Bach teapot
'Radish Red' – Elvira Bach
'The Other Eve' series
'Floral Dreams' – Elvira Bach
Giclee on heavy, handmade cotton paper
2014
Elvira Bach and her sculptures
Elvira Bach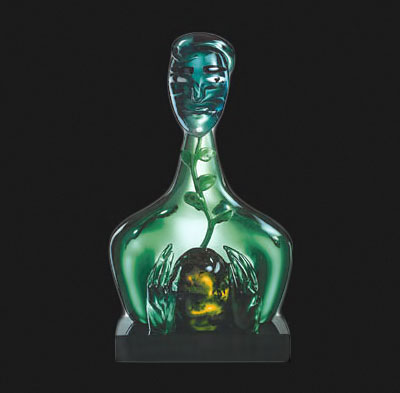 Elvira Bach
Elvira Bach
'China Girl' – Elvira Bach
'Kitchen Diva DeLuxe' – Elvira Bach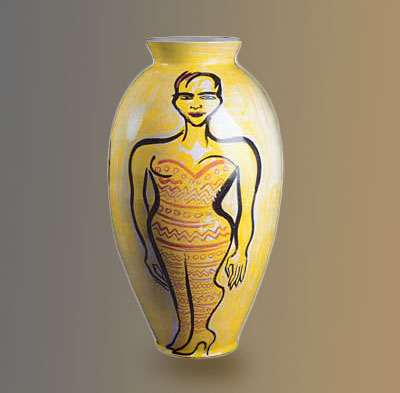 Elvira Bach vase
'Teapot' – Elvira Bach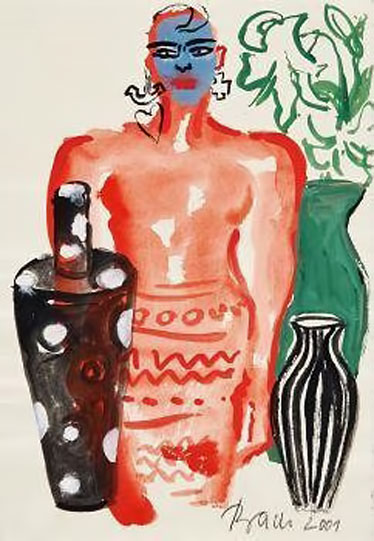 'Three Vases' – Elvira Bach
Striped baluster vase – Elvira Bach
The potters wheel for Andeas is continually a source of stimulus that demands and provides both mental and physical balance. He believes the creative process of clay is a challenge of earthly gravity and the consideration of abstract and linear constructs in space, on both the outside and the inside of a vessel. He began his occupational training to become a ceramist in Berlin in 1985, which was followed by freelance work in artisanal pottery factories and artistic workshops for ceramics and sculpture. In 1991 he commenced working as an art teacher in a youth school project in Berlin which wa followed by a study tour in the USA in 1992.  He opened his own workshop in Berlin in 1993, which included regular artistic collaborations with painters, sculptors and artist projects. From 1997 he became the artistic and technical director of the ceramics workshop of the Professional Association of Visual Artists, Berlin. Since 2007 he has resided in Munich where he continues to produce ceramic art.
Andreas Rauch
Andreas Rauch
Andreas Rauch striped pottery vessel
Andreas Rauch contemporary vessel
Large ceramic floor vessel – Andreas Rauch
Large ceramic planter – Andreas Rauch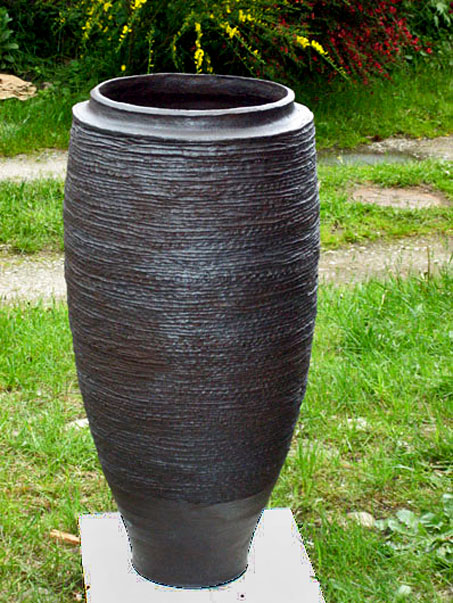 Andreas Rauch planter
Andreas Rauch
Ceramic sphere sculpture – Andreas Rauch
Andrea Rauch outdoor sculpture
Andreas Rauch ceramic sculpture
Andreas Rauch bowl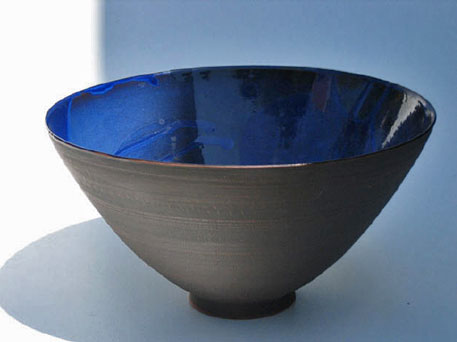 Blue bowl — Andreas Rauch
Two black vases by Andreas Rauch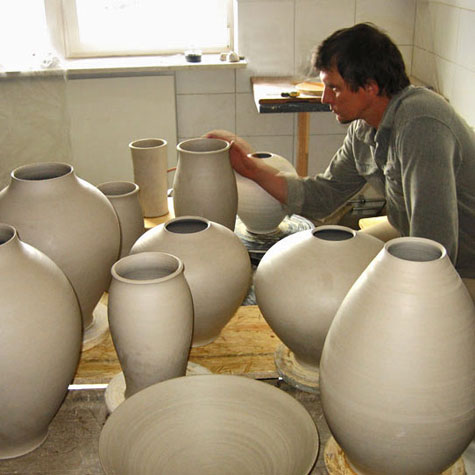 Andreas Rauch
Berlin and  NY
Hinrich Kroeger skillfully combines decorative themes of beauty with the eccentric, erotic and enigmatic along with folk art in his ceramic narratives, including playful images of pugs, greyhounds and poodles. His work as a ceramist is a synthesis of visual art and form, where he skillfully and whimsically combines elements of painting with the shapes of pottery.  Hinrich Kröger has been producing and exhibiting his art since 1995, paintings on ceramics, sculptures made from clay, drawings and more, all expressing his vivid imagination infused with originality. Hinrich Kröger opened his showroom on Gipsstrasse, Berlin, back in 1996, long before the area became known as the city's gallery district
 Pugs vessel – Hinrich Kroeger
Hinrich Kroeger porcelain tea bowl
Nautical vase – Hinrich Kroeger
Poodle tea set – Hinrich Kroeger
Hinrich Kroeger tea bowl
Bird vase Hinrich Kroeger
Hinrich Kroeger
Baluster 'Love' vase Hinrich Kroeger
Hinrich Kroeger

'Sighthounds' Fayence & Gold ,Vase – Hinrich Kroeger
height 67cm
Hinrich Kroeger (left) at his Berlin atelier/shop
Hare tea bowl – Hinrich Kroeger
Flamingo vase – Hinrich Kroeger
Hinrich Kroeger Atelier/Shop, Berlin
'Moulin Rouge Tea Service' – Hinrich Kroeger
Hinrich Kroeger – baluster vase
Pair of "Golden Pug" vases – Hinrich Kroeger
'Teeschale' – Hinrich Kroeger
Hinrich Kroeger bird vase
Hinrich Kroeger ceramic sculpture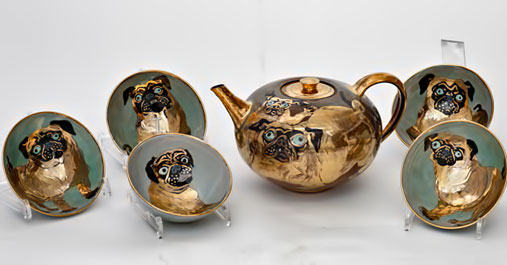 The golden pug tea service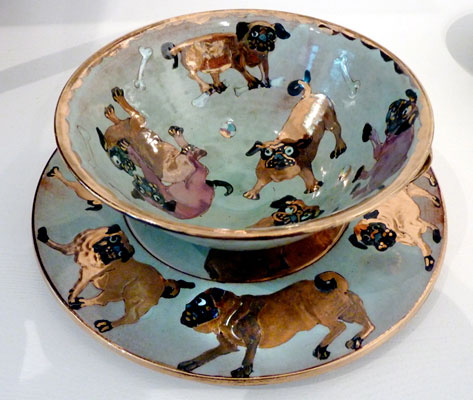 Golden Pug tea cup
Hinrich Kroeger
Photograph © Hinrich Kroeger
Hinrich Kroeger
Berlin Art Week 2017 extended hours
Opening hours: Wednesday to Friday from 14 to 18.30 and Saturday from 2 to 4 pm and by appointment!
Galleryhours
Wednesday – Friday 2:00 p.m. – 6:30 p.m.
Saturday 2:00 p.m. – 4:00 p.m.
S-Bahn Hackescher Markt, subway Weinmeisterstraße, tram M1 M2
Hinrich Kroeger studio/shop window
In his gallery studio "Atelier Hinrich Kröger" at Gipsstraße in Mitte, also known as "Volkskunst Berlin", the artist shows detailed and imaginative faiences and statuettes by the artist.
More art from Berlin –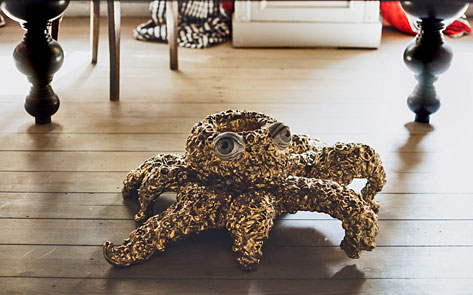 Large octopus – Kuehn Keramik
Ernst Ludwig Kirchner– 'Potsdamer Platz'
'Waiting at the Bridge' , 1931 by Albert Birkle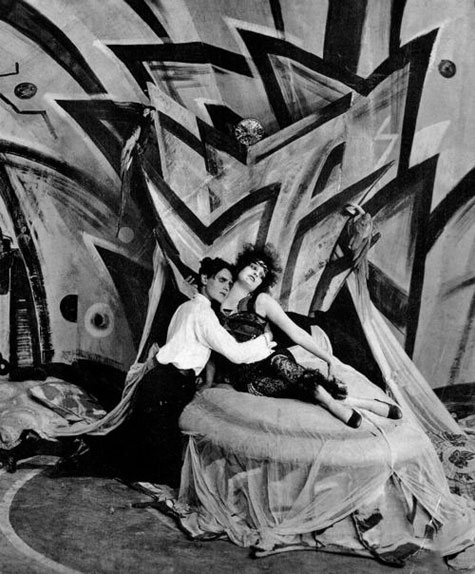 German Expressionist set by César Klein, for the movie 'Genuine – A Tale of a Vampire'
1922
Berlin street art – YAAM  (Youth African Arts Market)
–