Geoffrey Bartlett's 'Embrace' is made from copper, steel and stainless steel.
Sculpture by the Sea, Bondi 2016.
Bondi's Sculpture by the Sea,  20 Oct – 6 Nov,  2016
Late Spring in the Southern Hemisphere brings warm weather to Sydney and its annual sculpture festival at Bondi Beach, now celebrating its 20th year. The picturesque coastline for 1.4 km between Bondi and Tamarama is transformed into the world's largest annual free-to-the-public outdoor sculpture exhibition. More than 100 sculpture works by Australian and international artists are being showcased this year, including artist representation from Asia, Europe, Middle East, New Zealand, South America, UK and USA.
Sculpture by the Sea has never been curated to a theme and would continue to support the artist's right to freedom inventing their own universes "inclusive of all modes of sculpture, demonstrating sculpture's history and development", founding director, David Handley said. Since its inaugural show in 1997, 'Sculpture by the Sea' has inspired 1168 artists to create more than 2000 sculptures.
Some sculptors tend to think of their creations as 'breathing', and I'm sure their sculptures would be responding to the vibrancy of this iconic location. The sculptural walk will be running from 20 October – 6 November. Also shown are images from Cottesloe 'Sculpture by the Sea' which runs in Perth in early March.
Yumin Jing's 'Travelling Bag' 2016
Johannes Pannekoek with his winning work 'Change Ahead'.
 Photo: Steven Siewert
Johannes missed the deadline to freight his work from Perth to Sydney so he loaded it onto a trailer and drove it 3297 km across Australia to Bondi. His effort was rewarded as Change Ahead, a curvaceous piece made of rusted corten steel, has been named winner of the $60,000 Aqualand Sculpture Prize at Sculpture by the Sea, 2016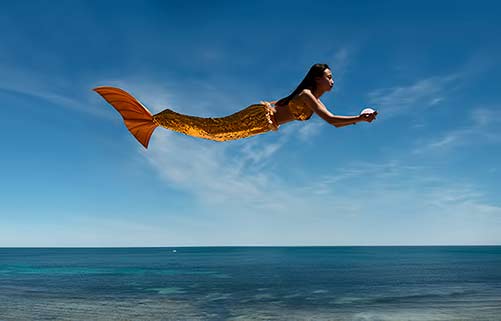 'Flying Over Venice' – Li Wei,
Sculpture by the Sea, Cottesloe, Perth 2016. Photo Li Wei
'Celestial rings I' by Inge King
Sculpture by the Sea, Bondi 2016
Tony Davis, 'Manscape'
Sculpture by the Sea, Cottesloe 2016. Photo Clyde Yee
Karen Macher Nesta, 'Sea Sponges',
Sculpture by the Sea, Cottesloe 2016. Photo Jessica Wyld
R.M.RonGomboc – 'From The Beginning To Eternity'
Sculpture by the Sea, Cottesloe 2016  Photo – Jessica Wyld
Peter Lundberg, 'Open'
Sculpture by the Sea, Bondi, Sydney 2015. Photo Gareth Carr
Koichi Ishino, 'Wind Blowing',
Sculpture by the Sea, Bondi 2015. Photo Gareth Carr
Vince Vozzo, 'Moon Buddha'
Sculpture by the Sea, Bondi 2013. Photo Clyde Yee
 'State of Square' by Fatih Semiz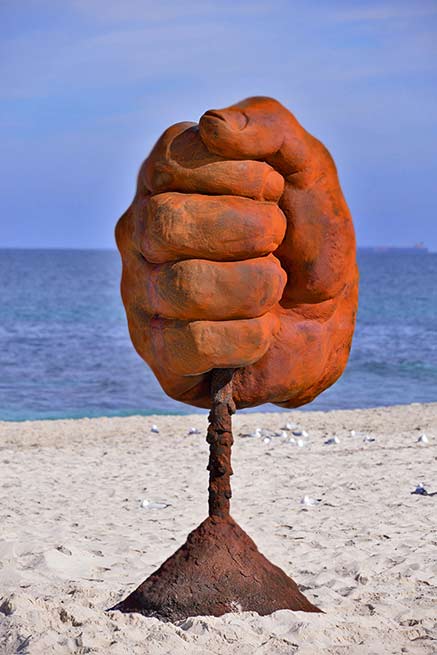 Norton Flavel, 'Dust' 
Sculpture by the Sea, Cottesloe 2016. Photo Clyde Yee
Arissara Reed, 'Acoustic Chamber'
Sculpture by the Sea, Bondi 2015. Photo Clyde Yee
'Tortoise' by  Mark Swartz, Reuben Solomon, Charmaine Tung
Sculpture by the Sea 2011
'Taking Leave' by Peter Tiley
Sculpture by the Sea, Bondi 2008
Ayad Alqaragholli, 'Embrace'
Sculpture by the Sea, Cottesloe 2014. Photo Jarrad Seng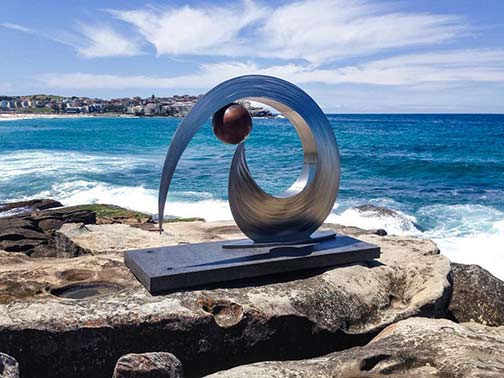 Ben Fasham, 'bjf13′
Sculpture by the Sea, Bondi 2015. Photo Clyde Yee
Benjamin Storch, 'Undulation'
Sculpture by the Sea, Cottesloe 2016. PhotoClyde Yee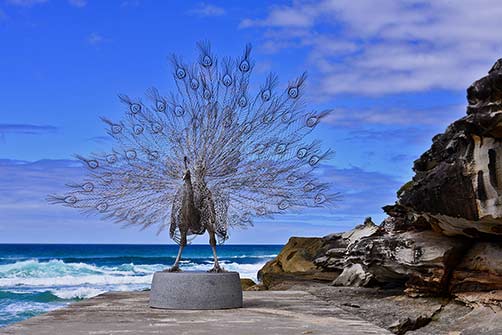 Byeong-Doo Moon, 'Our Memory In Your Place'
Sculpture by the Sea, Bondi 2014 – Photo Clyde Yee
Ben Juniper, 'Ghost Gum'
Sculpture by the Sea, Cottesloe 2013. Photo Jarrad Seng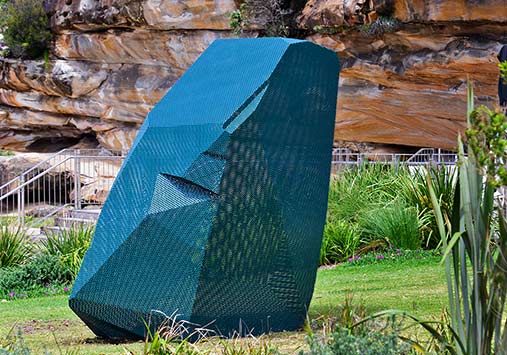 Masayuki Sugiyama, 'Eyewalk Rock'
Sculpture by the Sea, Bondi 2014. Photo Clyde Yee
Byung-Chul Ahn, 'Life Reflection xx #1′
Sculpture by the Sea, Bondi 2013. Photo Clyde Yee
Margarita Sampson, 'Voyagers I & II' 
 Sculpture by the Sea, Bondi 2015. Photo Clyde Yee
Chris Bailey, 'The Majestic'
Sculpture by the Sea, Cottesloe 2014. Photo Jessica Wyld
Dale Miles, 'Parallel Thinking Space'
Sculpture by the Sea, Bondi 2015. Photo Clyde Yee
Deborah Redwood, 'Noah's Arc'
Sculpture by the Sea, Cottesloe 2016. Photo Clyde Yee
Elyssa Sykes-Smith, 'A shared weight' wood block sculpture
Sculpture by the Sea, Bondi 2013. Photo Jarrad Seng
Ewen Coates, 'Multiverse',
Sculpture by the Sea, Bondi 2013. Photo William Patino
GhostNets Australia, 'Ghost Net Crocodile'
Sculpture by the Sea, Cottesloe 2013. Photo Jarrad Seng
Hilde A. Danielson, 'Upside Down Again'
Sculpture by the Sea, Cottesloe 2013. Photo Jarrad Seng
Johannes Pannekoek, 'Convolution'
Sculpture by the Sea, Cottesloe 2012. Photo Clyde Yee
'Dearest' by Margarita Sampson
Peter Parks-AFP/Getty
Keizo Ushio, 'Oushi Zokei Gate To The Beach',
Sculpture by the Sea, Cottesloe 2016. Photo Jessica Wyld
Koichi Ogino, 'Camel Country 14′
Sculpture by the Sea, Bondi 2014. Photo Ian Sanderson
'Mountain Air – Circles'  – Koichi Ishino
Photo Clyde Yee
Lubomir Mikle, 'p.o.p.'
Sculpture by the Sea, Bondi 2015. Photo Clyde Yee
Lucy Humphrey, 'Horizon'
Sculpture by the Sea, Bondi 2013. Photo Jarrad Seng
'Many Many' – Stephen King Clyde King
Petra Svoboda, 'The commodification of imagination',
Sculpture by the Sea, Bondi 2012. Photo Brett Winstone
'Prelude to the Waves' by Fatih Semiz… powder coated steel
Sculpture by the Sea 2009
Photo – Shyaman
R.M.RonGomboc_'Cycle Of Life – Longevity'
Sculpture by the Sea, Bondi 2015. Photo Clyde Yee
'Sogana' by Michael Le Grand
photo by Shyaman
Tim Macfarlane Reid, 'One Door Opens'
Sculpture by the Sea, Cottesloe 2015. Photo Jessica Wyld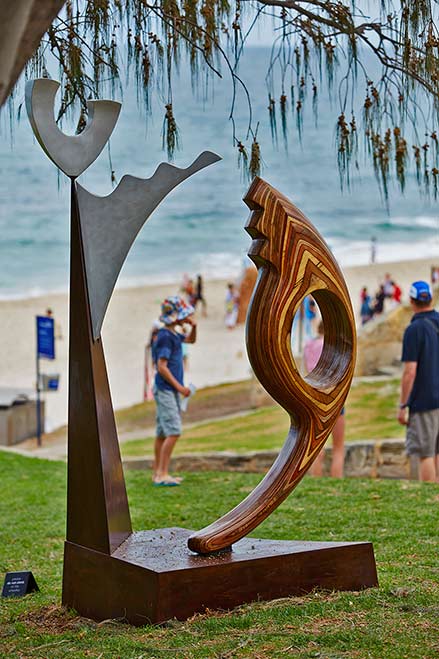 Tim Macfarlane Reid, 'Sea Change'
Sculpture by the Sea, Cottesloe, Perth 2014. Photo Jessica Wyld
Yolande Rose, 'Lithoid'
Sculpture by the Sea, Bondi 2015. Photo Clyde Yee
–