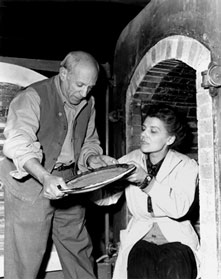 Pablo Picasso was undoubtedly an extraordinary 20th century painter but  I also feel that in the  field of Abstract Impressionism his ceramics were also remarkable. All of Picasso's ceramics were produced at the Madoura pottery run by the Ramie family in Vallauris in the south of France. Whilst on holiday in Golfe Juan with Françoise Gilot in 1946, Picasso visited the annual pottery exhibition of local crafts in Vallauris, where he met Suzanne Ramié, who invited him to visit her atelier, which she had restored from one of the town's old abandoned potteries. The same day Picasso produced several pieces of pottery there. He went on to create more than 3,500 plates, vases, pitchers and other forms – hundreds of which were turned into edition pieces.. Edition Picasso ceramics were made in multiples of 25 to 500.
You don't have to have deep pockets or be a founding partner of Google to pick up your own Picasso. Ceramics by the artist can be bought for as little as £600 to £1200. At the recent Picasso Ceramics: The Madoura Collection auction at Christie's on 25-26 June, 543 Lots were on offer and the whole collection was sold. Many ceramics which had remained untouched since they were created were on offer and  pre – sale expectations were exceeded by up to four times during the auction. I dropped a video to highlight the size of some of the pieces followed by some  images of items that were sold.
Picasso Ceramics: The Madoura Collection auction at Christie's
'Bouquet'  by Pablo Picasso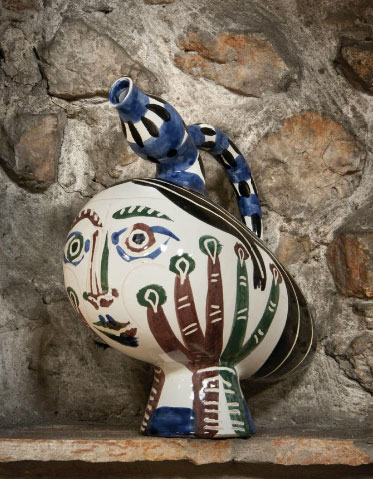 'Canard pique-fleurs' – Pablo Picasso
'Grand vase aux femmes voilées' — Pablo Picasso
'Pichet-espagnol'   — Pablo Picasso
'Personnages et têtes'   — Pablo Picasso
Picasso – 'Personnages et têtes' 1956
White Enamel with 7 figures in black
'Colombe brillante' by Pablo Picasso
Estimate – $4000 – 6000
Realized – $34,850
Abstract cubist 'Grande tête de femme au chapeau orné' by Pablo Picasso
( Large Woman's Head with Ornate Hat ) – 1964
Ceramic plaque – 'Neptune'
This was one of the more inexpensive pieces that went for $3700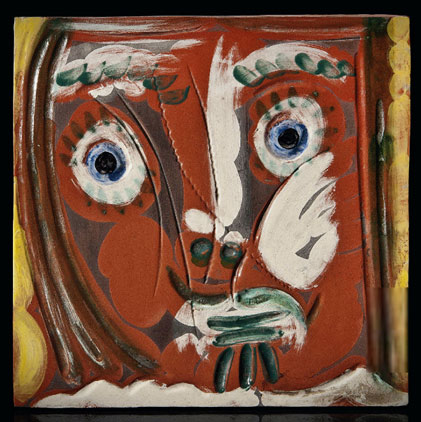 'Visage de femme' – Pablo Picasso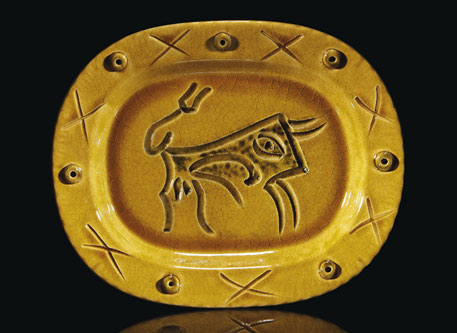 Ovoid plate with bull motif – 'Taureau gravé' – Picasso
Pair of 'Femme' pitchers
 Madoura turned pitchers of white earthenware clay with decoration in engobes; glazed inside.
'La-danse' – Pablo Picasso
1957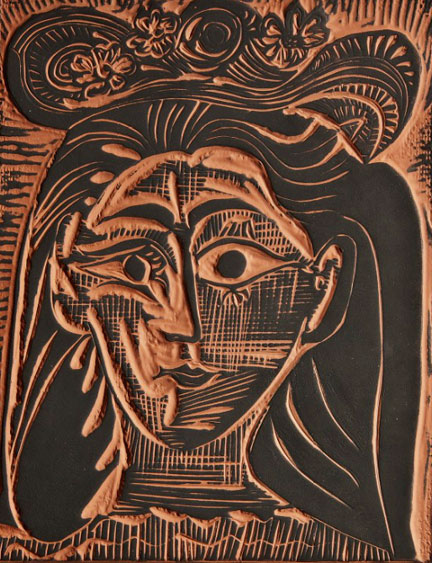 'Femme au Chapeau a Fleurs', (Woman with Flowery Hat)
1964
 Red earthenware clay rectangular plaque
'Cavalier Faun', 1956
A ceramic round dish of white earthenware clay relief depicting a faun on horseback surrounded by a relief border of smiling, circular faces.
Terracotta plaque – 'Visage-aux-cheveux-bouclés' by Picasso
'Visage No 59' – Pablo Picasso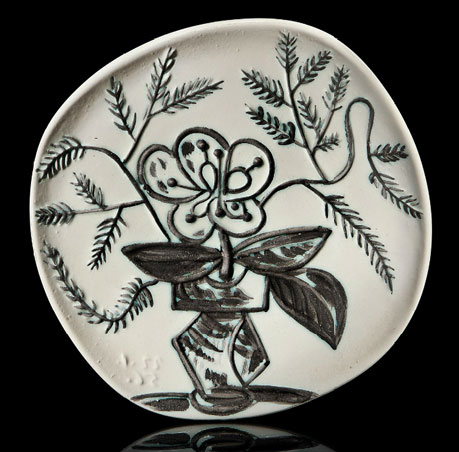 'Vase au bouquet' – Picasso
'Hibou blanc sur fond rouge' -(Owl white on red background) — Pablo Picasso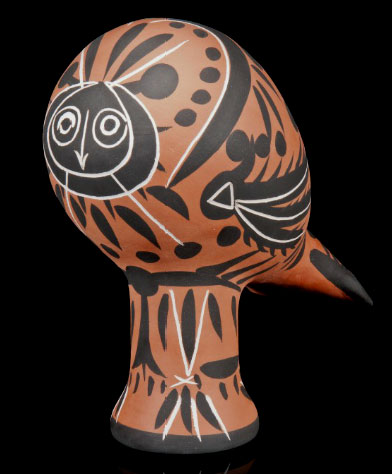 'Hibou' – Pablo Picasso
'Pichet aux arums' – Pablo Picasso
'Gros oiseau visage noir' ( Big bird black face) – Pablo Picasso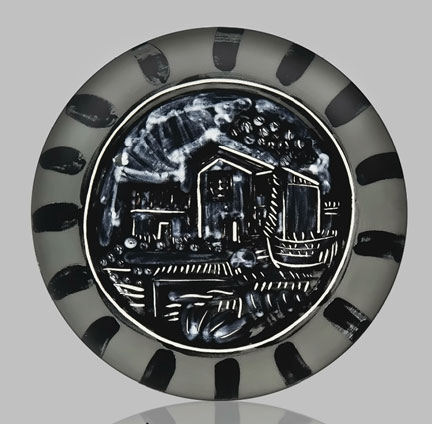 'Paysage'  – Pablo Picasso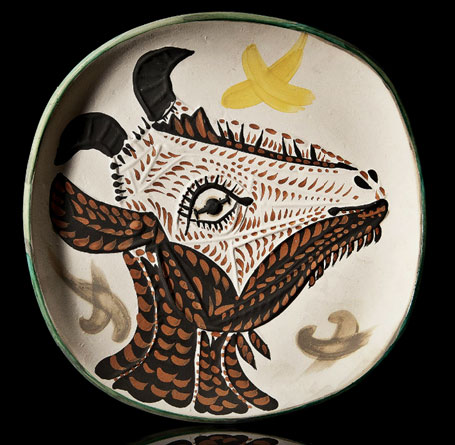 'Tête de chèvre de profil' (profile goat head) – Picasso
'Poisson bleu' – Pablo Picasso
'Visage d'homme' – Picasso
Owl brown, black – Picasso
Large handled vase with bull fight – Picasso
Arena' – Picasso
Picasso vase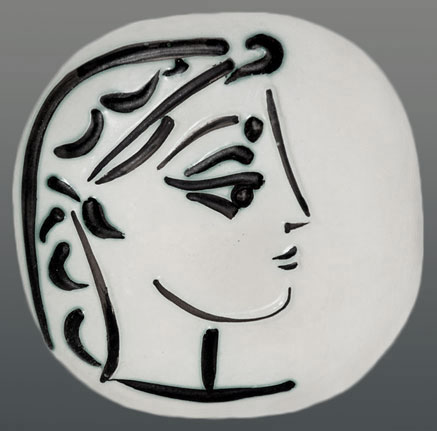 'Jacqueline's Profile', Pablo Picasso
1956
Somewhat hieroglyphic in nature, this depiction of Picasso's second wife Jacqueline conveys her as strikingly beautiful; with decorative hair, large eyes, and triangular nose, she brings to mind an Egyptian pharaoh. Picasso's dark brown lines pop against the glossy ivory background, further highlighting Jacqueline's iconic profile.
Some other Pablo Picasso works :
'Colombe de paix' -(Dove of Peace) – Picasso
A glass work by  Picasso evoking both the symbolism and imagery of peace through this brilliantly crafted dove relief. Its bright, Lapis Lazuli Blue coupled with its glimmering luminescence when held to the light, allows this bird to truly take flight.
'L'Attente' (The Wait), Picasso
1966
 This work is typical of the early Parisian subjects that contributed to Picasso's paintings.
( Masterworks Fine Art )
'Portrait of Marie Therese'  – Picasso
1937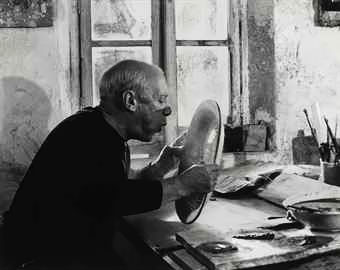 Pablo Picasso, Vallauris
1965
( Photo – Edward Quinn )
–