Knead, bend, roll, throw, twist, pound, bake, beg, weep ….  just a few of the myriad manipulations at one's disposal to innovate with clay. This amazing substance from the earth is a loyal servant of the ceramic arts. Forever challenging its creator to find the right aesthetic balance and appeal. Sometimes it only takes a slight adjustment to the form for it to transmute from ordinary to brilliant. Great pieces are sometimes born in the conceptual stage, taking shape with a sketch or just a casual idea. Other times it's not till the final bake that vague concepts crystallize into a rewarding result. Featured below is a collection of pieces from the studio cauldron of coercion, creativity, inspiration, adaption and sublimity; selected for their originality in form, surface and design, with a mixture of both complex and simple styles, past and present.
 Royal Crown Derby vase – 1882
Wig Vase by  Designer Tania D'Cruz
Porcelain Cup – Ann Van Hoey, Belgium
twin handled fishes motif vase – Adrian Brough, UK
 Arek Szwed figurines
Alezja Laboratory of Ceramic Arkadiusz Swede
 Carved and wood fired vase – Mark Smalley
 Egyptian Revival Art Deco gilt trimmed Vase with Egyptian motif –  Noritake, Japan
 Peacock Vase – 1920's Art Deco
 Banana Bud Vases – Jonathon Adler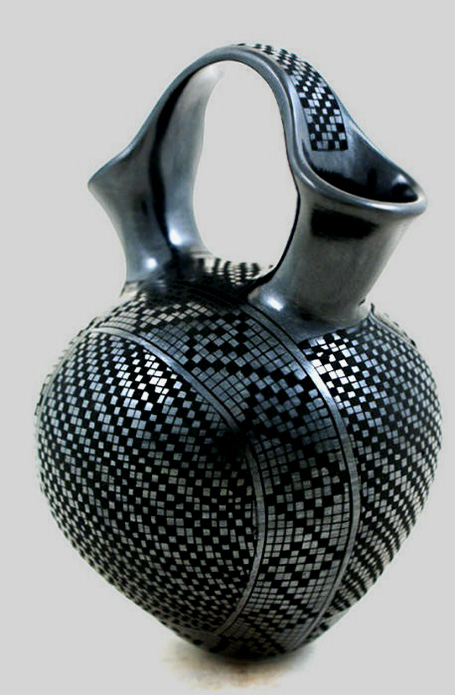 Checkered wedding vase by Lydia Ponce
Graphite black on black cuadritos
Forestware by Lauren Kaplan
Cape Town – South Africa
 Minimalist wheel thrown bottles
Blue Room Pottery, etsy
 The Living Art Range – tripod planter
Light From Africa Foundation
 Terre vernissée – Christine Zablocki and Sébastien Lopes
terresdeprovence.org
 Candlesticks with carved surface – Muddy Creek Pottery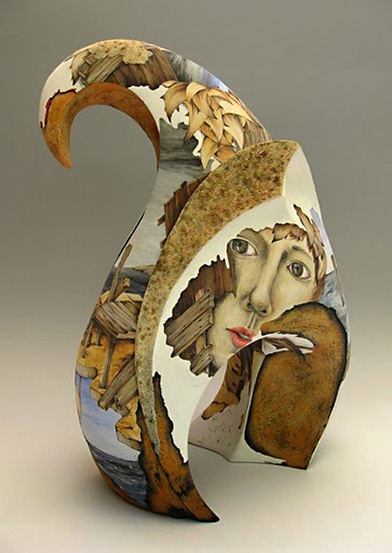 Ceramic sculpture – Julia Feld
 Elephant handbuilt with coils – Klaywerk Studio
 'Alien Mardi Gras' – Ricky Maldonado
2005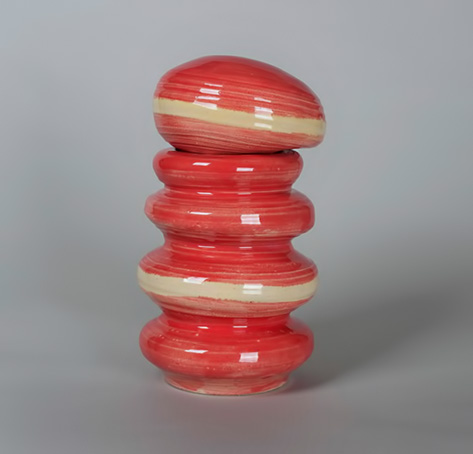 Beret Storage Jar – Helen Frik, Nl
Wall Art Mosaic –  'Steely Abstraction' – Lynn Adamo
 Mixed media wall panel. Granite, obsidian, basalt, galena, vintage Italian and Mexican smalti, beads, Bullseye glass, aluminum, hand made ceramic coil and wire on handmade tile substrates
Wall Planter by Earth Magic with celtic knot motif
 Jonathan Middlemiss, UK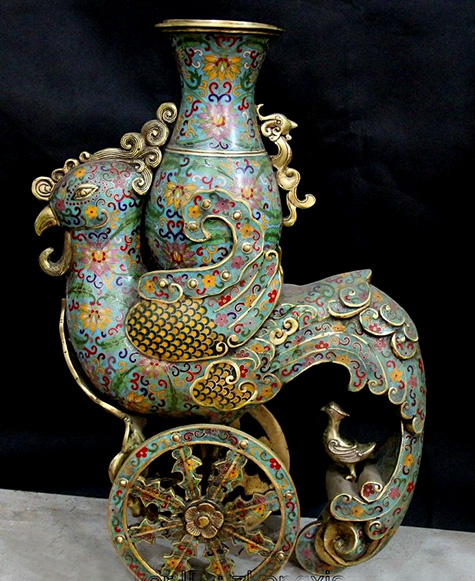 Chinese Cloisonne  Phoenix fung hwang Statue
Height 20 "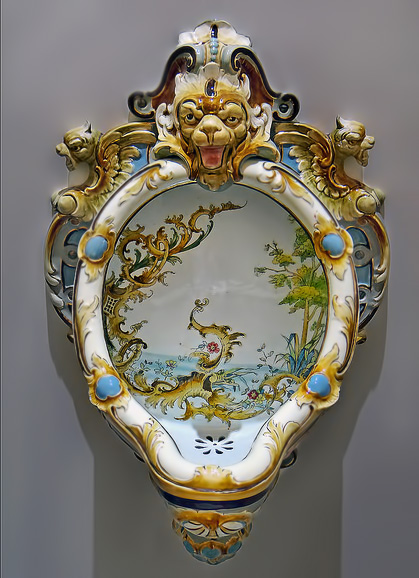 Biennale d'architecture 2014, Venice, Italy
  Urinal (Vineta model) in neo-baroque style mixed with neo-renaissance – Ditmara Factory Czech Republic
1895
French Elchinger Mid-Century folded vase – matt and volcanic glaze – 1950's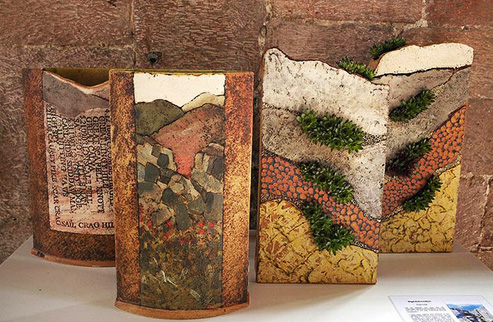 Potfest display 2014 – Nigel Edmondson
photo – Christine Cox – flickr
Ceramic guinea fowl – Gabrielle Lindemann
Provence Region, South of France
Gerd Rohling – Nothing For all
Gallery- piet hein eek
 Contemporary ceramic sculpture – Goro Suzuki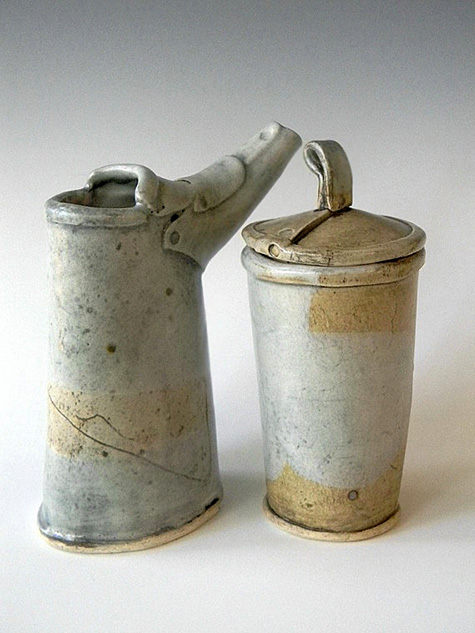 Cream and Sugar set – ibcooper – etsy
 Joelle Gervais— ' La balançoire'
photo Claude Lieber
 'My sculptures are unique. They are connected with the world around me, the fragile trace of an ephemeral presence, a bridge between my emotions and other people's eyes, make an intimate view of the world. A time, a meeting, a situation, a look are my sources of inspiration.'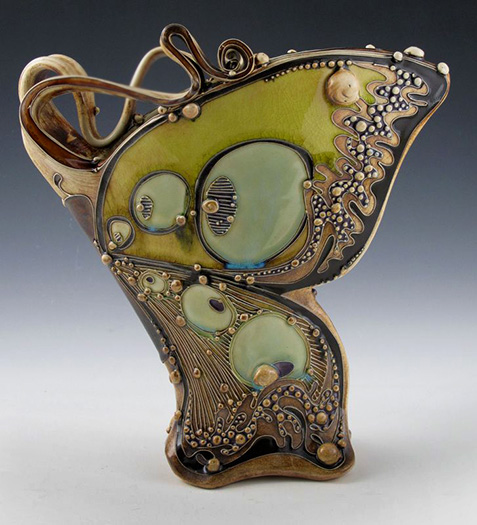 Neo Nouveau vase by Carol Long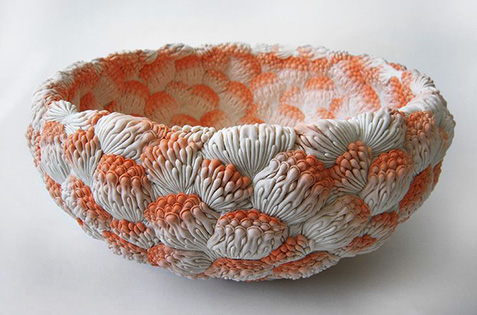 Hitomi Hosono – tropical flowers are the inspiration for her carved porcelain sculptures
designbloom
Vessel with stopper – Takashi  Ikura
2008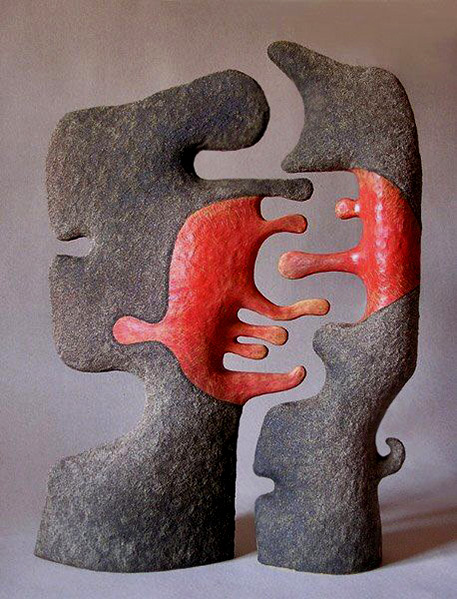 Ivana Batalo, Belgrade
  Jean Paul Landreau – 'Humanoides '
photo – Christine Cox – flickr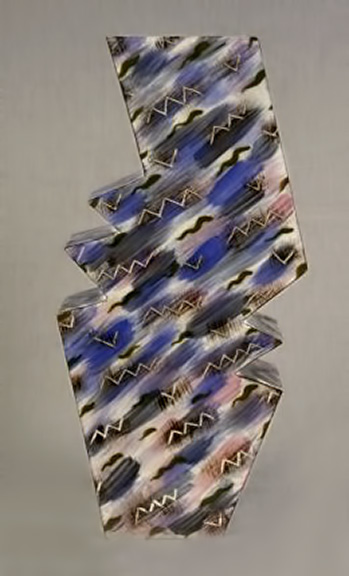 Earthenware vase, geometric shape with abstract pattern by  Jenny Orchard
 John Ward
 Coil built stoneware vessel with black glaze and incised sgraffito decoration.
Larry Halvorsen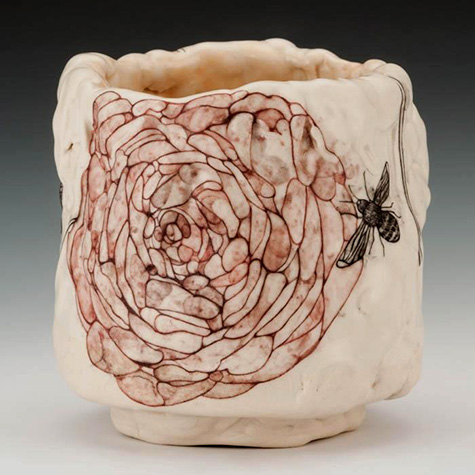 Lauren Gallaspy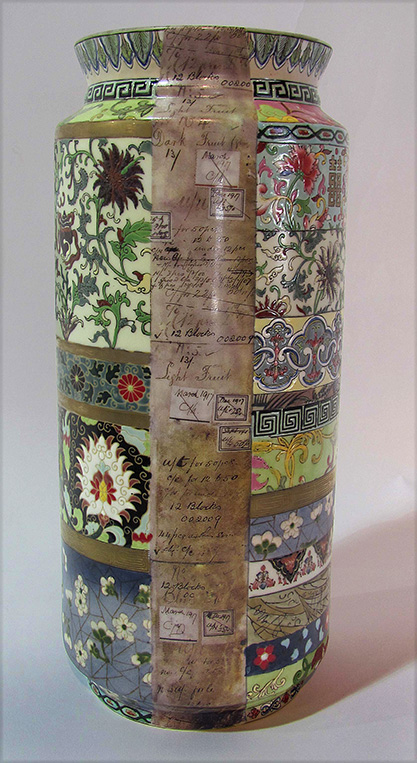 Fabien Jouvin floral and script decorated Chinese vase
14.inch height
Hap Moore Antiques
Modern vase designs made to look like stitched leather. They are actually made from high quality porcelain – Madieke Fleuren
Silhouette Vase – Yuko Tokuda
Carved marble vase – Sonaarts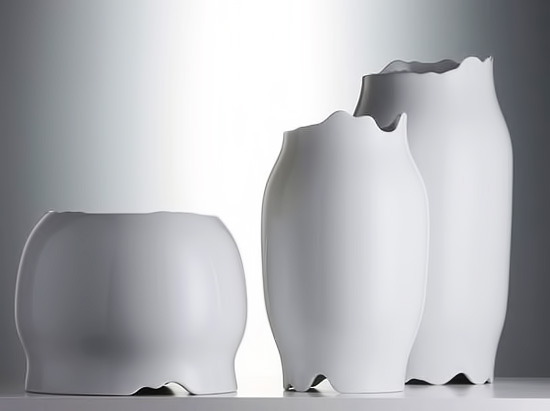 Patricia Urquiola – porcelain vases
Unlimited Edition – Pieke Bergmans – 2007
pgallery
 Porcelain Cabbage bowl –  Anon Pairot design studio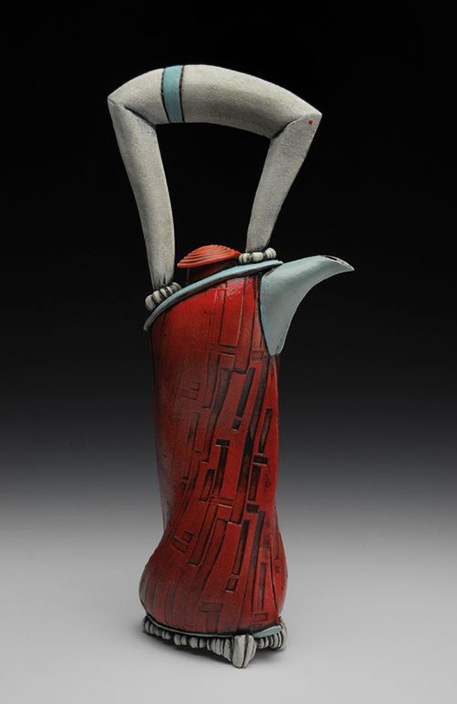 ' 57 Stretch'  teapot –  Robert Lawarre
 Rustic woodland ceramic spoon sculpture  – Jo Lucisted
 Jean Baptiste and Séraphin Giordan designed ginger jar for Serves, France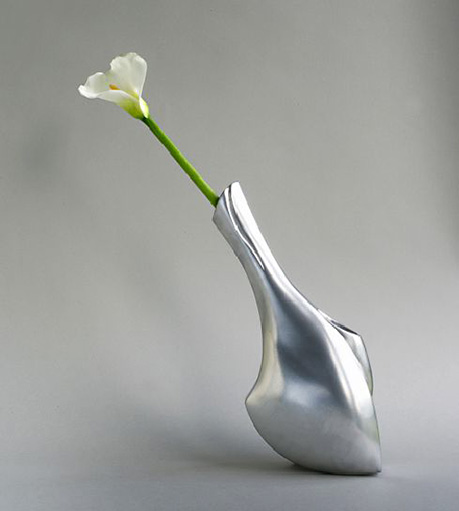 Tilting Vase ' -Intelligent vase designed by David Sweeney begins to 'lie down' when it needs water, then stands again when water is added to the side spout.
' Tilting Vase ' -Intelligent vase designed by David Sweeney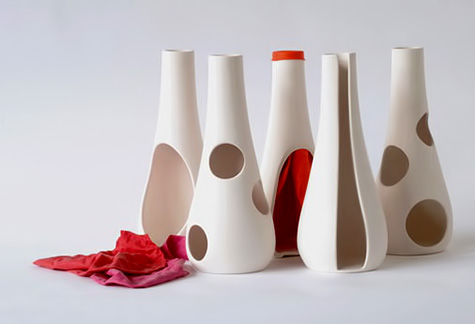 Modern vases with balloon inserts. –  German designer Anika Engelbrecht
 Anika Engelbrecht swelling vase
 The 'Proust'  limited edition miniature armchair –  hand painted ceramic ware by Alessandro Mendini, and produced by superego
designbloom
'Hula Hoops' vase –  Giopato & Coombes – Can be split to create a wine bottle cooler
Stig Lindberg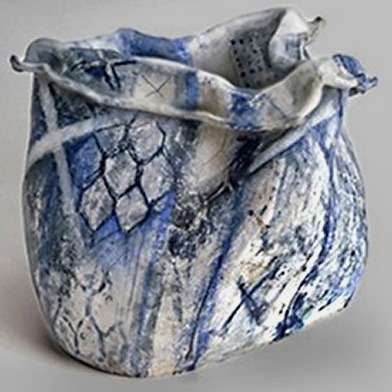 'Walk Streets'
A hand sculpted, hand painted stoneware vessel by Brenda Holzke
 Large garden planter
Water Features Direct,  AUS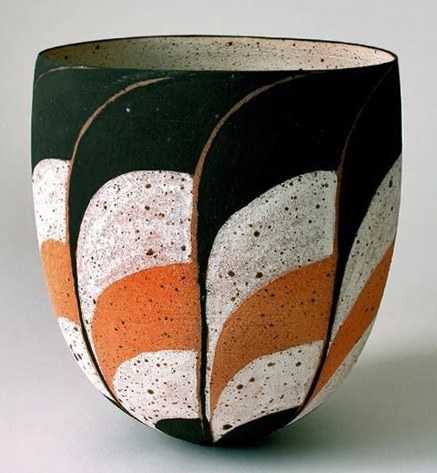 Beate Anderson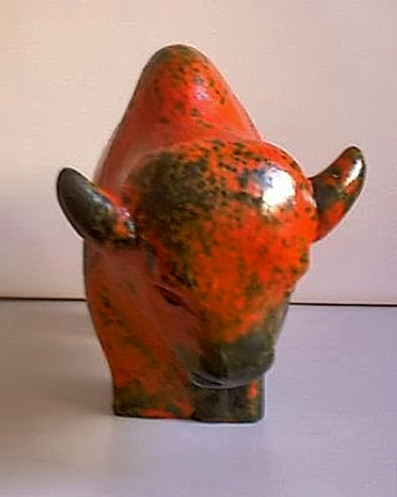 Big Bull – Gambone
50's
'Inner Space' – Erin-etsy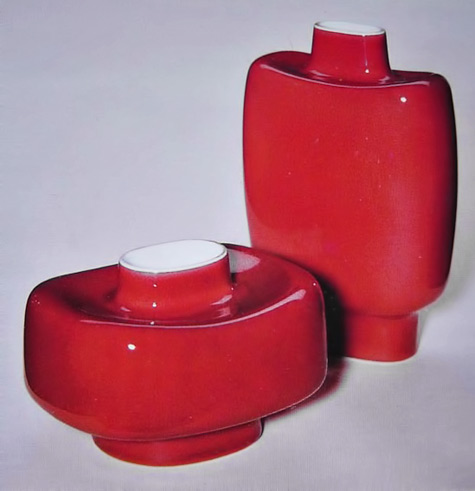 Crimson red glaze vases – Fance Frank &  Eliche Guy
Philip Jackson—'Un Ballo in Maschera'
Louis Gosselin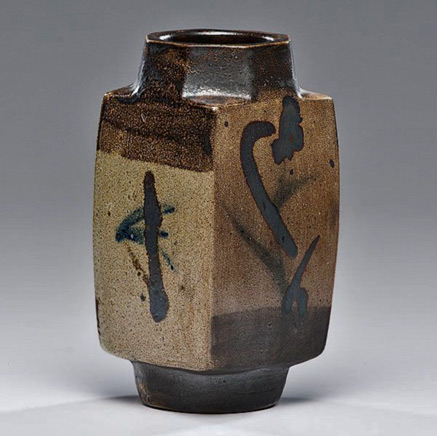 Hamada Shoji
–