More diverse permutations of that flexible, versatile substance known as clay, displaying a myriad of possibilities for the ceramic forms. Clay adaptions that are innovative, original and captivating.
Anne James – ceramic sculptures
www.studiopottery.co.uk/
"My ideas come from many sources including the traditions of pot making which use burnishing, African, Native American, Indian and Mediterranean cultures.  My interest in Ethnic textiles has influenced the surface decoration."
Lisette Savaria in collaboration with Guy Elliche
Atelier Modplatre
Peter Ilsley ( 1932-2014 ) – sliver and tan crystalline glaze
Studiopottery.co.uk
Ilsley's porcelain pots were sprayed and/or dipped with zinc silicate containing zinc and silica which are often but not always, "seeded" with titanium dioxide at 1300°centigrade to form the nuclei of the spectacular flowers which then develop organically in the glassy magma during a soak between 1100°c and a 1000°c on the cooling cycle lasting up to five hours. The peak temperature is critical – a few degrees too much will cause most of the glaze to run off the pot.
Carstens Atelier 7088-25 – designed by Gerda Heuckeroth in 1968, prehistoric style design
20thcenturyforum.com
Green and Gold spray series – Angela Mellor
Bone China and Paperclay
"My work investigates the translucency of bone china and its potential for the transmission of light."
Alejandrina Cappadoro, Argentina
Annabel Faraday
Anne James
'Ready for Rain'  –  Melanie Ferguson
Barbara Chadwick vase
"My pieces often incorporate highly decorative surfaces which are inspired by nature, graphic design and textiles but I can find inspiration anywhere really. I work both intuitively and intellectually, trying not to design too much ahead of time. Much of my current work reflects an ongoing fascination with collage."
Mudfire Gallery
Folded stoneware dish – Beate Anderson
Strandstræde Keramik
Copenhagen
Boyan Moskov bottle
Carol Pearce
Contemporary Shiro Hagi Chawan by Shibuya Deishi
'Green Lantern' by Nudelab
The lamp extends as an organic horn-like shape with a plant at the top of the base. The GeenLantern lamp also have energy-efficient strip of LED lights. The low-energy bulbs enhance the appearance and also emits a warm luminous glow which helps the plant grow by supporting the photosynthesis process of the plant.
DesignRulz
Dish by Tapio Wirkkala,- Finland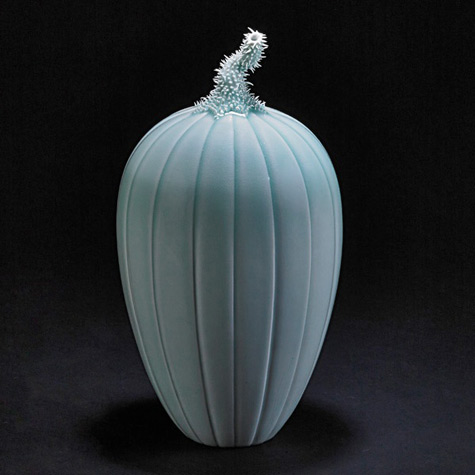 Cliff Lee Porcelain "Prickly Melon" vase in celadon glaze
liveauctioneers
Etiyé Dimma Poulsen
'Amour' – exhibition in St Antonin Noble Val
raku31.artblog.fr
Wood and ceramic sculpture – 'Feathered Friend '— Jan Jacque
Christine McKay Lidded chick a dee pot
Lady figurine in red – Ellis Zijlstra, Nl
Nippon Mug
Qing vase early 20th Century
Hans Vansgo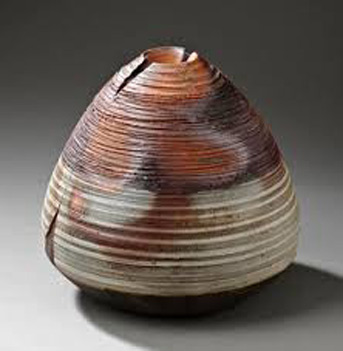 Eric Astoul, France
'Bethesda House' – Lesley Baker
Amphora Art Nouveau vase
María Oriza Pérez
Galería de Arte Rodrigo Juarranz
Vessel with rich texture and palete – Melanie Ferguson
Melanie Ferguson
Biomorphic abstract bottle – Mia Tyson
Source ( brown ) – Patricia Volk, UK
'The River' – Ralph Eberlin, Australia
1992
Shapiro Auctions
'Rising Moon II' – Jeff Mincham
Australia
1999
Elaine Hind
Textured abstract sculpture – Alex Bernstein
Robert Lawarre –  lidded box
robertlawarre.com
Shae Bishop sculpture – earthenware, glaze, nichrome wire, polyester string
Michael Andersen Denmark – A Modernist Tribal Ewer Vase
Tri Lukne
'Elephant With Crows' – Ellen Jewett Sculpture
creaturesfromel – etsy
Brimming  –  Gareth Mason
7 inches height – England 2009
Grayson Perry
Wu Tong, China
One of a pair of Chiinese crackleware vases
19th century
1stDibs – Nick Brock Antiques, Dallas TX
–