The trusty pot has done a sterling job at serving humanity for a long time. An enduring symbol of sustenance and one of the earliest forms of art in the home, especially in the poorer households. Whether it was just a simple functional form or had decorative designs and colourful glazes, it reflected artistry. Both the Chinese and the Japanese believed the digestive system was ruled by the Earth element, so it was a natural symbiosis to use ceramic wares for serving and consuming foods and beverages. Also for cooking it was the most favoured. They still believe that for preparing medicinal herbs, a plain unglazed pot is the most ideal.
This post features a collection of functional pieces, centred around  domestic food preparation, storage  and presentation.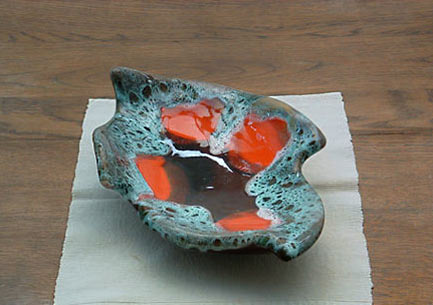 Vallauris Lava Bowl
Stoneware Basket~ Brenda Holzke
Royal Worcester Porcelain Basket
Berry Bowl – Rena Hamilton
Bowls with decorative birds-  Laura Zindel
Casino Ware Art Deco Covered Bowl
Crystal Nolfo Brown Jar
Deep Platter
Fezile Ntshofu
Frankoma fruit bowl
Box1 – John Preus – Thrown, altered, and assembled porcelain.
High fire reduction glaze and ceramic stain.
 Mid Century Modern Coffee Pot and Creamer Set East Germany 1950s
( GoGoBerlinette – Etsy )
Sarah Dudgeon mugs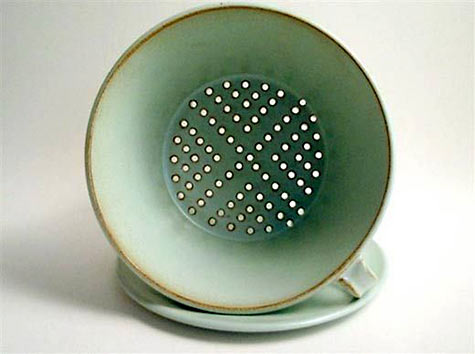 Sylph Baier – Ceramic Collander
Carlos Versluys – 2005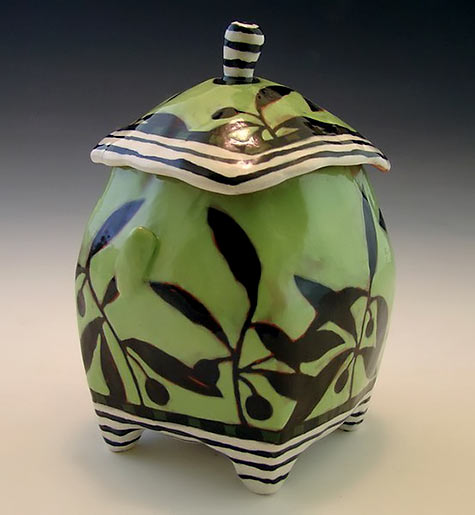 Lidded Green Jar Number 7 by Nancy and Burt
Vintage Danish Pottery  Stoneware Handled Bowl
Marianne Starck,  Bornholm
Jessica Lamoy
Pitcher by John Leach, eldest grandson of Bernard Leach
Kevin Warren ceramics – Blue Bird Medium Stewpot
( Bircham Gallery )
Korean Vessel  – Goryeo Dynasty, 13th century
Jennifer Allen Tumbler
( Schaller Gallery NY )
Elmer Taylor- Medium Bowl
( Schaller Gallery NY )
Emma Taylor  – Oval Bottle
Stoneware with multiple glazes
Leaf & Berry Jar © 2011 Karen Newgard
Large Tall Jar – Leslie Thompson
Earthenware Coil Vessel
Titled, "Home is where the heart is"
TaraCotta Pottery Studio, Tara Qua
Nakano Taku
Potluck casserole – Susan Thompson
Mid-Century Modernist Salt And Pepper Shakers
( Ruby Lane )
Sake bottle with turquoise glaze interior – James Whiting
Silvie  Granatelli – Cream Pitcher with swan handle.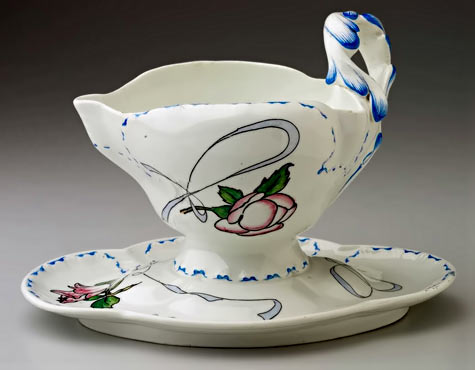 Sauce boat, from "Fleur et Rubans" service
Shane Norrie wheel thrown Raku lidded vessel
Pitcher – Joanna Howells at-Studiopottery.co.UK
Ship Sinkers Ice Bucket –  Mariko McCrae
Square Plate-•-Daphne-Hatch
Vesna Vidrih
Ewer  – George Logan ; Wedgwood – 1905
Minneapolis Institute of Arts
Ian Dowling bowl
Vintage Royal Dalton Bunnykins Cereal Bowl
This is identical to the first piece of ceramics I ever owned. It turned up for my 3yo birthday. Is this where my interest in ceramics began?
Vallauris Pitcher
Bottle and tumblers
"Handmade Ceramic Bowl- Bunny Rabbits Cereal Bowl" by abby berkson
( Artsconnected.org )
Karen Burk  – SERVING DISH: LILIES ON YELLOW
porcelain with underglaze decoration
( Gallery78 – sold )
Teapot-with-birdprints   SUSIE JENKINS
Victor Greenaway – Bowl
Highly decorative domestic ceramic bowls – Katrina Moye
Tall sgraffito bird jars  – Karen Newgard
West German Ruscha Jug
( beetle2001cybergreen  Flickr )
–