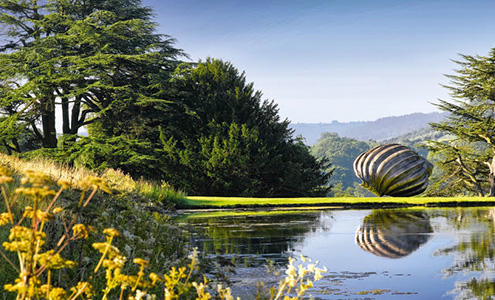 Marc Quin – Spiral Of The Galaxy – 2013
Chatsworth House Beyond Limits
I wasn't surprised at all to see a large Baltasar Lobo contemporary sculpture blending so naturally into a typical English landscape of gentle rolling green hills, featuring a commanding stately home in the backdrop. The irresistible dynamic of historical and contemporary seems to combine flawlessly, despite being diametrically opposed. The contrast of the grounded, omnipresent, symmetrical facade of Chatsworth House makes the abstract contemporary sculptures look even more edgy and alive. Being a devotee of fresh air, I'll always embrace the opportunity to visit an outdoor gallery in large open spaces, especially because of the extra perspectives that are created for the artworks. The Duke and Duchess of Devonshire has opened the garden gates again for the 9th annual 'Beyond Limits', which has successfully maintained its status as one of the premier Modern and Contemporary sculpture exhibitions in the UK, bringing together a fascinating collection of monumental sculptures from both international and local artists, and providing the opportunity for emerging talent to be displayed. It is currently running up to the 26th October, 2014.
One of the standout pieces for me this year is Lori Parks "Silk Weaver". A fluid cascade of expansion and movement emerging from a hidden dimension. Also Giacomo Manzù's "Grande Cardinale" seems to own the surroundings it is presented in, with an air of austerity being revealed and highlighted by its sober monochrome appearance replacing the usual resplendent pomp. The stark brilliance of Lynn Chadwick's "Couple On A Seat" is worthy of a mention along with the mandala like " Construct II " by Antony Gormley. Curation for the event has been managed again by Sotheby's.
Monumental sculpture by Alice Aycock – 'Hoop La'
2014
Antony Gormley's 'CONSTRUCT II' on display at the Inner Courtyard of Chatsworth House
2014
 Aristide Maillol   'LA RIVIÈRE' 
Beyond Limits – 2014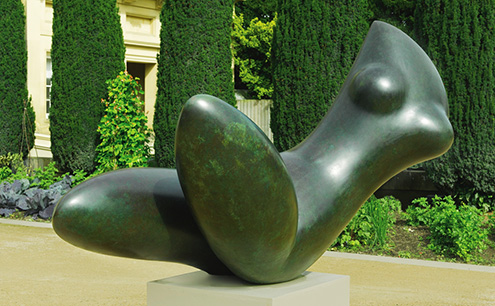 Baltasar Lobo — 'PIÈCE D'EAU'
Beyond Limits – 2014
 Beverly Pepper— 'CRISPINA SENIOR I'
Beyond Limits – 2014
 Bill Woodrow – 'Rockswarm'
Beyond Limits – 2014
'COUPLE ON SEAT' –  Lynn Chadwick
Beyond Limits – 2014
 Christopher Le Brun — 'Maro'
Beyond Limits – 2014
The 'wing' was throughout Roman and Classical epochs a timeless image of divine supremacy and preferment. Le Brun's marble wing streams out of the earth, towering above its viewers, five metres high, the strong and weighty marble adding testament to the wing as a symbol of strength and elemental power.
Eduardo Chillida – 'Estela a José Antonio de Aguirre'
Beyond Limits – 2014
Lori Park– 'SILK WEAVER'
Beyond Limits – 2014
 Giacomo Manzù –  'GRANDE CARDINALE'
Beyond Limits – 2014
Marc Quinn — 'BERMUDA TRIANGLE'
Beyond Limits – 2014
Zadok Ben David  – 'Exotic Tree'
Beyond Limits – 2014
  Xu-Bing— 'TAO HUA YUAN' — A lost kingdom utopia
Beyond Limits – 2014
The work takes its name from a fifth-century fable from the Jin Dynasty, narrating the tale of a fisherman who stumbles across an astonishing idyll after following a stream lined with vibrant peach trees . However, the fisherman, on attempting to return to the site with his fellow city-dwellers, fails to find it. Bing's installation recreates this fabled utopia using rocks, water, flowers and branches arranged like a traditional Chinese landscape painting. This story refers to the legendary land of Shambala or Shangrila, which can only been discovered if one has a certain level of merit.
 Info on Chatsworth Beyond Limits Sculpture Exhibition HERE
Sotheby's sales catalogue HERE
 Sculptures from previous 'Beyond Limits' exhibitions
 'DECLINATION' abstract sculpture by Tony Cragg – Chatsworth 2013
Photo Matthew Bullen
Dancers – Fernando Botero
Chatsworth Beyond Limits – 2009
  Juan Munoz-(1952—2001),- 'Dos Figuras Con Mano En El Pecho'
Chatsworth 2013
'Marilyn Monroe'  – Richard Hudson
Chatsworth 2009
'
 Sitting On History 1′  by Bill Woodrow
 Marc Quin 'Planet'
Chatsworth
 'Tongue In Cheek' – Tony Clagg
 'Miu' – Nadim  Karam
' Cyclone Twist' – Alice Aycock
Chatsworth 2013
' Desert Sands '  – Nadim Karam
 Barry Flanagan – 'Nijinski Hare'
Beyond Limits 2012
 Barry Flanagan
Beyond Limits 2012
Photo- Rui Vieira
 'Frog With Fly'  – Richard Hudson
Chatworth 2011
Torsion II – Charles Hadcock
Chatworth 2011
Photography by Barnaby Hindle
Niki De Saint – Phalle Buddha – 2009
David Boardman – flickr
Chatsworth House interior
spinningmemories.blogspot.
Outdoor sculptures at other locations
 Lynn Chadwick – 'Two Watchers V'
Baltasar Lobo sculpture at Zamora Castle, Spain
Corpus Museum, Noord Hofland
Netherlands
Henry Moore Sculpture, Art Institute of Chicago, USA
'Jubilee IV'   —Lynn Chadwick
Lynn Chadwick originally began his career as an architect, but turned to sculpture after serving in WW2.
 Niki De Saint
 'Reaching Out Blue' by Jon Allen
David Haber  Torus – Polished stainless steel portal
 Garden sculpture –  Helen Sinclair
Frogheath Landscapes
 Roger Capron, France
 Paddy Malony – 'Twisted Sister'
Sculpture In Context 2010
Flickr – William Murphy
'Reclining Mother and Child'  – Henry Moore
1960 – 1961
 Minneapolis Sculpture Garden →
'Horn Player'
 Shona artist Tanyanyiwa Nyandoro  sculpture – 2011 –  Zimbabwe
Sculpted from Lemon Opal stone
Image from Guruve Gallery
Set sculpture for 1950 stage play Judith – Isamu Noguchi
Minneapolis Sculpture Garden
Allison Newsome – 'Lotus Head Rain Soaker'
Biomimicry Raincatcher Sculpture Embraces Horticulture series up to 15 Oct 2014
Blithewold Mansion Gardens and Arboretum   Bristol, Rhode Island, USA  see more here
–