A. Vautier gilt patinated bronze sculpture (circa 1890) with a bust of symbolist woman wearing a large headdress
Art Deco 1930's Germany Lady Figure Inkwell Signed Dep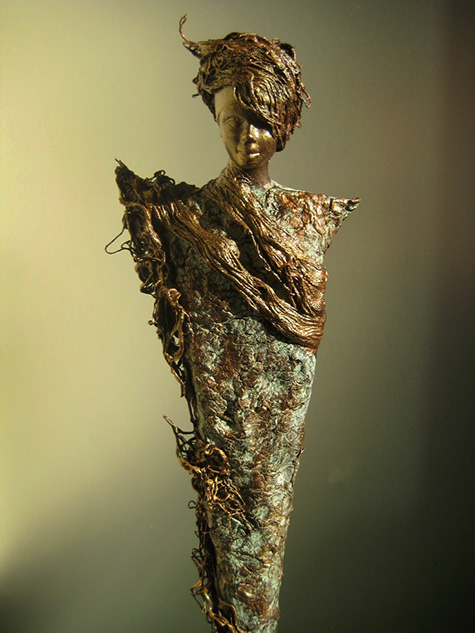 Powertex sculpture
Lene Clausen—MyArtSpace
Ceramic figurine of young Clarice Cliff
'I Dreamt Of Elvis' – Lisa Van Noorden
Large Dresden porcelain figure – 19th Century
30's Art Deco advertising statue
Berrocal Puzzle Sculpture – La Totoche
Mantiques Modern – 1stDibs
Beautiful Antique Japanese Kutani 城壁 Statue/ Okimono of an Important Woman and Her Dog
Bronze figure – Kieta Nuij – 'Iris'
'Inkeer' by Kieta Nuij
'Icarus' – Kieta Nuij
Two ceramic mannequins – Jazz Age Deco
Italy – Guido Cacciapuoti 'Maternita'
'Eternal Mother' – Anthony Quinn
Chinese antique figurine
German bathing beauty – Galluba and  Hoffman
Female bust
Atelier De Campagne, California, USA
Accompanied by her two dogs, a greyhound and a water spaniel, Diana, the goddess of hunting, reclines with her arm around a majestic stag.
Louvre, Paris
Windrush Gardens
These images are all copywriten and subject to all rules, regulations, and laws. You may not use unless previously approved!
" The Blue Bird " – Frank Cadogan Cowper
Victor Gutierrez – Carmen Sculpture
umbrellabella.blogspot
'Together Forever' – Simon Chidharara
'The sleep of sorrow and the dream of joy' —Raffaelle Monti
Toulouse statue
C.I.A. Manna, Porcelain "Danzatrice Orientale"
liveauctioneers – Kaminski
Weller Pottery- Jap Birdimal With Geisha created by Frederick Hurten Rhead
Unboxed Statue Of Liberty – 1885
'Ecstasy' – Maxfield Parish
'Femme et enfant' – Marc Perez
-2009-
Art Deco dancer figure sculpture – Ferdinand Preiss
'Firebird' – Frederick Hart  Bronze Sculpture
2007
"Girl With Lily" – Theo McGaw
Two questions from Polly Anderson to Theo McGaw on the site contemporarysouthafricanart.blogspot.com.au
Why do you sculpt?
I just do. It comes out of me, through my hands. I suppose if I think about it I could say I like being in the presence of solid form. It has a grounding effect. My hands like making. And I like moving while I work. I like bending and reaching and hammering and lifting and being on my feet all day. There's a lot of movement needed to bring about the stillness of a piece of sculpture.
Creating form for me is an organic process. I strive to evoke feeling. If it does not express feeling, any art form, music, painting, writing, sculpture, to me is nothing. I don't want you to think about my sculpture. It's a gut reaction I want. You like it or you don't like it. If you like it, it's a good piece. If you don't like it, it isn't. It's simple. You don't need a lot of yammer about a piece. After all, there it is, in front of you. It is what it is.
I see pieces in bronze and stone and wood and steel.
Which is your favourite medium?
My favourite medium is the one I'm working on at that moment. Each medium is right for a certain mood-of-work, a certain feel, a certain tempo. Clay is right for fast, fiery work. Stone, on the other hand, is right for a slow, ruminative approach; shall I make this a little more concave? Shall I make that a little more convex? With steel you work everything out – you calculate and cut and fit. Wood – you fall in love with the sensuousness of colour and grain and the feeling of longness – the tree wants longness. Squatness belongs to stone.
'Africa Queen' – Lisa Van Noorden
Loughcrew garden sculpture
 Jean Mayodon vase
Waldorf-Astoria Hotel, NYC, NY, designed by Schultze & Weaver, Art Deco, Statue Angel
photo © Jake Rajs 2010
Hursley cemetery, England,
Flickr—Skink74
'Girl in the Air' (raku technique) –  Pauline Wateau
Will Schroop, Netherlands
Wood carved bust – Somogyi Ferenc
Galluba and Hofmann bathing beauty figurine
Art Deco painted plaster figure
height 37cm
liveauctioneers.com
'A Heap Of Snow' – Arthur Gonalez
42″x31″x12″
2003
Art Deco figurine – Bahnhof Selb factory, designed by Holzer Defanti
1923
Italian Art Deco-Essevi Sandro Vacchetti Verginita Lenci
1939
'Tendernesse' –   Daniele-Dekeyser
"Dilemma" – Eva Antonini, Switzerland
66x28x44 cm
'Sleeping Beauty'  by Louis Sussmann Hellborn
1878
Amphora Austrian vase with two side spout handles, front cartouche with female figure, reverse cartouche with swan, matte body with gloss glazed decoration
Art doll by Alexandra Khudyakova
Annie Peaker
Eric Michael Wilson female nude sculpture
Deviant Art
Ceramic female figurines – Melisa Cadel
Standing court lady figurine – Tsang Dynasty
Mid 7th Century
Valérie Hadida
Raku figurine – Claude Cavin ?
E.V. female bust 2 – Mark Newman
'El Greco Chagall' vase – Noi Volkov
'Venus Anadyomene' –  Paul Manship, 1924
The Indianapolis Museum of Art
'Grapes' – Kurt and Heidi Beker
2011 – Ceramic, 27cm Tall
Gannon House Gallery
Dirk de Keyzer
Katherine Staneck- 'Escape'
'Perpetual Motion' – Beatrice Wood
Carved Lapis female figurine
China
Gates mausoleum door by Robert Aitken
1914
Seated female sculpture – Goga
'Undine' by Chauncey Bradley Ives at the Smithsonian
Washington DC
< Previous            1     2    3    4     5     6     7          7 of 7
–