"Visible Means of Support" Paper Mache Sculpture by Stephen Hansen
Japan Heavenly Spirit: Karyobinga, 18th century Netsuke, Ivory with staining, sumi. LACMA
Sculpture of Marie by Jean-Philippe Richard
photographed by Stephen J. Danko
Reclining French figurine – Jean- de la Fontinelle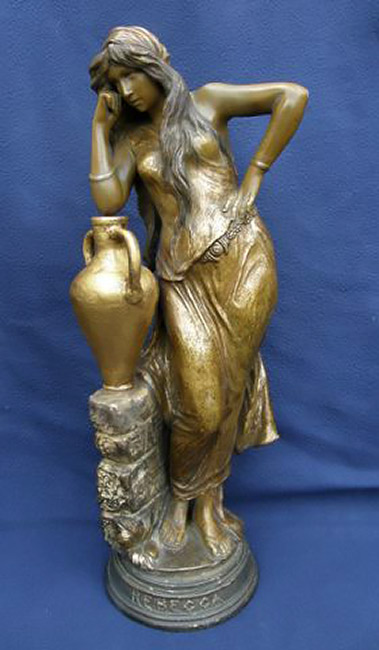 Goldscheider – Rebecca-c.1900
Kuan Yin
Roberto Santo – 'Before the Dance'
Ugo Riva
Woman With An Umbrella – Fernando Botero
Jikke van de Waal-Bijma sculpture
Nice Kitty – Kirsten Stingle
Nude Woman with Upraised Arms  – Gaston Lachaise (1882–1935)
Susi Singer  – Lady
UNKNOWN ARTIST (20th Century). Mindy Lee, 1975.
Valerie Hadida  – Les tutus
 Maria Gurevich
9/4/2014
Siberian doll maker Katya
Papier mache, fabric, modelling clay
Africa Sculpture of a woman
Barsony Can Can Dancer  lamp
Gin Fizz  – Sara Ingleby-Mackenzie
Sara trained under Ken Hughes, a pupil of Henry Moore, at Bath Academy of Art.
The Veiled Virgin- Giovanni Strazza
 Carrara marble statue carved in Rome, Italy
Czech Ceramic Lady – Royal Dux?
( Sheryl's Art Deco )
Themis – French sculptor Christophe Charbonne
1/5/2014
Duo  – Veronique Didier Lauren
Henri Cartier Bresso — Louvre,
 Mougin, Freres
Victor Arwas Gallery
Singing Doll- Romana Shustrova
Troy Williams Figural Wood Carving
( Skinner Auctions )
Steven Glassborow – Soft Landing, Bronze, Height 60cm
( Wagner Art Gallery )
Louis Hottot –  Zinc figure of The Girl on the Moon, late 19th century
Huub Hermans — Dance
Chauncey Bradley Ives
" I am Woman "   Ceramic Sculpture by Ingrid Dusselberg
Les "petites bonnes femmes" by Valérie Hadida

Adam and Eve  – Akio-Takamori
All Blossom Me – Camille Vandenberge
2000
Daum Pate Verre glass sculpture
Daydream by Marsha Karagheusian
Diva Maria – Suzy Birstein
Female sculptural floor lamp – ebay
Manneqins by nostalgiccorner-etsy
Seated female nude glass sculpture -Daum Pate De Verre
Georges OUDOT sculpture – 1960
( Galerie André Lemaire )
Giuseppe Armani 'Mahogany' Ceramic Sculpture
Michelle Gregor – Siren, 2010
Anthropomorphic ceramic sculptural bust – Mangbetu tribe, Congo
Johanna Monnier
Art Nouveau Vas Briggle Lady of the Lily vase, blue-green glaze, Colorado Springs, 1920s
Lenci ceramic figural box by Helen Konig Scavini
1931
Art Nouveau Terra Cotta Nude Beauty- Goldscheider
1910
Capodimonte Porcelain Figurine
( Shapiro Auctions )
Florence sculpture –  Rabarama
Cinta, Italy
Italian Francesco Mochi. 'Angel of the Annunciation'
1603-1605
Goldscheider ceramic 'Girl on Chair' figurine
Hurry – Karen Ebert
Rene Buthaud  ceramic sculpture figurine
gazette-drouot.com
Bronze Figure of Padmapani, Burma, 11th-century
Skinner Auctions
Bruce La Fountaine abstract sculpture
Ernst Wahliss Amphora two handled vase with maidens and bats, Turn Teplitz, Bohemia
1899-1918
Jacquline Hurlbert—Returning Was No Longer An Option
Oregon , USA
Roseville silhouette nude pedestaled bulbous vase
Height 9 inch
Recilining sculpture R. Holmes
Figurine Gourd Goddess by Susan Kagel
Svetlana Kisluhina female figure
< Previous               1     2    3    4     5     6     7            Next >
–