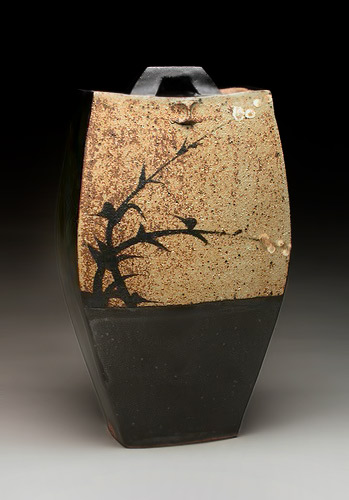 Tall Altered Lidded Box – Sequoia Miller
Olympia WA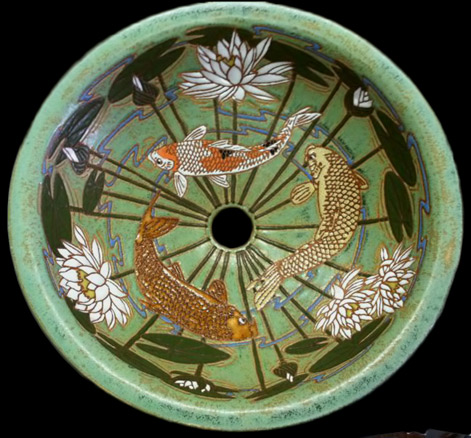 Round Koi Pond Sink – Eric Olson
Common Ground Pottery
Bowl with handle – 'Sprucey Bean Pod' by Kate Malone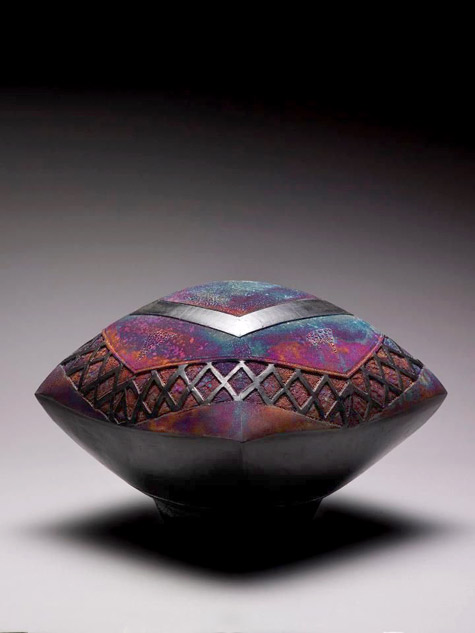 Steen Kepp raku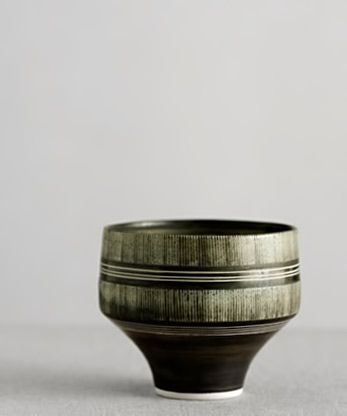 Yasuko Ozeki – bowl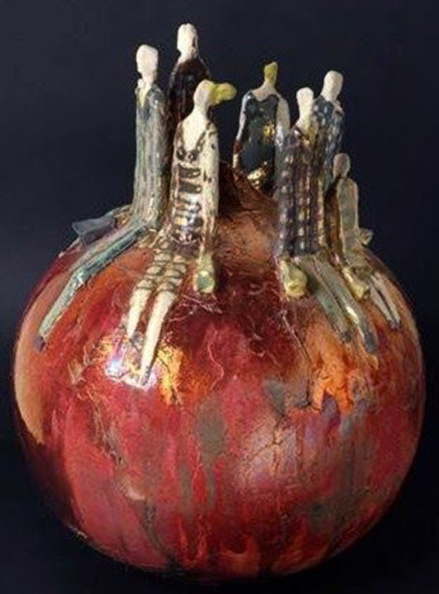 'Mondo' – Paolo Staccioli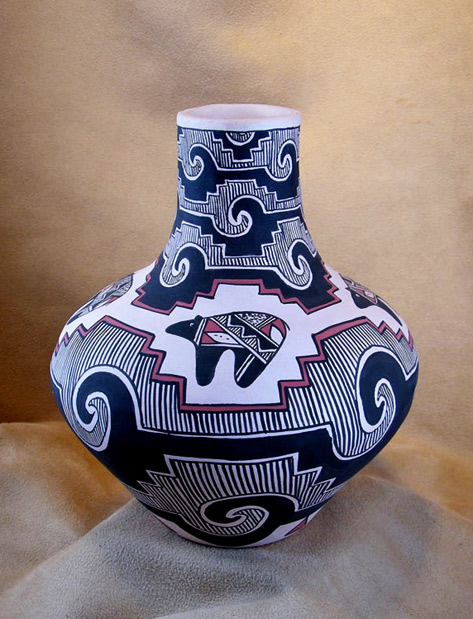 Leland Robert Vallo – Acoma Pueblo pot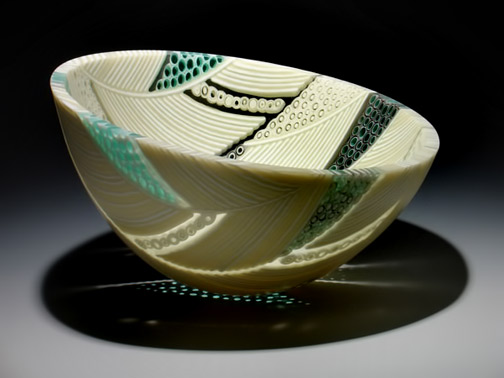 Hegland Glass Arrows Aqua – David and Patti Hegland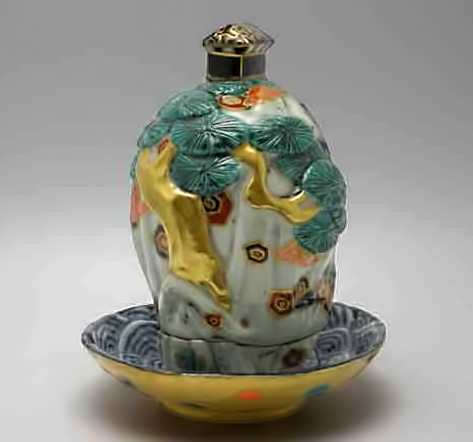 Kasumi Ueba – Horai Container luck vessel
Horai Island – is an island of old Chinese legend, it was surrounded by the sea in far east and a hermit lived there.
Large ovoid earthenware Art Deco vase – Atelier Revernay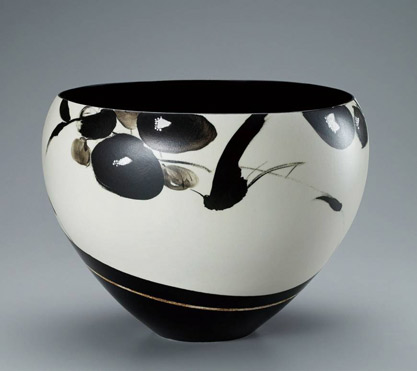 Bird and flower design bowl in black paint by Kazu Yoneda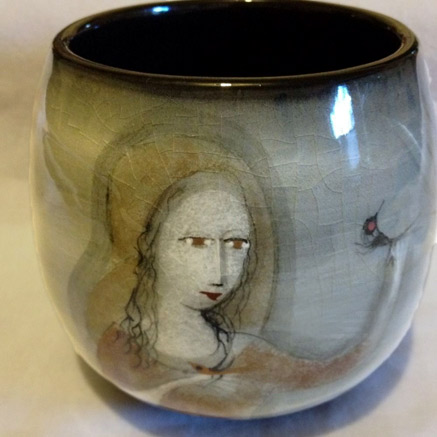 Polia Pillin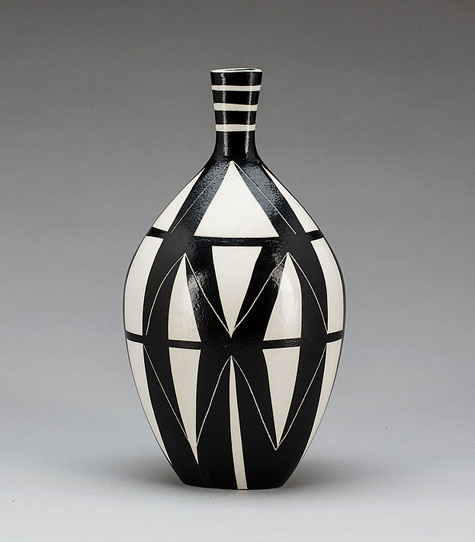 Karin Bjorquist
Mid century vase Spain
Initialled JM – Joan Miro?
www.oasisnz.com
Theodore Deck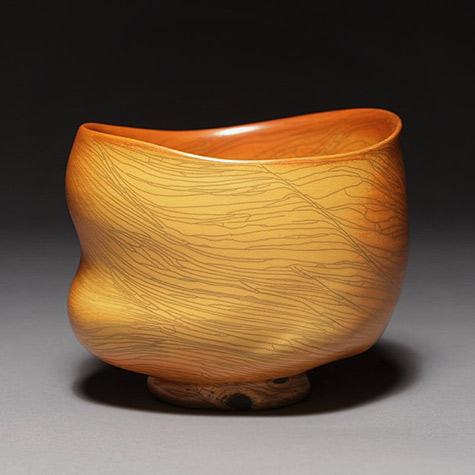 Dalloun – Borne, France
THALIA Sculpture in white and black marble  –  1962
Georges Braque (1882-1963)
Flora Gouda Holland vase–Tokyo series
Jana Roberts Benzon  – 'punk derivitive'
via Flickr
Handpainted bowl – Claire Basler
 Satsuma vase, Japan
Trocadero
'Stalling Forward' – ceramic raku wall art – Danny Rosales
see more Danny Rosales art here
Giovanni Gariboldi for San Cristoforo
1930
Versatoio a tre anse
Designed by Tullio Mazzotti for the Centenary of Movement Futurista 1909 – 2009
'Rainy Day Landscape Pot' –  Carol Metcalfe, UK
Carol's art practice incorporates her home-grown ash glazes together with plants, weed seeds and other locally-found materials, collected on the farm where she lives. Inspired by natural forms, Nature's effects on man-made objects – erosion, corrosion and colonisation – and landscapes, her pieces have a particular emphasis on texture. Her website
Elizabeth Raeburn, UK
Goyin Silveira geometric olla
Mata Ortiz, Mexico
Royal Bonn 'Old Dutch' Art Pottery Vase (by Franz Anton – Mehlem factory, Germany)
2othCenturyPottery etsy
Monika Jeannette Schödel Müller, Germany
Rachel Woods, UK
No Description
Michael Wein
'Tentacular' – Tim Christensen
Porcelain Snail – Anya Stasenko and Slava Leontyev
Stoneware vase with wood ash glaze wash – Robert Briscoe
Kishi Eiko
Thrown Cupola box – Beate Anderson
1990- photo Ole Haupt.
Ethiopian string jar
First half of 20th century
From veniceclayartists post on African art Odyssey here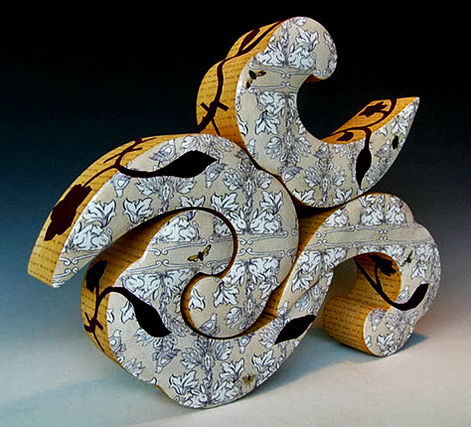 'Fly On Wall' – Lesley Baker
Louise Gelderblom
Metamorphoses Of Clay – speckled 'Alien Mug' Limited edition Stoneware
Michelle Summers
Art Nouveau bowl – Andre Metthey, France
Ella Becker
'Desert Night'  –  Sandra Blain
River Gallery
Etruscan terracotta barrel-shaped oinochoe (jug) – Geometric Period
ca.725–700 B.C.
Earthenware pitcher with transfer printed enamel  by Christopher Dresser
1881
risd museum
'Pa Kua' – Halima Cassell, UK
To achieve these effects she uses heavily grogged clay that allows her to work on a large scale and utilise relatively thick surfaces to carve to the desired depth.
joannabird.com
Bertoncello — Mid-Century Italian vase
Candles Calla-lily & Koi Fish Orchids vase – metalware by Sharles
Large platter – Jean Lurcat
Framont, CT
Bitossi 'Seta  ' mid-century vase and compote designed by Aldo Londi
In production 1957 to 1965
Pierre Marie Giraud, Brussels
Cube10 – Daniela Schlagenha
France
Light blue, faceted geometric vase – Turi Heisselberg Pedersen
 'Wing' – John Balistreri – Soda-fired stoneware with slip and glaze
Barbara Billoud black and white raku vessel
Meissen Porcelain Manufactory, Germany
Tom Colman
Roger Herman, installation view, 2012,
Richard Telles Gallery
'Tonto'  — Gerardo Monterrubio
…
NY Onishi Gallery exhibition  –  October 20 – November 14, 2015
Contemporary Japanese Kōgei
or contact Onishi Gallery:  212.695.8035 / [email protected].
Mineo Mizuno — Teardrop
Ohi Toshio
 
Chris Gustin, USA
Kim Holm – DK
Carlos Versluys, Lincolnshire, UK
"I use a grogged clay, rich in fireclay and apply all my glazes with large flat brushes. Any decoration, using variations of the same glazes, is done at the same time.I work with mainly matt glazes, including matt ash glazes."
'Meltdown' 2006 by Sonia King, glass, ceramic, slate, chalcedony, pearls, shell, copper, bone, gold, smalti.
"My design process is completely intuitive, integrating technique and vision. I am driven by the desire to work with a huge variety of tesserae"
Rorstrand – 'Linda'  Mid Century pitcher
Michael Kline
'My Beautiful Turmoil' — Kimmy Cantrell
'Woman With Raised Leg' – Carol Murphy
2008 – Brenda May Gallery
Norwegian ceramic designer Kåre Berven Fjeldsaa
1955
Peacock vase – Tang dynasty
Etruscan, bronze – 300-280 BC
'Erebus 1' – Christine Ladeveze
Gouda Art Nouveau 'jardinière' or flower pot
Plazuid factory, 1930
Sgraffito geometric vessel – Patrick Leach
Vancouver, British Columbia, Canada
Fez tureen – Morocco
Stomeware vessel –  Susan-Eisen-(USA)
1979 – Height 12 inches
Square Form Stoneware Vase  –  Henry Varnum Poor
1932   – 37 cm height
Alan Moss – 1stDibs
Rene Buthaud africanist incised vase
igavel Auctions
Camilla Ward
The forms are slab-built in red earthenware clay.  The surface is derived from undereglazes, slips, engobes and glazes and is scratched or embossed before and after forming.  I fire in an electric kiln  to 1100 and then down for lustres and low-fire glazes.
Camilla Ward, Gloucestershire, UK
 'Story Circle Bowl'  by Melissa Greene
1998; white earthenware, burnishing, colored terra sigillata, 1850 F, bisque then smoked; Gift of James W. and Jackie Voell
AMOCA – American Museum of Ceramic Art, Flickr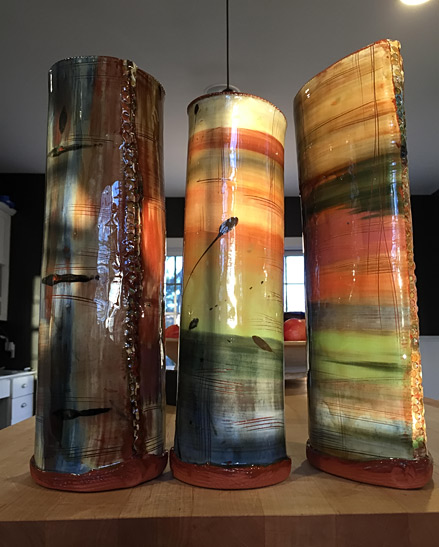 'Fall series' vases  –  Rebecca Hillman , Maine
New Guinea ceremonial pot
Pair of miniature vessels – Mary Rich
England – 1979
Moroccan Safi vessel
Six sided bowl – Jeff Oestreich-  thrown and altered soda-fired stoneware with multiple glazes
Schaller Gallery
Clarice Cliff Art Deco jug
Bamfords Auctions
Rene Buthaud Art Deco vase
Igavel Auctions
Guillermo Cuellar
Two cruets – Raul da Bernarda
Amenhotep IV Akhenaten (ca.-1353–1336-B.C.)
…
See contemporary ceramics on Veniceclayartists here 
–