André Freymond jug
Small and thin bowl by Berndt Friberg for Gustavsberg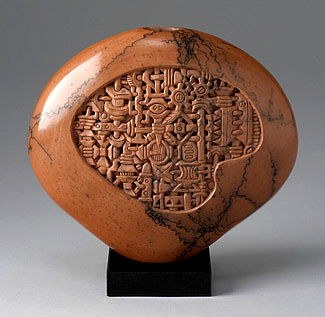 Clay Disc – Jeff Margolin
Art Deco Cubist Craquelier Vase – Kaplan c.1990
( patinalazina – etsy )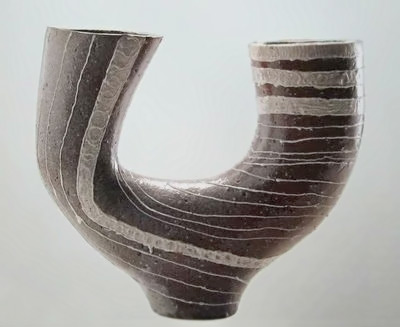 Osamu Suzuki
'Swimming in a Shoal'  A Large Lidded Jar, 2011 – Roger Cockram
Alvino Bagni; 1960s Glazed Ceramic Vase for Raymor,
Landscape Vessel by Heidi Soos
Chinese vase – Paul-Louis Weiller Collection
Sarreguemines Art Nouveau vase – 1910
Earthenware vase with an enameled geometric decoration
Frances Priest ceramic sculpture
( — beautiful lines and balance )
Akashi Murakami
"After experimentation with numerous ceramic materials and techniques in recent years, I feel I have acquired a certain degree of dexterity and confidence with molding and slip casting. It allows me to realize a range of works from simple geometric forms to more complex organic branch structures. I have been particularly interested in curved organic forms. Here, the main theme of my work is to divert a natural element from its normal or intended purpose."
( pulsceramics.com )
Jae Ko  –  JK-614
2009
Grete Marks, Art Deco Teapot, ca. 1923-1932.
Museum of Art, Rhode Island School of Design.
Maria Oriza
Albarello with Two Rabbits, 1300's Spain, Paterna, 14th century tin-glazed earthenware (majolica)
Soumen—Japanese noodles
Wagashi- Traditional Japanese Confectionery
( Nope, it's not what I had for lunch, I just like the plates.)
The Whaling Vessel by Sarah Ogren
Korean Buncheong
Andrea Gill Large Ceramic Vase
Jenny Southam Ceramic Sculpture – Horse 2  – height, 33cm
( Wishing prosperity and happiness for the Year Of Horse )
Royal Doulton St. George
( replacements.com )
Rolf Sinnemark Tea Pot
Round Form – James Tower
more James Tower here
Joan Carrillo, Spain
Emily Kriste Wilcox
Mary Obodzinski raku pears
Gordon Baldwin bowl
Linda Syles
Vivika & Otto Heino -Susan Hughs -Gerry Williams
Rago Auctions
IMARI Japanese porcelain plate
EPURE exhibition 2014 – Daniela Schlagenhauf
EPURE exhibition 2014 – Nathalie Jover
New Daniela Schlagenhauf  & Nathalie Jover exhibition, details here
Ball Flo – ( Lisa )   – Stéphane-Gisclard
Ball Flo – ( Lisa )  – Stéphane-Gisclard
Yasuko Ozeki — Bowl
Judith Davies -elegant vase
Anya Stasenko and Slava Leontyev
Grant Miller Abstract Art Gless Vase
Isabel Merrick ceramic bottles
Mercedes Santigoeds sculptural ceramic
Roger Capron faces vase – 1965
( classic mid century )
Ruscha – decor Filigran. Designed and hand drawn by Adele Bolz. 60s.
Porcelain celedon vase   Takeshi Tasuda
–