Chinese contemporary art began to began to open up to the world art arena in the 1980's and 1990's, and while comparatively in its infancy, it is now making a vibrant impact. A selection of the Chinese ceramicists and sculptors in the modern contemporary art field are represented below.
Xiao Wei

 / Zhengyin Art & Design
Chinese ceramicist  Xiao Wei, began in the field of ceramics then branched out into broader design projects involving interior decoration and consultancy with Zhenyin Art which was established in Beijing in 1997.
Zhengyin Art & Design collaborate with a team of local and international artists and architectural firms to create original art installations, ceramics, murals, sculptures and wall art specifically designed for a particular space.  A synthesis between contemporary concepts and traditional themes dominate the designs.
Link for  Zhengyin Art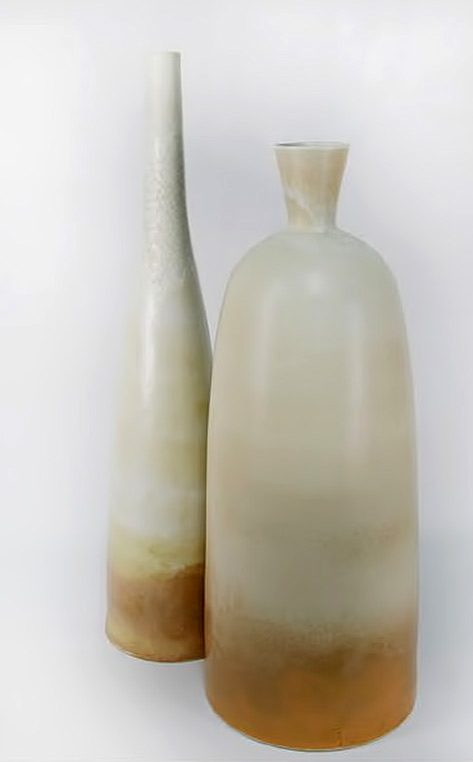 Two contemporary bottles – Xiao Wei
Zhengyin Art & Design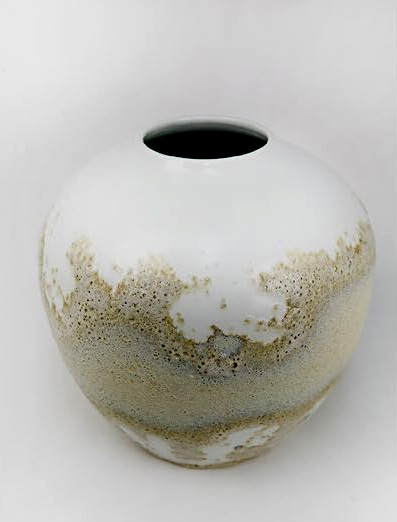 Xiao Wei contemporary vase
Zhengyin Art & Design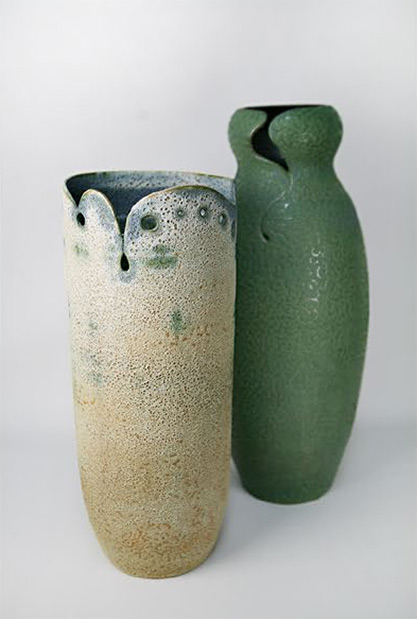 Chinese designer Xiao Wei contemporary vase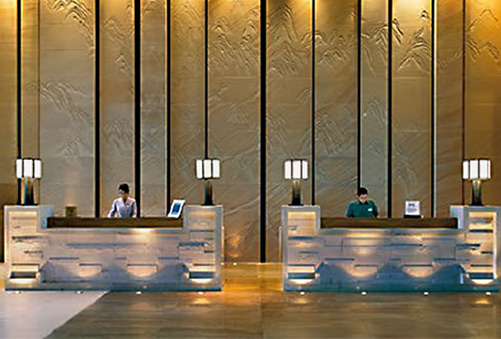 Wall mural using vertical panels in the style of the traditional Chinese hanging scroll paintings of mountains
Zhengyin Art & Design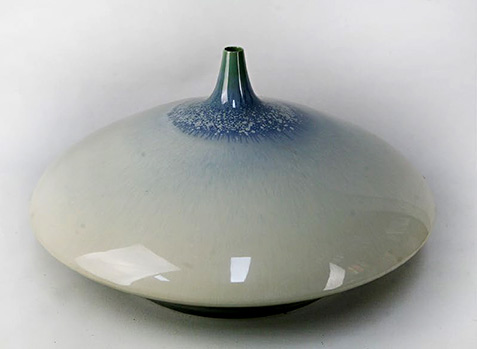 Squat ceramic bottle – Xiao Wei
Zhengyin Art & Design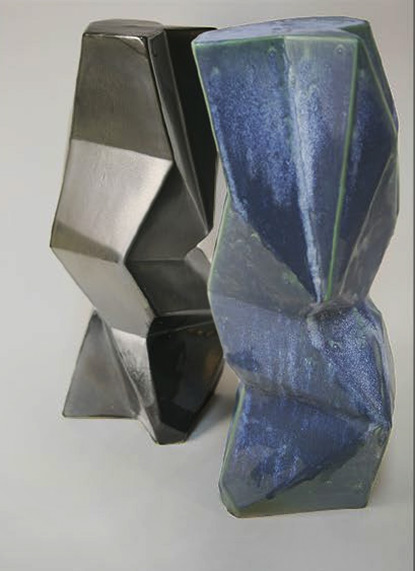 Abstract sculptural ceramic forms – Xiao Wei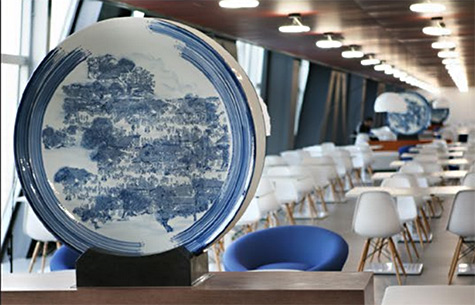 Blue and white porcelain decorative piece
Zhengyin Art and Design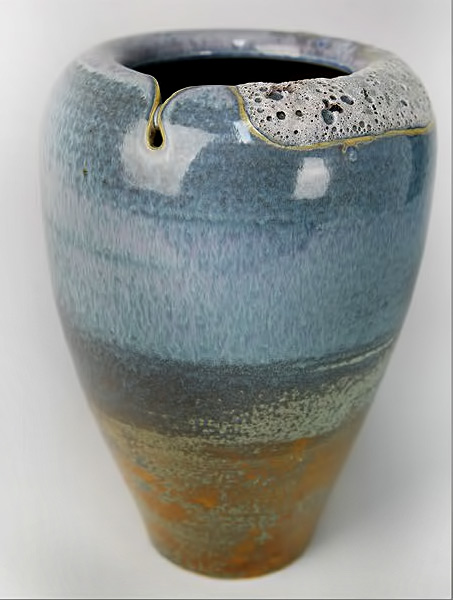 Xiao Wei contemporary vase with glossy and textured glazing.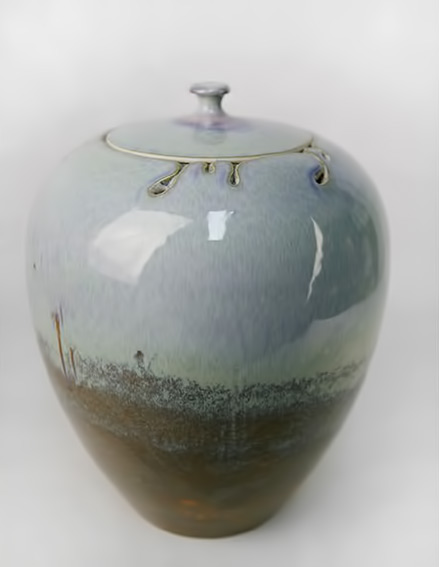 Covered vessel – Xiao Wei
Zhengyin Art and Design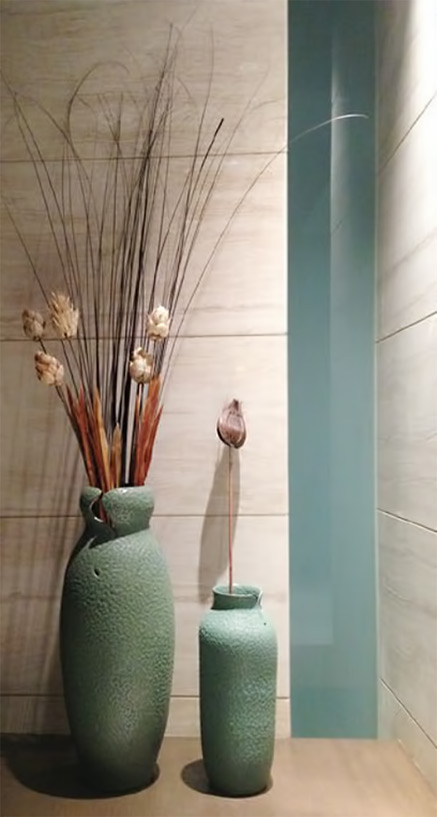 Green textured vases – Xiao Wei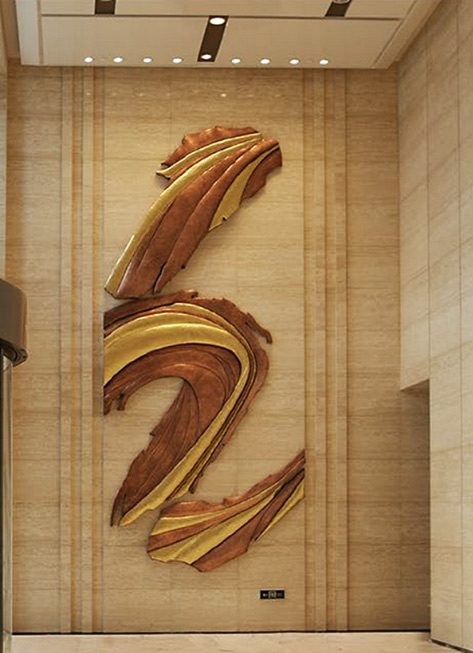 Zhengyin art installation inspired by the brushstrokes of Chinese calliagraphy – Tianjin Baoli International Plaza
25 feet in height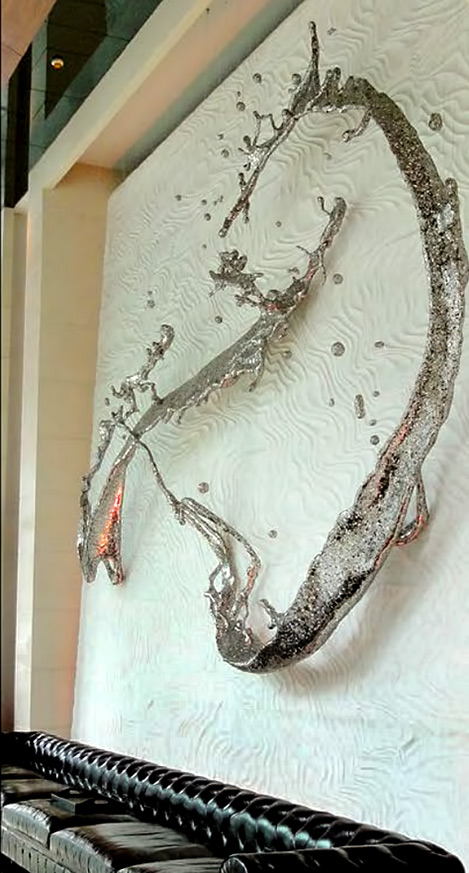 Large contemporary mural with a dragon dynamic – Zhengyin Art and Design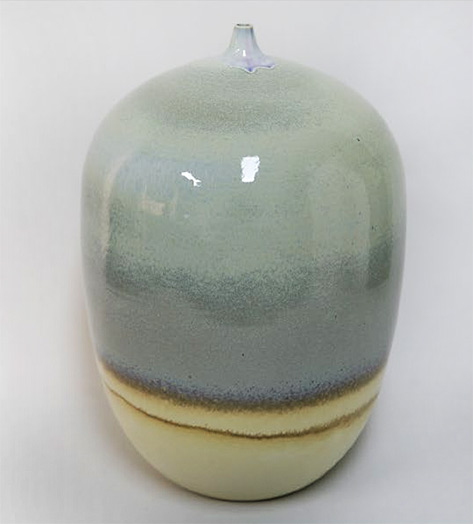 Forest green ovoid vessel – Xiao Wei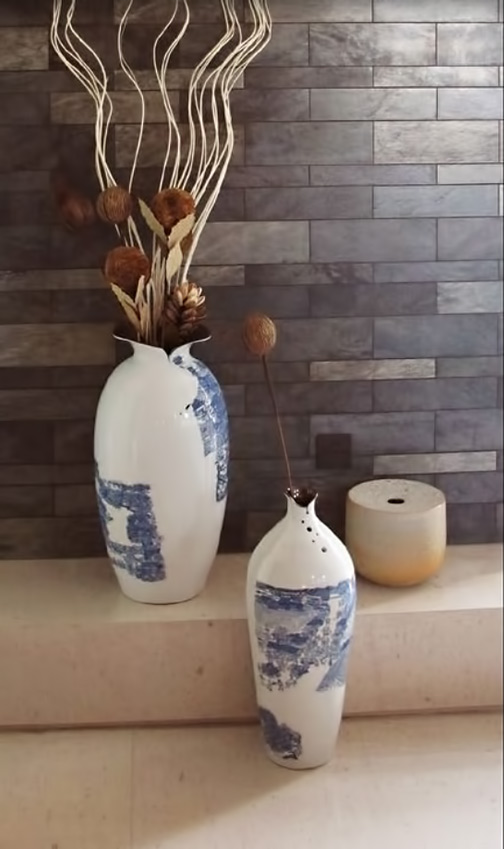 Porcelain vases – Xiao Wei
Zhengyin Art and Design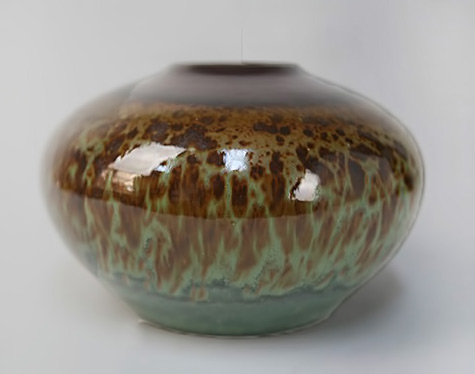 Xiao Wei – large glazed vase
Zhan Wang
Many of Zhan Wang's works concentrate on abstract forms, that go by many names such as floating stones, artificial rocks, or the famous, Scholar Rocks. These are large, highly textured rock-like pieces coated in chrome. In the Chinese culture, rocks are held in high esteem; rocks have been thought to possess the purest qi, or vital energy, and  traditionally were collected as objects of art and tools for meditation. In 2004, Zhan scaled Mount Everest and placed one of his own sculptures at the summit.
In 1966 Zhan Wang made the statement – "Placed in a traditional courtyard, a rockery satisfied people's desire to return to Nature by offering them stone fragments from Nature. But huge changes in the world have made this traditional ideal increasingly out of date. I have thus used stainless steel to duplicate and transform the natural rockery into manufactured forms. The material's glittering surface, ostentatious glamour, and illusory appearance make it an ideal medium to convey new dreams"
Sue Wang from CAFA Art Info describes Zhan Wang's Rockery sculptures :  If 'tradition' and 'contemporary' are seen as poles apart, then Zhan Wang just used 'stainless steel rockery stone' to describe the intermediate zone by "Rockery Stone". 'Stone' represents 'tradition', "it's the basic element that formed the universe, representing aesthetic belief of a farming community"; 'Stainless steel' is a concentrated reflection of an industrialized reality. Zhan Wang thought it's "the most representative material of this time, a metallic material that claims to never stain and can be mirror polished". 'Playing with' the two materials, Zhan Wang touched the lifeline of the time.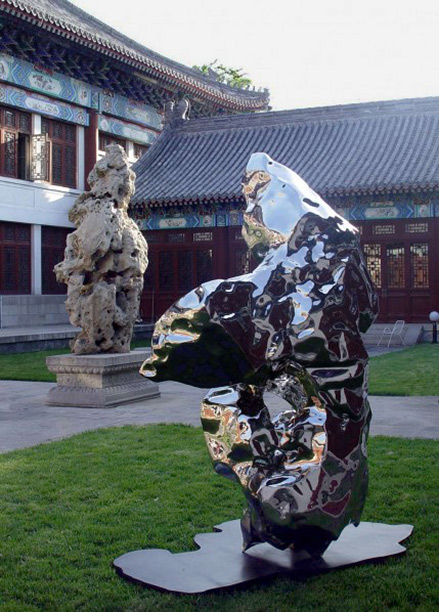 Rockery Stone 42# exhibited at Arthur M. Sackler Museum of Art and Archaeology at Peking University
http://en.cafa.com.cn/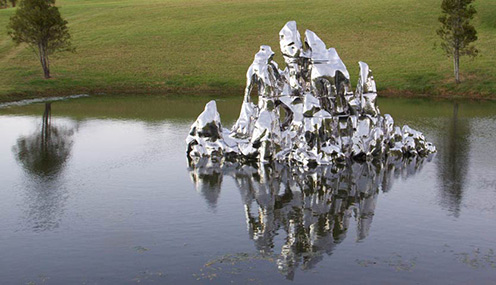 Zhan Wang lake sculpture -' Floating Island of Immortals ', 2006 – Gibbs Farm, New Zealand.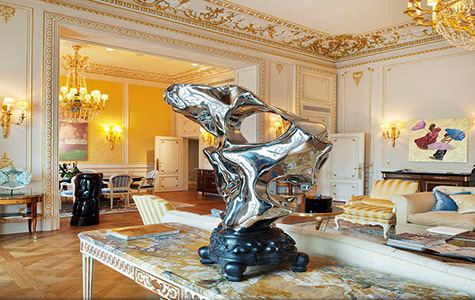 'Chambres a part V' – Zhan Wang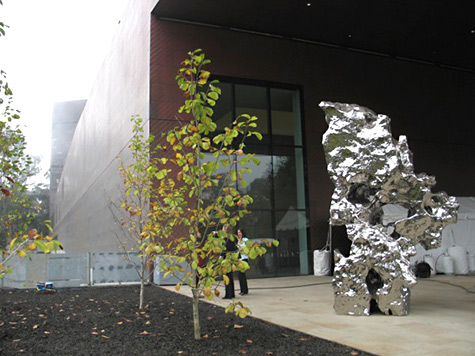 'Rockery Stone ' – Zhan Wang
De Young Museum, San Francisco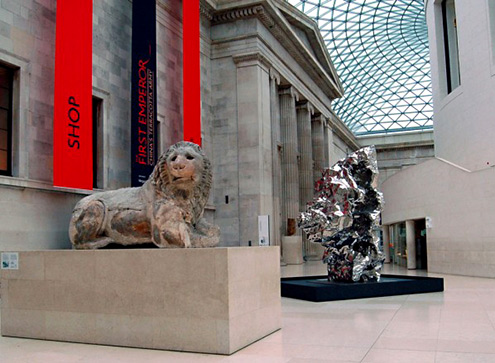 Rockery Stone at British Museum by Zhan Wang
 2008
Franz Ceramics
Founded by Francis Chen, Franz Porcelain has its design and research center in Taipei, Taiwan, while its production is managed and  supervised in Mainland China using Chinese artisans.
Two Panda figural vase Franz Ceramics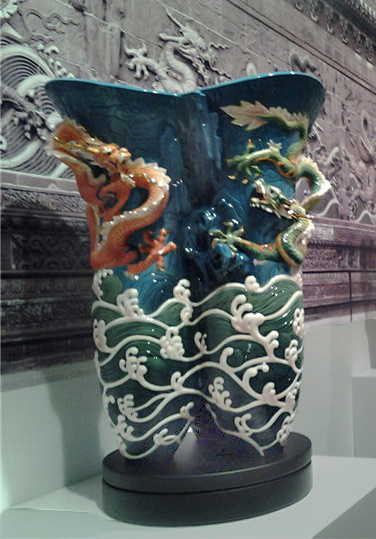 Franz Ceramics Collection -Dragon vase
Zhejiang art museum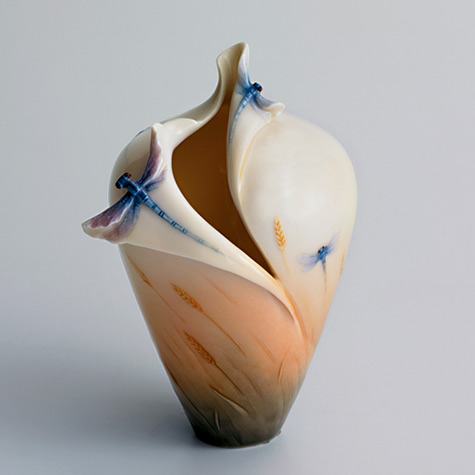 Oriental Art Nouveau vase – Franz Ceramics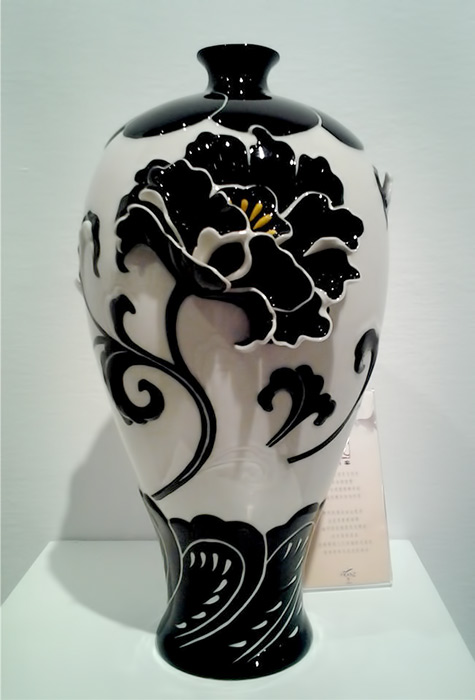 Franz vase –  Zhejiang art museum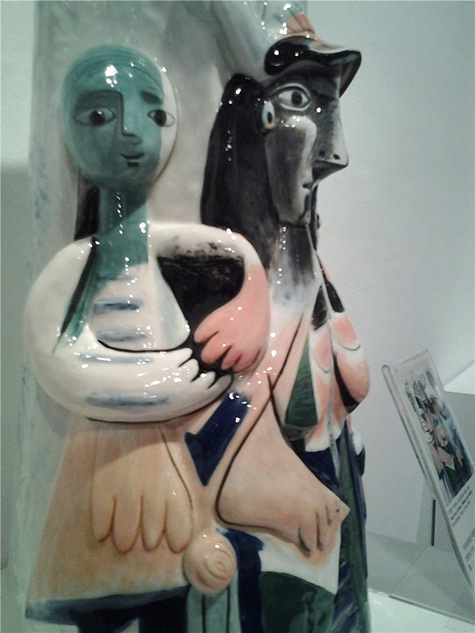 Franz Ceramics-modernist sculptural vessel
Xu Bing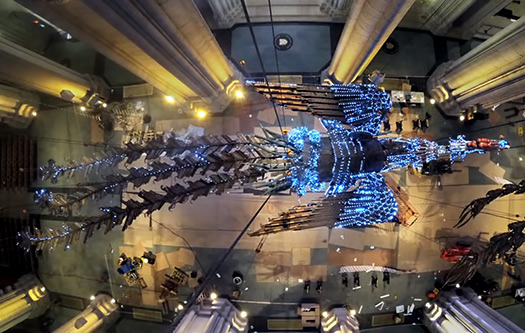 Xu Bing's grand 'Phoenix'  installation, suspended fron the nave at the Cathederal of St John the Divine in New York
On display till March 2015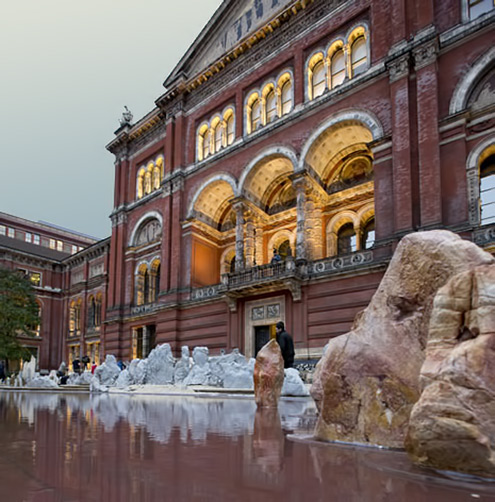 Travelling to Wonderland, at the V&A's John Madejski garden.
Xu Bing carted slices of nine different rocks from five different places in China
and arranged them here to create a magical miniature mountainscape, drawing
elements from Chinese landscape scrolls and inspired by " The Land of the Peach Blossoms ", also know by the Tibetans as 'Shambala'
Abstract mosaic architecture – Ceramic Museum
Jinzhou, China
Chu Teh Chun –  ( 1920 -2014 )
Chinese-French abstract painter acclaimed for his pioneering style integrating traditional Chinese painting techniques with Western abstract art. Inspired by Nicolas de Staël's abstract landscape paintings, Chu abandoned figurative painting and adopted a unique style using bold strokes of colour which evoked Chinese calligraphy. Below is a series of  ceramics he painted for Sevres, France.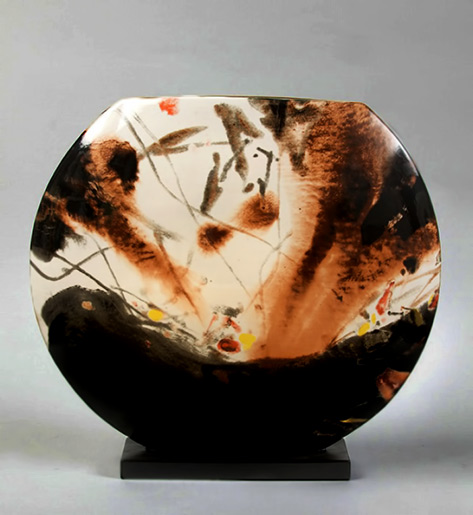 Chu Teh Chun – Brown earth tone round  vase 2005
Raymond Dreyfus Gallerie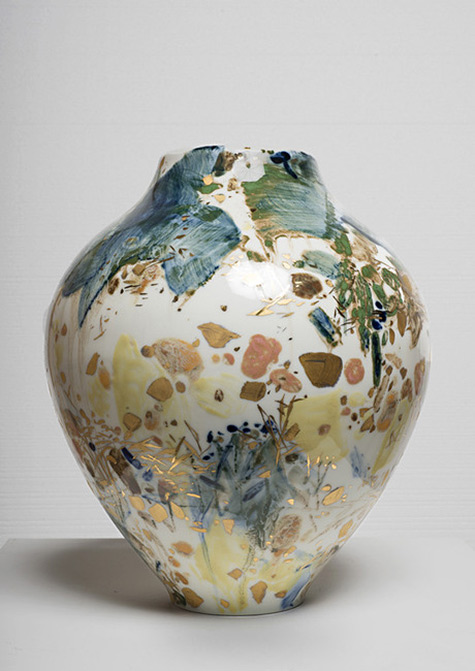 Handpainted contemporary vase,- Chu Teh Chun for Sevres, Paris
Raymond Dreyfus Gallerie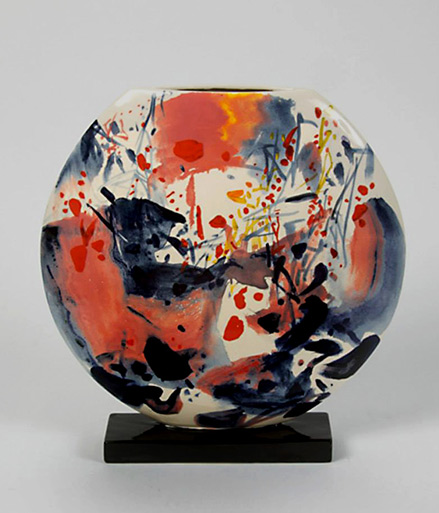 Chu Teh Chun–round abstract handpainted vase
Raymond Dreyfus Gallerie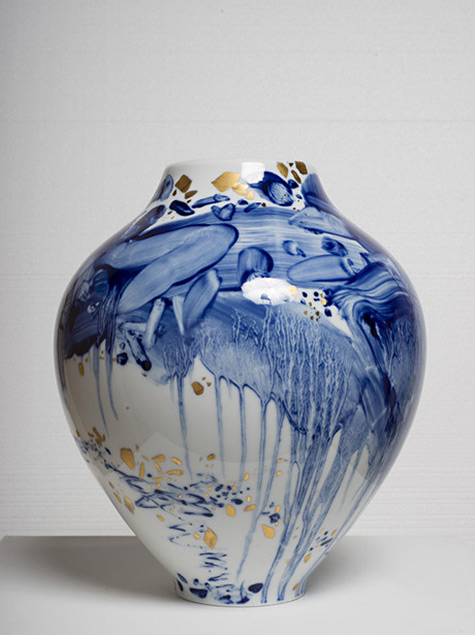 Oriental abstract vase by Chu Teh Chun for Sevres
Raymond Dreyfus Gallerie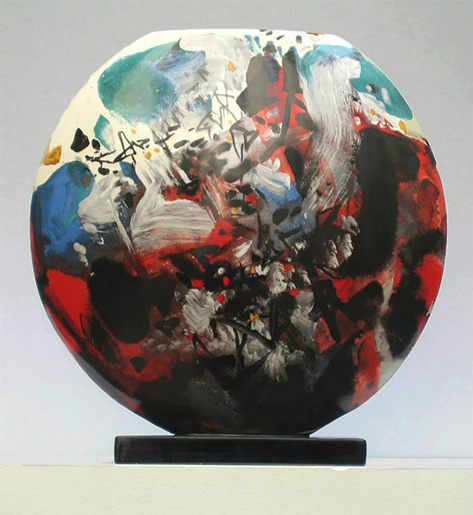 Contemporary handpainted vase – Chu Teh Chun for Sevres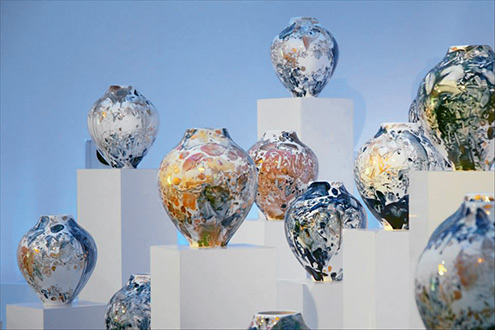 Chu Teh Chun for Sevres
Raymond Dreyfus Gallerie
Rosanna Li Wei Han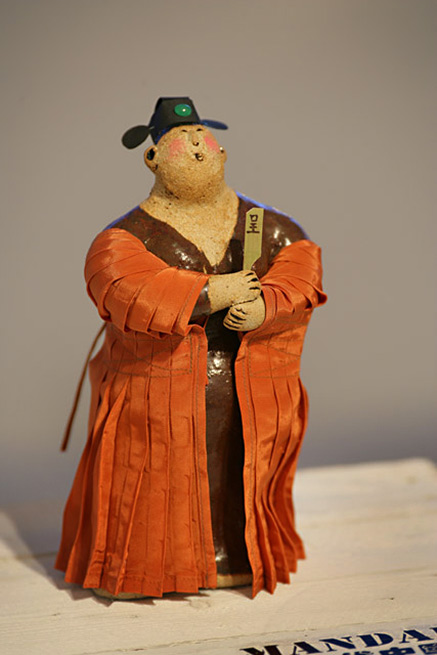 'Mandarin' – Chinese figurine by Rosanna Li Wei Han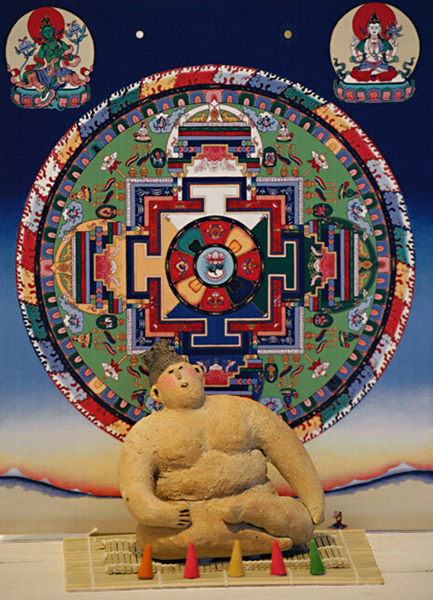 'Mandala'  – Rosanna Li Wei han
Dehua, 

Jingdezhen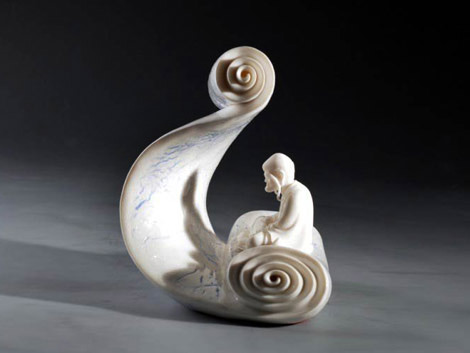 Dehua-Kiln white porcelain figurne
 In the heyday of Jingdezhen, there were several hundred kilns in operation.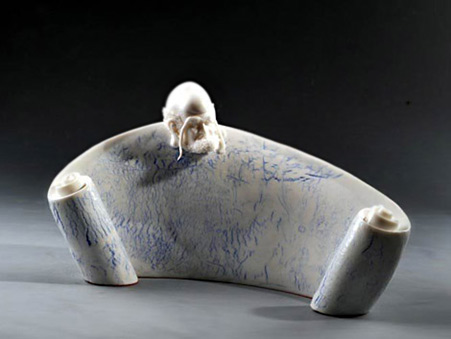 Ceramic porcelain sculpture -Dehua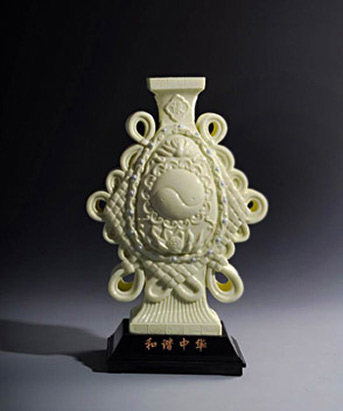 Dehua yin yang sculpture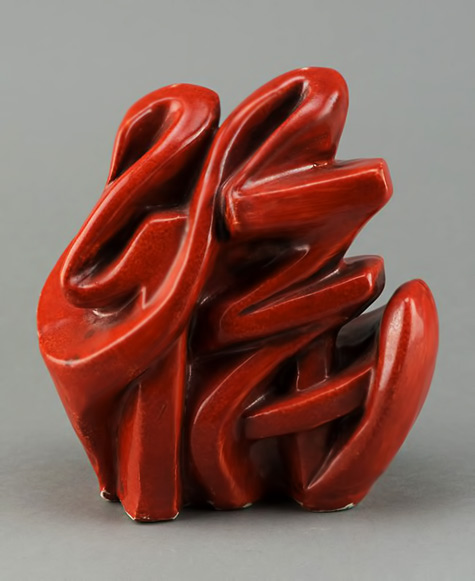 Abstract sculpture, in the shape of the Fu symbol -Fu Jian Hui Guan
( Liveauctioneers )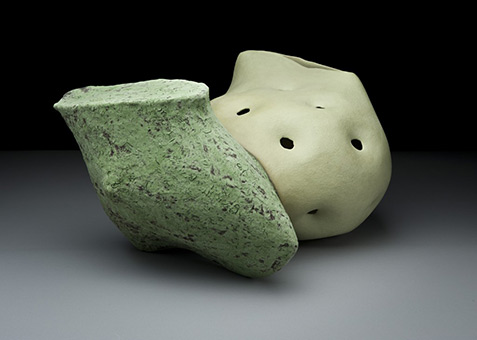 Monxi Wu  –  'Contrasting Rhythm'
2009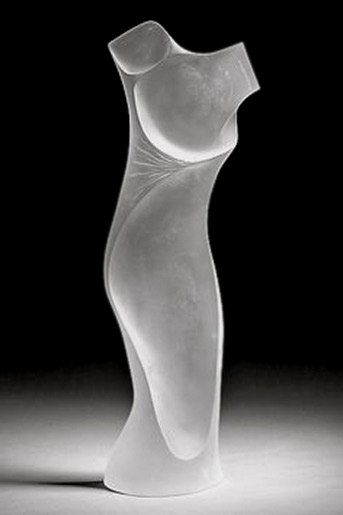 Art Glass Sculpture – 'Parthenon 2′
Jing Wei Qiu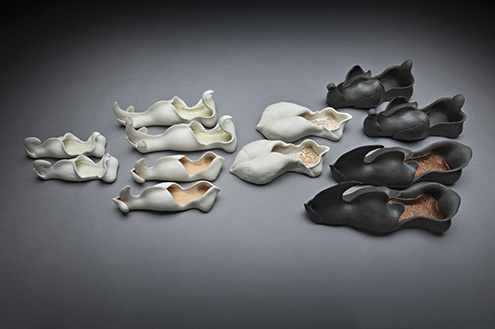 Porcelain slippers – 'Prosaic Glow' – Fiona Wong Lai Ching
2010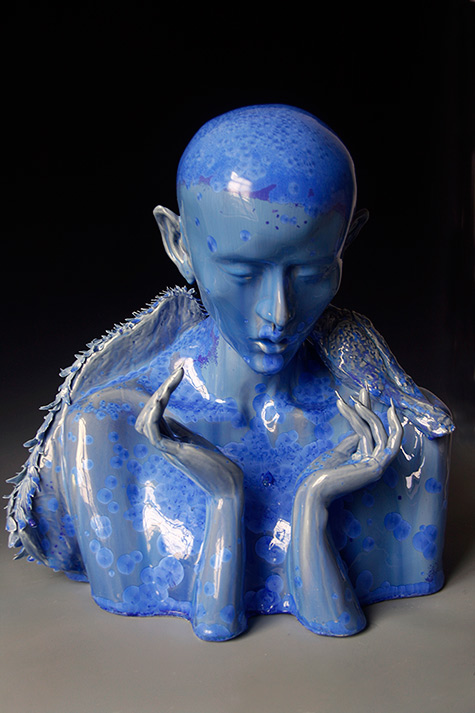 'Angel without Wings'  (The Blue Succubus (positive)' – Feng Weina
 Traditional Chinese Art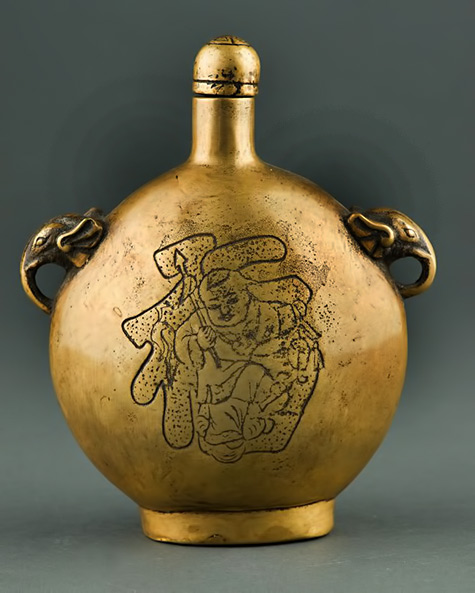 Bronze Snuff  Bottle – Cast with motif of Auspicious Chinese Fu Boy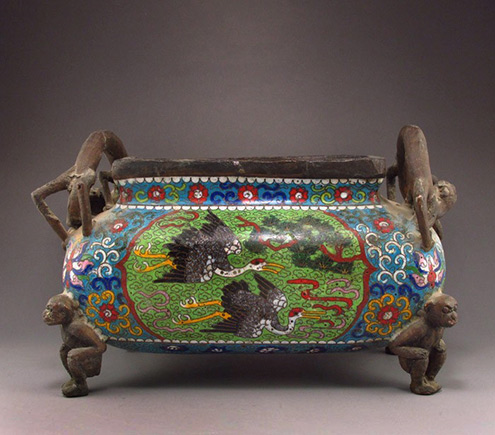 Antique Chinese Cloisonne incense burner with flying geese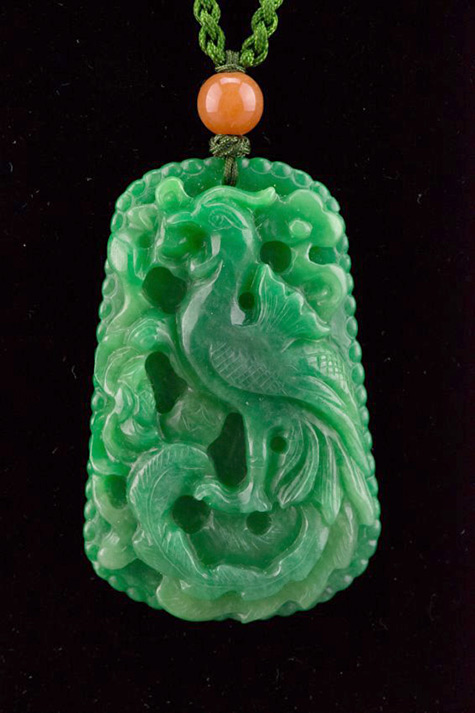 Emerald Green Jadeite Phoenix Pendant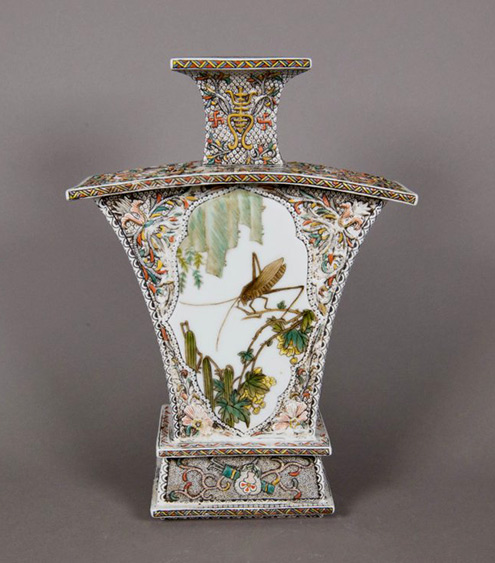 Famille Rose Vase – Qianlong, China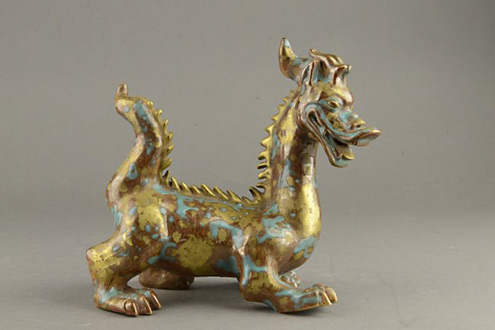 Gilt Bronze Dragon with blue splashes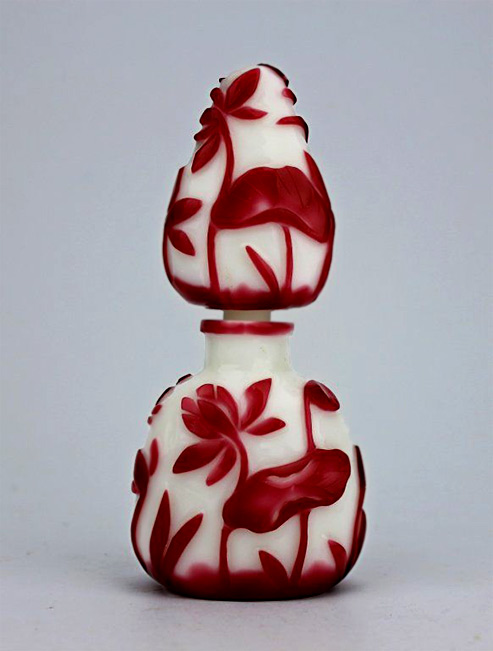 Chinese Peking Glass Perfume Bottle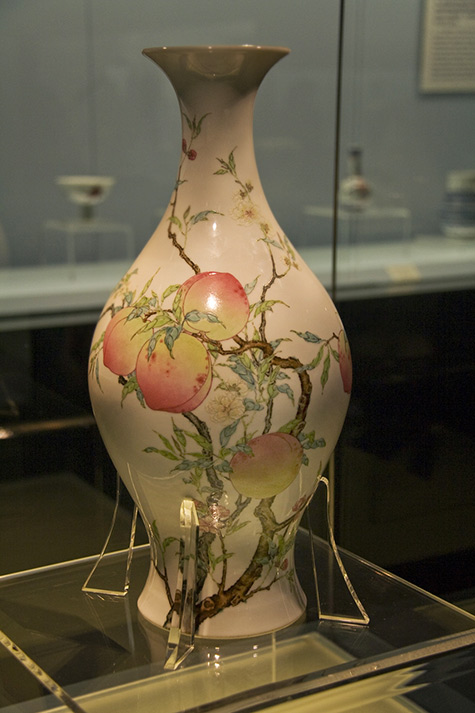 Famille Rose Vase with Peaches and Bats designed by Bill Taroli
Shanghai Museum Ceramics Gallery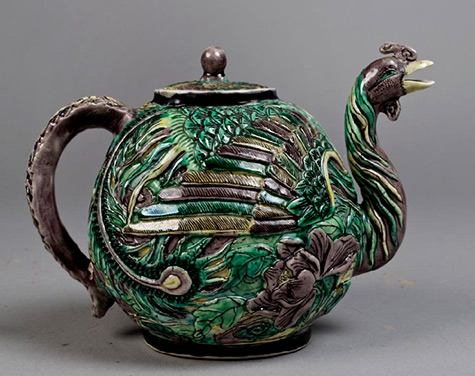 Chinese teapot with carved ceramic surface
Tang Dynasty Manadarin Duck found in a tomb at Gong Yi City
Henan Museum
length30cm
Chinese Village caved into Shoushan Stone Boulder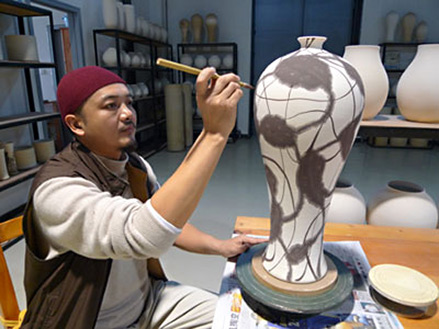 Bai Min performing traditional ceramic decoration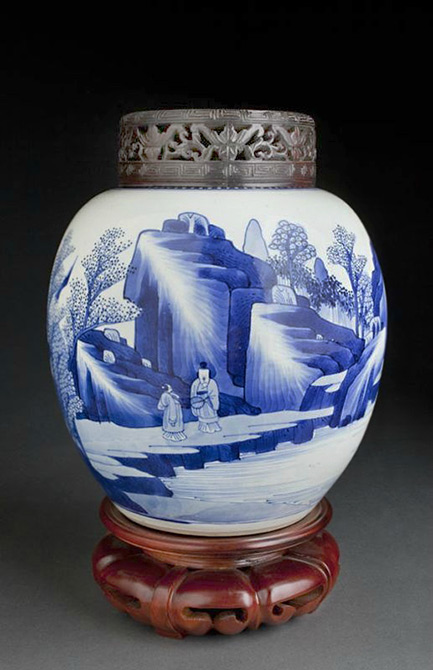 Chinese ovoid  jar in blue and white porcelain – China, Kangxi Period (1662-1722)
The Surge OF The Four Seas –Guo Shilin
1989
 The artist made use of natural color and engraving to evoke clouds, nine leaping dragons and surging waters below.
( http://arts.cultural-china.com/en )
–