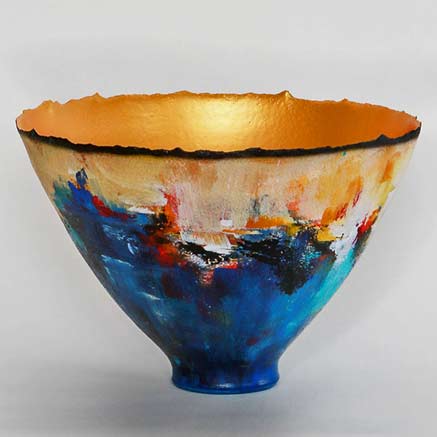 'Cityscapes' – Cheryl Williams , Oregon
From the 'Prosperity Bowls' series – They are fired twice in the kiln. First the bisque firing makes them hard, and then a glaze is applied to the inside of the bowl. The second firing melts the glaze. This is why the interior of the bowls are smoother than the exterior. They are finished with a fine airbrush acrylic applique. The materials in the rich interiors are designed to reflect lights essence.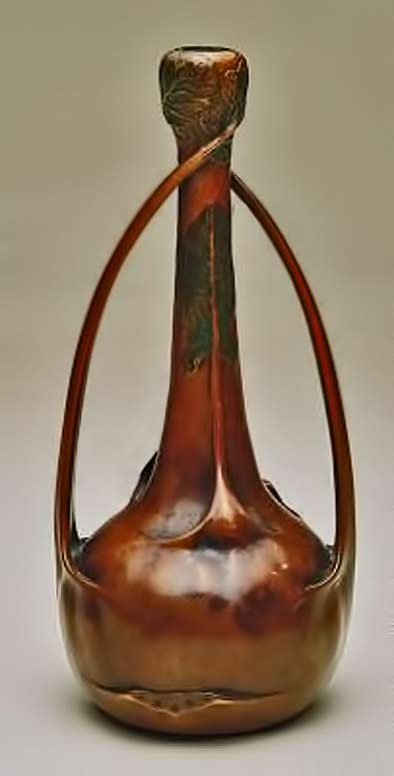 Art Nouveau vase – Lucien Gaillard
1903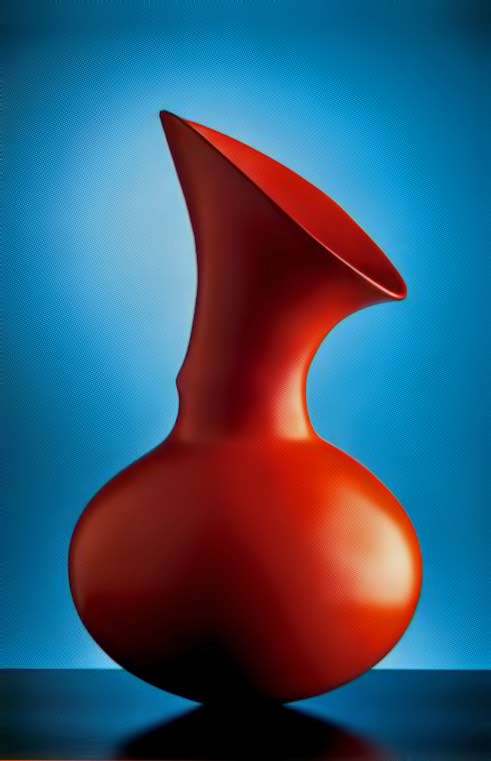 Magdalene Odundo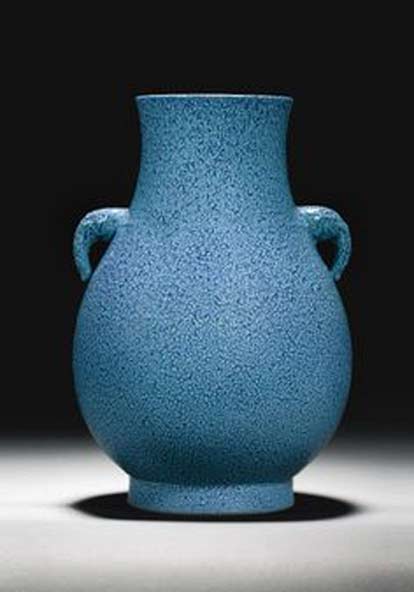 Robin's egg glaze vase – Qing Dynasty, Qianlong period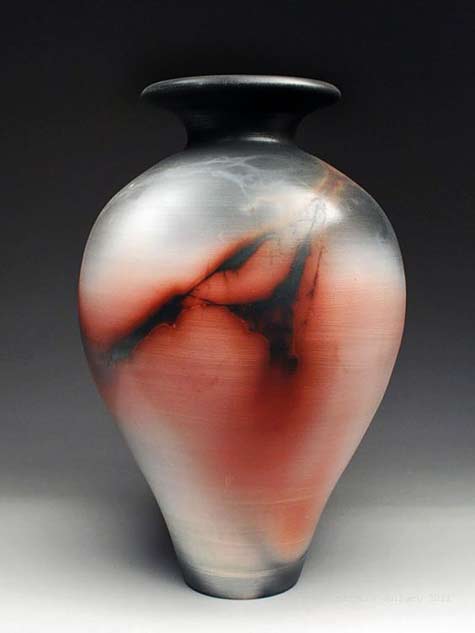 Raku vase – Charlie Riggs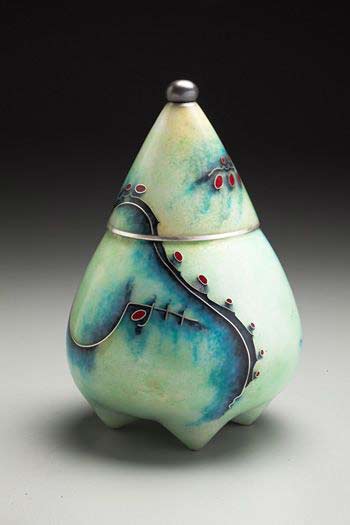 Sarah Perkins 'Double Lines' lidded vessel
2012
Life size ceramic dog sculpture – Hispania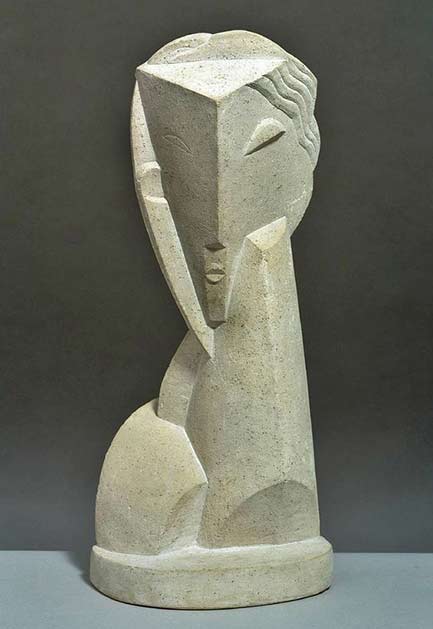 Henri Laurens – head of a girl
1920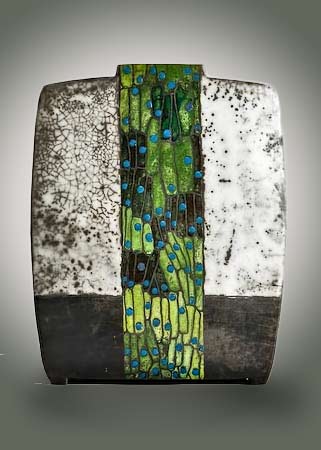 Ute Grossman raku vessel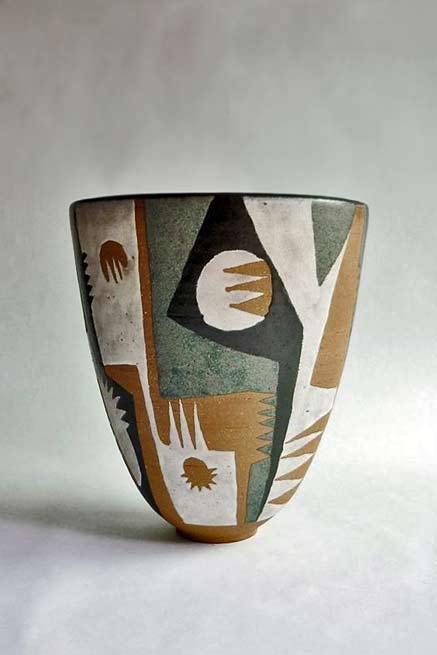 Clyde Burt  Mid Century vessel with abstract latex resist glaze design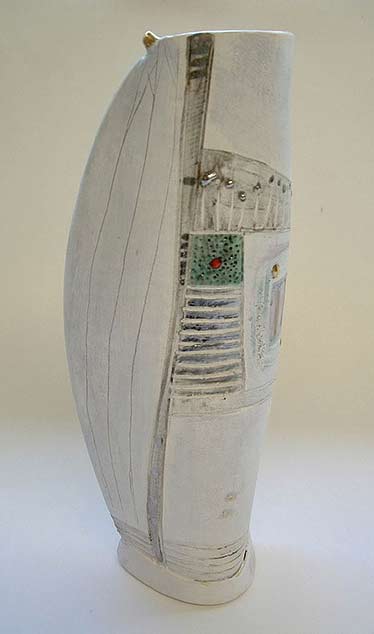 Tall vessel – Linda Styles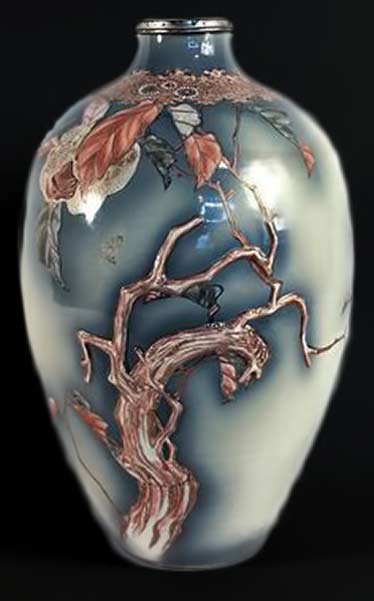 Antique Japanese Satsuma vase
ES Keramik Fat Lava Vase West German Pottery
Joan Carrillo
Metal abstract sculpture – Naum Gabo- 'Linear Construction in Space No.4′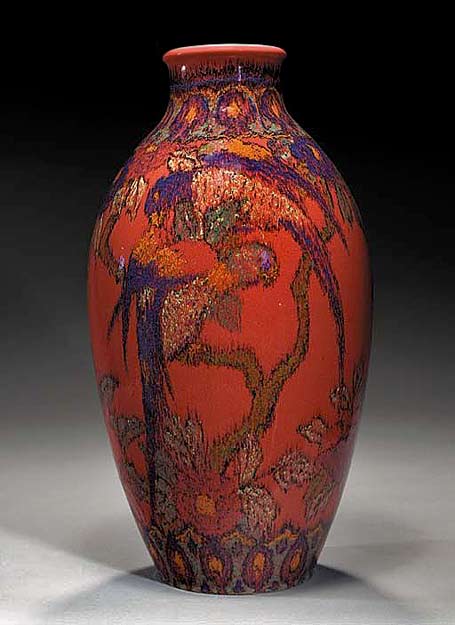 Parrot Pair – Rookwood Pottery, Cincinatti, Glaze decorated vase by Edward Timothy Hurley
1928.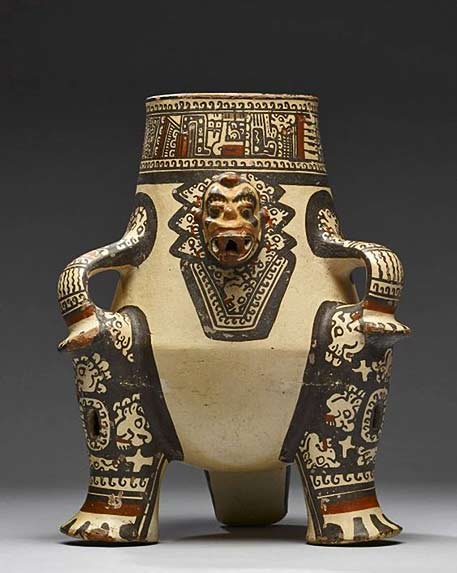 'Shaman Effigy Vessel'   by Guanacaste Nicoya
circa AD 1000 – 1350
Turquoise Dragon Bowl  — Joy Munshower
Sophie Elizabeth Thompson
'Sweeping it under the Table' — Georgina Shearman
Hilda Soyer raku figurines
London Gallery – Erskine, Hall & Coe  exhibition
3 – 23 November 2016
'Anvil' – Gordon Baldwin
Vessel 1980's – Ewen Henderson
57cm height
Funnel Vessel – Gordon Baldwin – c.1990
57 x 31 cm
Zig-zag Folding Form, 1990s  – Ewen Henderson
French bulbous geometric Art Deco vase
Height 13 inches – Aspire Auctions
Raku globular vessel – Steven Forbes Desoule
Scvlptvre
November 18, 19, 20  2016
Palais des congrès de Montréal.
http://www.scvlptvre.com/
Terry Lazaroff
'Cassie' – Bichon Frise sculpture by Suzanne Noll
See more cat and dog ceramics on veniceclayartists here
Chandra Debuse- 'Amaretto Bottle'
'Ancient Fish' – Hanako Nankubo
2015
Large ceramic basket form – Helen Fuller
2011
Marc Michel Gabali
Lidded Jar – Emily Free Wilson
Fine line detail wedding vase  Jay Vello
Art Nouveau figural vase by Charles Korschann
Turquoise and black horsehair vase – Cathie Cantara
'Amber Sunrise' – Russell Ackerman
Jingdezhen hand painted landscape vase
Crackle glaze twin handled vase – Andre Metthey
1910
Bruno Sserunkuuma, Uganda
Tigris Schmider free form vase
Double gourd vase – Zsolnay
Pauline Wateau – raku female figurine
Kevin Gordon glass vase
Erskine, Hall and Coe new exhibition
Seven Japanese Artists – running till 18th Feb – more info here
Jihei Murase
Line carved tea caddy, Negoro style, 2011
Tatsuzo Shimaoka
Stoneware Lidded Box, 1991
Yasuhisa Kohyama
…
Gillian Broinowski
Elaine Hind  – 'Sunflower Vase'
2013
Lidded cylindrical jar – Ramp Ceramics
Andile Dyalvane, Capetown
Donna Kallner & Joan Molloy Slack
Ken Luckhurst
'Bodyblaze' – Shamai Gibsh solo exhibition in Periscope Gallery in Tel Aviv April 6th 2017
Ben Yehuda St 174, Tel Aviv-Yafo, Israel
'Bird on a Steep Slope#3' – Shamai Sam Gibsh
Shamai Sam Gibsh- 'Bodyblaze #7′
See more exhibition pieces here Shamai Sam Gibsh
---
Ladi Kwali, Uche Okeke: The Road To Kpaaza —  March 23 – April 29, 2017
SKOTO GALLERY
  529 West 20th Street, 5th FL
New York, NY 10011
Gallery Hours
Tuesday to Saturday
11 AM – 6 PM
Lady Kwali – Zoomorphic Pot, ca 1960s, glazed stoneware, h414xd14 inches.
Lady Kwali teapot
Shoji Hamada square ceramic bottle
–