Zoe Hillyard, Bennett Bean, Mette Maya Gregersen
Zoe's patchwork ceramics, draw on the Japanese yobitsugi/wabi-sabi concept of the chi inherent in the imperfect moving towards perfection. She also integrates storytelling into her wares by using fabrics that have particular historical narratives. Bennett Bean's ceramic sculptures use interlocking glazed panels that highlight the depth of field and expand the already charged dialogue between the contrasting shapes and patterns. The landscape of his larger then life compositions with competing elements of complexity, merge together in a harmonious conclusion. Mette Gregerson creates her ceramic forms like she is embalming an Egyptian mummy, while also infusing her ocean wave fascination into her sculptures.
I chose the following three contemporary artists because they all create highly dynamic ceramic art, using innovative and unique approaches to express a striking vibrancy.
Zoe Hillyard, UK
" My work and research activities are inspired by cultural exchange and strongly influenced by ethical concerns.  Travel, teaching and volunteering all influence the nature of my creative practice. I am particularly drawn to remote communities where lives are fundamentally shaped by landscape and climate, and am interested in how fibre and textile skills often play an important part in livelihood activities. The design process, for me, begins with materials – both raw and recycled and Ceramic Patchwork reflects this approach.  It builds on my interest in hand craft processes, construction and form, and in my belief that items should be treasured for the long-term."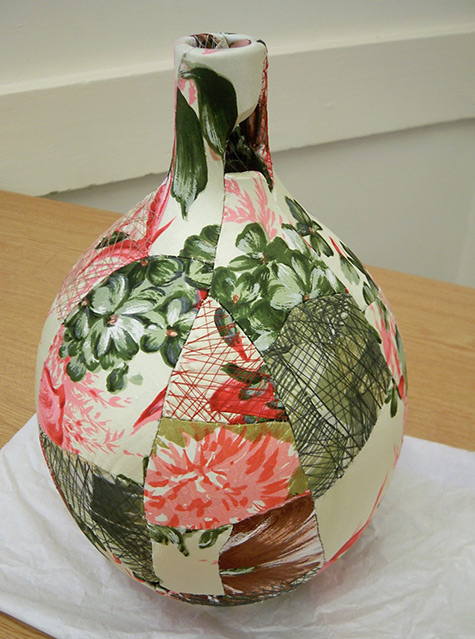 A broken ceramic vase, the fragments covered with textiles and rebuilt by Zoe Hillyard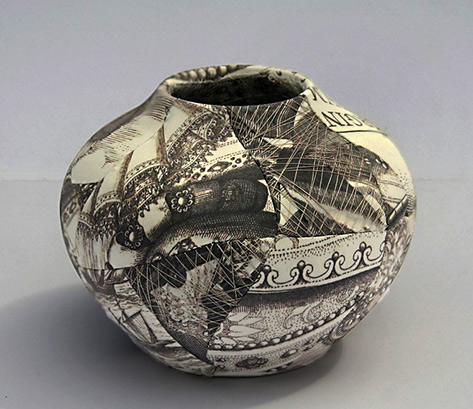 Ceramic Patchwork abstract  vase – Zoe Hillyard
Zoe Hillyard  digital print fabric vase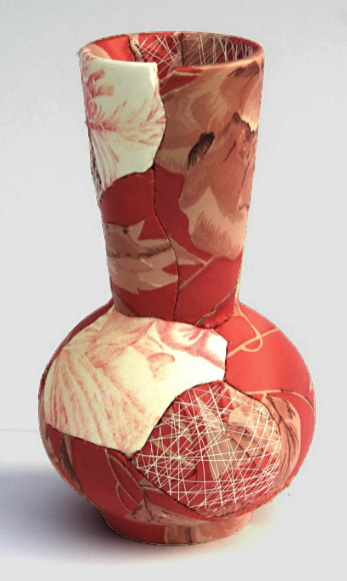 Vase with patchwork in digital print fabric – Zoe Hillyard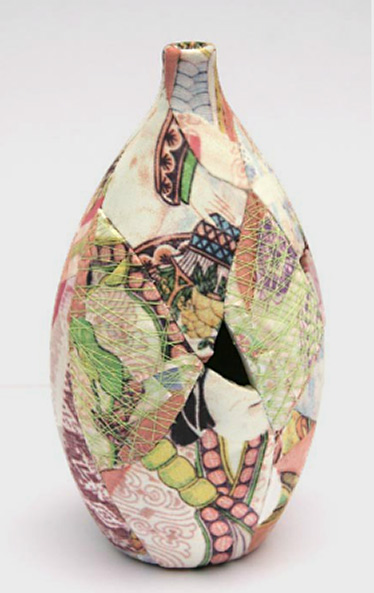 Digital print fabric patchwork ceramic vessel – Zoe Hillyard. The missing fragment has been deliberately left out from the piece.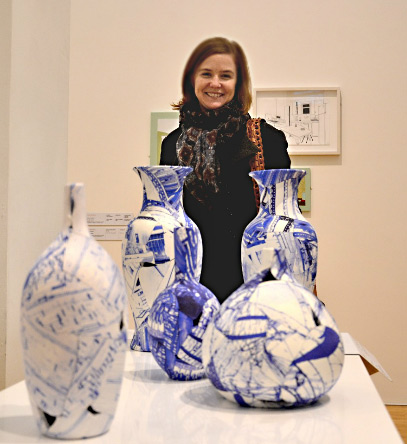 Ceramic Patchwork display – Zoe Hillyard
Made in the middle
2012
 Made in the Middle is Craftspace's tri annual open exhibition that has charted over two decades of professional contemporary craft practice in the Midlands, UK
Zoe Hillyard Ceramic Patchwork bottles
Made in the middle 2012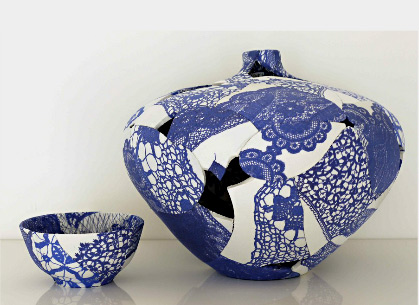 Ceramic patchwork with lace inspired fabric – Zoe Hillyard
New Brewery Arts -2013
The body of work produced for the exhibition at New Brewery Arts in Cirencester was created in response to yobitsugi, the Japanese approach to mending broken ceremonial ceramics using completely different fragments to patch missing parts
Ceramic Patchwork Bottle -Zoe Hillyard
 Lizzie Mary Collection
New Brewery Arts -2013
 For the Lizzie Mary Collection,  Zoe created a blue and white digitally printed textile design using scanned imagery of lace. The fragments spanned four generations of her family. Some she made herself using her bobbin lace making skills she learnt as a teenager, the rest are pieces that her great-grandmother wore as detachable details on her Victorian dresses.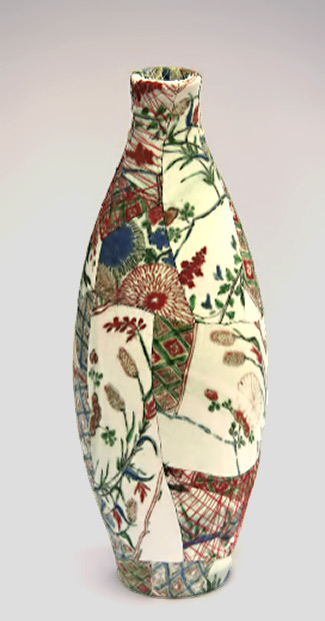 The textiles design used for this patchwork vase were  interpreted from Imari  plates.
  The Imari-ware colour stories make striking colour statements.(see plate below)
Commission British Museum – core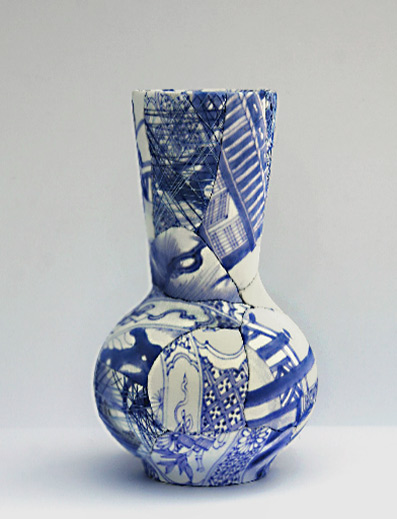 Zoe Hillyard
This piece reworks imagery from three stunning Chinese plates which date from the Xangxi reign within the Qiang dynasty (1622-1722).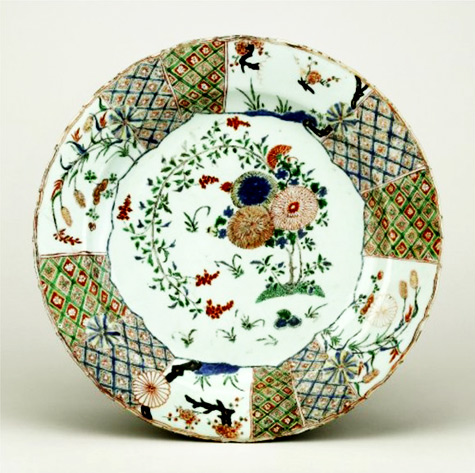 Imari plate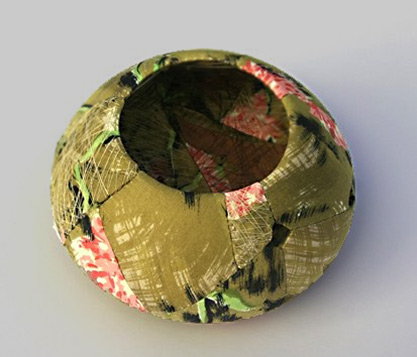 Zoe Hillyard—Olive and pink vintage fabric retro bowl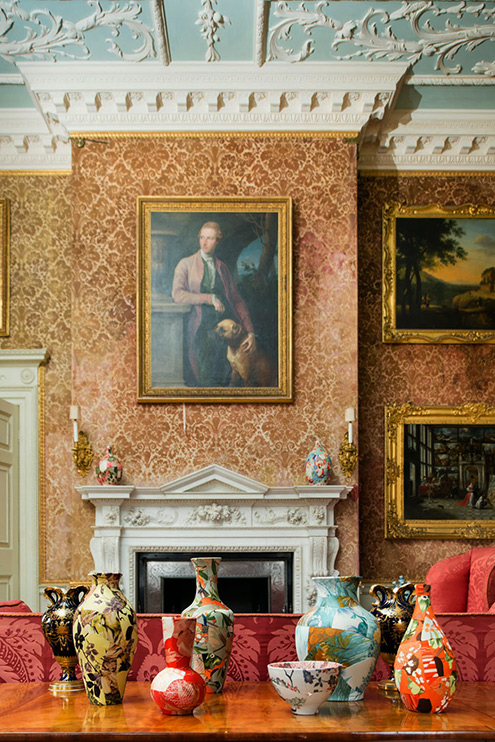 Vase display 'In the Red Drawing Room' –  Zoe Hillyard
Unravelling Uppark
Photo by Jim Stephenson
Zoe Hillyard vase
Photo by Jim Stephenson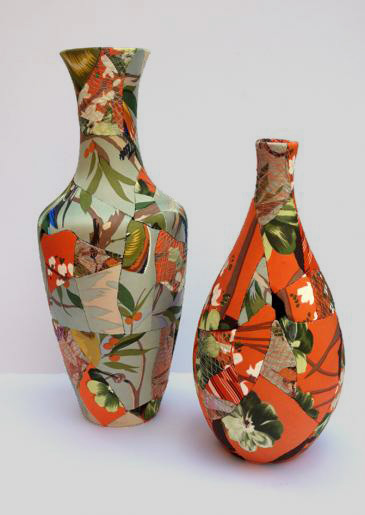 Patchwork ceramic bottle and vase using vintage fabrics  – Zoe Hillyard
 This  vase is based on a beautifully detailed 1592 etching of Queen Elizabeth 1st which is featured in the exhibition.  Graphic elements of landscape, fashion, ceremony and symbolism combine within these gentle tonal ceramic patchwork pieces – Zoe Hillyard
Shakespeare: Staging the World at the British Museum  2012
Fabric patchwork ceramics vessels – Zoe Hillyard
New Brewery Arts, Cirencester, UK
Zoe Hillyard Website here
 Bennet Bean, USA
" I don't make any distinctions between making things, cooking, gardening, and building houses.  Elements from the garden appear in paintings and the surface obsession of the pots appears in the house as consciousness of each decision about material and finish.  Each cross-pollinates.  Curiosity about how to express identity results in having my DNA done.  That image then surfaces in collages and then again in the rugs I create.  The paintings and the pots have both contributed their imagery to the rugs.  It's a dance where ideas are applied in different ways depending on the medium.  "
An extract from a Bennett Bean essay on "Finding a place in the 21st Century"
"From the variety of choices available, I found the idea of the vessel the most personally interesting. It is the paradigm of historical ceramics and not appropriated from the art world. My exploration followed the same path as the painters. In keeping with the analytical approach of the modernist painters, the two characteristics of the vessel that I have chosen as my subject are decorative surface outside and space inside, with the concomitant unfolding of the relationship between these two elements. It is by mining these essential concepts that my work finds consistency and coherence. Each of us chooses and builds upon the objects of our historical antecedents. The majority of the clay work in the past fifty years has been driven by obsession with technique – moving from Raku to salt to wood fire in a slow evolution of identity through methods. It was my goal to avoid a ceramic identity defined by technique. Technique is of course there because we are object makers but, in my work, technique is always in the service of the idea."
Bennett Bean Teapot  Master #1114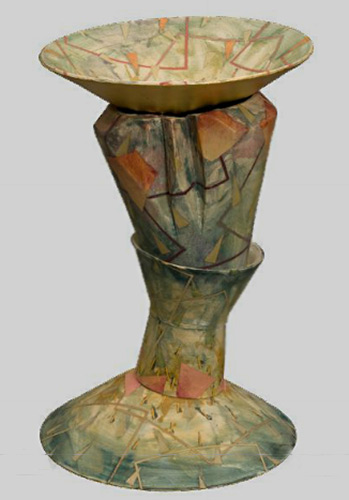 Bennett Bean
Museum of Arts and Design Collection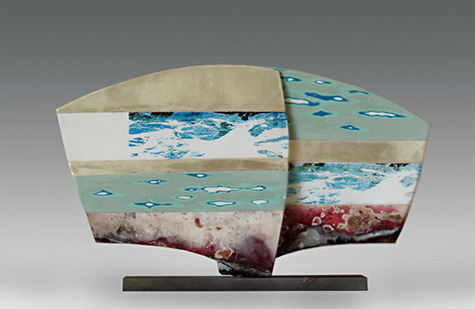 Bennett Bean —Master-#1123 — The Bay
The New Wing Series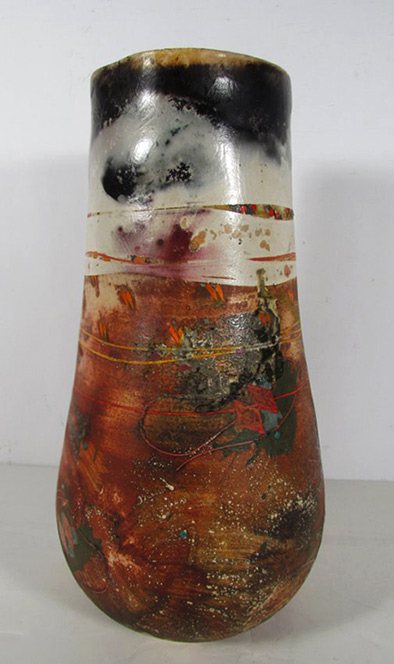 Vase with bulbous bottom – Bennett Bean
1990's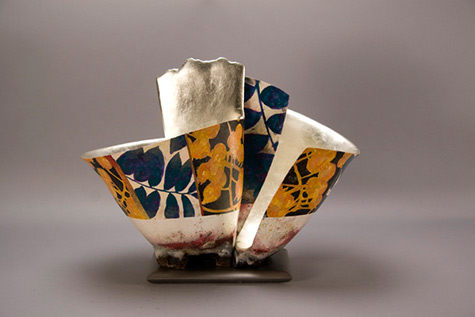 Bennett Bean – Pair on Base
Pit-fired, painted and gilded earthenware on pedestal – view 1
16.5"w x 13.5"h x 9.5"d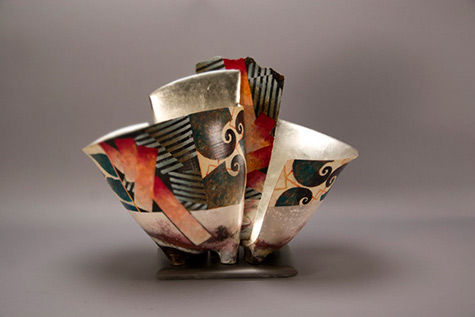 Bennett Bean –  Pair on Base
Pit-fired, painted and gilded earthenware on pedestal – view 2
2014
Abstract Teapot Master-#1112— Bennett Bean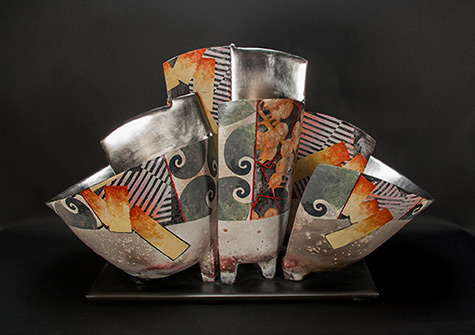 ' Triple on Base ' – Bennett Bean
 Ceramic Vessel, pit-fired, gilded, painted earthenware – Bennett Bean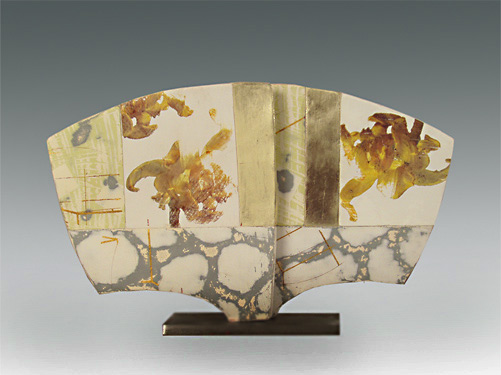 Bennett Bean —Master-#1125— 'The Flower'
The New Wing Series
Bennett Bean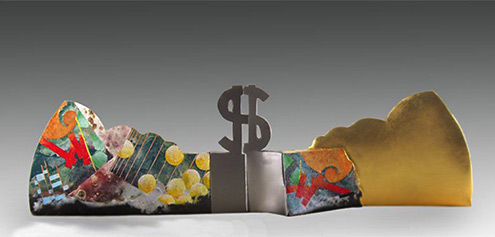 'Marriage for Money'   by Bennett Bean
Paired Teapots from The Marriage Series—-26″ x 7″
'Shotgun Wedding' -Bennett Bean
Paired Teapots from-The Marriage Series
8.5"h x 25"w x 4"d
Silo Pagoda study – Bennett Bean
Resurrected from an old silo at Bennet's Beans studio location.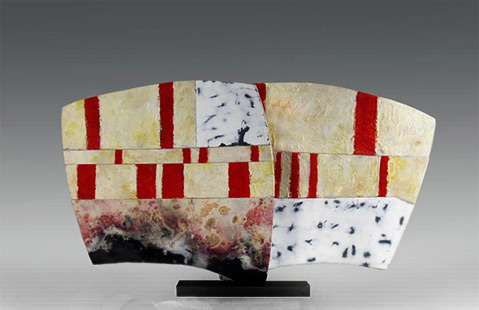 'What is Mondrian' – Bennett Bean
The New Wing Series—Master-#1122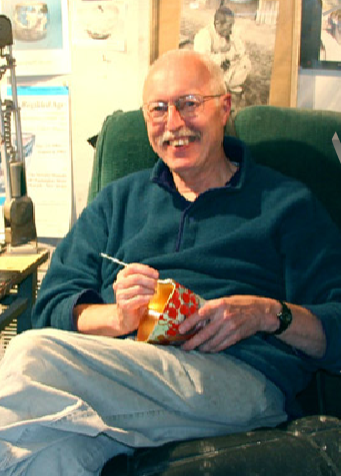 Bennett Bean
…
Mette Maya Gregersen, Denmark
"After a while working in fragments and burning away, I feel the need to construct pieces. This is an organic process built slowly using strips of clay that are first torn apart, then carefully wrapped around each other and put together
Every action in clay refers back to a mental state. There has to be a connection between thought, hand, and space, where each element investigates the other and creates a channel of communication. If I repeatedly fall into the same black hole then I will investigate that path, how I got there, and how I can get back up again."
Ceramicist Mette Gregersen is  intrigued by the power of waves and their constant motion. She captures this eternal movement while enhancing the shapes of her sculptures further with the wrapping procedure that gives the impression of an Egyptian embalming , conjuring an ancient mystique.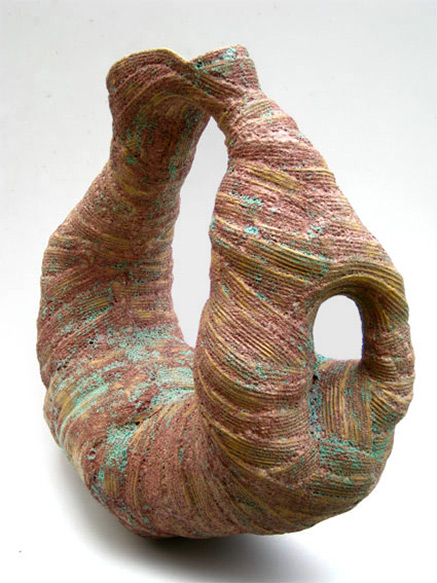 Back on track 2 – Mette Maya Gregersen
Stoneware paper clay, 2011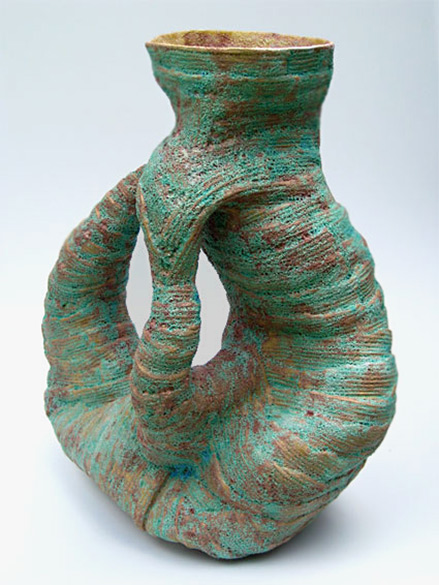 Back on track 1  – Mette Maya Gregersen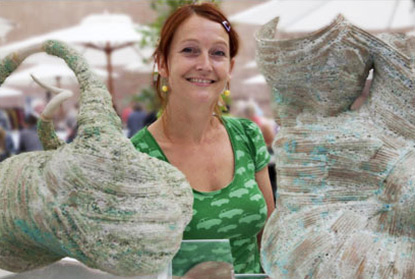 Ceramicist Mette Maya Gregersen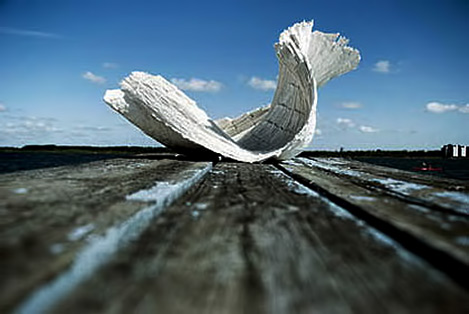 'Ceramic Wave' by Mette Maya Gregersen
©-Ceramic-Art-London
Dok 1 Waves  – Mette Maya Gregersen
 Mette meeting Her Majesty the Queen Margrethe at the Art and Craft awards (Kunsthåndværkerprisen)
Copenhagen Town Hall, Denmark
'Dobbelt Porselan Bolge ' – Mette Maya Gregersen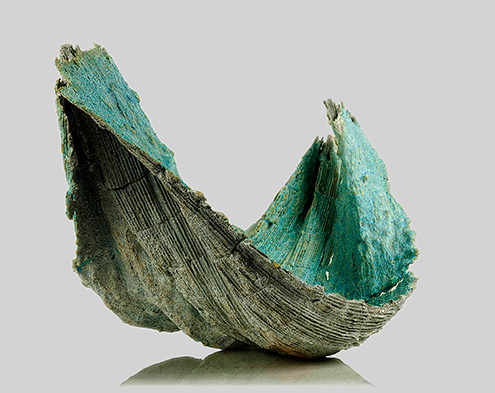 Wave sculpture – 'Double Opposites ' – Mette Maya Gregersen
Gentle Typhoon 1 – Mette Maya Gregersen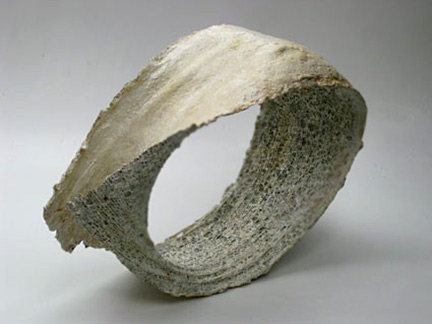 Contemporary ceramic – Mette Maya Gregersen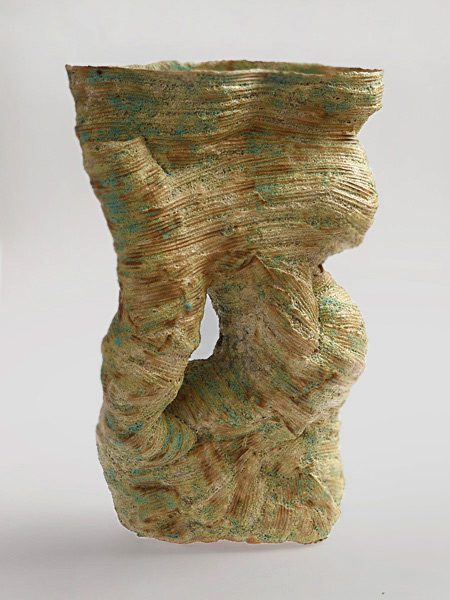 Mette Maya Gregersen – sculptured vase
 Mette Maya Gregersen wave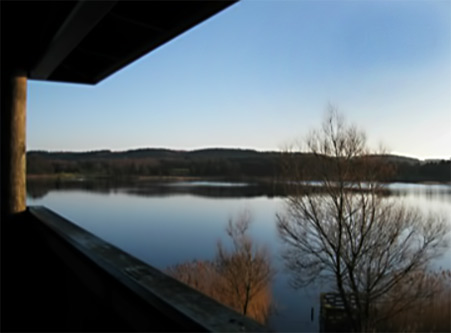 Mette Maya Gregersen studio
puppe 5  – Mette Maya Gregersen
Wave Sculpture – Mette Maya Gregersen
'Wicked Wave' – Mette Maya Gregersen
Winner of Håndfuglen 2010
 Handbuilt vase  – Mette Maya Gregersen
–