"—because it is an honest expression of present-day living, modern design should interest all thinking Americans."  … Russel Wright
American modernist designer Russell Wright
Most collector enthusiasts of modernism are familiar with Russel Wright's ubiquitous, colorful dinnerware designs. Wright is credited with being an influential designer and the one most responsible for the American shift in taste toward modern design in the mid 20 th century.  American Modern™, which  he produced in 1937 with Bauer Pottery  was his most bold statement in that effort.
With over 250 million pieces sold, American Modern™ is this country's original entry in modern style of dinnerware, and was the largest selling for that period. Russel Wright revolutionized the American home and the way people lived there. His iconic inexpensive, mass produced dinnerware, furniture, appliances, and textiles were not only visually and technically innovative, but were also the tools to achieve his concept of "easier living," a unique American lifestyle that was gracious yet contemporary and informal. The universal appeal of Russel Wrights pottery designs has been vindicated by the reintroduction of his American Modern™ dinnerware set.
Wright was preoccupied with two design concepts, both aspiring to serve the masses, for much of his career. The "American Way" was formulated in the late 1930s and spawned a product line of ceramics and furniture.The second "Easier Living" was a philosophy first published as a guidebook in 1950. It claimed that families should share chores and reduce personal possessions "to make maintenance easier," among other things.
In the same way that Pottery Barn has influenced 1990s American taste and design sensibility, the "American Way," peddled through pamphlets and public appearances to promote the wildly popular American Modern dinnerware, introduced homeowners to an affordable decorating esthetic during the Depression. By the time " Easier Living "came out, Wright had become obsessed with labor saving devices and esthetic order.
As far a s marketing goes, Russel Wright beat Martha Stewart to the punch by 50 years. He was the first designer to successfully market his wares using his own name as a well-defined brand, and Wright rode the crest of the Modernist wave for over 20 years.
One of Russel Wrights personal achievements was the creation of Manitoga . When Wright first found this property in 1942, it had been damaged by a century of quarrying and lumbering. Over the next three decades, until his death in 1976, he carefully redesigned and re-sculpted Manitoga's 75 acres using native plants, his training as a theater designer and sculptor, and his innovative design ideas. Though the landscape appears natural, it is actually a careful design of native trees, rocks, ferns, mosses, and wild flowers. Wright created over four miles of paths that wind over creeks, into woods, among boulders, and through ferns and mountain laurel.
This became his residence and design studio. Manitoga is the only 20th century modern homesite open to the public in New York, and one of few on the east coast. Wright considered it his most important creative effort. In 1996 it was listed on the National Register of Historic Places.
Russel Wright creamer
Russell Wright  Carafe
MCM Eva Zeisel Dinnerware set, a similar modernist style to Russel Wright
Seafoam bowl and plate
Russel Wright
Salt and Pepper Shakers – Russel Wright
Cup and Saucer – Russel Wright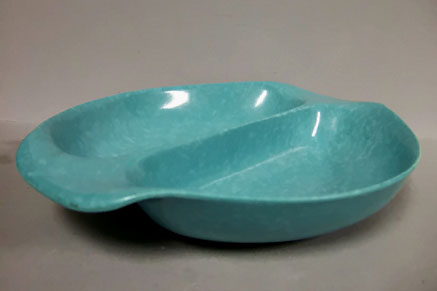 Russel Wright split dish
Manitoga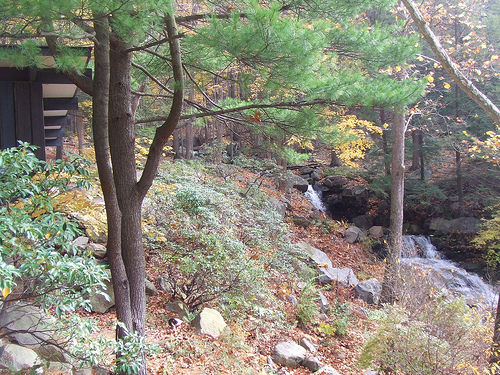 Manitoga
Russel Wright 'Iroquois Cantaloupe' dinnerware.
Russel Wright bowl
Russel Wright  for BAUER -free-form dish with mottled beige exterior and chocolate brown interior.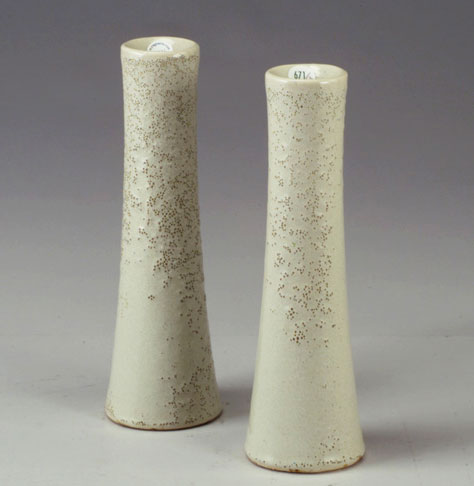 Candle Holders – Russel Wright
 Long boat shaped vessel covered in turquoise and deep plum glaze.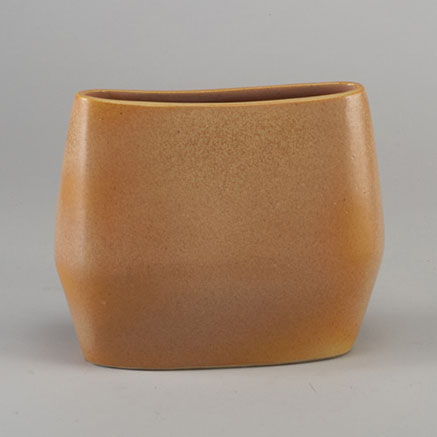 Russel Wright for Bauer – pillow vase covered in matte apricot speckled glaze.
Russel Wright jug
Two RUSSELL WRIGHT for BAUER free-form vases with glossy pale gray glaze.
Russel Wright  for Bauer oval vase with mottled apricot exterior and chocolate brown interior.
Russel Wright
Russel Wright vases
–