Salvador Dali, painting The Temptation of Saint Anthony
Spiral Pearcase by Susan Clusener. coil-built earthenware
Invader
" Inspired by by the sensuality of antique phones, my use of low-tech process is not a critique of technology but of behavior. I examine dysfunction, loneliness, 'home,' and ambivalence through abstraction and excess, and laugh at my obsessions in this realm of connection. " – Karen S Musgrave
Mexican Clay Pottery Masks
Chinese porcelain snuff bottle
Porcelain Bathing Beauty on-Shell Figurine-Germany Pin Dish 1920s
Thermal power station towers – Soweto, Gauteng provice, South Africa
June 7 2014
Art Nouveau Ceramic Candlestick, Bolesławiec,-circa-1920
Dona Dita Olímpia—Self portrait ceramic statue
Ceramic sculpture by Erin Furimsky
Dali street art in Lima, Peru
Guangdong Shiwan Ceramics Museum – DIY Hall pottery class
John Storrs – Abstraction1924
 Vilcek Foundation
Perpetual Motion –  Beatrice Wood
Paris Photo by Panoramas
Robert and Jean Cloutier; Glazed Ceramic Vase
1950s
Toby Jug with Hat John Bull  C 1850
Polka Dots -Ethan Stern
Helene Fielder Sculptural Art vessel
Anja Lubach      ' haunting ' mugs
Inflated Tutti Frutti – Kate Malone, UK
Benin Style African Mask, Ivory Coast
Jun Kaneko sculpture figure
Roger Capron street sculpture -Valbonne, France
assartamis.blogspot
Accolay Poterie, France –  monumental modernist vase
Chinese polychrome ceramic figurine
Allstar Teapup by Meryl Ruth at Porcelain Grace
Chris Campbell  'Pacific Celebration'  colored porcelain
Elizabeth Taylor and Richard Burton attending the 1967 Save Venice Ball in her glamorous Alexandre de Paris head dress along with her emerald and diamond set by Bulgari
Afghanistan pottery shop
'Home Sweet Home'  by Maid Of  Clay Etsy
( sold )
Paris Four Seasons Hotel George V, – living statues
( specialtyact.com )
XXXL Ceramic Bottle by Paola Navone for Gervasoni Compasso
Dennis Hopper in front of his abstract portrait by Julian Schnabel. Oil, wax, bond and ceramic plates.
Slab built platter – dotpainting snakes – JoyceVogels
John-Mawhinney abstract ceramic form
2005
Poster for ' It Came From Venice ' – Sponto Gallery Art Show
Venice, California
Chris Campbell ceramic sculpture
When you say one thing and mean another – Freudian Sips Mug 
Linda Styles
This was the Potiers-d'Accolay  store on the roadside in Vermenton, France. It closed in 1989
Zsolnay Valinor 2 iridescent-glazed vase
Contemporary Japanese porcelain shoulder vase
Modcats.com
Pottery shop – San Gimignano, Tuscany, Italy
Jason Walker
Red Green Teapot – Tom Hurbert
Antique Victorian Crown Derby Oriental Foo Lions Dogs Gilded Bone China Vase
Four face Chinese Buddha sculpture
William Bloye mermaid  fountain,
University of Birmingham, England
Contemporary vase by Baule potter Kaka Adjoua, from central Ivory Coast
Headache Cure Advertising ceramic bust
Jenny Orchard abstract asymmetrical vase
Wanda Fiscina contemporary ceramic
Ψ
Street sculpture in Old Town Pasadena
Art Deco vase by Kitty Rix for  Wiener Werkstatte
Teapot by Tania Radda – 'Natures Tea'
Laurel Burch ceramic teapot
1950s 'Ceramic Phone Gal' 
ReVamped Vintage by Trash pile – flickr
Very Rare Beijing Enamel "European Subject" Snuff Bottle, Imperial Palace Workshops, Beijing, Quanglong Four Character Mark in Blue Enamel and of the Period 1736-1760.
( Christies )
Spectacular Weird German Art deco stoneware lidded punch bowl
Ceramic hand art –  Angel in sky blue gown on the deck of a ship- Svetlana Kolosova
A Pop Art Tea Pot by Joanne Delomba – – 'Tea For Two With Love'
Bird nesting teapot – Annette Corcoran
Katya Guseva –  tango for two
Sally and Neil McDonell, UK
Macaw bird compote – Ardmore
Baltimore Museum of Visionary Art mosaic sculpture
Goli mask – Africa
Timothy Sullivan – slab built lidded vessel
Palm Springs giant dinosaur and Lauryn Holmquist
c-heads.com
Teapot pair- Scott Dooley
Fountain sculpture Versailles
Yukari Kashihara – 'Harmony'
'Hot Tea' 12th Binenniel Teapot Exhibition 2010
Delmar Loop Gallery
Footed, lidded ceramic box – Hélène Sellier Duplessis
'The Enchanted Broccoli Forest'  –  Katherine Morling
Custom Portrait Bust – ToHell InAHandbag – etsy
Tom Rippon
Stone mermaid outside the Guild of Students, University of Birmingham, England. By William Bloye.
By Oosoom at en.wikipedia
Adominable Snowman – Toscarno Design
'Ebb and Flow ' – Peter Moorhouse
Judith Duff woodfired bottle
Lidded jar – Sarah Dudgeon, Winconsin
Jun Kaneko – Fremont Project
Xiao Wei
Italian contemporary sculpture – Fausto Salvi
Roberte Alcaras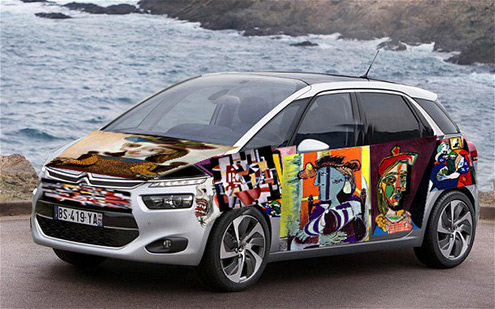 Citroen C4 Picasso – It didn't look Picasso enough so I dropped in a few images.
Fashion designer Charles James's finest work, currently on display at the Metropolitan Museum of Art in New York.
Seville Central Fountain Square , Spain
Floral vase – Liz Smith
Neptune statue, Sydney, NSW
Miltonmic – flickr
Model Nena von Schlebrügge – Turkey
Photo – Gleb Derujinsky
1962
Susan & Eric A. Anderson – Grand River Pottery
Ψ
This post will have future updates on  the VeniceClayArtists  post
–