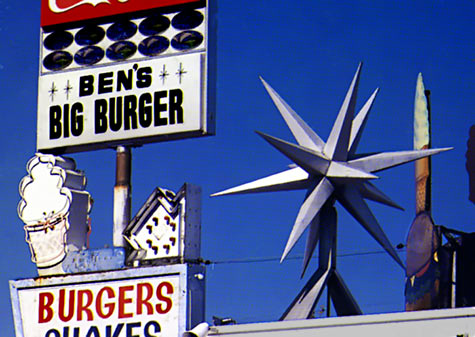 Starburst dingbat
Birth of Raygun Gothic
In these testing times with the likes of Korean dictators over-compensating with missile threats, humour is the order of the day. Raygun Gothic and Dingbats, as a 50's and 60's architectural style, had a connection to missiles, as the ray-guns had a missile shape and some of the Dingbat features looked like atoms.
The term "Raygun Gothic" was coined by science fiction author William Gibson (who also coined the term "cyberspace" and created the cyberpunk genre) in his short story "The Gernsback Continuum" (1981). Techno-noir* aptly described it as " retro futurism " As a style, Raygun Gothic is seen in comics such as Flash Gordon or Buck Rogers and old sci-fi movies such as Metropolis and Forbidden Planet. Mad scientists in huge labs, industrial landscapes, advanced weaponry such as rayguns, rockets and robots. A vintage Sci-Fi look born from a merging of Art Deco and Streamline Moderne.
Tuscon Raygun Gothic
( Woodland Shoppers Paradise Blogspot )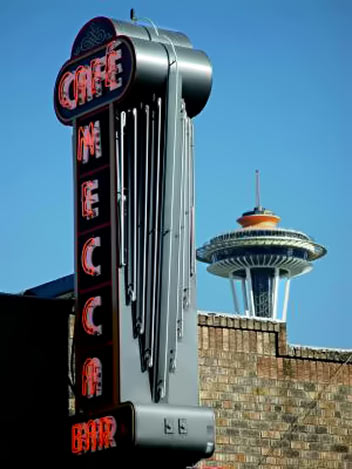 Mecca Cafe by Alain Lucier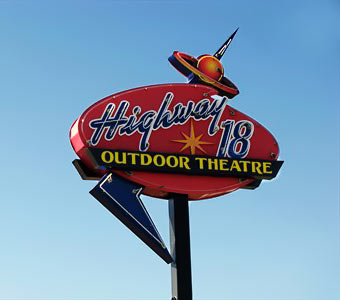 Neon Outdoor Theatre Sign – Jefferson, USA
( waymarking.com-nneuman )
Most of the architecture styles have been represented in the ceramic arts. Classical, Baroque, Nouveau, Deco, Abstract Expressionism, Modernist all had brilliant interpretations that helped to  popularise the forms. However both Dingbat and Raygun Gothic have been generally ignored.  Granted, they were fairly offbeat styles that didn't really attract the same mass appeal.
I decided to go and search for some examples of this obscure style in ceramics, and I must admit it was a challenge. Even Google search was at sea.  Dingbats and Raygun Gothic are  connected to Googie Architecture, which had a tendency to be flashy and audacious. The original coffee shop known as Googie's, which gave the movement its name, was designed by John Lautner and opened on LA's Sunset Strip in 1949.
I only managed to find a few ceramic pieces that faithfully reflected the style , but earlier temple forms of the style came up which widened the scope. I also took the licence to include ray like decorative styles as a representation. I will include more examples  when they turn up.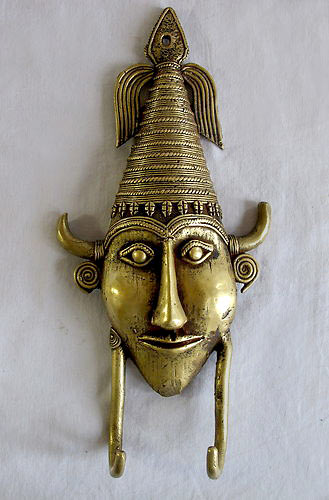 Raygun Gothic Prophetic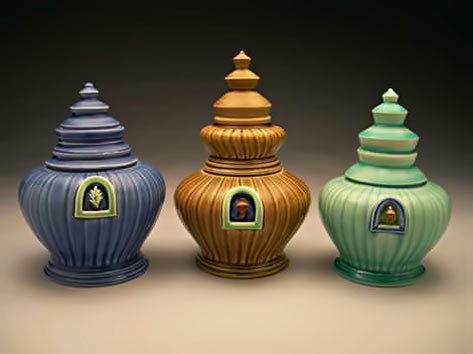 3 ceramic jars – Neil Patterson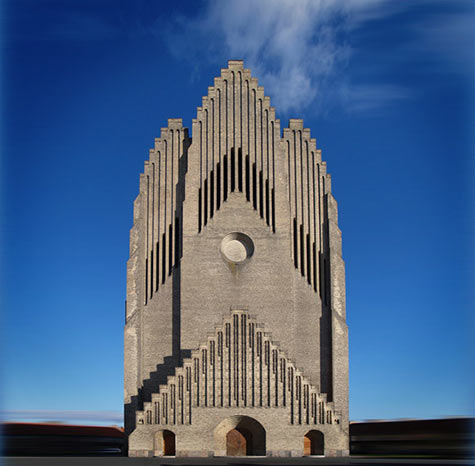 Grundtvig's Church – Copenhagen, Denmark
Expressionist architecture with a touch of the Raygun Gothic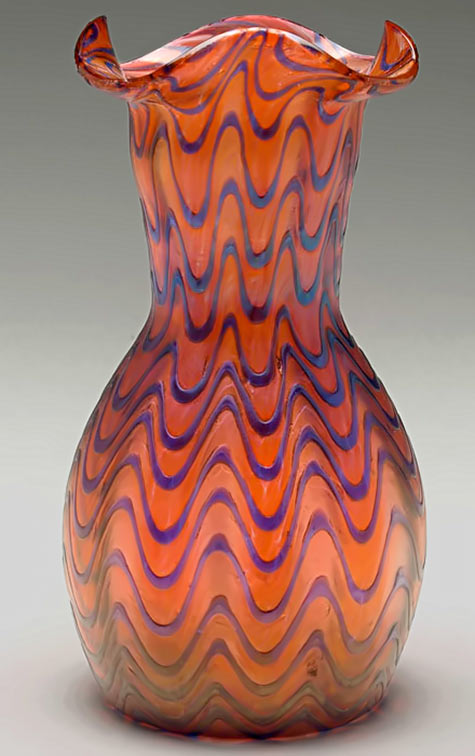 Loetz vase
( Treadway Toomeys )
Pair of tall Spanish pottery vases
( 1stdibs )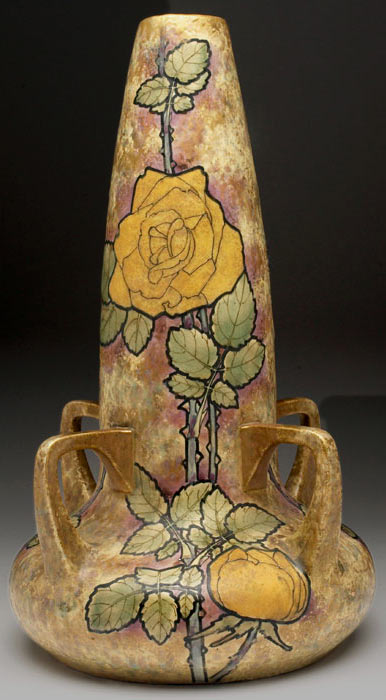 Amphora peace missile vase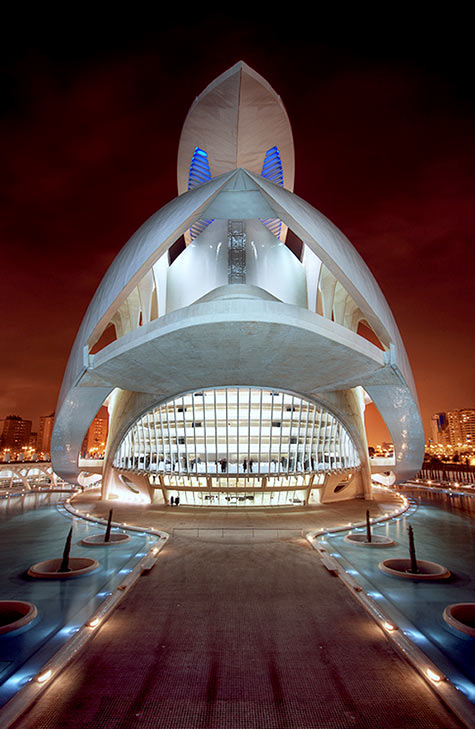 'Palau de les Arts Reina Sofía' in Valencia, Spain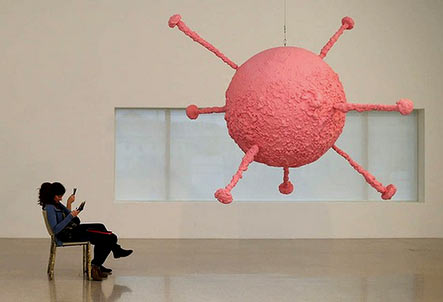 Austrian artist Franz West sculpture
Susan Anderson spiral vase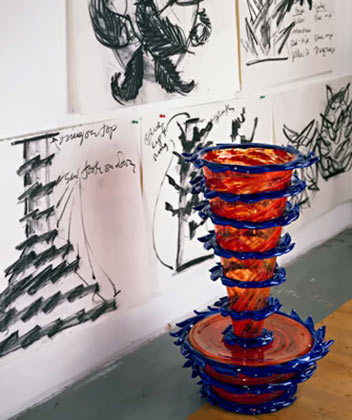 Dale Chihuly – Cadmium Red Venetian with Blue Rings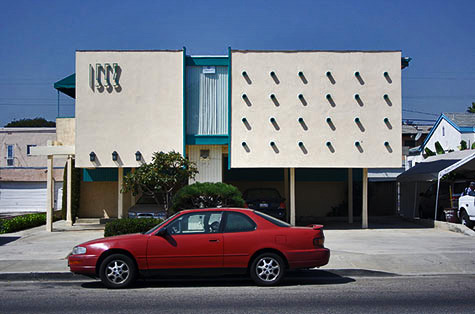 Dingbat architecture – Los Angeles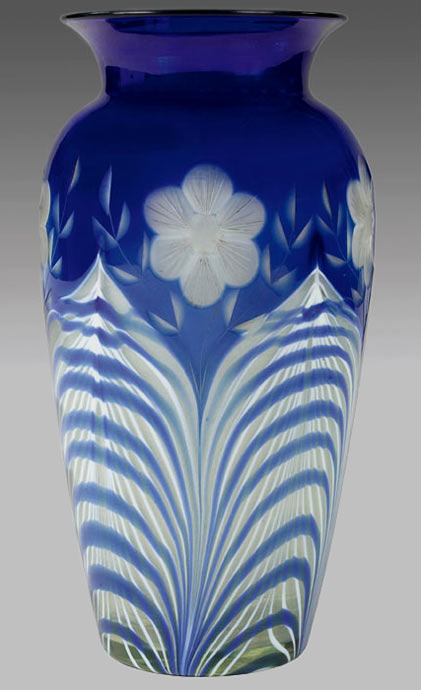 Durand vase
Archimedes burning raygun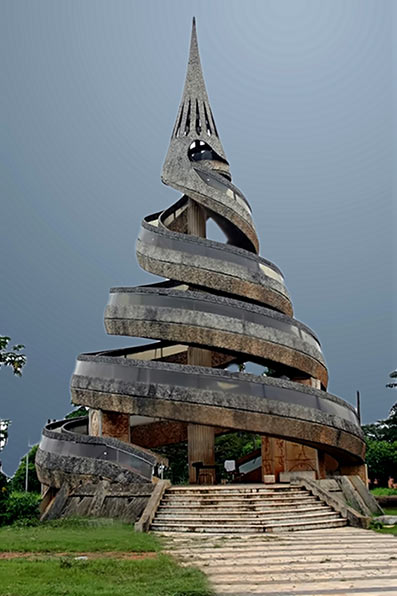 The Reunification Monument
Yaounde, Cameroon , Africa
Typical Dingbat starburst wall feature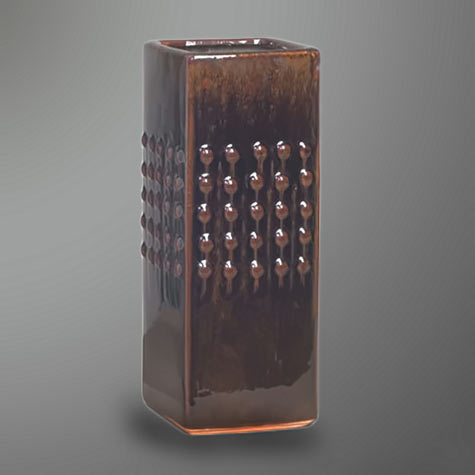 Rectangular ceramic vase
Australian Aboriginal  ceramic plate
( Raygun Gothic sea turtle ? )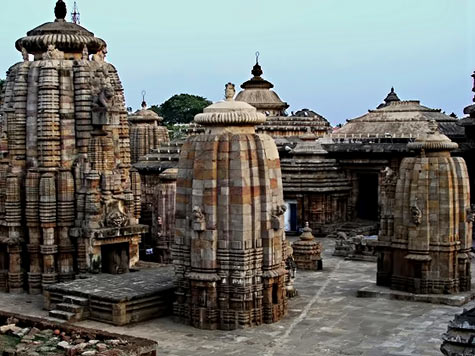 Lingaraj temple complex
L.C-Tiffany humidor
Raygun coffee cup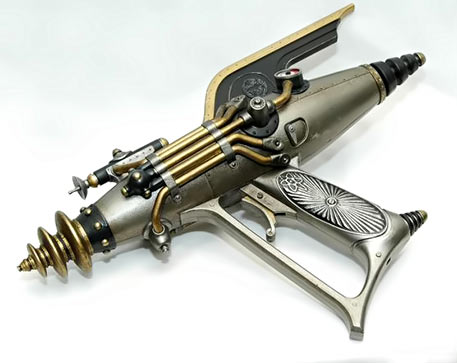 Righteous Bison Indivisible Particle Smasher Ray Gun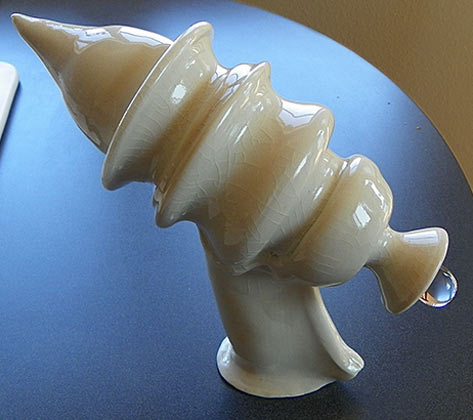 A porcelain raygun by Clay Engineer Jeanette Harris.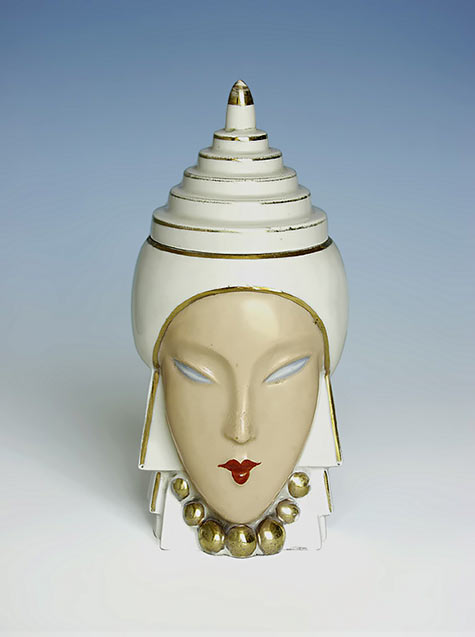 Art Deco ceramic head – Robj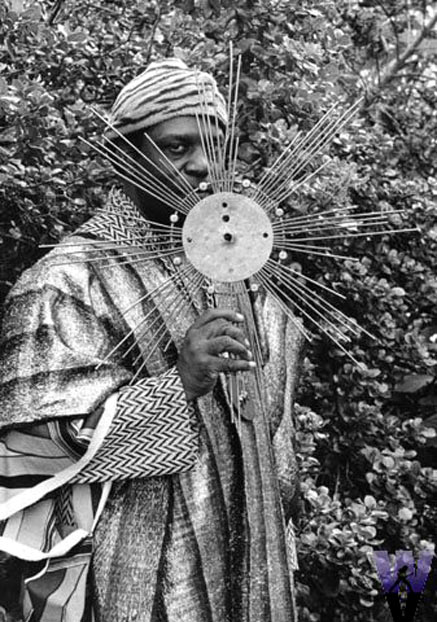 Jazz musician Sun Ra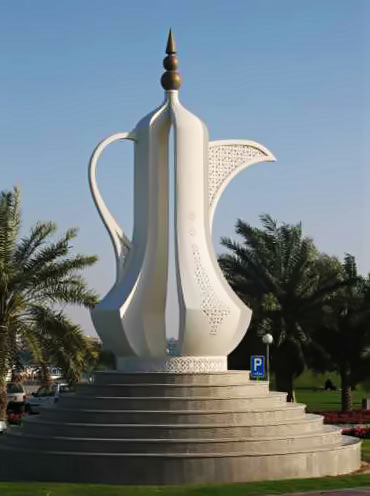 Coffee pot roundabout – Doha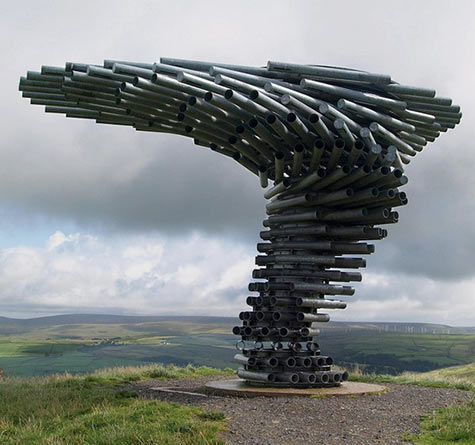 The Singing Ringing Tree in Yorkshire, UK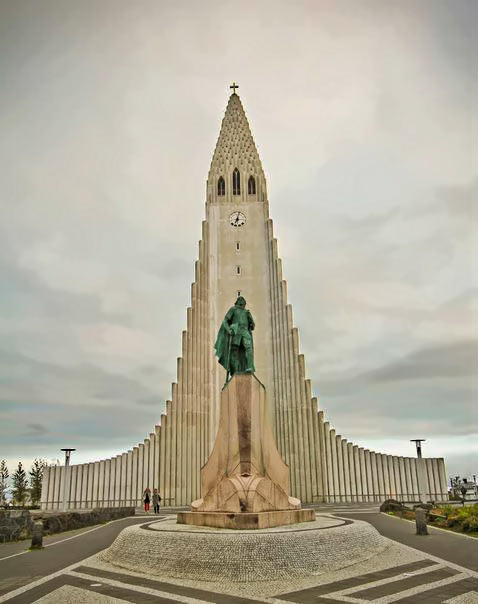 Iceland church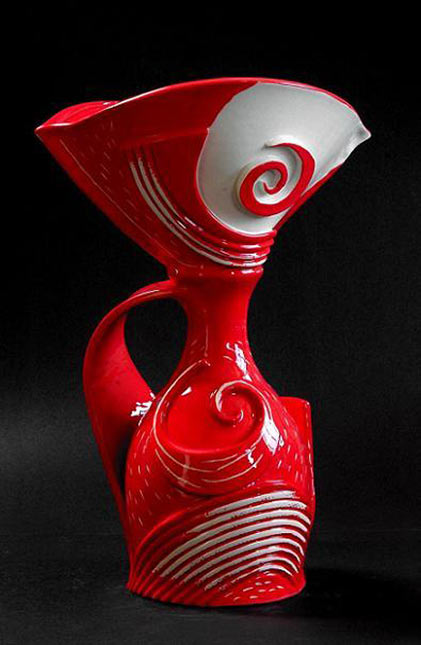 The funnel vase – Innes Olshansky
 Modernist blunderbuss raygun.
Shewadon Pagoda – Yangon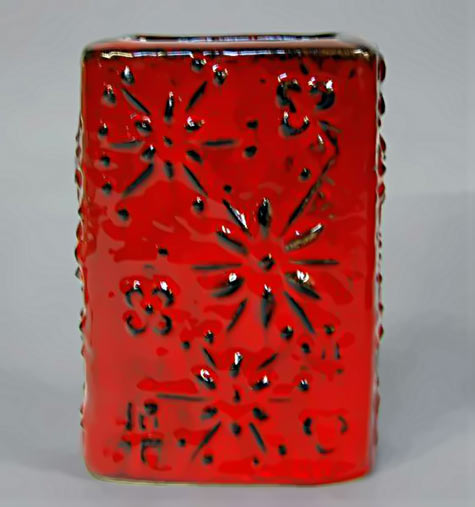 Scheurich vase 1960's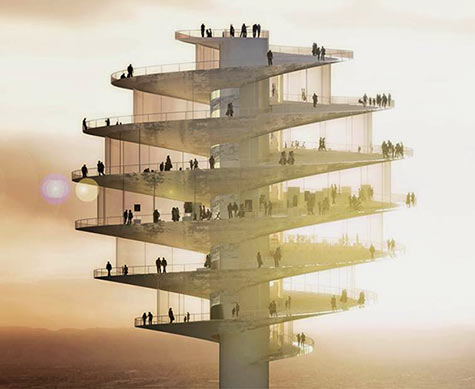 Phoenix observation tower – Arizona
Planned for 2015 ( Raygun Gothic resurrection )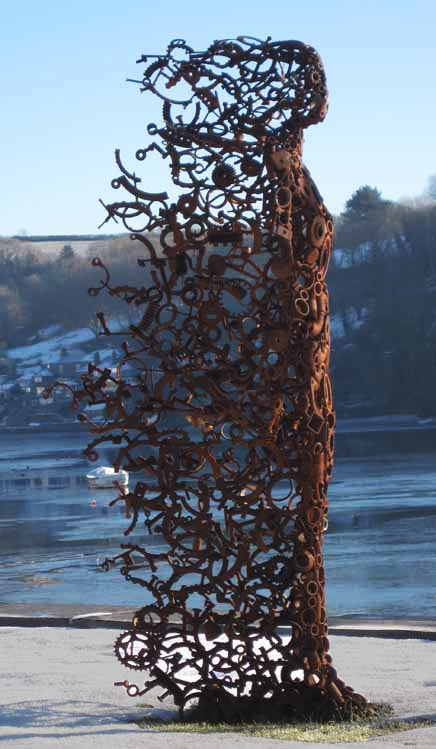 'You Blew Me Away' by Penny Hardy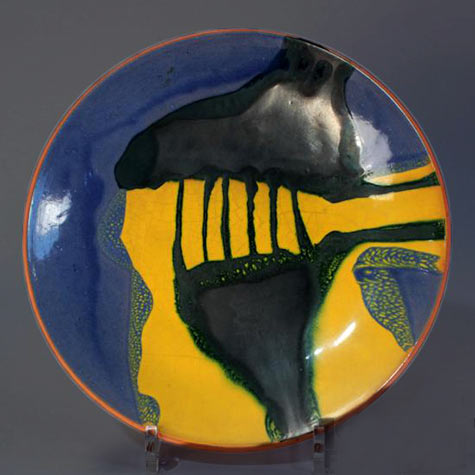 Abstract wall plate – Rucni Rad 1970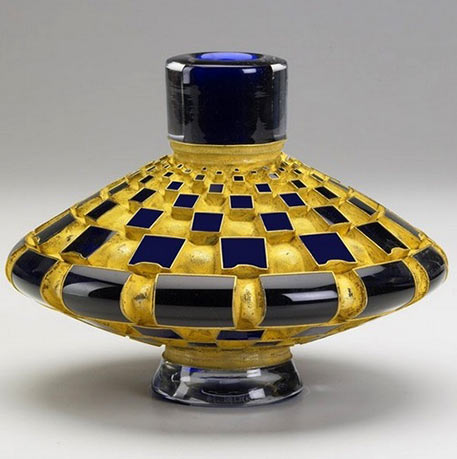 Michael M Glancy – Golden Ascension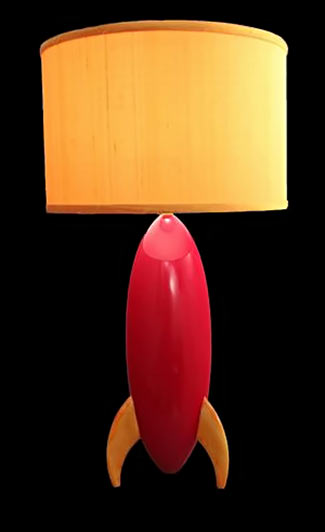 Red rocket lamp
( custommade.com)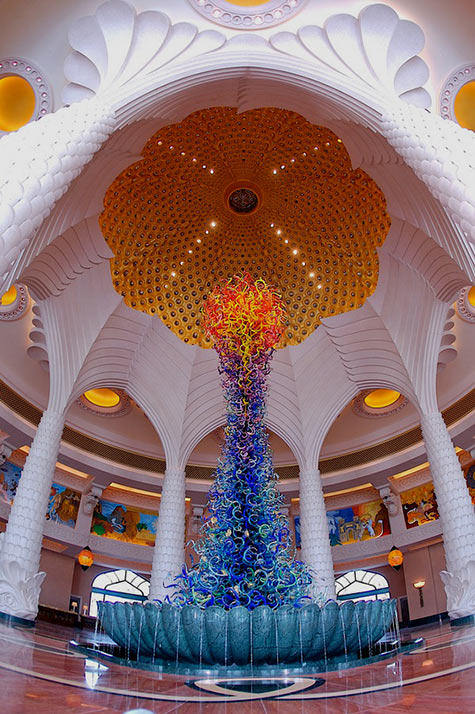 Dale Chihuly, glass sculpture. Lobby of The Atlantis, Dubai.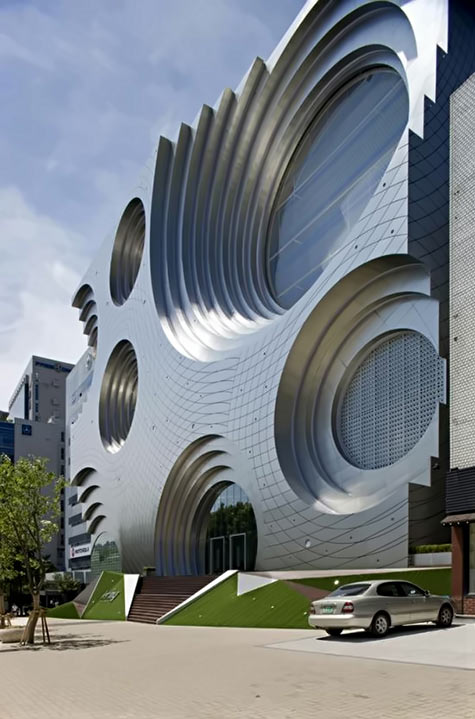 Kring Kumho Culture Complex
( with attachable lenses )
Eileen Gray floor lamp  – 1923
Collection of the Virginia Museum of Fine Arts.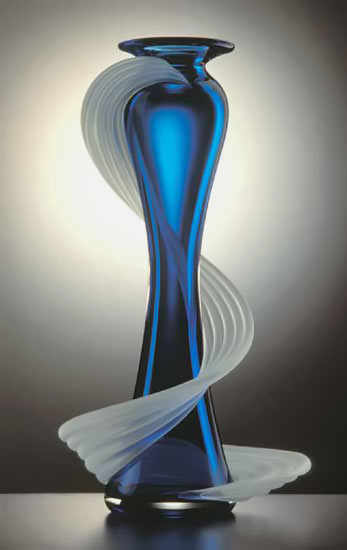 Large Flamenco Vase  – Thomas Kelly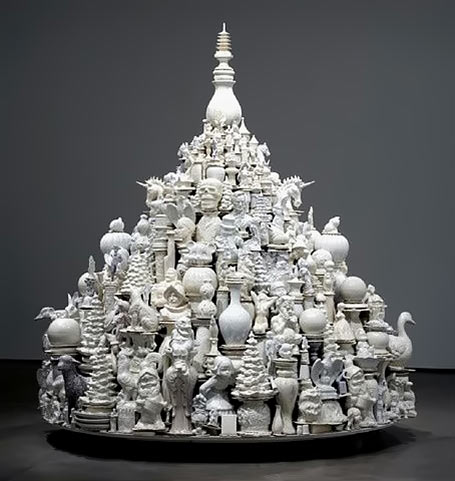 A Theory Of Everything  – Walter McConnell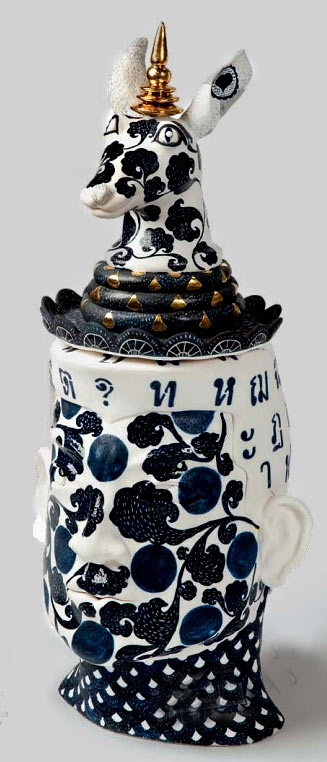 Vipoo Srivilasa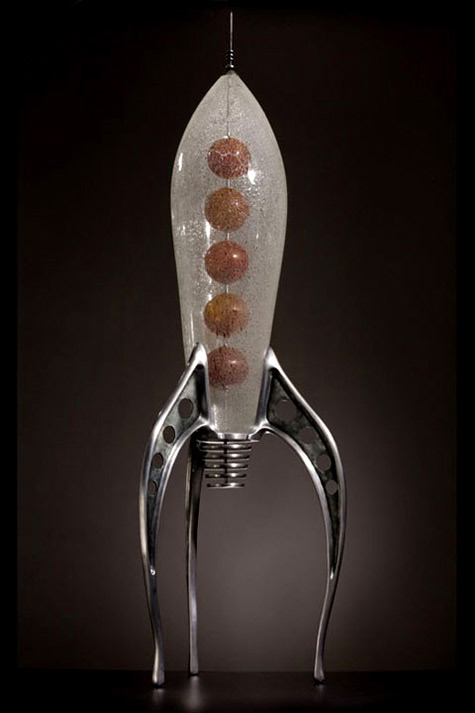 'Minium Maximus' by Rik Allen
Habatat Galleries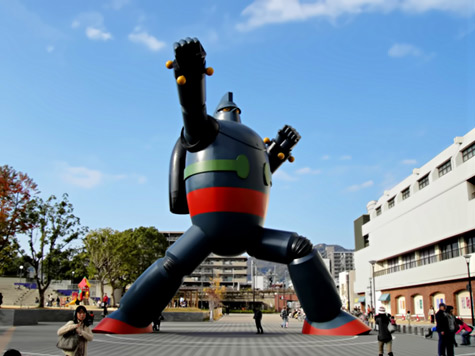 A  life-size replica of Tetsujin 28-gō. It measures 18 meters high and weighs over 50 tons.
Wakamatsu Park
Kobe, Japan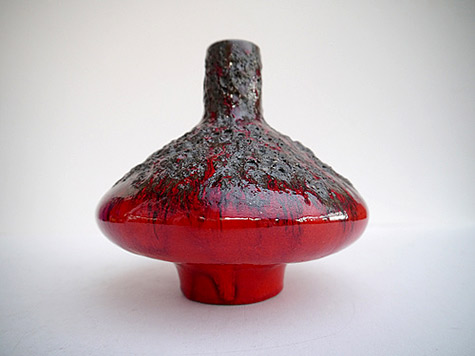 Otto Keramik UFO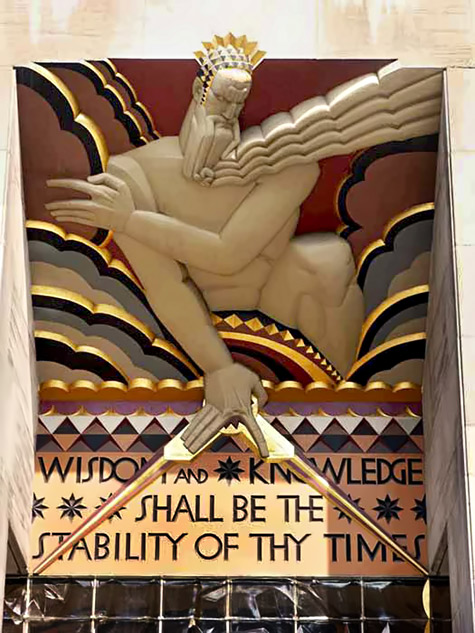 Midtown Manhattan, Rockefeller Center
Photo – Rick Stasel
Dan DeCarlo's Jetta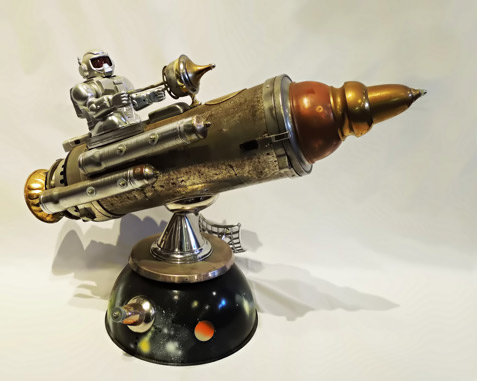 Graham Shaw –  Rocket Riding Robo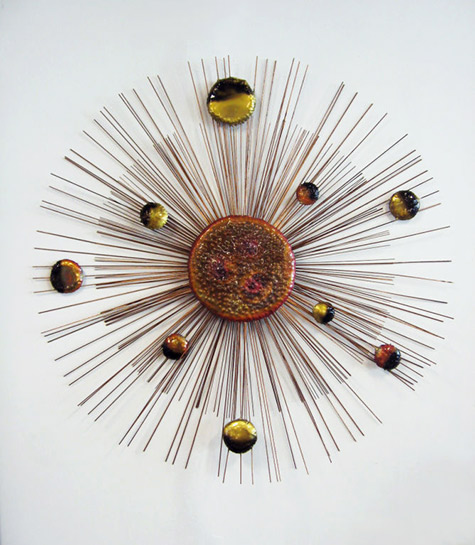 Large star burst wall sculpture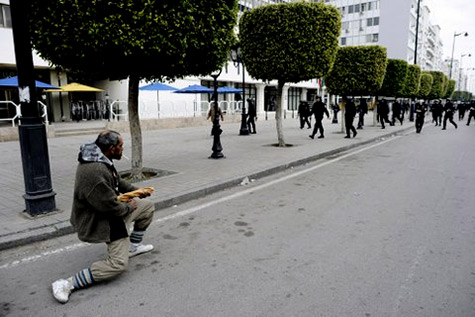 Spring Uprising Tunisia… when all else fails use a baguette.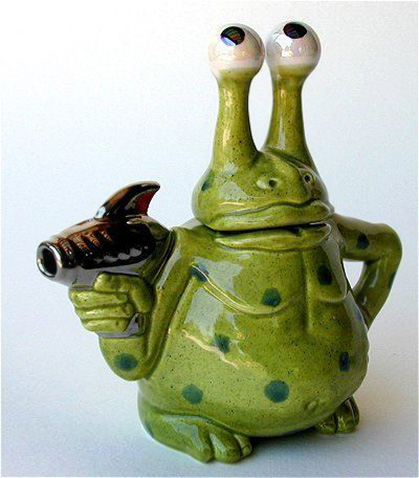 Andy Titcomb 'Take Me To Your Leader'  Teapot.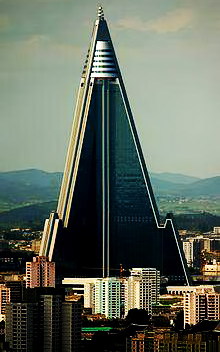 Ryugyong Hotel
Buick LeSabre Concept Car
1951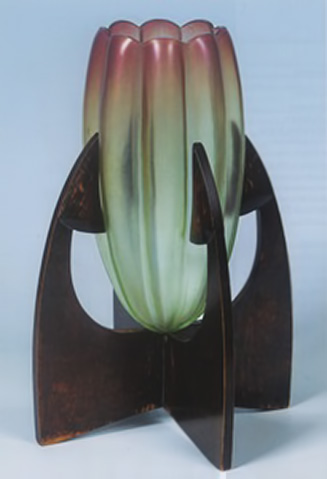 Josef Hoffman—Art Deco Rocket Vase
The Dymaxion house by Buckminster Fuller – Conceived and designed in the late 1920's for mass production but not actually built until 1945.
Tail Fin – -Photo – Wayne Young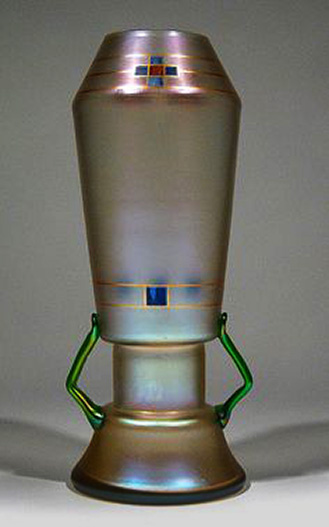 Art Deco galss vase – Loetz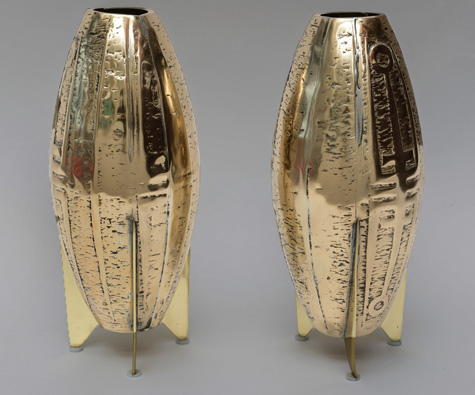 Modernist German Polished Brass Vases
1950's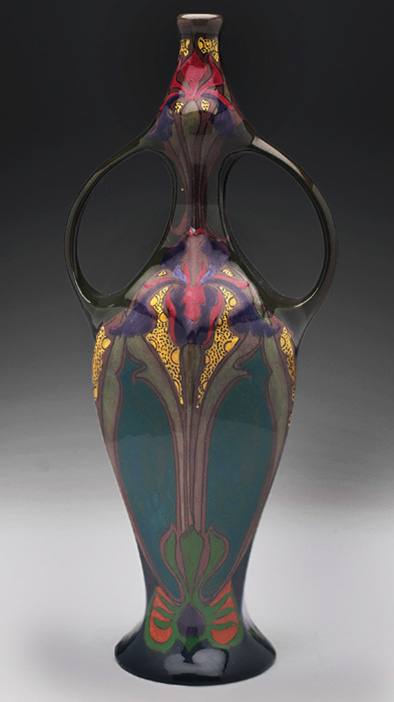 Gouda twin handled, six sided art deco vase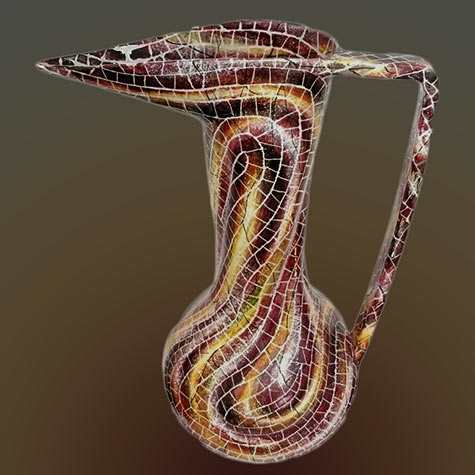 Monumental mosaic ewer – San Polo, Italy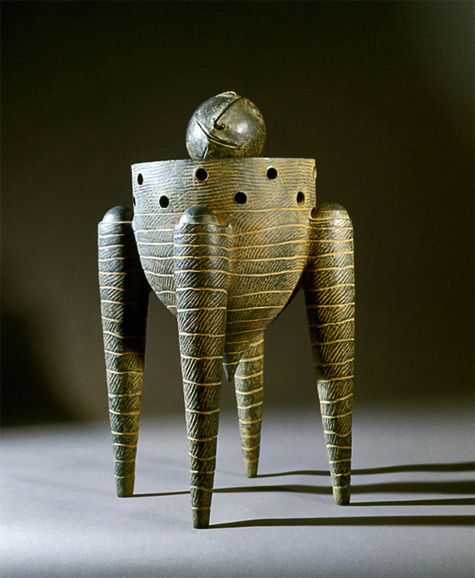 Résonances Terrestre-bronze- Pascale Proffit, France
height 65cm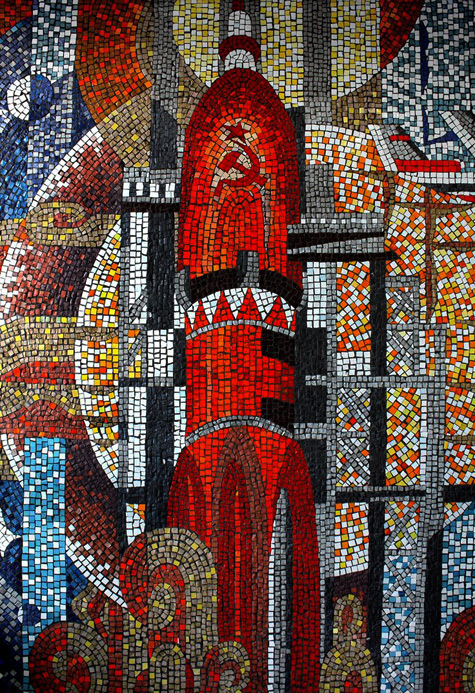 Soviet rocket mosaic mural,- Ulan Ude Airport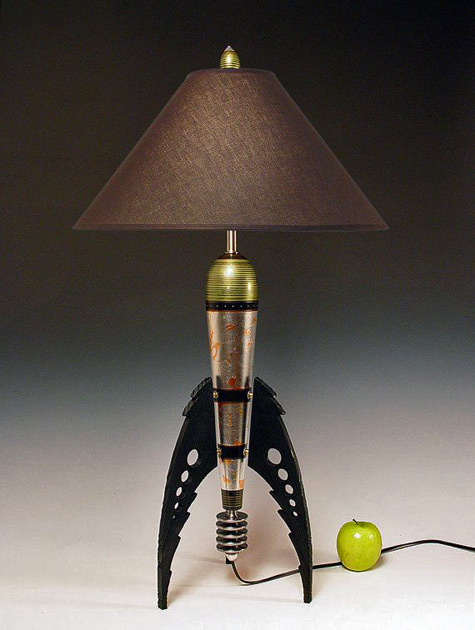 Atomic retro rocket lamp. Metallic peridot and metal leaf.
1950s.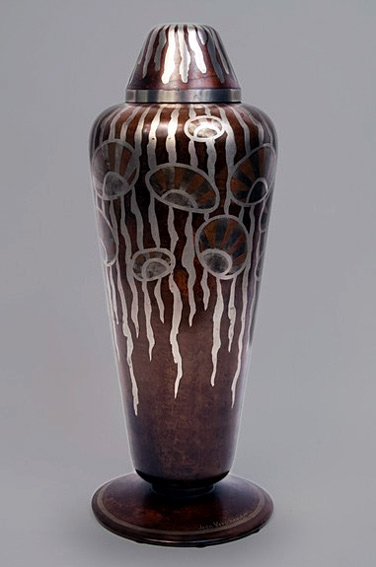 Art Nouveau metal vase by J. Verschneider depicting Jellyfishes using the Dinanderie technique 1915
Valerio Art Deco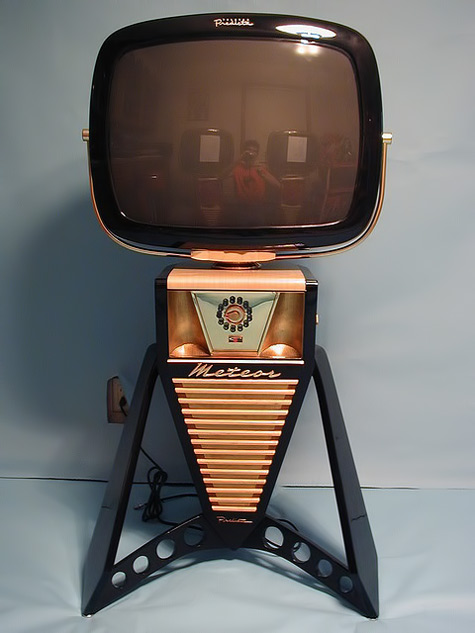 Telstar Predicta Meteor television – reproduction of the 50's TV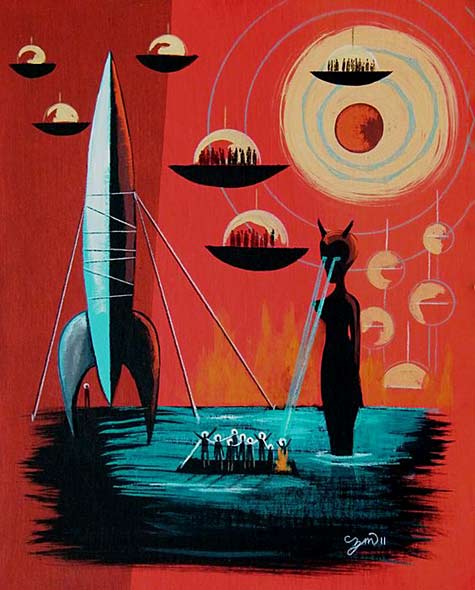 Retro Space Age art by El Gato Gomez
Academy Theatre – Julius Shulman
LA, 1940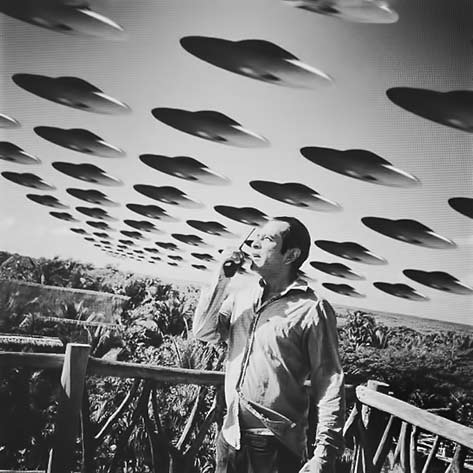 UFO sighting
…
 *Sources cited : http://techno-noir.jedi-hobbit.net/scifi/raygun.php
–