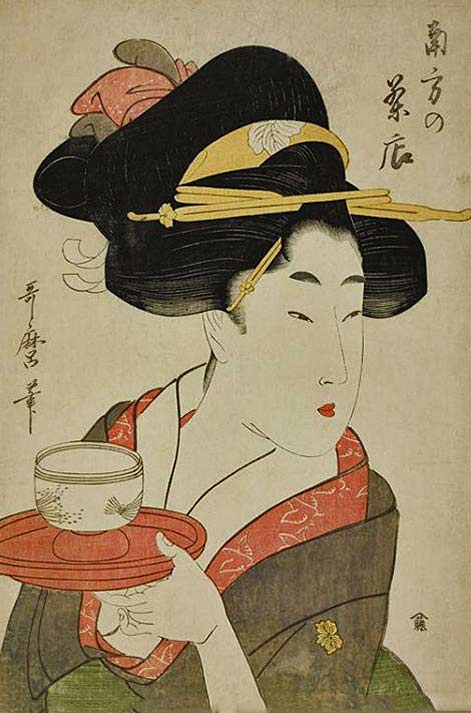 'Southern Teahouse' – Kitagawa Utamaro
Annual teapots exhibition
Including the exotic and the refined with glimpses of the simply zany, a collection of teapot interpretations by over 60 artists is now showing at the 11th annual Teapot Invitational at the Morgan Contemporary Glass Gallery in Pittsburgh. This annual show is running till June 10th. Some of the teapots are utilitarian, others purely decorative, while some are so cleverly conceived that if you are currently a 'teatotaller', you might be compelled to take up the tea drinking habit just to relish the pleasure of using such innovative tea ware.
Morgans Gallery
5833 Ellsworth Ave, Pittsburgh, PA 15232
(412) 441-5200
' A Bear in the Hand' teapot  —Krista Grecco
'A drop of tea' — hand carved silver pendant — Keith Belles
Amy Short— 'Tea Beast' 
Andrew Richmond, 'Bath Time' 
Anthony Scheffler – 'Black Heart Teapot'
Ebonized Purple Heart, bleached Maple
Art Nouveau sterling silver tea pot
'Tea With Edna'  – Charissa Brock
Bamboo, fused glass, paper, waxed linen thread
'Chicken Head Teapot' – Sara Swink
Kong Fu tea master pouring a cuppa at the Carlton Ritz
Derek Decker Teapot
Natasha Dikareva – 'Call For Adventure'
Eben Horton, – 'Tempest in a Teapot'  blown glass
Tea time charm – Vintage postcard

Eileen Doughty— 'Mountain Tea'
Machine & hand stitched cotton fabrics, thread sculpture trees
Ellen Silberlicht – 'Ooolong Enchantment'
Raku, felted fiber, glass beads
Julia Feld – 'Flower Basket'  teapot
 'Last Defense' teapot – Julia Feld
'Felted Delft Teapot' — Meryl Ruth
'Forever' — Kelly O'Dell – blown glass teapot
Central restaurant tea urn – Hotel Oakland, California
'Four Cat Teapot' – Andree Richmond
Contemporary tea room, wabi sabied table – Design by Lai Weicheng
Photo: Jiang Guozeng
Ingrid Goldbloom Bloch – 'Octahemioctahedron Teapot'
Radiator cover folded with modular origami techniques
Jeffrey Lloyd Dever— 'Morning Jester'
Polymer clay, wire 17.25-inches
Jennifer Caldwell – 'Love me'
Cast and flameworked glass
Gerit Grimm — 'Tea Guy'
12inch height
Jennifer Umphress – glass Octopus Teapot
Jennifer Umphress – Uni teapot with blue spikes
Joey Chiarello – 'Generosity'
slab built by hand, stoneware fred cone 6 electric,
Chinese street vendor Tea Maestro
Julia Feld – 'The Bird'  teapot
Clay, hand built, carved, hand painted with underglazes, low fire
Kay Khan, – Chrysanthemum Teapot
Quilted, stitched, embroidered, & constructed silk
Kirsten Stingle – 'Procession of the Muse'
Kirsten Stingle –  'Steeped in Revolution' ceramic teapot
Lindsay Grigsby – 'Spheres Teapot'
'Lucidtea' — Mark Leputa
Madeline Kaczmarczyk beaded teapots
Madeline Kaczmarczyk – 'Lotus directions'
Hand built slab formed clay, glazed and fred with gold lusters. Post fring encrusting with glass beads
Marilyn Andrews – 'Passion n Doubt' – figural teapot n cup
' Need a lift' – Matthew Naftzger
Titanium, copper, sterling silver, vitreous enamel,
Natasha Dikareva – 'Swan Teapot'
stoneware, stains, glazes, china paint, hand built
'Carnival Tea' – Pamela MacGregor
Natasha Dikareva – 'On The Waves Of Her Memory'
Pamela MacGregor – 'Kenya Revisited'
Robert Mickelsen –  'I've Got My Eye On You'
Flame worked borosilicate glass.
'Tea Party' – Samovar in Soviet Uzbekistan
(—you have to admire the elevated status given to the teapot)
photo by Maxine Penson
'Mad Hatter teapot' – Mickelsen Studios
Lampworked borosilicate glass, blown, sculpted, graal technique, sandblasted, assembled.
Sheryl Zacharia – 'Big Head in the Clouds'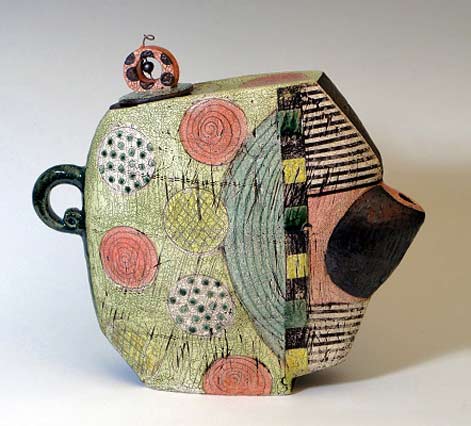 Sheryl Zacharia – 'Green Tea' 
Susan Parrish – 'Sarah Jane Serves Afternoon Tea'
Susan Parrish – 'Hot Tea'
Sara Swink – 'My Donkey Teapot'
 'Tall Fish Teapot' — Tom Hubert
22 inches height
Tea service Moroccan
Tom Hubert -arabesque  'Carved Figure Teapot'
Tom Hubert – Tall black and white 'Carved Teapot' – porcelain with wood base
Tom Hubert – 'Orange Shape' teapot
Tom Hubert 'Curly Handle Teapot'
'Tom Hubert – 'Mahogany Leg Teapot'
/
'Teatime Tales' and silk – Charles Joseph Frédéric Soulacroix
Montpellier
Multi textural teapot – Gail Markiewicz (non exhibtion)
–