Here is a collection of a few of my favourite ceramic animal artists :
Lesley Anne Greene : 
" I exhibit and sell throughout the UK and model imaginative figurative sculptures using hand building techniques. Inspiration is often drawn from an interest in the role of animals and ancient artefacts and sustained by visits to museums and sites of antiquity both at home and abroad. Other works are derived from encounters in daily life and embrace a playful humour in their expression and form. The individually made pieces vary in scale from palm size to approximately twenty seven inches tall. Fired in an electric kiln they are decorated with metallic oxides, coloured slips, underglazes gold and silver lustres. "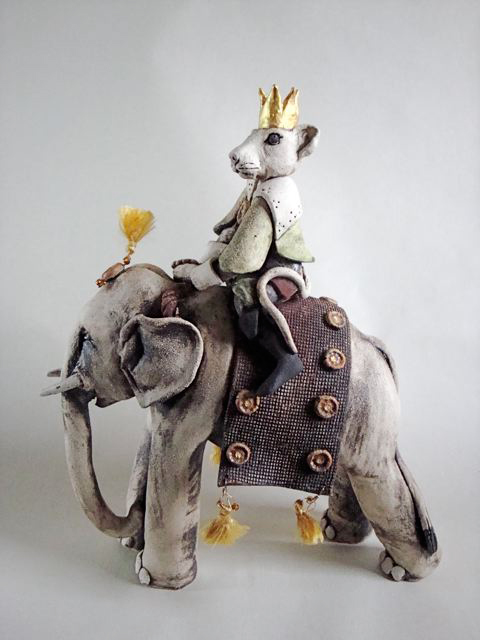 Lesley Anne Greene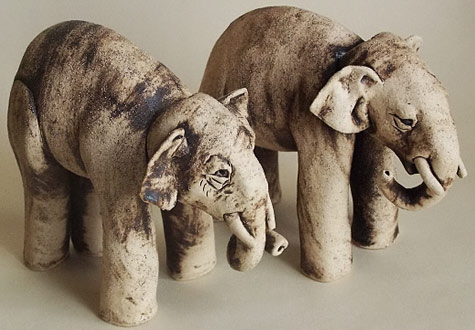 ( website : http://www.lagreeneceramics.co.uk/ )
Michael and Sumati Colepitts – Artful Ceramics  :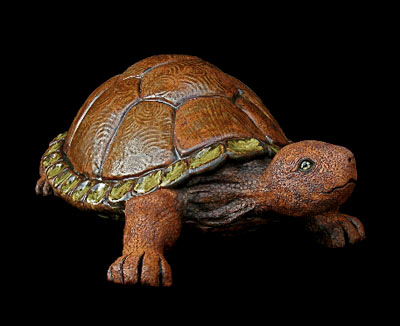 Turtle – Artful Ceramics
Michael is primarily self taught and has worked in a variety of study programs with other established artists in clay including Don Reitz, Toshiko Takaezu, Paulus Berensohn. At present much of his inpiration comes from oriental influences. He brings the inner qualities of silence and peace from his meditation practice to his Asian figurative work. He has traveled widely and gathered much inspiration from around the world, especially Africa and Southeast Asia. From 1975 through 1982 Michael lived in Ibiza, Spain, where, he became fascinated by the desert people of North Africa and the animals of that continent. While in Ibiza, he solidified his construction techniques of hand building and pinch and began his exploration of using clay like fabric. Sumati Colpitts is a ceramic sculptor, licensed massage therapist, and culinary gourmet cook. All her professions rely on her tactile wisdom and creativity through her hands. She has studied at the Chicago Art Institute and the Kansas City Art Institute exploring a wide range of media, but has always been drawn to the use of textures an d color. She has first worked in clay with Michael in India in 1989 and they have been working and living together in Sedona since 1997. Their interest is to capture the essence of the animal or the figure and give them an expression that makes you feel good when you look at them.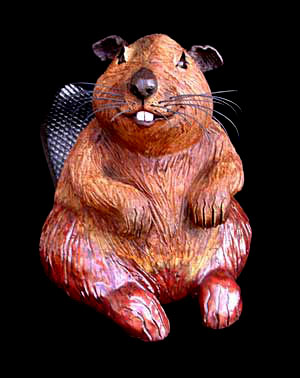 Michael and Sumati Colepitts – Artful Ceramics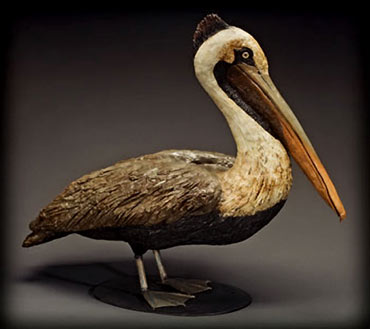 Artful Ceramics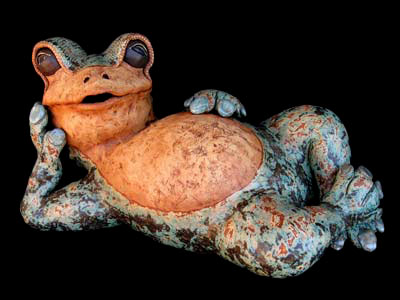 Artful Ceramics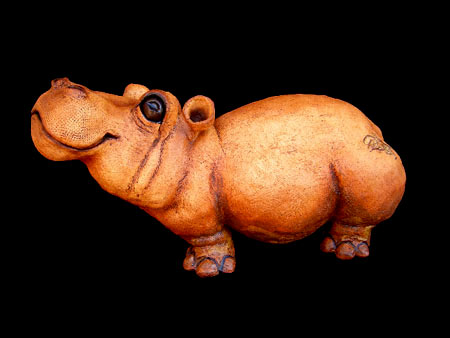 Their Technique:
We do not use molds or forms. Subtle variations within the piece are generated by using different natural colors. Various textures are also added for accent and to give a sense of fun and elegance.
The finished pieces are air dried for 1-2 weeks, then fired in a kiln that reaches temperatures of up to 1600 degrees Fahrenheit. The initial firing removes the water and makes the pieces strong. At this point, colored washes such as iron oxide and manganese dioxide are added to create more color and gives the pieces their final sheen and tones. The pieces are then fired a second time to 2300 degrees Farenheit, which melts the glazes and creates the beautiful patinas. The finishing process after the firing includes adding the glass eyes or wire whiskers, attaching bases and adding final touches of color to enhance each individual piece.
Artful Ceramics website – http://www.artfulceramics.com
Joanne Cooke :
From the minute I was born I have had a dog in my life (my mum's dog was under the bed!). I love the way canines can communicate without the use of words – just the raising of an eyebrow can say so much. As I begin each sculpture, I try to imagine the dog's emotional state and character and aim to capture that by the time it is finished. I occasionally add a clay collar or neck scarf for the more jaunty or cool characters! I create each dog individually using either earthstone crank or white hand building clay which I fire to 1230°c.  ( website – http://www.sculpturelounge.com/ )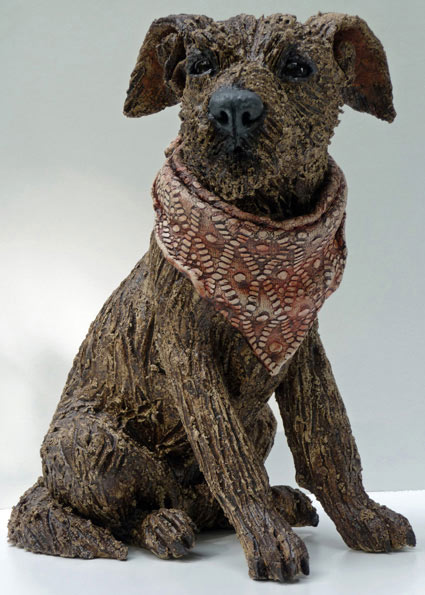 Joanne Cooke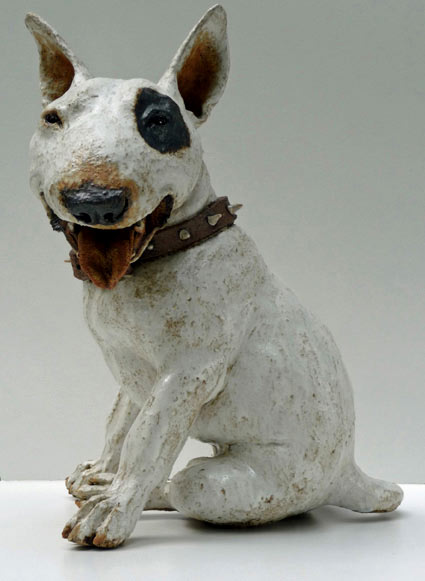 Joanne Cooke
Lisa Larson :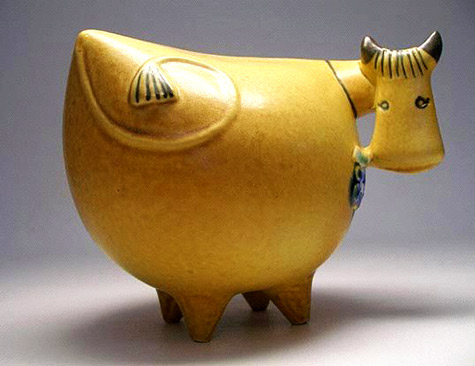 Designer –  Lisa Larson, Maker –  Gustavberg, Sweden
see the veniceclayartists post on Lisa Larson here
…
Sue Jenkins :
At the moment I work with a coarse textured clay fired to stoneware temperatures, suitable for use inside and out. It is decorated with slips, metal oxides and sometimes a little glaze. Having lived in the Pennines for many years I started making sheep. These were joined by more animals and birds, each one with its own quirky character. I now also make figures to complement the menagerie! Gardening being a passion, I also make planters and more one off work, based on patterns and organic shapes from nature. ( website – http://www.hand-built-pottery.co.uk/ )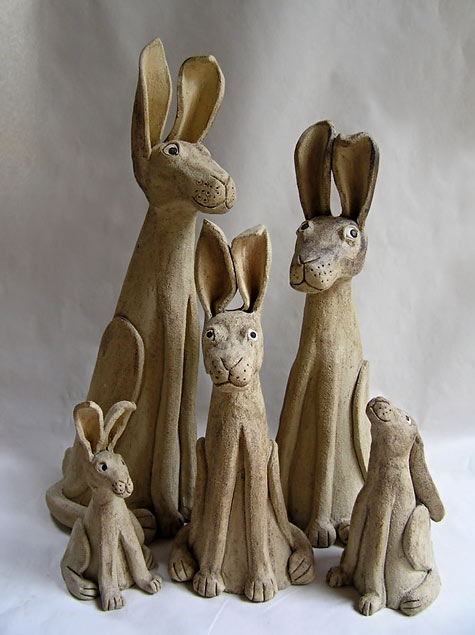 Sue Jenkins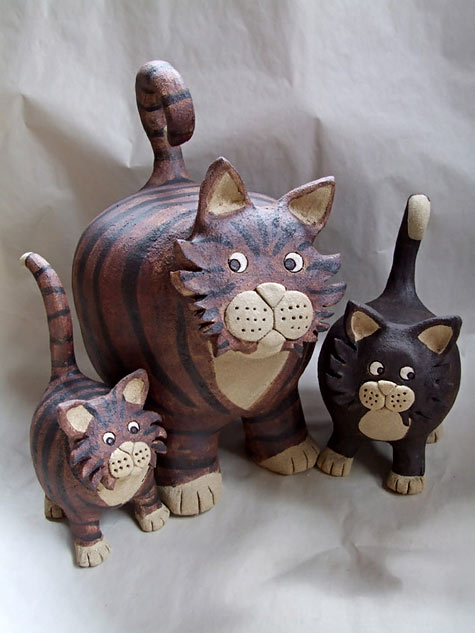 Petra LLoyd :
Petra Lloyd was born in London and studied scientific illustration at Middlesex Polytechnic. After her move to the North-East, she rediscovered her love of ceramics and started to create sculptural work and other ornamental items reflecting her love of nature, especially of birds, fish and animals. She works mostly in stoneware using a mixture of oxides and glazes which enhance the unique character of each piece of work. See more Petra LLoyd at http://www.northern-potters.co.uk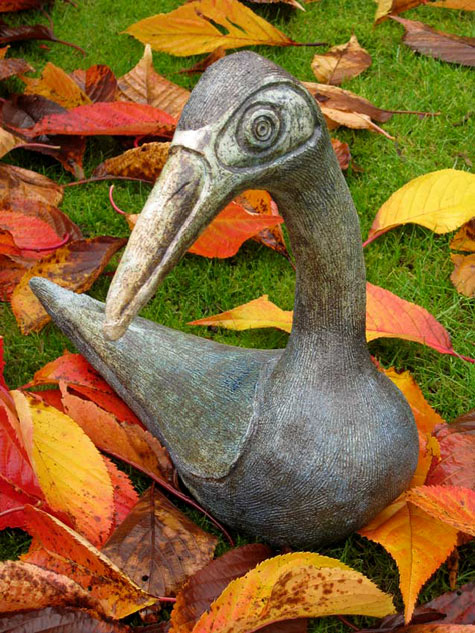 Graham Glynn :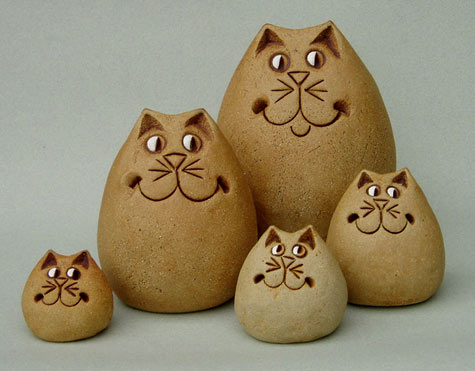 Graham Glynn
Jenny Mendes :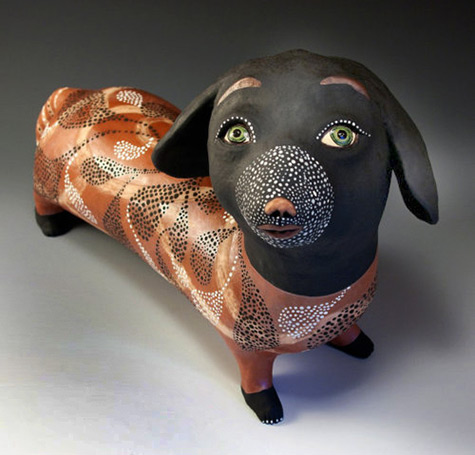 Weiner Dog – Jenny Mendes
Anita Reay :
Sculpting clay is my passion which allows me to tap into my imagination. I am a self taught artist and have been into many forms of art since childhood and have always had the ability to draw animals and birds well. My pieces are sold in a local gallery, antique & collectable shops around Australia and worldwide via the internet. I am currently sculpting in porcelain and ceramic clay however for years I sculpted birds and animals from many mediums including air dry clay, fabric, soap and wax.
I first started using ceramic clay in 2005 and after creating a menagerie of birds and animals including owls, kookaburras, dogs and ponies I purchased my first kiln and then when I discovered my art was appealing to others I began sculpting full time.
The nature of my work lies with the whimsical and the figurative. I create original sculptures so that each collector has the only 'one of its kind'. My sculptures may follow a theme but no two are ever identical. ( website –   http://www.anitareay.com )
Koala Vase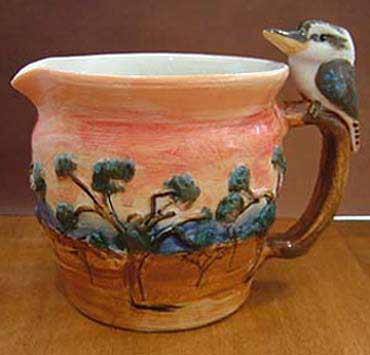 Kookaburra Jug
Brendan Hesmondhalgh :
Brendan works primarily in ceramic and creates bold animal designs that are often mounted on ceramic plinths. He uses a hand building technique that deliberately cracks the surface of the clay. By pushing out a sheet from the inside , the surface breaks as it stretches. ( website – http://www.sculpturelounge.com/ )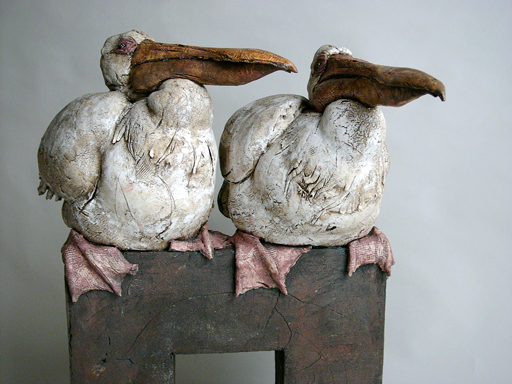 Brendan Hesmondhalgh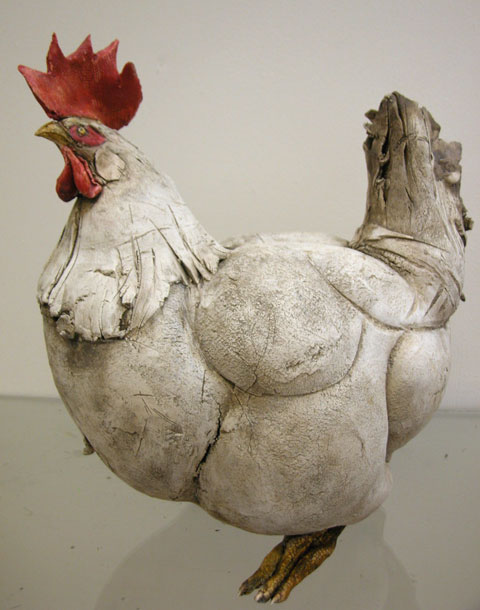 Brendan Hesmondhalgh big hen
Ardmore :- see more here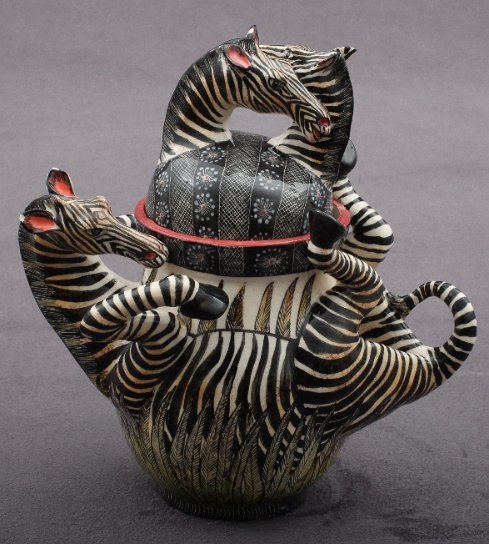 Veronica Ballan :
I have been designing and creating ceramic figures and latterly, animals for over 30 years. My inspiration is drawn from nature, using my own observations and research. In my studio at the rear of my Georgian town house I sculpt every piece individually, and after bisque firing, hand paint each sculpture with earthy natural glazes, returning them to the kiln for a second firing. I specialize in a shredded clay effect that gives the hairy animals their unique look, the most popular being the highland cattle, hares, donkeys and the dogs, which I make to commission.  ( website – http://www.studio2-ceramics.co.uk/ )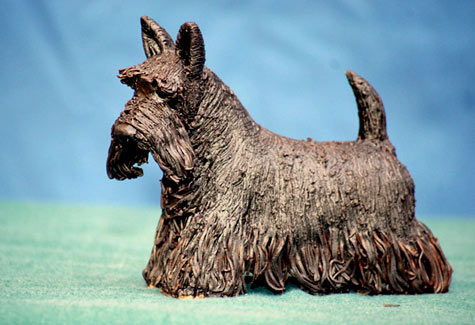 Veronica Ballan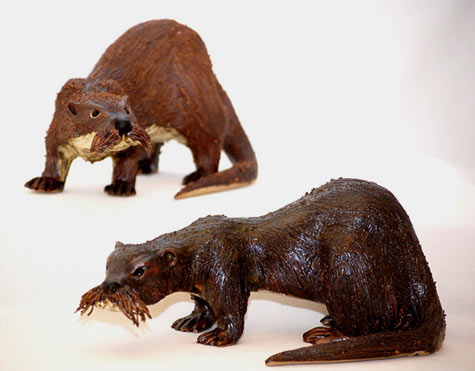 Veronica Ballan
Victoria Leeks :
Having lived in the Far East for many years my pieces are influenced by the Asian culture. I am looking for visual harmony using simple, pure, strong forms with added surface decoration, employing symbolism, themes, motifs and narrative. Using slip cast moulds and slab building and the use of porcelain paper clay, copper wire, glass and specialist glazes I express my ideas, resulting in decorative pieces that reflect my artistic interpretation.
( website – http://www.northern-potters.co.uk )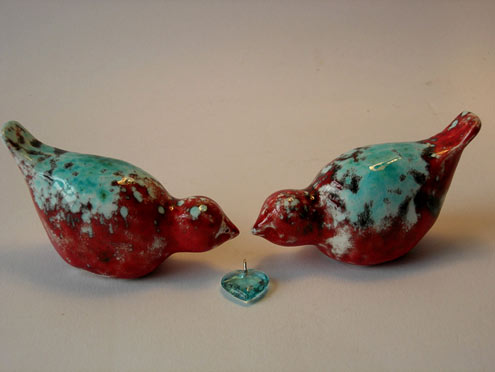 Victoria Leeks
Catherine Boyne :
Sylvan Studios – Christy Crews Dunne :
As with nearly everyone else, the first thirteen years of my life made a formative impact on how I think, feel, and communicate. In my case these years were spent on a farm in rural Virginia that gave me a closeness to nature and animals that has never diminished. There were no children 'next door', or anywhere near, to play with so my playmates and friends were the animals that I formed a bond with and the land itself. The faces of nature were an endless fascination for me and my maternal grandmother encouraged me through her efforts to express this in an artistic fashion. I diligently applied myself to paper and modeling clay.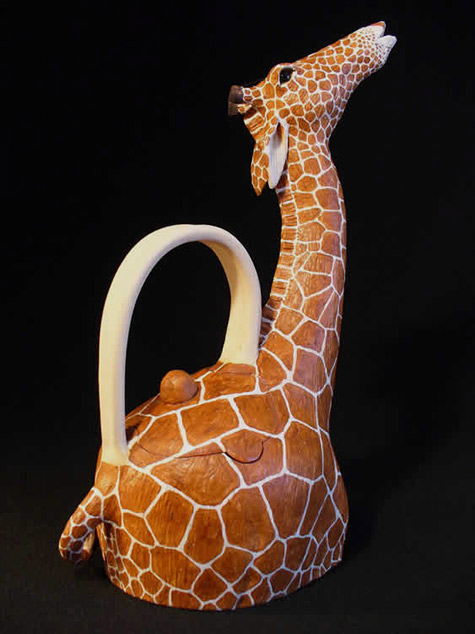 Christy Crews Dunne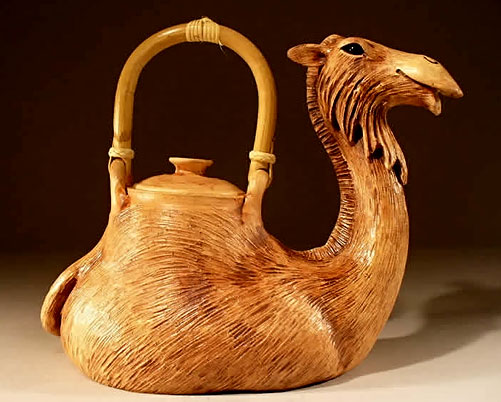 Anya Stasenko/ Slava Leontiev  :- see more here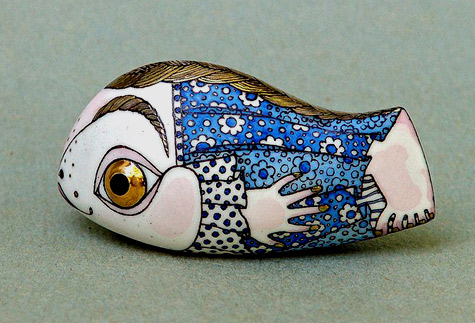 Anya Stasenko/ Slava Leontiev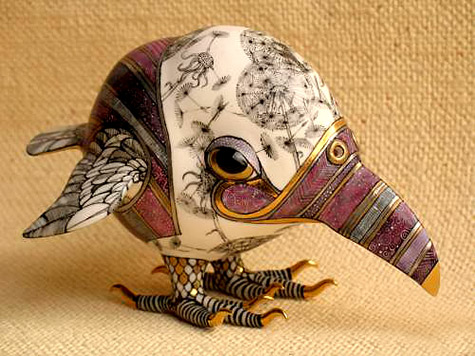 Anya Stasenko/ Slava Leontiev
 Monika Leone, Canberra
" Zoya " – Monika Leone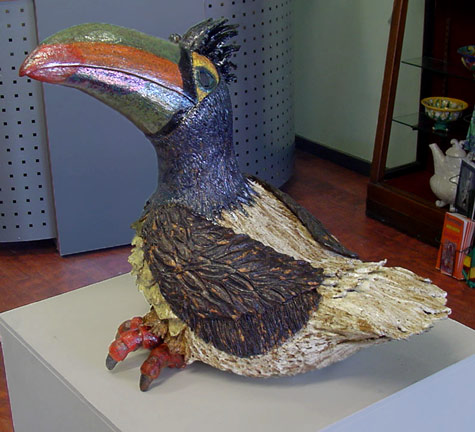 " Zana "  – Monika Leone
Sharon Skelter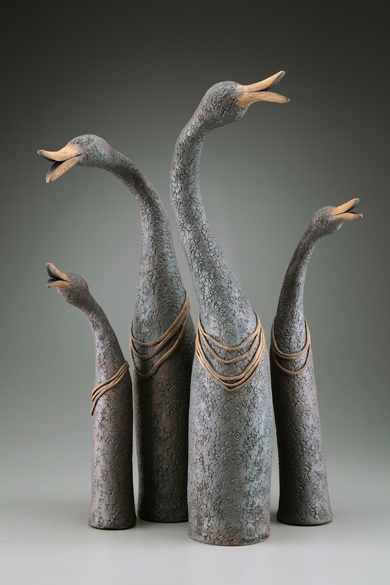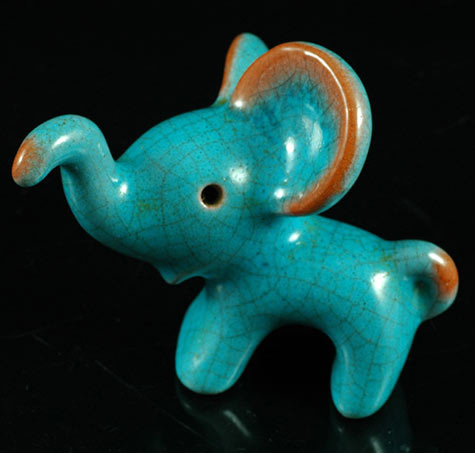 Walter Bosse for Karlsruhe Ceramic (Austria) elephant (1956-1962). Turquoise blue majolica glaze over red brick clay.
( Mod Cats )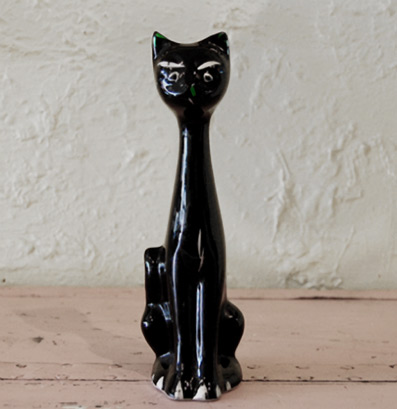 1950's ceramic black cat vase
( Le Greiner )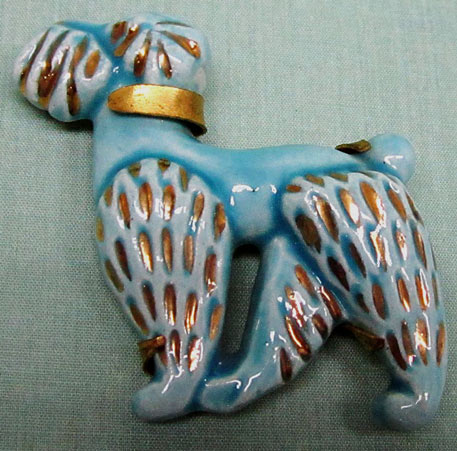 Perky turquoise ceramic French Poodle  –  Doilet, France
Ψ
–