Arteunok — Spain
The arcane graffiti arts, involving late night freehand spray can forays on to vacant urban walls, is a thing of the past these days, due to it gaining acceptance and the creative evolution of many of its artists in this independent art culture.. The spirit of spontaneity still survives but the presentation has more finesse and scale and the mixing of techniques such as collage, graffiti, stencil, painting and drawing have been introduced. The merging of photo realism, abstraction and street art savvy have resulted in striking visuals rich in emotion and reach.
As the street art juggernaut rolls on, conferring it to be one of the fastest growing art movements at the beginning of the 21st century, both male and female street artists have been expanding the street aesthetic and pushing the pigments to drive new expressions of femininity with their urban murals to attain higher levels of recognition and visibility for women.
Royyaldog street art Seoul
The involvement of female artists is growing and more have entered the street art fray. Several are featured here including the Cape Town street artist Faith 47, who has a focus on themes of equality, poverty and justice using a central figure of a women, quite often portrayed as an angel, lady liberty or an African mother with a child on her back, to communicate the message of a woman's place in the world. Other female artists include the prolific French urban artist Vinnie, Amanda Lynne, Alice Pasquini, Diana Contreras, Toofly and Lady Aiko, who has been developing her Pop influenced street art using collages of mixed media landscapes since she moved to New York from Tokyo in the 90's. She juxtaposes raw feminine imagery with touches of vivid butterflies and large flowers.
The male street visual artists also exploring female imagery include the UK artist's Russ Mills of Byroglyphics, Mr Cenz with his colored futuristic female creations, David Walker's color-explosive portrait abstractions and the Irish urban aesthetic painter FinDac. There's also Hush with his mystique filled graffiti geishas, French artists Alexandre Monteiro aka Hopare and Loui Jouvier, the US based Ecuadorian artist Lenny Correa, Australian's Anthony Lister and Reka One and Spanish based artist duo Pichi & Avo, recognized for their deft ability to ignite relationships between art, sculpture, architecture, space and social context.
'No Limit Boras'
, Pichi Arvo
Faith 47
Adrian Takano
Alice Pasquini street art
Amanda Lynn street art in Wynwood
Miami, USA
Anthony Lister Miami street mural
SmugOne Blackpool Street Art—Gable End Girl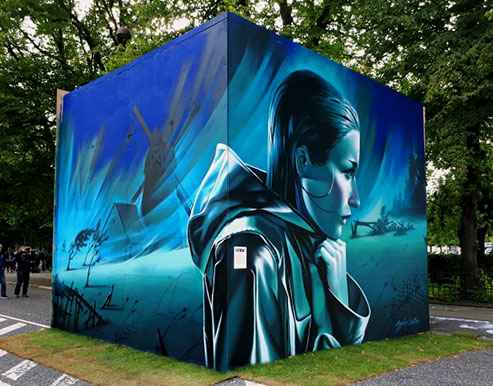 Bogdan Scutaru- aarhus street art festival 2017
El Mac (Miles MacGregor)
Dan Kitchener aka DANK
Edgy feminine mural by Peruvian artist Diana Contreras aka Didi
"I love the idea of creating art for "the people" and sharing my vision with them. It's so much fun! And it is also a great way for me to showcase my art. I want folks who see my art to feel positive about themselves. If there is a central message, it is: Enjoy your life! And I also want girls to know that they have the power to follow their dreams and create themselves."    ... streetartNY
Toofly street art
Welling Court NYC
Photo – Jason Lunn, Bristol
N4T4 —  Nuneaton,UK
Russ Mills, Byroglyphics
Bicicleta, Sem, Freio — Los Angeles
Faith47-'Europa And The Winged Bird
London
'Capax Infiniti' by Faith47
Portland USA
Guache, Colombia
Lady Aiko — Coney Art walls, NY
'Wandering Jovian Tribe'  — Robbiv Hood
Detalhe Tucuruvi — São Paulo
2010
David Walker
'Goddess Gaia', Pichiavo
2016–Valencia Spain
David Walker
HUSH mixes techniques of collage, graffiti, stencil, painting and drawing to create his geisha inspired works.
David Walker, Wynwood, Miami
 French graffiti artist Erodn prod
Faith 47
Faith 47
Faith47 — Johannesburg, South Africa
Art Nouveau mural – 'Our Lady of Grace'  – A'shop crew
Fashion Street mural, Shoreditch,London
 Ungry Young Man–flickr
Hush
Fin Dac — Bogota, Colombia 2012
Fin+Dac —  Bradford, England
2013
Fin Dac , Brest, France
Harlem street art
Graffikon – 'Natura'
Poland
Hackney Road Street Art
Ho Chi Minh City, Vietnam, wall art
2011
Geisha street art – HUSH
Joshua Gabriel mural, Brooklyn NYC
Jessy Monlouis Bonnaire Aka Doudou French street artist
Jim Vision mural, Whitby Street, Shoreditch, London, England—
Ungry Young Man – Flickr
Hush San Francisco mural
Lady Aiko
L'arme de paix by Snek for Grenoble Street Art Festival
Ladt Aiko
'She' –  Justin Queal
Commissioned mural for Squid Ink Sushi Bar
Loui Jover
Street artist Mantra
Mr Cenz
Dourone Mural in Medina of Marrakech, Morocco
Mantra, France
Mr Cenz
London 2016
Lenny Correa
Mr Cenz
Paris 2017
Faith47 – 'Madonna Mia Proteggimi'
Nicholson Street, Melbourne
Mr Cenz, London
Reka One–graffiti artist
Art Basel Miami
Beyond Walls-Cedric'Vise'-Douglas and Julie Roth's-mural
Russ Mills
Shepard Fairey – 'Peace Goddess'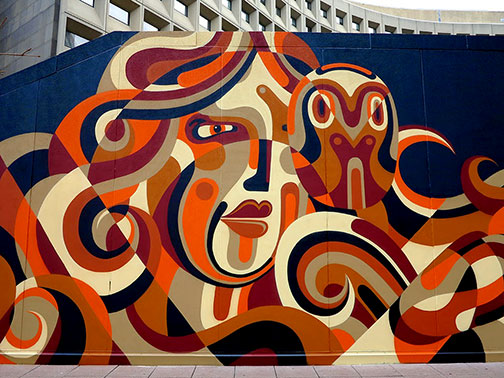 Reka One, Washington DC
'Sunshowers' – Replete  — Graffuturist art
Faith47, Glasgow
Hopare, Paris, France
Vinnie, Paris
Vitchie
Young Lady-–-Redchurch St and Brick Lane Junction, London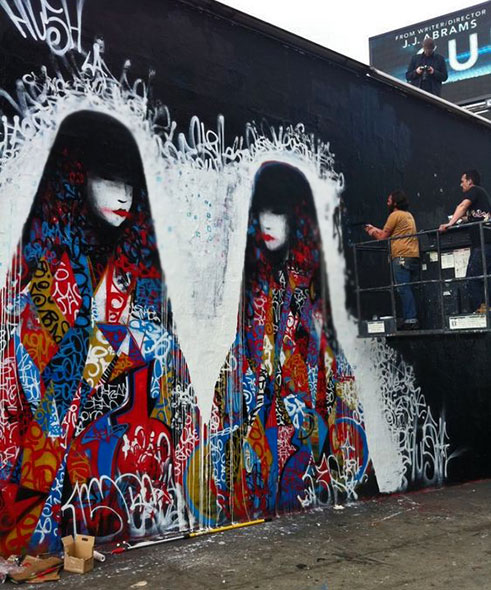 Two geishas by Hush
Skid Redo by Replete

Faith47  —  "The Pull of the Land"
Toronto, Canada
–