Nearly all of the the great masters in art have used pottery images in their works, from Monet to Van Gough to Cezanne. Its been a consistent feature in their still life paintings, especially where flowers are involved. The innately beautiful colours of flowers and the rich colours in pottery glazes usually provide vivid subject matter.
Most art classes usually fit in a session or two where you are confronted with flowers in a vase. It has also served as a great historical reference for the evolution of pottery through the ages. Throughout the history of art many painters have also discovered the pleasure of working with clay. These have included several eminent artists from the past including Picasso, Vlaminck, Gauguin, Matisse, Authur Boyd and Jackson Pollock. Here are some paintings featuring pottery.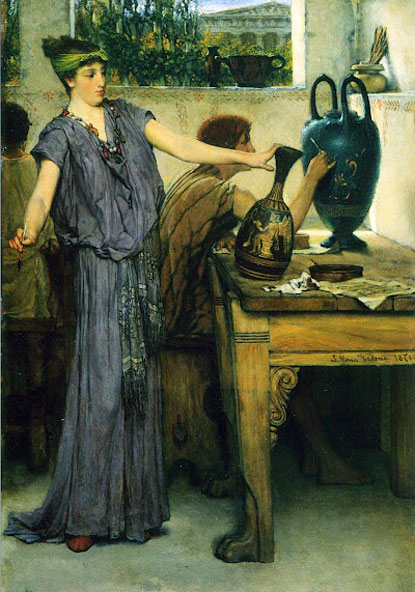 Classical Artist Sir Lawrence Alma Tadema – 1871
( Manchester City Art Galleries )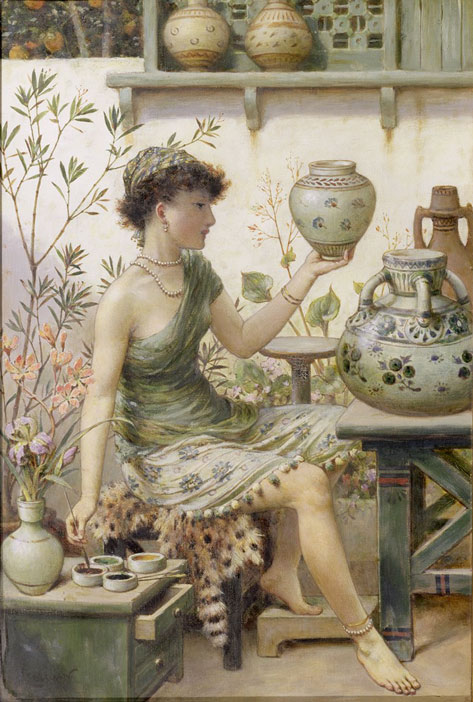 'The Potter's Daughter' (19th century) – William Coleman
© Bridgeman Art Library  © Croydon Art Collection, Museum of Croydon, UK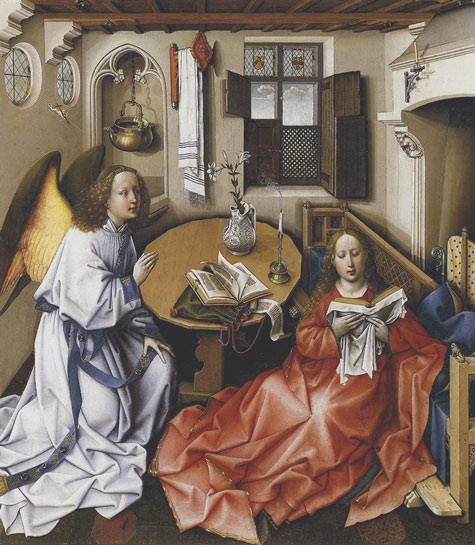 Netherlands painter, Robert Campin –  Merode Altarpiece, oil on oak panel, 1425-28
( Met NY )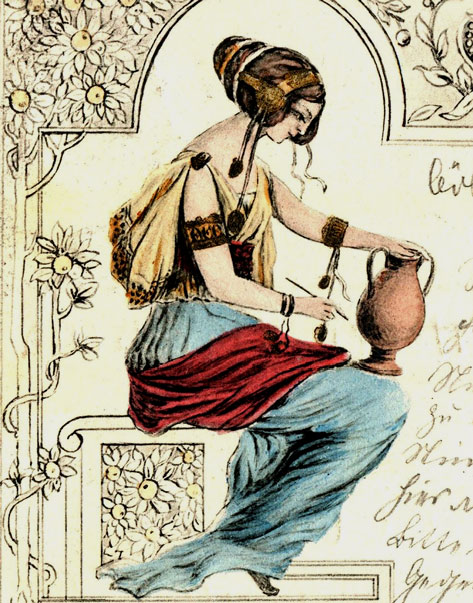 Art Nouveau Glamour Ladies Postcard – pottery painting – 1900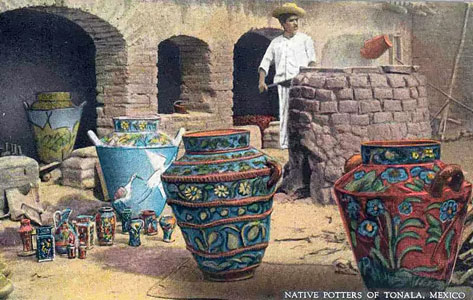 Native potter of Tonala
Old Mexican Postcard  ( Photo )
This mural—discovered in 2004 at the Maya site of Calakmul—depicts ordinary
people in day to day life with a large pot. (  circa A.D. 620 to 700. )
A potter and his wife – 1830
( V & A )
Henry Balink – Pueblo pottery
Eanger Irving  Couse   " The Pottery Maker " 1930  – Native Americana
Henry Francois Farny (French-born American, 1847-1916) 'Painting Pots'
1880
Making Pottery At Jamestown
'Woman with Chrysanthemums' by Edgar Degas
Gatherers of cochineal in Oaxaca
Part of the mural by Arturo Garcia Bust , Palace Museum, Oaxaca
John William Waterhouse – The Toilet
'Quiet Night'  – Paine Proffitt
Robert G Stevens
'The Potter' – Jost Amman, 1574
Bridgeman Art Library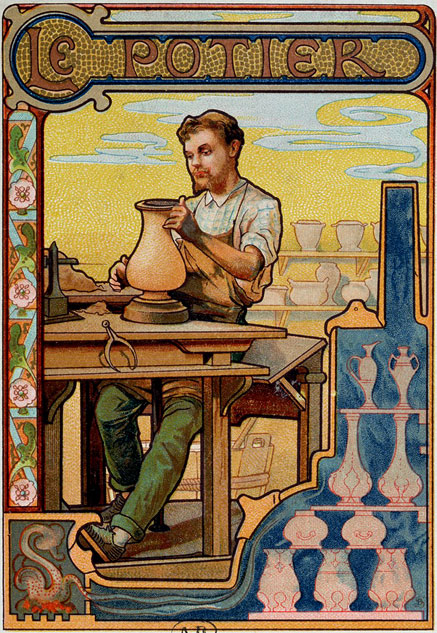 'The Potter'
An  illustration from a book on the crafts
The Baxter ceramic studio – Thomas Baxter
1810
Great Exhibition: French Room, 1851 by Joseph Nash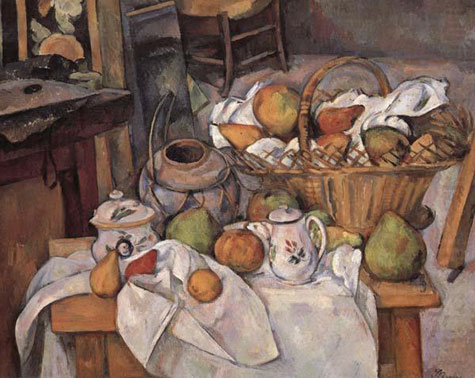 Paul Cezanne
'Compassion'
 Stained glass panel by Louis Comfort Tiffany, depicting the Old Testament story of Hagar and Ishmael cast out into the wilderness.
The Charles Hosmer Morse Museum of American Art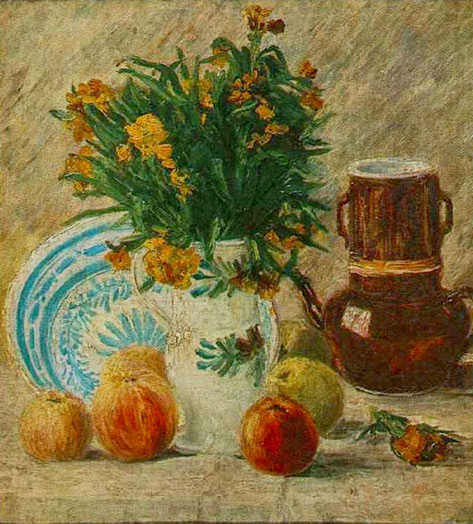 Vase with flowers, coffee pot and fruit – Van Gough
'Sea of Daffodils' – Mary Jones
  Charlotte Posner  Oil  Painting  " Pots "
( Saatchi Online Artist )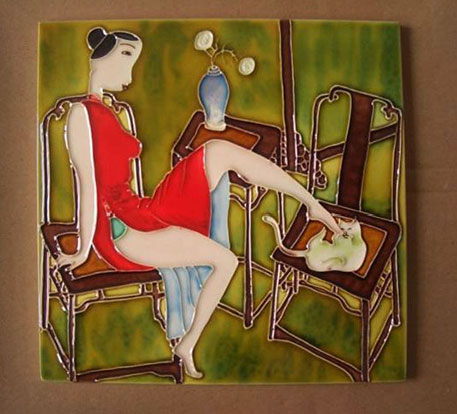 Tang San Cai, also called Tricolor Glazed Pottery and a gem of ancient Chinese art, is a kind of handmade glazed ware of exquisite craftsmanship created in the Northern and Southern Dynasty (386-589) about 1,400 years ago
Claude Monet – White Azaleas in a Pot
Emma Meyer  – 1859-1921    Women decorating porcelain at Den Kgl. Porcelansfabrik Royal Copenhagen
Holly Sierra
Edwin Longsden Long     ( British  1829-1891 )  A Seville Pottery  1872
Holly Sierra
  Still life with pitcher and apples  – Pablo Picasso
'Isabella and the Pot of Basil' – 1868 by William Holman Hunt
An ornamental urn, a jewellery box and jewels on a silk draped table – Ludwig Augustin.
1923
John William Waterhouse – 'The Danaides'
1906
The princess, the dragon and the frog  – Fran Recacha
www.franrecacha.com
'UNstill Life' – Joyce Lieberman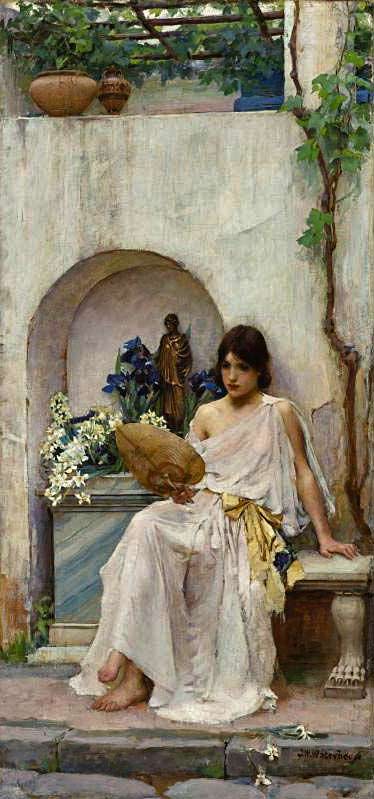 John William Waterhouse – Flora (white dress)
1890
 'Tulips in the City' – Alex Khomsky
2007
'Two Girls Arranging Flowers' – Federico Zandomeneghi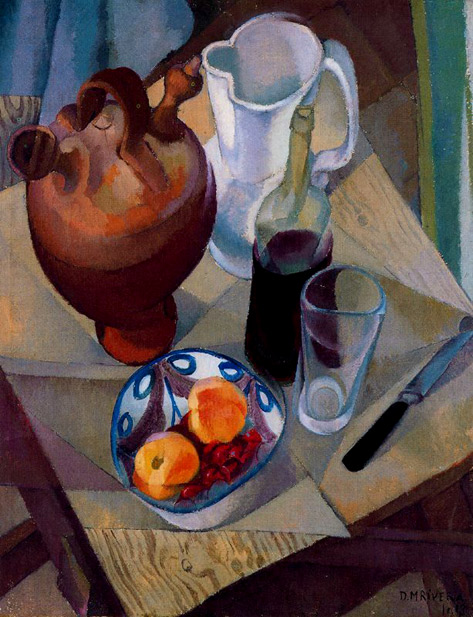 'Still Life' – Diego Rivera
1913
Jean Dupas – 'Aquarius the water bearer'
UJH
KPM Porcelain plaque – Friedrich Thumann
Leon Wyczólkowsk
'Jeremiah and the potter' – William Brassey Hole
Richard Emil Miller – 'The Blue Beads'
'The Chinese Statuette' – American Impressionist Richard Emil Miller
William McGregor Paxton – 'The Housemaid'
'The Pottery Studio, Tangiers' – Jean Discart
Sothebys
'Vanessa' by James Denmark
Judy Drew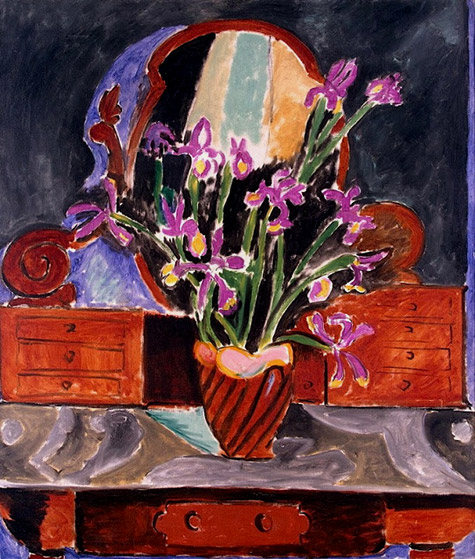 Henri Matisse – Vase with iris
Ferenc Tulok
William Csaba-Perlrott – 'There are Lions'
'Iris' – Carolyn Harrington
Diego Rivera, 'Still Life'
1913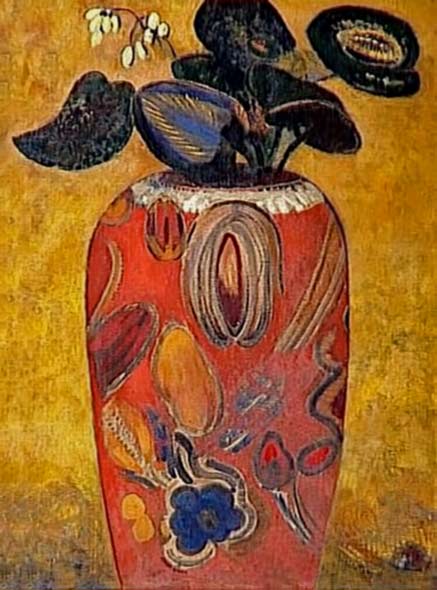 Odilon Redon
Pablo Picasso
'Wildflowers in a Long Neck Vase' – Odilon Redon
Carl Larsson. 'Interior'
Hans Purrmann
   'The Hopi Vase' – William Robinson Leigh
Vase with flowers, Pablo Picasso
1943
'Bouquet of Wild Flowers', Odilon Redon
1900
Francesco Ballesio – 'The Pottery Sellers'
Watercolor by Karin Michele Anderson -' She Who Collects Pots'
–