A 5,200-year-old bowl found in Iran's Burnt City in the 1970's featured a series of five images that researchers have  identified as being sequential, much like those in a zoetrope. Giving the bowl a spin, one would see a goat leaping to snatch leaves from a tree, as seen in the video clip below. What is also interesting is the images were drawn in distinct frames, similar to a film strip.
The remarkable piece of pottery was unearthed from a burial site by Italian archaeologists, who hadn't noticed the special relationship between the images that adorned the circumference. That discovery was made years later by Iranian archaeologist Dr. Mansur Sadjadi, who was later hired to direct the excavation of The Burnt City, located 57 kilometers from the city of Zabol in the southeastern Iranian province of Sistan-Baluchestan.
While no one questions the early instance of animation, researchers have been at odds over the significance of the earthenware bowl's artwork. It was originally thought to depict the goat eating from the Assyrian Tree of Life, but archaeologists now assert that it pre-dates the Assyrian civilization by a thousand years. Maybe some budding entrepreneur had it spinning on a pottery wheel and charged admission to come and witness the dancing goat.
While this is a rare example of a deliberate sequential animation, other techniques were also exploited to add an animated look to pottery. The pottery of many early civilizations have images that depicted their lifestyles. Village life, religious icons and rituals, sporting activities and other pursuits like hunting were a popular narrative. Several panels on pots were sometimes utilised and pottery imagery became a form of storytelling and  historical documentation. The round surface quite often contributed to the perception of motion and added to the dynamic. Some pottery artists had the skills to create figurative imagery that was full of movement, sometimes supported by decorative patterns, which also have the ability to convey motion.
 Figurative and decorative pottery art have maintained their popularity through the ages and they surely stir up deep psychological connections with the past. Both form, imagery and richer hotter colours contribute to an appearance of kinesis and these possibilities are explored below. It is notable that from a Feng Shui perspective, ceramic pieces that express movement are useful for placing in Chi static locations as they promote chi flow.
 Amphora vase, designed by Eduard Stellmacher
( Treadway Toomey )
A Safavid Blue and White Bottle Vase, Persia, 17th Century .
( Sotheby's )
Beth Tarkington
Lidded Jar – Birthe Flexner
Sascha Brastoff –  red earthenware tribal wall plaque
( Eric Berg's Early California Antiques )
Ceramic Mid-Century vase – Ruscha Milano
Claywork – A Little Company   …    Turtle Spiral
David Porras
Dragonware Plate  – Rayven Vintage Etsy
 [ Dragons are generally displayed with a lively dynamic ]
Eldreth Pottery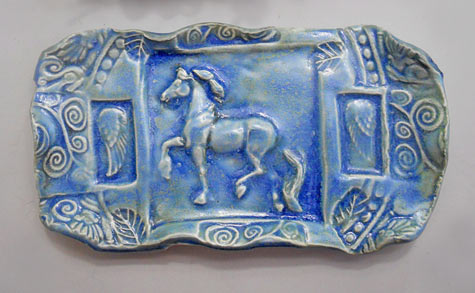 Island Girl Pottery – Etsy
Cut Wheat Vessel – Jennifer McCurdy
Rough Curly Vessel – Nicholas Bernard
Light Blue Teapot and Mug – Kelly Lynn Daniel
Mata Ortiz-   " Paquime Pottery"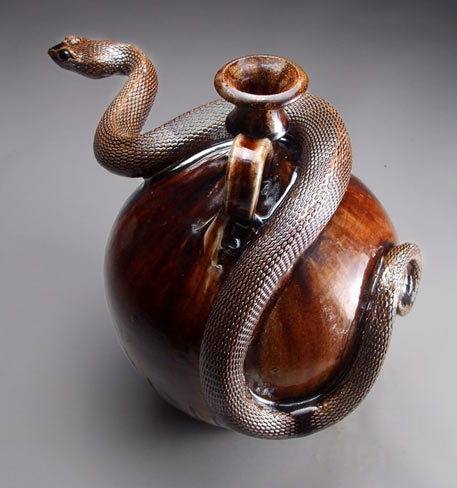 Mitchell Grafton – Brown Snake jug
Model wearing paisley silk Balenciaga gown 1954
( An example of a static pose, creating a sense of movement by virtue of composition )
Plate with a hunting scene
Queen Tut Pillow by Gail Markiewicz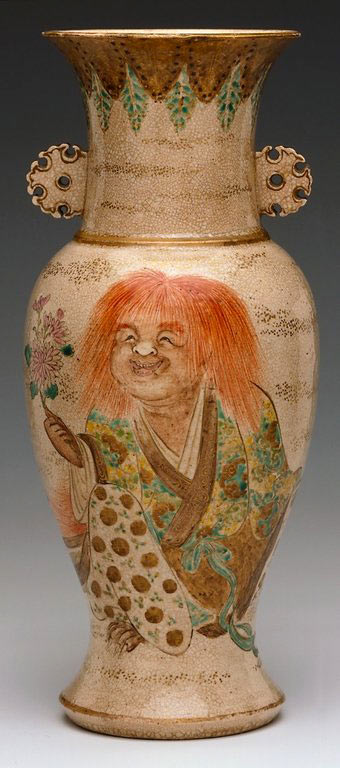 Satsuma ware Vase
Stig Lindberg.
Textured platter – Michael Kifer
( c2ceramics.blogspot )
The Statue of the Unkown Maroon –  Port-Au-Prince. Haiti
Italian modernist vase -Elio Schiavon,  circa 1960
Villeroy and Boch vase
( Treadway and Toomey )
18th/19th Century Oriental turquoise glazed twin handled bottle shaped vase
( Denhams Auctions )
Plate by Mara – emotions expressing movement
June Kaneko – spirals always convey motion
Hercules and the Hydra Serpent
Jennifer Mecca  – Vase With Orange Flowers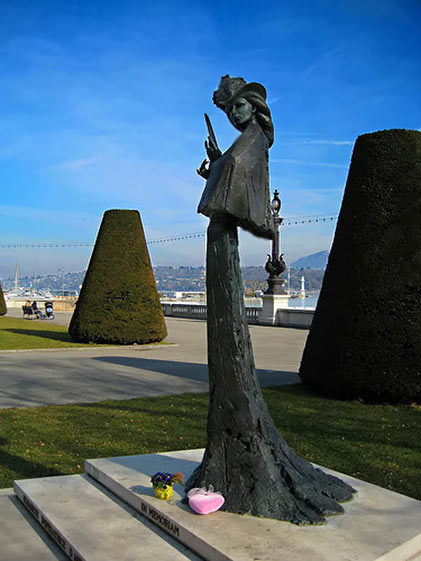 Gliding Kuan Yin statue
Solomon Turning to Idolatry
Pierre Reymond (1513-1584) French enamelist
Three Raku Bottles
Raku fired fish
Alan and Rosemary Bennett – Cedar Creek Gallery
Denise Romecki
…
…
F L U X from candas sisman on Vimeo.





–