Tesoro pedestal vase – Rometti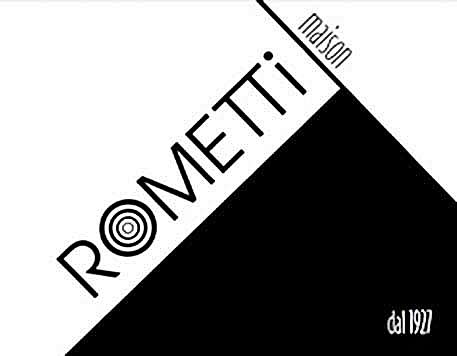 The Ceramiche Rometti maison (house) has been active in Umbertide, Italy since 1927. Rometti was one of the first in Italy, in the early thirties, to move away from the traditional figurative neo-Renaissance and late Italian Liberty style to pursue the innovative ideas of avant-garde art and international design. Founders Settimio and Aspromonte Rometti guided the venture to successfully implement some of the finest components of contemporary design, creating products that combined research and creativity.
'The Sower' — Corrado Cagli
Today, constant experimentation is a hallmark of the Rometti workshops, in which complex and sophisticated production techniques are adapted to the specific characteristics of their earthenware, stoneware or porcelain products. As regards to majolica, for example, Rometti has always used an age old method: objects shaped by hand on the wheel are painted and "frescoed" before being baked ; a special plaster bringing out the colours and giving depth to the decorations. A mixture of the purest raw materials is used to create extremely fine porcelain. Natural clay is taken from a local quarry, whose origins date back to Roman times. The various production phases in the workshops require highly specialized manual operations such as moulding, shaping, casting, enamelling by immersion or spray, and painting. These high quality products are exclusively hand-made and are never exactly alike.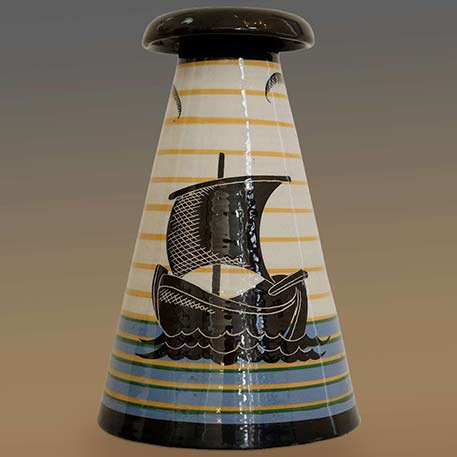 Dante Baldelli Vase for Rometti
Umbertide, circa 1930
During its early conception Rometti attracted the talents of futurist artists such as Fortunato Depero, and Giacomo Balla. Also works of stylized figuration, sometimes visionary, playful and bizarre were created by artists of the caliber of Corrado Cagli and Dante Baldelli. Other prestigious collaborators that contributed to Rometti were painter and sculptor Giovanni Ciangottini and Leoncillo Leonardi in the forties. Today , Rometti has a team of contemporary designers that collaborate with the company including Monica Poggia, Liliane Lijn, Ambrogio Pozzi, Chantel Thomas and Jean Christoph Clair.
Rometti has been in continual production now for 90 years and has imbibed a diversity of ceramic influences including the genres of Art Deco, Futurism, Bauhaus and Modernist, all infused with the unique and distinctive Rometti interpretation. Its contemporary creations continue their rich tradition of innovation and visionary flair.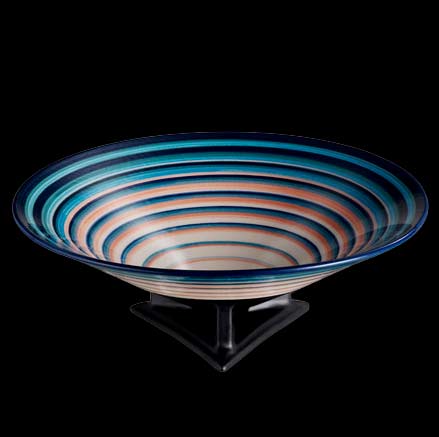 Bowl Doppiapresenza trigono – Rometti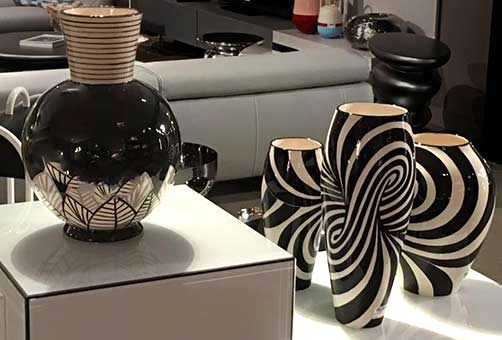 Rometti ceramic vases
Rometti Display
2017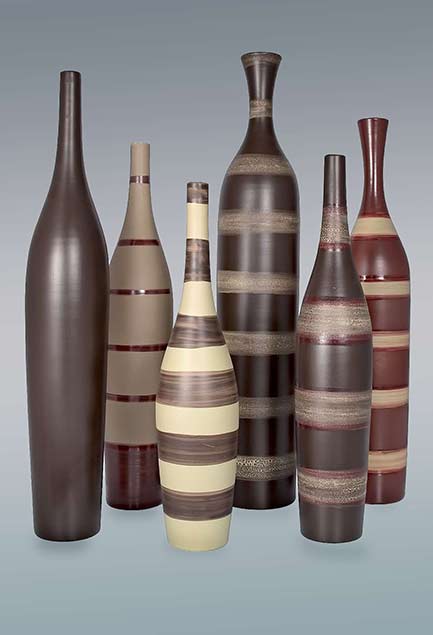 Jean Christoph Clair — 'Eau De Terre' – Rometti
Ceramic liqueur set – Rometti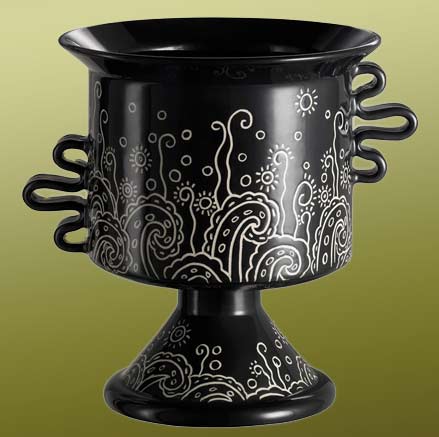 'Tesoro' sgraffito vase – Rometti
'Cilindro Lampada' – Monica Poggia
Rometti  teapot
'Scacchi' – Dante Baldelli , Rometti chess vase
1930-32
Rometti factory Umbertide, Italy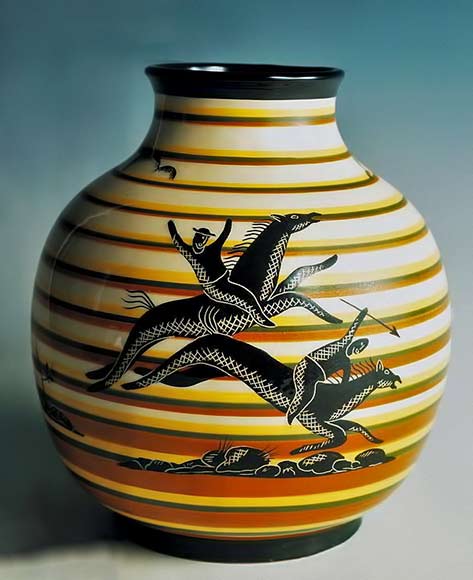 Horse riding hunters vase – Corrado Cagli, Rometti
Rometti – 'Tartaruga Nero Vase' – Jean Christoph Clair
Presenza Sciamana  (Shaman Presence) series
2017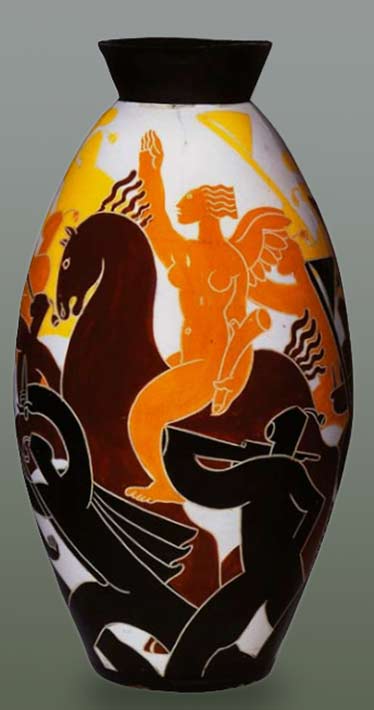 Corrado Cagli- 'The March on Rome' ceramic vase
1929-1930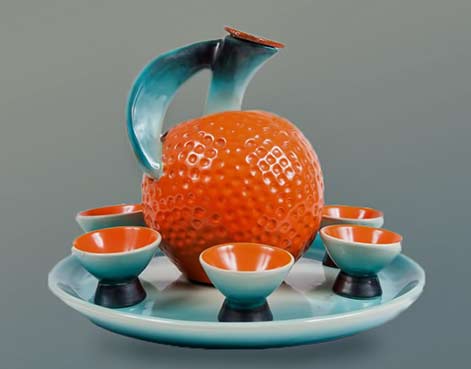 Rometti – Tangerine ceramic Liqueur set
Antelopi ovoid vase – Rometti
Rometti ceramic artist
'Sfere Cosmos'– Jean Christoph Clair
Red vase with gold bands – Rometti
Rometti 'Vaso Tartaruga Bianco' (White Turtle Vase) ) – Jean Christoph Clair
2017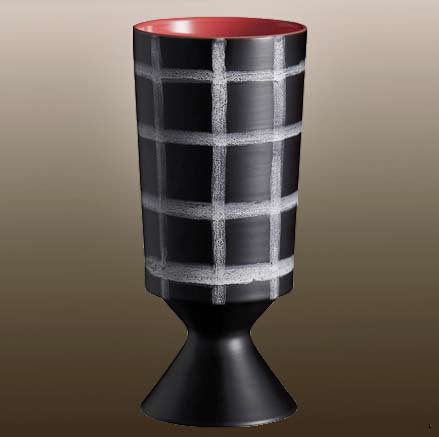 Rometti Retia vase
'Primitivo' set -Rometti
'Presenza' head vase – Rometti
Desktop accordion player pen stand – Rometti
Pescatori 'Fishermen' – Corrado Cagli – Rometti
'Medusa' – Dante Baldelli
1936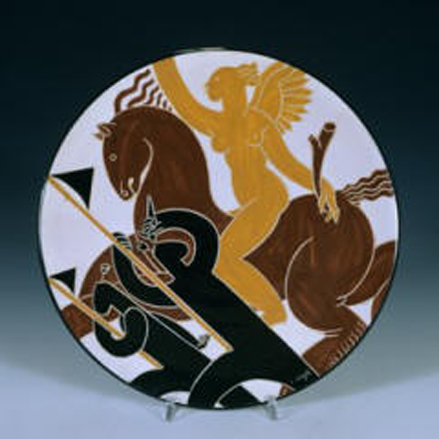 Corrado Cagli, Dante Baldelli, Ceramic plate – 'March on Rome' 
1929-1930,
Ovoid s 'Hunters' vase – Rometti
Dante Baldelli Futurist Vase – Rometti, 30's
Jean Christoph Clair – 'Sfere Kosmos' – Rometti
 'Labirinto' vase – Rometti
'Le Arti' vase – Rometti
Ceramic liqueur pourer – Rometti
Black and white Futuro Vase
'Foret 2 '  – Cedric Ragot
Rometti ceramic carafe bottle with stopper
Rometti vase
Dante Baldelli Ceramic Vase
'Damier' – Rometti
Corrado Cagli – 'Umbrian Landscape'
1930
Corrado Cagli plate, 1930's
Corrado Cagli mermaids and fish plate
Rometti
'Carlos' ceramic table – Rometti
Umbria landscape cache pot – Corrado Cagli, Rometti
'Ecaille' —Jean Christoph Clair
'Il Calciatore'  Cache Pot – Rometti
'Diabolo' – Jean Christoph Clair
'Konas' – Liliale Lijn
Rometti liqueur set
Vaso 'Marin' — Rometti
'
Sergio Fiorentino— 'Tuffatore' footed floral motif campote -Rometti
'Rose Vase Volupté' – Chantal Thomass for Rometti
Sergio Fiorentino— 'Tuffatore' footed floral motif vase -Rometti
'Totem' – Jean Christoph Clair
Rometti
'Cocteau' series for Rometti – Jean Christoph Clair
Rometti ceramicists
'Cavalli' vase decorated with stylized horses by Dante Balldeli for Rometti
Majolica glazed terracotta, 1938
'Fisherman' ceramic plate – Corrado Cagli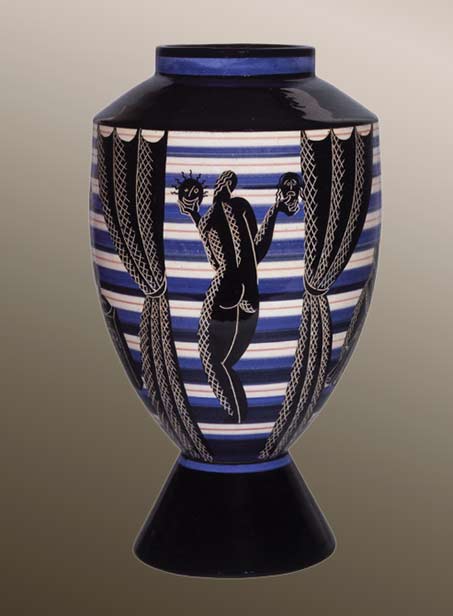 'Allegoria' – Rometti
'Arancia E Vasellame' by Corrado Cagli
1961
Rometti footed vase –  'Working in the fields'
–