Mid-century, vintage, retro pottery styles.
Laminex, shag-pile, plastic pots, automobile tail fins and a lot of other fads from the 50's and 60's didn't quite make it into the new century except with various niche collectors.  However the ceramics from this era have stood the test of time and are still sought after and used.
Jean de Lespinasse – An impressive and unusual vase by this decorative potter who worked from his studio in Nice during the 1950's.
    The 50's, 60's and 70's were groovy times, the designer and trend setters were out to make a statement. Colours were bold and bright, the Atomic-age had arrived. It was time to get futuristic and modern. Women even wore stylish Yves St Laurent dresses to go shopping. The mid-century cultural revolution was unstoppable and they were daring to dream. Some fantastic style innovations were born of this era. Music, fashion and consumer products all got a huge makeover from the more conservative 40's. Designers and manufactures had grasped the power of marketing to a competitive minded consumer and were producing an ongoing stream of modern innovative styles. And the ceramics of this time were no exception. French, German, Italian, English, Scandinavian and the USA were all strong contributors to modernist ceramic designs in this fascinating period.
50's shopping
Cyclope Pottery Annecy, France. All are glazed with the typical blue Emaux des Glaciers, for which this pottery was renown.
( AnSeta )
    I find the popularity of the lava glazes of this era  intriguing. During this time the bomb was widely feared. A Doctor Strangelove scenerio loomed large in peoples minds.. Lava comes from explosions, so its widespread use could have possibly evolved from this subconcious fear. The same can be said for the volcanic glazes, which were reninforced with  red, orange and black firey colours. Some of the mid-century pottery were often bulky and heavy with very thick glazes, sometimes multi layered up to four layers deep with different colours and textures.Their appearance was very grounding, which maybe represented a balance to the explorations of alternative consciouness that were actively pursued at the time. Abstract designs were popular, and pop art designs also crept in along with some psychedelic creations.
Retro decor
Elegant 1950's dish by Jean Austruy. Glazed with a smooth lava like glaze with an abstract design. Length: 11.5ins
Anseta.com
Vintage yellow and black West German vase
  Mid-century, vintage style ceramics are still loved by collectors and are becoming increasingly popular. The Atomic-era and Jet-age led to many abstract and innovative designs where streamlined contours were fused with angular geometric shapes.They encapsulate a time capsule of this amazing era and they reflect all it stood for.
Bitossi  'Seta'  compote  Italy circa 1950′ s
robin parfitt – flickr
Mid-Century sixties decor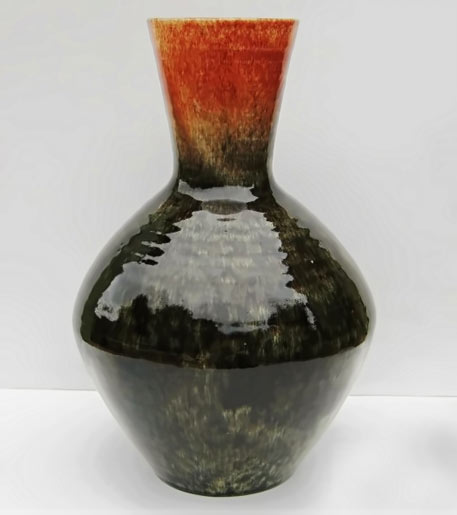 Large Mid Century Vase by Accolay, France.
 Green Grey glossy glaze, topped by a rust on beige ground.
Carstens 1245 25 (cm) Vase  – West Germany
60's 70's Retro Mid century Fat Lava.
 Fabulous West German vase manufactured in 1967 by Bay.
Hallelujah Aveiro drop shaped vase with trapezoidal blades – Portugal
Gebruder Conradt Schwabische Kunsttopferei
Large "Son Of Chaac" vase by Claude Conover; c. 1960  – USA
Height 22.5 "
Soholm Denmark heavy Stoneware vessel
Carl Cooper dish with unglazed sgraffito decoration
1955
Italian Ceramic Vase 50's – 60's
Bitossi Italian Pottery  Orange and Tan fruit bowl and vase designed by Aldo Londi  circa 1960
( afterglow retro )
 Vintage German vase – 50's – 60's
Schlossberg Mid Century vase
West German, 1960
Dutch Phillips space age vintage lamp, design by Louis Kalff
1950's
West German Pottery –  Carstens Tönnieshof.
( The End of History shop )
Modernist vintage vase
Mottle textured vase by California Originals, probably dating from the 1950s.
Elchinger Ceramique
Shapely example of Vallauris decorative pottery vase, glazed in matte black with brightly enamelled interior and a trailing white drip decoration.
A  mottled mix from the great Gunnar Nylund of Rorstrand fame. Swedish mid-century at its finest.
( End of History shop )
Danish Soholm Space Age Pottery – Rockets and Circles
Fine & rare Windows vase by Anzolo Fuga for A.V.E.M., Murano, Italy.
Large Handled Jug glazed in bright red with a dark Fat Lava overglaze.
This item was made by the Fohr Keramik factory in Ransbach.
 The company was founded in 1859 and is still in production today.
Vase by VEB Haldensleben (formerly Carstens Uffrecht) – E.Germany
(  Eclectivist – etsy )
American Mid Century modernist vase – 60's
West German  Scrafitto Vase – Sawa 1950s
Mid-Century Modern Abstract Jug
Image source – http://fancy4glass.ca/
Scheurich Keramik vase
Vallauris tall vase from the Vallauris studio of Auguste Lucchesi.
Glazed in mottled black and white drip. Decorated with bright enamel abstract motifs.
( AnSeta )
Vallauris  France 'Fat Lava' Studio Pottery Vase   circa 1960's
 afterglow retro
Selection of pottery by Francis Triay (See Designers) from the Neolithic range.  Made during the 60s
Extraordinary Op Art vase from the Swing series. Made in 1974 by Royal KPM.
(  Eclectivist – etsy )
Cyclope Pottery Annecy Emaux des Glaciers  – 1950's-1960's
Mid century handled vase by VEB Haldensleben (East Germany)
Striking example of Vallauris pottery by Rossello.
Little is known about this potter, who was one of the many working in Vallauris during the boom years of the 1960's.
Studio art pottery vase with flaring rim.
height 12 inches
 Cute Pair Retro Vintage 1960's Siamese Cats Pottery Salt & Pepper shakers
Dumler and Breiden – Germany
( and 1 intruder )
via  J'adore Lava Fat – flickr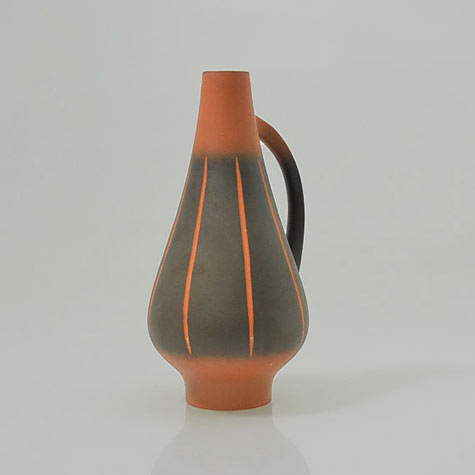 Dumler & Breiden vase
Retro ceramic bottles Alessio Tasca
Italy 1961
Mid-Century modernist umbrella stand – Antonia Campi
 Italy 1951
West German Bay ceramic vase
Bruno Gambone Italian modernist bottle
Fat Lava ceramic vase.
Germany 1950
Guido Gambone vintage modern vase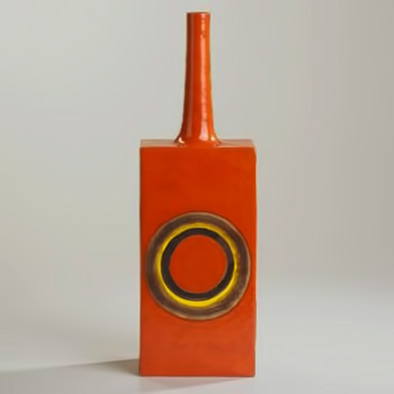 Guido Gambone, Itlay
Rathjen biomorphic lamp base
Australia
Bay Fat Lava vase
Germany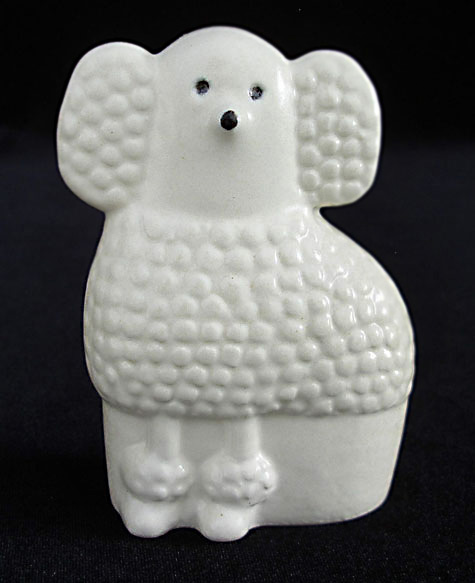 Ceramic White Poodle – Lisa Larson
Gustavsberg, Sweden
Jean Austruy, French
Abstract West German lava glaze mid-century vase
West German 60's – 70's jug
StupidEggInteriors – etsy
Lava glazed Lampbase by Le Vaucour, Vallauris
–